AT&T Nokia Lumia 920 Video Unboxing!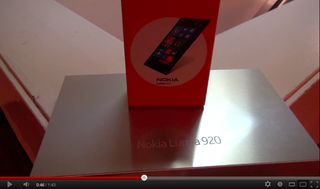 Look at what we managed to snag here at San Francisco? Why it's the AT&T Nokia Lumia 920 in all its glory.
Yes, while everyone at today's Windows Phone 8 event picked up the gorgeous HTC 8X a few of us were given the Lumia 920. The device is still running non-finalized software but that won't stop us from taking it for a ride over the next few days as we go more in depth with that new hardware.
First impressions (actually, our third)? It's great. We'll be honest, in terms of size it feels just like a Lumia 900 in the hand. We'll have more on this device later, right here at Windows Phone Central.
Daniel Rubino is the Editor-in-chief of Windows Central, head reviewer, podcast co-host, and analyst. He has been here covering Microsoft since 2007 when this site was called WMExperts (and later Windows Phone Central). His interests include Windows, Microsoft Surface, laptops, next-gen computing, and for some reason, watches. Before all this tech stuff, he worked on a Ph.D. in linguistics and ran the projectors at movie theaters, which has done absolutely nothing for his career.
First! Can't wait to walk into an ATT store and buy a beautiful L920....
I'll be giving my grandmother my trusty Samsung Focus...

I am however not a fan of how the ATT logo is the first thing you see when it does it's POST. Hoping the ATT logo and Nokia logo are reversed in final SW

With wireless charging, I don't think you'll see it as much.

If the logo really bothers you then why not just buy an unlocked phone?

I'm giving my Focus to my Grandpa and upgrading him to Win8 Hope it all works out!

Woohoo, finally some Lumia 920 action. That's one awesome box there.
I would honestly pay some extra to get that. :D

That looks so amazing. Very jealous right now. C'mon AT&T, lets get preorder going now!

Hold your horses, you don't want to loose head.

Very interested in hearing more about what "non-finalized software" means. Starting to get cold feet.

since these are early release devices they are probably runing a version of WP8 that isn't the final version. that is all that that statement probably means.

What a piece of crap. It looks like it was designed to resemble a graham cracker. Come on ATT, give us a real phone like the Ativ S or odyssey. Lumia is garbage.

@independentvolume, wow man. You have anger issue.

What the hell kind of graham crackers are you eating? On top of that it makes the ativ look like what would happen if crap took a crap ate it then crapped again.

His mom didn't get enough folic acid.

Graham Cracker? Is that the best you got?

I luv graham crackers! Give me some - especially the 920 kind!

Hahaha... I'm astounded by how many people fell into his trap. Operation Troll: Successful

What have you been smoking?

What does ATT have to do with the phone design?

Looks stunning, looking forward to a camera review! :-D

So they are still using the same old shitty at&t box for such a device. What a bunch of prats all round.

I know it's not important and it's just a box that I'll put away somewhere... but I really hate AT&T retail packages. Why do they think orange and white looks nice? You want people to be attracted by the packaging to take interest in the phone from a glance. It's probably not final box art because AT&T is not shown on there yet, but I hope it's more than just a white circle with orange around it. My old Focus box at least have some design pattern to it.


That would require AT&T to change their logo and company colors. Lets hope headphones come in the box this time. I was disappointed that Nokia didn't think we'd want headphones.

It doesn't make sense to raise the price of the phone for a set of earbuds most people won't want. Most people already have earbuds. Nokia does make headphones to match the Lumia, but they are good and thus too expensive to give away with phones. Even if Nokia had money to give away, they should use it to reduce the Lumia's price to increase market share. So it makes sense to have optional, actually desireable headphones available for purchase instead of increasing the price to subsidize cheap earbuds most people don't need.

I agree. I was disappointed that there were no earbuds. I don't know where people get that "most" don't want them. Most people I know use the included earbuds.

Ahhhhhhh!!! When I realized that was a ledge you were near I could just see the whole thing going over. Well, impromptu drop test perhaps? haha

looking real nice. Rogers better get the red one or i'll be pissed.


I have never found the package appearance important. As long as it is decent and can protect the product, then it's all good.. Especially if the vendor can charge the customer less..because I only open the box once then the box gets put up, not be seen again till its time to sell..

AHHHH AT&T Failed me today! No release date!

This is a nice 'special edition' box! I wonder what, if any, accessories will be included in the retail box?

Steve Ballmar stated that ALL phones/color variants will be available at the Microsoft Store, so there's hope for me getting that gray Lumia 920 :)

Actually, what he said was.
All Microsoft Stores will have all WP8 phones that are sold in the US. And all color variants of those will be available on their Online store.
The physical stores won't have all different colors. Some might, but don't expect it.
Furthermore, I'm not sure it's confirmed that all colors will be available in the US. It's quite possible that the grey for instance, will only be for the international version or something. In which case I wouldn't even expect the MS online store to have it.
Time will tell though, just didn't want you to get disappointed when not much is set in stone yet. I'm tempted by the grey one too, but after they announced cyan, I might go that route again.

Yes, I know :) I just didn't feel like typing out 'online' but alas, I ended up typing it anyway :)

I will have the gray regardless - via Microsoft, or if I have to import it over. But, here's hoping I can acquire it stateside!

Dear WP
I have been supporting you since day one. After two years of less exciting apps, Temple run is one year catch up and Pandora is 4 years catch up. This is almost November and we have an unfinished software without a release date. Nobody mentioned 7.8 as well. Hmm..Thank you for making me feel great today.

If you've been supporting WP since day one then you would know that there have been 3rd party Panora apps in the Marketplace for WP 7.x for quite a while...

Also WTF is Temple run? Could never keep up with these flavor of the week games even when I had a iPhone 3G, I play my games on PC and Xbox...

Odog: I have been using RadioControlled for days, but are you aware of the instances, when it broke because of API changes in Pandora? Its good to have official apps? rt?
Ok, first of all, I am surpirsed, you are not aware of Temple Run! Its one of the nicest time pass game. Gets you addicted, easily. I mean, there is a reason, why MS is bringing that to WP8, rt?

This black one is looking really nice ... Black, Cyan, or Red. Those are my options.

yes i have the same dilemma...are you buying the phone unlocked? Or are you certain at and t will be offering all those magnificent colours?

Wow after all the wait we finally get some proper device hands on. It is looking amazing! What colour though? It is a dilemma...


damn ugly ass orange packaging. Att needs to give this phone custom packaging.

the silver box is awesome....that's what the L920 should come in.

I hope they release it this month in Nordic region.

Www.elkjop.no or www.netcom.no. Let me know if you need assistance:)

can not wait for this phone! regretted switching away from windows phone for a while now cant wait to be back

Nice, i cant wait to get my hands on one of these bad boys!

Now the tough question though, should i get Black or Cyan....

interesting to note that Ballmer said all the phones will be available online through microsoft's store and at physical microsoft stores. So, essentially they will be like best buy. Wonder when they will freaking get preorders, I know best buy was first, why is At&t taking so freaking long.......wtf.

He said all colors too! Maybe I'll get that gray.

Ok mr. Rubino... Run outside and explore the low light please! I want to see asap:)

C'mon I can hardly wait:)

That display box looks awesome!

I'm waiting for this phone!!

This is the first ever phone I will get it on Day 1.

That phone looked so good I might end up going with that instead of the Ativ S like I had thought. Damn, now I'm trying to figure out which one to get. lol.


Awesome, this is gonna be my first windows phone 8, looks great!

Nice, now if Verizon was getting it...

You are a lucky Lumia 920 user. Hope to have my soon in my hands, if Rogers don't screw up. :) cheers

Does anybody else notice the light bleeding on this phone or is it just me? I was really hoping nokia fixed that problem :(

i'd pay extra for that gorgeous metal case.

Yeah, the packaging does kind of matter to me as well. In my opinion I think this is just another phone to AT&T and they're just trying to keep up with the times, they're realizing WP8 is starting to generate alot of buzz and they need to hop on the bandwagon. If I didn't know about this phone and saw the packaging I would think it's a cheap, low-end phone. STEP IT UP! D;
It's beautiful by the way(:

Never understood the hooplah over packaging. I'd gladly pay less to have a rep simply hand me a phone and charger

I was sure that the Lumia 920 had a cheaper-looking shiny surface and not a sleek matte finish, but in this unboxing video it really looks like the latter. Care to elaborate, Daniel?

as far as I know the Black and Grey Lumia 920's are Matte, White, Yellow and Red are shiny.

any official announcement on windows 7.8?

Hehe.. I think I would've both laughed and cried had you dropped it over the ledge ;)
Personally I'm waiting for it in Denmark, should be here around the 14th of november.

Don't judge a book by its cover but that ATT box is just hediously bad and an insult to what will be coming inside it.

great man
wp central 'I really love nice people who make cool things" that for your site


I would like NOKIA Lumia 920 Black

OCTOBER 30, 2012 7:24 A.M. caleb23 wrote: Morningstar today about Nokia:
Share price assumption at this moment: 2.40 euro (Nokia share is in Helsinki right now 2.06 euro, in New York 2.56 dollar)
Best scenario (if WP8 phones go well): the stock price will go to about 7.70 euro per share)
Worst scenario: no bankruptcy, because Nokia would be sold in parts before that.
Estimated price for this: intellectual properties over 1 euro per share;
other business parts (smartphones, featurephones, NSN) at least over 1.50 euro per share.
And NAVTEQ´s price not included (Nokia bought NAVTEQ with about 7 billion euro). All in all even in this case, Nokia share price would be at least over 2.5 euro. Pretty much like my thoughts and analysis.

I want a red one so bad. AT&T is killing me with no preorder or pricing! I have had the last 5 iPhones and am temporarily using a Note. Ready to ditch it for my Nokia!

True story I didn't make up: That awkward moment you feel when you are filming an unboxing event and can't open the box....

Black! http://www.youtube.com/watch?v=CFc0uEdzkHo


I think that it's mighty considerate of Nokia to send you replacement parts with your phone. iOS and Android should take note

Daniel, if you write more about the device can you confirm if there is an increase text size in the easy of access settings? This has been a huge thing for my folks who I got the 800 for but are struggling reading texts and people info. If it's on WP8, here's to hoping it comes to 7.8 for them.

Ok just went through vid of the guy who did the Rodgers review and he scrolled through settings and I saw under Ease of Access - Font Size so I'm guessing that's it. Daniel if you read this and have a second to show how it works that would be awesome.

Nokia Lumia 920 from Rogers Canada review is here: http://forums.wpcentral.com/windows-phone-8-general-discussion/200158.htm

hey guys, last time nokia said their phone was running on non finalized software, we got the bug issue. they said we should expect new software once it got released but guess what, they never updated the software. this late in the game, i doubt they aren't running finalized software. what's taking so long to get finalized software on these phone???
Windows Central Newsletter
Thank you for signing up to Windows Central. You will receive a verification email shortly.
There was a problem. Please refresh the page and try again.