AT&T now selling the Lumia 640 XL for $249.99 without a contract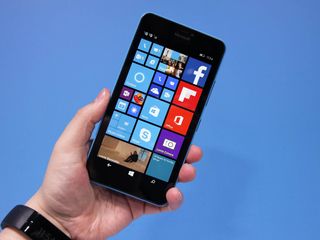 As AT&T first announced last week, the wireless carrier is now selling the Lumia 640 XL smartphone from Microsoft. It's now available both online and in AT&T's retail stores for $249.99 without a contract,
Buyers who want to get the phone with a standard two-year contract can get the phone for just $0.99. The Lumia 640 XL is also priced for $0 down via an AT&T Next plan, with customers paying $8.34 per month with 30 device payments on Next 24, $10.42 per month at 24 payments on Next 18, or $12.50 per month at 20 payments on Next 12.
The 5.7-inch smartphone is being sold with matte black and matte white color options. It has a 1.2 GHz quad-core Snapdragon 400 processor, 1GB of RAM, 8GB of internal storage, a 13MP rear camera, and a 5MP front-facing camera. You can learn a lot more about the Lumia 640 XL in our extensive review.
Check out the Lumia 640 XL from AT&T ($249.99) (opens in new tab)
Windows Central Newsletter
Get the best of Windows Central in your inbox, every day!
What about the plain 640? I can't seem to dons that on att...

They're only carrying the XL

If you want the att version then you have to go to cricket apparently.

Regarding the XL. I recommend NOT buying from AT&T but buying the unlocked dual SIM LTE version from B&H (no affiliation). B&H sells the dual SIM version in various colors for $269 but no tax (except in NY) as with AT&T. Pluses: unlocked, color choice, dual SIM. Fair-Trade accidental damage insurance probably cheaper than AT&T equivalent. Minuses: Slightly more expensive, $20 more in NY but less everywhere else since there would be no sales tax like from AT&T. So where I live the price is a wash. Not for people living paycheck to paycheck but that's also true of AT&T if you pay up front. Differences: US 1 year warranty is thru B&H rather than AT&T/Microsoft. That's a plus or minus depending on your preference. When I had a problem with a 1520.3 I bought from B&H they shipped a replacement the day I called after they determined via chat and videos I showed them it was terminal. I did have to pay if I wanted them to ship before the old one got back but was refunded on arrival. If you want to drop a broken phone off at an AT&T store, would be a minus. Also since it has the LTE bands for both AT&T and T-Mobile, this is an option for T-Mobile people as well as AT&T.

bhphotovideo(.)com Remove the ()

No VOLTE on the unlocked international version. It's so nice to have, so choose wisely.

voice over LTE? ATT doesn't offer this anyway does it?

AT&T offers VoLTE in most major cities.

Actually considering this for tmobile... just curious on what the differences are between the RM-1065 and RM-1067 versions. I do have tmobile but am going to be traveling internationally this summer (Paris and South Africa) so planning on using the free international txt and data that you get with tmobile.

1067 does not have LTE and is $40 cheaper at B&H than the LTE 1065

What is the purpose of dual sim? One att sim card and tmobile sim card? If that's the case not too many people have use for that..

Well then we won't explain it to you. ;)

Careful, I got burned once with my t-mobile unlocked Note 3 on AT&T. They're not provisioning all the bands to the phone and I get shit signal while my wife's 635 att branded phone gets good signal. Aparently, AT&T does not like IMEI numbers from non-AT&T phones

Ok good to know, but would someone Please tell me why the 360 view they have on the site showing Lollipoop UI Is B&H trying to say something or is this a look at the future?????????? Link to WC topic I made about it...... http://forums.windowscentral.com/lumia-640-xl/363656-b-h-photo-anti-microsoft-360-view-shows-lollipop.html

Buy the 640 from cricket call customer service and ask for the unlock code that's what I did they gave it to me no problem.

You didn't have to have service?

Uhhh cricket runs on top of ATT. If you buy the cricket version and plan to use it on ATT you shouldn't require an unlock code.

You shouldn't...but that's the way they do it. Cricket is a great service & I really enjoy it. But they do things slightly different than other prepaid services. Like charge a fee for late payments & they don't transfer numbers after you activated a sim card. Have to buy a new sim...

Why not just pay your bill on time?

Who says he doesn't? He's pointing out differences, not his own faults.

People have found that the 640 IS locked to Cricket even though they are an AT&T MVNO. I don't understand WHY they are doing this especially since it seems very specific to this phone. And I'm surprised they are giving unlock codes as I swear they wanted you to pay their activation fee which is something like $20 - $40 and then I thought it required 3 months of paid service too? Anway Paul Thurrot had this issue: https://twitter.com/thurrott/status/600330935112966146

Cricket 640 requires 6months activiation before unlocking. I went to Cricket to buy the 640 hoping to get it on my ATT service since they use the same network. They guy at Cricket store said he cant unlock it. Tweeted Cricket and ATT customer service and they both told me they cant unlock it. and they both directed me to their customer support page. Which says you must activate the phone on Cricket service for 6 months first. I would post the link to Cricket support page but for reason my Spartan browser is acting weird and wont copy/paste here in this comment box. But you guys can find the support page right? ;)

The 640 is coming to AT&T from what the store reps were telling me, but they don't know when as of yet.

I tried to buy the 640 from Cricket but they refused to sell it to me with opening a new line if service on Cricket.... Im already an ATT customer with 4 lines of service... Why????

Cricket is a MVNO subsidiary of AT&T that they have acting as it's own company. Kinda like Sprint and Boost Mobile, so to them it is a seperate company, even though it is wholely owned by AT&T.

I'll get excited when I see something high end

Now people have more options. The 830 and xl are atts best offerings right now.

Awesome I hope it does well. I bought the Lumia 640 for cricket and I love it they even gave me the unlock code for it :)

I hope so too. The .99 cent contract price is good...the full retail price is a bit high considering the fact that you can just buy an unlocked version(especially if you are doing next) for both att and tmobile bands. It's a great phone(though coming from a 1520, it is a slight adjustment for me).

Lol its hard for me to go back to my sgh-t899m when I've had a lumia icon for over a year

What carrier did you move it to?

Saw this phone at a Microsoft store yesterday. Amazing device for the price, and they already have a bunch of accessories available there.

The link to another article doesn't work in WC app.

Since its off contract, will att give you the unlock code? I want to bring this to Tmo.

Better check to make sure it will work with Tmobile. My understanding is that the T-Mobile 640 will not work with AT&T, so this may work the other way. Yes, if you buy it, you can get the unlock code from AT&T as a non-customer.

My 920 worked fine on T-Mobile, I almost switched but their coverage was pathetic where I live/work.

Thanks for the heads up. I will check to see if it has the right bands. I have an unlocked 1520 now with no issues. The coverage here is better with Tmo then Verizon, with the exception of being in a large building then it goes downhill fast.

Wouldn't it be great if they finally made DENIM available today for the 830! I'm giving AT&T one more week, then selling this phone if I don't have the update in time for my summer vacation!!

1GB RAM and 8 GB of internal storage make this phone a fail.

Because he said so and apparently in his world no one uses sd cards.

I do use sd cards all the time, but should be required to do so. Many flagship phones don't have cd card slots. Say what you want against the Galaxy lines or the iPhones, but with cloud storage, especially one as great as OneDrive, there is no NEED for sd cards, except when the manufacturer decided to not give you any internal storage. So, you have to use sd cards to install apps on, because there is no internla stoarge on the device to save the apps to. So, you are forced to get an sd card for apps, music, and picture storage. Or you can constantly stream from cloud storage using all your data.

This is not 8GB of usable space. The OS and bloatware takes some of that away. Yes, you can install apps on sd cards, but you shouldn't have to do that in mid 2015. Would really suck if you get an sd card error and have to format the card. Happens soemtime, you know. IMO no phone, budget or otherwise, should have less than 16GB internal storage. I would advocate for 32GB min if no sd card slot.

It's the software that makes the phone, not necessarily the specs. The iPhone flies on 1GB RAM. I bought a phone with 2GB RAM so I know my phone will handle anything thrown at it because I'm not upgrading until the end of 2016.

You're right, 8 GB of internal storage makes any phone a fail in 2015! What does it cost them an extra $5 to double that storage???

8 gig is a fail and 8 is not the actual usable memory.

8GBs is a fail if you want it to be. I have own a L520, I still have a L521 I use as a media player and I have a L635 that I will give away. All of which have 8GBs and I never had any issues with those phones. Now, is it perfect for everyone nope and I don't believe any phone can be perfect for all people but again I state it's only a fail if you want it to be a fail. Right now I am using the Lumia 640 and it performs extremely well for the $99 I paid for it. I will never buy a high end phone again because I feel it's over kill. That is why I love what Microsoft is doing with these great low to mid-level phones. Even to the point if I drop my phone and the case cracks I can get a replace for under $10 on Amazon. The people that want to be negative will always be negative but if you are worried about just 8GBs in this type of phone I would say go to the store and play with it for awhile and make up your own mind. I for one don't see it to be a drawback.

I just received mine from Expansys and everything is great besides the 8 GB internal. Most apps can be transferred but the real,disadvantage when you travel a lot is that the maps,cannot be transferred. Even the complete US doesn't fit, not even speaking about adding several European countries.
I would hope they rerelease the map transfer program that was a beta for a while and is not available anymore.

For the price I am paying, I should know what I am getting or not getting, right? Are there other phones in this price range Android or iOS which gives you better specs?

Ok then why would you have service with 2 carriers?

Remember-$249 no contract. If it was 249 with 2 year contract, yea, fail.
And most likely there will be a quick price drop because, you know ATT will probably only sell 200 of these because nobody knows WP exists!

I want the other colors. Black and white are so boring. :-(

You can always order a cover from ebay. For $10

True but I dislike spending extra just for another color.

I think that advantage of getting a Cyan, Orange, an aditional white or black, is that you can replace that back whenever the one that comes with it gets too scratched up. Changing the color of the back and the color of the tiles and then switching them around and you feel like you've got a new phone! I love it!

Even on a prepaid plan we still have to wait 6 months to unlock it even though it'd paid for outright (not subsided). AT$T and their little trick$. I thought a bill was passed that did away with this crap. Any idea when this will be applicable?

Overpriced. It's running a low-end chip from 2013.

The irony of that statement. The 830 was the EPITOME of the overpriced, underpowered hardware that has plagued Windows Phone since Microsoft took over. AT BEST, it was a tiny upgrade over the 920, yet it was a year older and cost the same price. That thing launched about $100 north of where it should have, maybe $150.

Only paid $199 for my 830 during that MS store sale end of March but I still consider that to be overpriced! Maybe I wouldn't if I had the full Denim update already. The only thing I really like about it compared to my old 920 is the display size and battery life. That said the display responsiveness was much better on my 920.

The way this phone (and the 640) are being praised on this site, you'd think they had specs from stardate 2397......

When you're constantly pumped low-end stuff meant for markets like India and Mexico, a phone even worth selling at a high-end U.S. carrier is about that level of powerful, by comparison.

Lmao why does it matter if it is being praised. Its a good phone despite being a low end and presently they are the two most sought after windows phone at the moment. Better than hearing about the irrelevant HTC one.

and if it had specs from 2397, what benefit does that give you? it takes a couple years for those high end spec to trickle down to lower end devices. developers don't start making apps that can utilize those specs until it does trickle down so a larger user base can use their app. I will thank those of you who open your wallets to get high end devices that offer very little benefit. You allow technology to move forward for the rest of us who like to get value for our buck. And for those that claim the like to get high end devices because they are future proof, since most people change phones after 2 years, you still don't get to really take advanatage of those high end specs. the only reason to get a nigh end phone is if you want the better camera or extra sensors that the flagships have but lower end phone don't get for a few years.

The problem is it's basically a low-end phone from 2013 with a better camera, and it's priced like it's a decent mid-range phone in 2015.

I have to agree, the old processor really holds this thing back. The 640 is slow this thing is more than likely worse. Read the anandtech review....http://www.anandtech.com/show/9333/the-microsoft-lumia-640-review

Spot on, the Anandtech review was sobering after all the giddiness over the 640s in the WinPhone community. For that reason I really can't be serious about the 640XL at $250. I've been hoping for a 640 at more like $125 as a holdover, until either 1) Microsoft puts out a credible high-end phone AND looks like they will support it for a couple of years or 2) there's a mid-range Android with a decent-or-better camera AND the situation in Androidland with respect to RAW files and other advanced photo features, clears up a bit. I know, picky picky... But I"ll reiterate your point that anyone considering a 640 should at least know about the AnandTech review.

First, it's not a flagship, so I'm not interested. Second, even if it was a flagship, it is WAY too large. Moving on.

Ummm. OK. Good for you for moving on lol.

I have a Lumia 625 and it has a starter 5 Megapixel camera (it was a middle range camera just 2 years ago). On the other side the camera on the Lumia 640XL is 13Megapixel with 1/3 sensor size, Carl Zeizz optics so actually is much better than mine so that's why I think the 640XL can be a great upgrade for my phone, unfortunately there is only 8GB storage option which I think is absurd, there should be options for 16GB and 32GB in 2015. ( I'm still wondering why can't Windows devices have 128GB storage options like iPhone 6 or Galaxy S6 Edge). Hopefully the Lumia 940 and 940XL come with 64GB and 128GB options later this year.

Not tempted ill stick with my Treo pro

Why buy one of these at all, when you can get the dual-SIM unlocked one for a similar price? I will be visiting a local store to get a firsthand look though.

Dunno, I bought one from Expansys for about the same price but it's dual-SIM with support for a *LOT* more LTE bands. I can't imagine why I'd pay this price for a carrier-locked and lombotomized variant.

Better off buying it from expansys than here. Probably comes with more stuff out of the box. Hopefully they do tons of flash deals on this like the 635 and prices drop to like 100-120 consistently.

Give me a 640XL with option to choose 16GB or 32GB of storage for $50 or $100 more ($50 more for 16GB and $100 more for 32GB) My new laptop I purchased from Dell comes with 1TB of storage, I'm not saying there should be 1TB on phones, but 8GB is ridiculous in 2015 where games like Halo Spartan Assault occupy more than 1GB of storage.

Or an app to move maps to the SD card.

You can buy a 16GB SD card for about $10. And apps can be transferred to the card. So for $10 instead of $50 you can have 24GB of storage.

But not maps, which was once a primary selling point of Windows Phone.

I have 5GB of app data on my 64GB sdcard and the phone still shows 3.1GB fo internal space available. Yes I too would love 64GB internal storage but the sdcard works. I bought my 640XL for the dual sim and it's excellent LTE band coverage, available storage space was farther down my list of desireable features.

Bought a mint 1520 for 200 dollars. Seemed like a good deal. Double just about everything at a lower price

When can we get the Lumia 640 Magnum XXL?

No unlocked version? Me want unlocked US variant :)

See one of the first posts above. B&H has the LTE dual SIM unlocked version with one year warranty. The price is the same or lower than AT&T for many people depending on sales tax where you live. Basically if you don't live in NY and your sales tax is 8% or more its cheaper at B&H.

What we need is the 640xl for mainland china 2gb ram 16/32gb storage with the quadcore 810 2.3 processor

it's expensive, here in EU we can get it for 200€ unbranded from eshops

Yay, I might just buy one. Lol

640 XL will be my next device

Grabbed 2 of these 640XL on AT&T got a great deal. Love this phone.

wow ! its a great news will at&t give the code to me if wish to use it on T-Mobile ? or can i unlock it from other source like it ? : http://attunlockcode.com/products/AT&T-Microsoft-Lumia-640-XL-Unlock-Code.html Thanks

Hi Peter, I will answer your question. NO.. AT&T might as well have said NO they will not unlock a device that you FULLY OWN! They instruct you to go to the website and request an unlock code. This takes 2 business days. This 'not being able to use my brand new phone' issue would be mildly irritating IF they would provide an unlock code after two days. AT&T informed me that because of an agreement THEY HAVE with Nokia.. (let me say this again..) THEY HAVE with Nokia (not Microsoft), that the phone cannot be unlocked for SIX MONTHS. So.. this Microsoft branded phone cannot be used on T-Mobile because it is notwork locked. One more time.. a phone I own 100%, no contract, is network locked and they refuse to provide an unlock code inside of six months due to an agreement they have with Nokia over a Microsoft Phone (for any smart alecs who want to say something, YES I know this phone was formerly owned by Nokia).. so the bottom line is you will be stuck paying AT&T to use your fully owned phone for at least six months unless you PURCHASE an unlock code from a 3rd party (good luck with that one). The same unlock code that AT&T should be legally providing you with since you have no agreement with them whatsoever and they failed to mention a six month wait at the time of purchase. I was told that that information was provided on the device unlock page. Once again, this is something that you find out AFTER they get your money. This is a total dick move!!!

Its a pity to say, but iphone owners have definet preference over windows based smartphones in case of att unlocking. The price starts from $6.99 att-iphone-unlock.com/ instead of $24.99 on the source you suggested.

WOW..i just laugh to myself everytime someone asks...can I buy an at&t lumia 640 and get it unlock?? This question must be asked about 30 to 40 times..maybe more if my count is off :) Google is your friend....Or Mr Bing!