Microsoft Lumia 640 XL review
By Richard Devine last updated
Fans of large screen Windows Phones haven't exactly been spoiled in the past. There was the Lumia 1320 and Lumia 1520, launched in October 2013 to the world at the final Nokia World event in Abu Dhabi. But that was a long time ago and there hasn't been a lot to speak of since.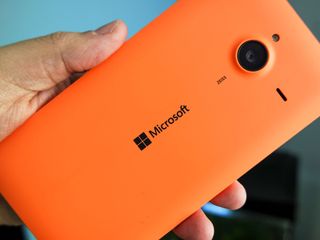 The Lumia 1320 was always a more budget targeted, large screen phone. And those who bought it largely adored it. Fast forward to Mobile World Congress 2015. Now with Microsoft doing its thing, there's a successor to the Lumia 1320. A new, affordable, large screen Windows Phone.
And with the new phone comes a new moniker: XL. And that stands for exactly what you think it does. The Lumia 640 XL is in many ways similar to the Lumia 640, only bigger. And in some cases, better.
What you'll like:
Great value for money.
A free year of Office 365
Good quality cameras
Large display complete with Glance screen
Good battery life
What you won't like:
Internal storage is pretty low
No wireless charging as standard though there are contacts underneath
Some weirdness with on-screen buttons interfering with apps
About this review
This review has been written based on time spent with an Italian CV device in the UK. It's the single-sim, non LTE version. The UK CV will be the single-SIM, LTE version.
Video hands-on
Under the hood
The specs
Windows Phone 8.1 Update 2 with Lumia Denim
Windows 10 Ready
Colors: Matte cyan, orange and black, as well as both matte and glossy white
Qualcomm Snapdragon 400 (MSM8226), 1.2 GHz quad-core processor
5.7" HD (1280x720, 16:9) IPS LCD, 259 PPI, Glance screen, Corning Gorilla Glass 3, Sunlight readability enhancements
1GB RAM
8 GB internal mass memory + up to 128 GB Micro SD & 30GB free OneDrive cloud storage
Rear camera: 13 MP AF, 1080p @ 30 fps video (continuous autofocus), Flash: LED, Lumia Camera 5.0 (with Dynamic Flash, HDR)
Front camera: HD 5 MP wide angle, 1080p video
Connectivity: BT 4.0, microUSB2.0, Micro SIM, A-GPS+GLONASS, BeiDou, DLNA, Screen cloning with Miracast, WLAN 802.11 b/g/n/
Sensors: Accelerometer, Magnetometer, Proximity, Ambient Light Sensor, SensorCore
Battery: 3000 mAh (BV-T4B) removable battery
Weight: 171 g
Size: 157.9 x 81.5 x 9.0 mm
The hardware
The smaller Lumia 640 is an iteration on the design front from that which came before it. The Lumia 640 XL has a lot in common in its overall look with its smaller sibling. From the front, camera placement aside, they're very much alike. One large, one not so large.
And like the Lumia 640, the internals used by Microsoft aren't anything to shout about, either. In fact, the basic hardware is identical. There's a Snapdragon 400 CPU, 1GB of RAM, 8GB of internal storage and a microSD card slot. The display has the same resolution as the Lumia 640 while bumping the size by 0.7-inches, leading to a noticeable drop in PPI. If you look at the two side-by-side, it's impossible not to notice that the smaller display is visibly sharper.
Around the back, the Lumia 640 XL boasts a hint of the Lumia 1520 with the way the camera hump looks. The 13MP shooter with Zeiss lens is a step up from the 640, likewise with its 5MP front-facing counterpart. We'll look at both a little further along.
For such a large phone, you'd be forgiven for expecting a sealed back. That's not the case, though, and pulling off the replaceable back cover opens up the 3000mAh removable battery, microSIM card slot and microSD card slot. Oh, and it has the black accent buttons too which looks great. Especially on the orange one we have here.
The matte finish on the orange is a welcome touch, as frankly, a glossy phone this size would be a bit of a slippery fish to hold on to. It's big, but not too big. One criticism I do have is the lack of a physical camera shutter button.
Sure, Microsoft reserves those for the Pureview devices. But, I think that needs to change. As we'll see later on, the camera on the Lumia 640 XL is pretty handy, and you're going to want to use it quite a lot. But a phone this size is crying out for that physical button. The whole experience just isn't that comfortable on a display this size.
That might not be an issue for many others. But it's worth pointing out. But on the whole it's another solid, dependable, if a little uninspiring effort again from Microsoft. Definitely mid-range hardware, but with a price to match. With an RRP of £219, again Microsoft has an extremely capable device without a hefty price tag. Compare to what the competition is doing, and that price looks even more enticing.
More: 7 things to know about The Microsoft Lumia 640 XL
Update 2!
The software - Windows Phone 8.1 Update 2 on board
Despite the recent 'rollout' as part of the Windows 10 preview for phones, the Lumia 640 XL is one of the first phones to officially have Windows Phone 8.1 Update 2 loaded up. While a lot of what's important in Update 2 is under the hood, there are also a few forward facing features we can see.
One of the more lauded features included is the 'remote kill switch' as it's so often called, now required by law in the U.S. It's no doubt played a big part in Update 2 even existing. But elsewhere the Settings app has had an organizational refresh, there are some mild visual tweaks and a few handy little features that are going to be useful to some.
All about Update 2
Update 2 is the very latest version of Windows Phone 8.1. While it's a minor upgrade overall, it does bring some important features with it, including the so-called 'remote kill switch.' Find out everything right here.
Windows Phone 8.1 Update 2 - Everything you need to know
The software - everything else
Aside from Update 2, it's pretty much business as usual on the Lumia 640. It comes with the latest Lumia Denim firmware and all the goodness that brings. Which, like the Lumia 640, also includes the Lumia Camera 5 application.
Before the launch of the Lumia 640 and 640 XL, Lumia Camera 5 had been exclusive to Microsoft's higher end, Pureview camera phones. The camera on the Lumia 640 XL isn't Pureview, but it's still pretty good. And it benefits greatly from the additional features provided by Lumia Camera 5.
Otherwise, there are a couple of pre-loaded items, one of which is the Fitbit app. Microsoft and Fitbit have a pretty good relationship these days, but the Lumia 640 XL isn't one of the phones offered with a free Fitbit Flex. But you can delete it if you don't want it, at least.
One issue that I have seen during testing this phone is some conflict between the on-screen buttons and in-app content. It's tough to describe exactly, and it doesn't happen all the time, but I'll describe an easily imaginable situation. In the Windows Central app, the very last comment sometimes won't be fully visible because of the on-screen buttons. It never happened on the Lumia 640, so I'm almost inclined to believe it's something that's happening with apps scaling up to the larger display.
Productivity
Office 365
Worth highlighting on its own, the Lumia 640 XL along with the 640 marks the first time Microsoft has given away a free one-year subscription to Office 365 with one of its smartphones.
Such an offer has been commonplace on small Windows 8.1 tablets for some time now. It's perhaps less useful on a phone, especially given the current state of Office on Windows Phone. But since you get bundled Skype calls, 1TB of OneDrive storage and access to the Office desktop apps as part of it, it's nothing to turn your nose up at.
The links below will guide you through what it is you're getting, and how you go about getting it.
How to get your free Office 365 subscription on the Lumia 640
A model for everyone
Connectivity - Dual SIM, LTE or not
One of the most amazing, yet easily forgotten features of the Lumia 640 XL is its connectivity. There are single and dual-SIM versions for different parts of the world, that's nothing new. What is new is the availability of a dual-SIM LTE model. Remember, the Lumia 640 XL is a mid-range device with an affordable price. And yet in some locations it'll take two LTE SIM cards. That's still a rarity in smartphones in general. At this price point, unheard of right now.
But not everyone wants that. And not everyone wants or can get LTE support. As such the Lumia 640 comes in variants with or without both of these options. We've got the Italian CV here with single-SIM and no LTE.
Aside from the choice, performance is as good as you get on any Lumia smartphone. We've had no issues locking onto and maintaining a 3G connection, though bear in mind this review unit isn't matched to the market we're testing it in.
Hopefully we'll get to spend some time with an LTE version at some point in the future and update on performance and battery life.
Shutterbug
The rear camera
The rear camera is one of the stand out features of the Lumia 640 XL. It's a 13MP, Zeiss lens unit, and even on a phone of this size we get a noticeable hump on the rear. Smartphone cameras are ever improving, but considering the price point that this phone hits, its camera is even more amazing.
As with the Lumia 640, the 640 XL is living proof that having a good smartphone camera doesn't have to cost the earth.
Until now, Microsoft has reserved Lumia Camera 5 for its very best camera phones. The likes of the Lumia 930, Lumia 1520 and Lumia 830 (in certain regions) all have it, but those are all Pureview. The Lumia Camera app has always been more capable than many equivalent stock apps on competing platforms, offering a level of manual control not found everywhere. Lumia Camera 5 adds the much-praised, Rich Capture, feature, to help you take more exciting photos. And the Lumia 640 XL makes the most of that.
The Lumia 640 XL captures great detail in the images. You get less issues with white balance with everything set to auto than on the Lumia 640. Image quality is better than its smaller stable mate, but the 640 XL isn't any quicker at taking and processing.
But it's a pretty great all round camera. Low light performance is strong (with the usual limitations in mind), as has so often been the case on Lumia phones. Stick Rich Capture on, snap away, and leave the rest to the phone. You're not going to be disappointed.
Lumia Camera 5 isn't the only Lumia Camera app in town. There's actually three, and each one applies to a different phone in the lineup and has different features depending on the hardware? Confused much?
Selfie-tastic
The front camera
One of the other hardware bumps the Lumia 640 XL gets is a higher resolution front-facing camera. You'll be capturing your selfies at a respectable 5MP and your self, er, videos at 1080p. Not world beating, but very good given the price point of this phone.
On the 640 XL, the front facing camera is in the center of the phone. So that means whether you're using it portrait, or tilted left or right in landscape, you're going to get well framed shots.
Moving pictures
Recording video
The Lumia 640 XL also does a decent job at recording videos, too. The rear camera will shoot at 1080p at a continuous 30fps with auto-focus. You won't be shooting any blockbusters on it, but for capturing those casual clips and stuff to share with social media it does pretty well. The auto-focus is still a little aggressive, but less so than it is on the Lumia 640.
What we like about the front-facing camera from the 640 also applies here. The quality of video is good and the microphone does a solid job even with some background wind noise.
It can go all day (and maybe the next)
Battery life
One important fact to remember while we're discussing battery life is the version of the Lumia 640 XL that we have here. This is a European phone, from Italy specifically, without LTE support. So in testing we haven't been able to use the LTE model on our locally supported carriers.
But, all that aside, the battery life is pretty stellar. The combination of 3000mAh and a 720p display leads to real world use that can stretch to two days. Naturally dependent on what you're doing.
The usual suspects such as using the camera a lot will take a hit on the battery, but largely using the Lumia 640 XL is one of relative comfort over ending your day without hunting for a charger. And for most people, getting through the day is the important thing.
It'll also be a comfort to the business focused buyer, a target market whom Microsoft is partly pushing towards with the 640 XL. Even with some pretty intensive use draining the power before the end of the working day should be pretty tough.
And it's removable. So you can always carry a spare.
Show me the money
Pricing and availability
The Lumia 640 XL is on sale already or very soon in a number of markets across Europe and Asia. The RRP from Microsoft is around £219 though that will vary from market to market, and it's on sale in the UK from April 28.
What is important to mention is that the Microsoft Store is probably the most expensive place you'll find one to buy. Third-party retailers and carriers will always be worth checking out in the search for deals. The Lumia 640 was available in the UK almost immediately with strong discounts over the Microsoft Store pricing, so there's a good chance the same will apply with the 640 XL.
At the time of writing there's no concrete information on a U.S. launch..
Summing up
The bottom line
If you want a large-screened Windows Phone, there aren't many options for you right now. You could get the much older Lumia 1320 or spring for the higher-end Lumia 1520. The Lumia 640 XL isn't a high-end phone, there's no other way to say that. If you want the high-res screen and beefier internals, the Lumia 1520 is still the only option (if you can find one, that is) at this kind of size.
But, all things considered, the Lumia 640 XL is incredible value for money. The balance of price, experience and the excellent rear camera produces something that Microsoft should be proud to have boosting its lineup. There will be more devices in the future for large screen fans, I'm sure, but as with the regular Lumia 640, the 640 XL is an option for everyone. Solid hardware, good features, great price. And it won't be long before you'll get it under £200, either. But, for more of the people, the Lumia 640 might still turn out to be the better option. The XL is pretty big, but it's also comforting to know that there's a smaller option which is almost identical bar the cameras.
With the 640 phones, Microsoft has laid down a pretty bold benchmark. This is the middle of its pack. We haven't yet seen what Microsoft is going to do with what stands above these in the range, but we're getting ever more excited to see what's next. When the mid-range is this good, the future starts looking much brighter.
To see some elements of this review please visit m.windowscentral.com in the browser on your mobile device
Richard Devine is an Editor at Windows Central. A former Project Manager and long-term tech addict, he joined Mobile Nations in 2011 and has been found on Android Central and iMore as well as Windows Central. Currently you'll find him covering all manner of PC hardware and gaming, and you can follow him on Twitter and Instagram.
Should have at least sp 410 and 2gb ram

Ohh.. Den will you be ready to pay double or more the price with those specs? And c'mon windows phone don't need that much ram.. 1gb runs perrrrrfect.. ;)

The OS may be fine but 3D games use a lot of RAM.

a 3D game was just released, and it uses 1GB... Overkill 3

My friend has a l640 he's been give to test, it seems a very capable phone, quick responsive very good image quality, generally I thought it was good. It was the 1GB Ram that seemed to make the difference to me, it just seemed so quick, that's just my opinion after messing with it for say 30/40 mins.

Was that supposed to be an intelligent rebuttle to my argument that a 3d game is running on 1GB of RAM? Because it wasn't.

If you look at all the recent phones from Chinese OEMs, 410 and 2G ram is common.


Which one of them runs Windows? Android phones with 1GB ram wont even support Lollipop update. Even with KitKat, they are so sluggish. Moreover, this is the price point at which they sell. And we shoudl not be talking about manufacturers, whose only USP is price. What about build quality, after sales support etc. Just putting together a bunch of top-of-the-line specs, do not make a great phone. The craftmanship that goes into putting all those peices together makes the real difference.

512 MB is the minimum for lollipop and there are tons of phones out there with 1gb ram that run lollipop just fine. The moto g is a prime example of this.

Hahahahahahaha.. How long will they be supported? Are they goin to receive updates 2years later?

The 410 isn't any faster than the 400 in real life scenario's. The 64 bit part is completely useless and the 2GB? Sure, but the memory isn't the bottleneck in this device, so that won't help much.

2GB is unnecessary in a budget phone. This is basically the budget phablet from Microsoft. I wouldn't doubt the next flagship will have 2GB or more, not that it's necessary on the Windows Phone platform, unless you're just one of those people who puts 32GB RAM in their PC just because they wanna talk about high numbers.

MS need to sell its phone in US and China to grow its market share, and a good spec is neccessary to sell.

I've already had this same discussion. The majority of the world purchases more budget friendly models of phones. You're not going to increase market share by that much but a $900 USD phone. Yes, I want a flagship just as much, if not more, than anyone else, but to increase market share you need to sell to as many people as you can.

In China this phone will be with 2GB of RAM as i read somewhere...

As a person who owns a 520 and who will upgrade to the 640XL when it is released on T-Mo, I agree with you. I don't like to spend a lot of money on a phone that will probably upgrade in 24 months or less. Not all of us play 3D so we don't need the highest end specs. That is what the flag ship Windows Phone will have. I'm happy with the 640XL specs.

What makes you think the 410 is better? Go to Qualcomm.com and compare. The only difference is that the CPU is 64-bit, that's it, and it's probably equally fast. It's the exact same chip. Get a Lumia 1520 if you want more power.

Um, NO! http://www.mobilegeeks.com/qualcomm-snapdragon-410-benchmarks/ And the 410 includes the Adreno 306 vs 305. They are not the same. What would be nice is for MS to use the 410 in the 840 and 740 but upgrade their RAM to 2 GBs along with addng a 1080p display. Bump the prices by $50-75 and you'd have a couple of winners for people willing to pay for the extra power. To be specific, I am talking about bumping from the 640 and 640 XL prices and not the original 730 and 830 prices which were obscene and, quite possibly, one of the worst mistakes MS made as part of their Nokia aquisition.

If they did that, then people would come along and say .... they should have used the 610 instead of the 410 and nump the 1080p display to 2160p and 3GB of ram and hte price by another $60.. and on and on ... You do realize that the XL has 259ppi and your 1080p big screen TV at home has around 59ppi or less, right?


Even the Moto G (3rd Gen) comes with SP400 after two sucessors Moto havent change the processor even when compared it with Samsung Grand Prime which has SP410 moto g has a decent performance

Those who are crying 'cause this phone have only 1GB , Go and buy Zenfone 2 4GB RAM Version :P

Typical Indian reaction!!. It's another way of saying that I don't have the money to buy or don't want to buy it cuz am a miser. lol

When is it available in the Microsoft store unlocked tho

With the 840 rumors, am putting this one on hold.
BTW MyTube updated.

Kindly don't use comments to tip us. We have a tips line for that.

Yeah yeah.. As if you guys check it on daily basis.. :-/

I'm pretty sure they do...

It feeds into our newsroom. Its checked all the time. Posted via the Windows Central App for Android

Have you knowingly put the tag "Posted via Windows Central App for Android" ?

Like most of the Mobile Nations people, Daniel included, I'm sure he uses multiple devices. Can't make comparisons if you never use the competition's stuff too. ;-)

That was after what I wanted to convey on the topic. Plus I sent the tip 4 hours ago and still the news hasn't turned up.

4 hours? I think it is reasonable to expect 24 hours before they review and take action on it. If you ever worked office hours somewhere, think about all the business meetings you usually have and things like writing articles, editing videos or photos, etc. Windows Central is a free service. If it was a subscription-exclusive service then I would expect no more than 4 hours unless they were really busy, because in theory they might have been able to hire a dedicated administrator to handle sent-in tips.

Are you stupid or what..?
They DO earn money. There IS a big staff. There ARE quick articles posted by the same guys.
And it's not a rumor or something else, it's an app update. Copy-Paste thing as the update description is clearly given by the developer. So shut your mouth.

Lumia 740 is what I'm looking forward to.. Or may be 840.. But 840 is gonna be overpriced just like 830.. I would rather go with 940 than 840 .. Fingers crossed.. ;)

Sounds like 1520 is a very old model.

But nothing slows it down though. #Beast

Pretty impressive specs considering! Fingers crossed for a W10 flagship with the same dual SIM setup ;)

640 xl if battery, 730 for compactness and amoled screen

Looks like a nice device, but I've got my fingers crossed for a 940 XL reveal.

Except for the rounded corners the design looks really good for a budget phone.

You don't like rounded corners? The sharp, square corners are my single most hated feature of my 920. I can't wait to have a phone that is comfortable to hold in landscape mode.

No, I really don't like rounded corners. Reminds me of Android and iPhone devices. It feels like an outdated design. In fact, it was the primary reason I didn't buy a Lumia 822. Once the Lumia 928 came out, I jumped on that. I think hard corners is much more modern, more aesthetically appealing, and more unique. I think the Lumia line should use it. I cringe whenever I see the Samsung Galaxy phones and their rounded corners.

The corners are rounded on everyone's devices becasue it makes them more comfortable to hold. Aesthetics have to make some concessions to usability.

I don't understand your logic at all. Not once have I ever held a phone by its corners.

LOL. I'm with you on this one.

Cause square corners are fresh and new. Whoever just thought of that...genius!

Modern design philosophies favor right angles.

Irony is that I like rounded corners..

What is the camera resolution for xl

Dude...read the review. Its in there. Several times.

Come on.. why did you put the pics in that shitty viewer thingy? Atleast give us an option to download untouched samples. These downsized ones provide no data on how good the camera is. For all i know, it would be same as one from a 730, but this has almost double the resolution. People want to see how the photos would look when we do some cropping.

I am always interested in the actual sensor size as well. Usually have to crawl around to find out where they have hidden this info.

I'm curious to see a comparison with this and the BLU Win HD LTE. I know they are different sizes, but they seem like pretty close compettitors given their close price range.

Blu Win would compare best with the 640 being they are the same size. If you compare with an unlocked version of the 640, prices may be similar as well.

Looking forward to phone with Snapdragon 410 .

Why, the 400 and 410 are the same SoC. The 410 is 64bit which does nothing for WP.

you'll just get the same performance while having more money left you pocket...

It has contacts for wireless charging? On MS site I can't find anything about that, any more info would be appreciated!

Great review Richard! Just a question: Does the rear camera have optical image stabilization?

I couldn't even consider a device without physical home row buttons and a physical shutter button.

Thanks for the review, Richard! May I know how's its speakers? Are the alert tones loud enough, like that of the 1520? The lack of physical navigation/camera keys and the wireless charging function is a let-down, but I'm thinking of getting the Cyan one next week. BTW, the dual LTE 640XL is already available in the PH since last week for PhP11.2K or around US$254, unlocked/SIM free/Retail.

Stop taking away wireless charging function. So disappointed with Microsoft.

It's a budget phone. If you want built in wireless charging capabilities get a 830 or higher model.

Seriously I don't mind paying abit more for wireless charging function at the least give us the option.

I cannot understand why it's screen doesn't support all features of glance screen like display whether and whatever are set in locksscreen like any Lumia with glance screen display ?

No concrete information for a US launch? Not even the Lumia 735 has a specific launch date and that was announced September of last year. What the heck are they waiting for? Really.smh

In mark of respect every one should only comment on how wrong Indonesia is executing the 10 people that are going to be executed tonight. None of these people have killed a single person & I hope everyone here expresses their feelings as some of the Bali bombers didn't get the death penalty for killing people because they were religious. Signed Ron Watkins Australia. Formally uk.

No camera button is pretty annoying on non-preview phones. After having one on my 920 and 1520 it's pretty hard getting used to not having one on my 735. I wish Microsoft would follow the lead of iPhone and Android, and at the very least allow you to use the volume button as a shutter on non-preview phones

Good review. I'm holding out hope that somewhere in the UK will start stocking this phone. I refuse to buy a device like this online without having a chance to try it out first. The 640 is a lovely phone, though, so I have high hopes for this.

Front facing camera better than my 1520 pretty nice pick up.

Bought one last Saturday for my colleague. Install necessary things and play around with it for a day before handed over. Honestly I'm impress with the cameras and the screen.

Window Phone10, still no USB OTG, No NFC payment?

I ordered one from France MS store. Approx £180-£185 (including non sterling fee) dual sim AND LTE plus saving £35-£40 on the UK price and free delivery. Only downer is that I have to wait until 15th May for it to launch.

219 euros for 640 xl dual sim LTE from eshop.gr here in Greece Just ordered mine

Thus review looks very, very bad on the Phone app. I opened it on the Web and it looked amazing but not so much on the phone. Hope Jay is hard at work.
Just feedback, no hate intended.

I suspect MS will bring these babies to the US market as well, when they launch their flagship phone we're going to get these plus higher end phones with greater specs, and we'll end up with six phones, low, mid and high, with two sizes for each, all with Windows 10.
After that, MS will rule the world.
10 %. Maybe?

I already brought myself the Lumia 640 XL and it's really great :)

The glance screen does not have option to set images or art on it....and using the camera manual settings is very irritating because of some touch bug and no sensitive touch like my old 520

So? This one or the Blu Win HD LTE?

Takes 4-5 secs to process a single image

I'm starting to think I should go back and get myself an older phone. It seems as though camera buttons and non software buttons are becoming the norm. Oh and if ANY MS devs are reading . Font colors...just sayin'

That's why I still own my 820 and my wife her 925. But we are looking. Maybe the 840 if it is not overpriced like the 830 was.

The hypothetical situation described where the last comment might not show completely because of the keys sounds like an app issue. Stuff like that happened on android for a while with apps not being perfect on larger screen phones and tablets. Very minor issue imho.

Drawbacks OS
1. No proper file manager
2. No auto or call recorder
3. No otg
4. No Wi-Fi direct
5. Applications doesn't support to
install other than store
6. Agarbatti like flash light
7. No proper video player except
moli player
8. No shrareit. Or flash transfer
App
9. App gap, it's about 50%.
10. When files are Shared via Bluetooth it says doesn't support and also doesn't show up in files
11. Fucking OS restrictions.
12. They're Unable to provide basic music player, it's sucks after 8.1 update. And fucking equalizer.
13. ........
And list goes on...
This shows that it takes another 2-3 year to complete this basic things. At that time other OS's going to develop many more different things; t this OS goes on struggling. That's all

Apne baap ko bata ye sab xD

I'm sure your dad forgot to teach you manners

Since you like tedious lists so much maybe you could make a list of the phones and devices that do meet with your standards. Might be a shorter list.

HaHa your Fucking comment got deleted xD

Man, several things on your list are invalid. Number 1,2, 5 for example. I suggest you to embrace an Android.


I was so excited for the 940 XL review..........then I realized oh this is the 640 XL review.

I give this camera a bow. Lumia line is doing a good job in this dept. How does it perform on low light? Wen in South African, anyways I'm looking for 930. Micro SD is just cream on cake.

After researching this, I'm sticking with my 1520... ...that is, until Nokia makes one better. To me, the 640XL isn't.

Can anyone tell me the use of MAGNETOMETER?

It's a fancy word for saying that the phone has a compass.

does it have capabilities like the LG Nexus' sensor for google cardboard which uses magnetometer?

The magnetometer is used in maps app to point to where your phone is turned to... when you turn the phone and the map turn it's using the magnetometer

Not good enough to give up my 1520!

I was thinking that this phone used nano sim. Why not all use the same size sim?

Do we know if the Dual Sim is 3G / 3G or 2G / 3G like the rest of the Lumias?

I will say one of the advantages of Microsoft going mid-range and low end is the battery performance is better than before. I don't have to think twice about charging my 635 during the day time. What a change from the ol' 920.

Allready got mine , 9/10 coz i need wireless charging rest superb ... !!

Love mine, wireless charging should hopefully be available with the CC-3090 cover. Specs mention 802.11n support, but as with all Lumia budget phones its just the 2.4GHz band, no 5 GHz support.

Don't know what to choose between this or Lumia 640 Both seem like great phones

Now that, my friend, is called a perfect review. Thank youth Richard sir!

About the presumed scaling issue: you're telling that the screen has the same resolution as the 640. Then how can there be a scaling issue that is not there on the 640?

Here's hoping the 740 or most likely the 840 will have the snapdragon 615. Posted via the Windows Central App for Android

What's the weirdness with onscreen buttons and apps??

I have bought a Lumia 640XL (non LTE version, and yes: it's an italian CV too :D ) and I absolutely love it. The screen is more than acceptable to me, and I love the photos this kid is able to take. Guys, it's just 199 euro. It's nothing, and it's absolutely value for money.

Is this phone going to be available in the US as well

Not only is it going to be available in the US. Is it going to be available before the Cows come home. I would like to update my 820 before I die from old age. Heard about the 840; but if its taking them this long to get out the 640/640XL my Social Security will run out before the 840 makes it to market.

the phablet Lumia 640 XL has a interesting price/quality ratio, but the HD definition of the screen is a bit feeble for a screen of this size. ________________________________ Acheter galaxy s6 achat iphone 6

Number in paper sounds good but I just make an Benchmark on Basemark OSII in brand new Lumia 640Xl and my old Lumia 822, Results are as Follows 640XL Overall : 451 System: 605 Memory:766 Graphics: 226 Web: 395 Lumia 822 Overall:498 System: 530 Memory:771 Graphics: 336 Web: 448 Not bad if we know that L822 has a dual core processor. But a shame for a quad core on 640XL

Some Country Variants do not have LTE enabled out of the box for the dual sim model. Going to a Nokia care center to check if they have a software fix.

The main speaker should have been on the side panel (as we see on Nokia N95 earlier), to boost the speaker performance. Keeping it on the back panel suppresses the output when you keep the phone on a table or any flat surface. Needs redesign. Rest ALL is perfect,

i've been using this phone for a year now and i dont have any problem when it comes to performance , it's not lugging and very fast performance in just 1gb of ram , i used for work and gaming and we received system update constantlly

Will we ever get a Windows 10 updgrade?
Windows Central Newsletter
Get the best of Windows Central in in your inbox, every day!
Thank you for signing up to Windows Central. You will receive a verification email shortly.
There was a problem. Please refresh the page and try again.