Microsoft Lumia 640 XL review
Fans of large screen Windows Phones haven't exactly been spoiled in the past. There was the Lumia 1320 and Lumia 1520, launched in October 2013 to the world at the final Nokia World event in Abu Dhabi. But that was a long time ago and there hasn't been a lot to speak of since.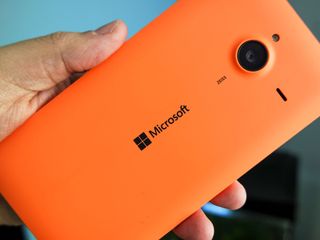 The Lumia 1320 was always a more budget targeted, large screen phone. And those who bought it largely adored it. Fast forward to Mobile World Congress 2015. Now with Microsoft doing its thing, there's a successor to the Lumia 1320. A new, affordable, large screen Windows Phone.
And with the new phone comes a new moniker: XL. And that stands for exactly what you think it does. The Lumia 640 XL is in many ways similar to the Lumia 640, only bigger. And in some cases, better.
What you'll like:
Great value for money.
A free year of Office 365
Good quality cameras
Large display complete with Glance screen
Good battery life
What you won't like:
Internal storage is pretty low
No wireless charging as standard though there are contacts underneath
Some weirdness with on-screen buttons interfering with apps
About this review
This review has been written based on time spent with an Italian CV device in the UK. It's the single-sim, non LTE version. The UK CV will be the single-SIM, LTE version.
Video hands-on
Under the hood
The specs
Windows Phone 8.1 Update 2 with Lumia Denim
Windows 10 Ready
Colors: Matte cyan, orange and black, as well as both matte and glossy white
Qualcomm Snapdragon 400 (MSM8226), 1.2 GHz quad-core processor
5.7" HD (1280x720, 16:9) IPS LCD, 259 PPI, Glance screen, Corning Gorilla Glass 3, Sunlight readability enhancements
1GB RAM
8 GB internal mass memory + up to 128 GB Micro SD & 30GB free OneDrive cloud storage
Rear camera: 13 MP AF, 1080p @ 30 fps video (continuous autofocus), Flash: LED, Lumia Camera 5.0 (with Dynamic Flash, HDR)
Front camera: HD 5 MP wide angle, 1080p video
Connectivity: BT 4.0, microUSB2.0, Micro SIM, A-GPS+GLONASS, BeiDou, DLNA, Screen cloning with Miracast, WLAN 802.11 b/g/n/
Sensors: Accelerometer, Magnetometer, Proximity, Ambient Light Sensor, SensorCore
Battery: 3000 mAh (BV-T4B) removable battery
Weight: 171 g
Size: 157.9 x 81.5 x 9.0 mm
The hardware
Image 1 of 2
The smaller Lumia 640 is an iteration on the design front from that which came before it. The Lumia 640 XL has a lot in common in its overall look with its smaller sibling. From the front, camera placement aside, they're very much alike. One large, one not so large.
And like the Lumia 640, the internals used by Microsoft aren't anything to shout about, either. In fact, the basic hardware is identical. There's a Snapdragon 400 CPU, 1GB of RAM, 8GB of internal storage and a microSD card slot. The display has the same resolution as the Lumia 640 while bumping the size by 0.7-inches, leading to a noticeable drop in PPI. If you look at the two side-by-side, it's impossible not to notice that the smaller display is visibly sharper.
Around the back, the Lumia 640 XL boasts a hint of the Lumia 1520 with the way the camera hump looks. The 13MP shooter with Zeiss lens is a step up from the 640, likewise with its 5MP front-facing counterpart. We'll look at both a little further along.
For such a large phone, you'd be forgiven for expecting a sealed back. That's not the case, though, and pulling off the replaceable back cover opens up the 3000mAh removable battery, microSIM card slot and microSD card slot. Oh, and it has the black accent buttons too which looks great. Especially on the orange one we have here.
The matte finish on the orange is a welcome touch, as frankly, a glossy phone this size would be a bit of a slippery fish to hold on to. It's big, but not too big. One criticism I do have is the lack of a physical camera shutter button.
Sure, Microsoft reserves those for the Pureview devices. But, I think that needs to change. As we'll see later on, the camera on the Lumia 640 XL is pretty handy, and you're going to want to use it quite a lot. But a phone this size is crying out for that physical button. The whole experience just isn't that comfortable on a display this size.
That might not be an issue for many others. But it's worth pointing out. But on the whole it's another solid, dependable, if a little uninspiring effort again from Microsoft. Definitely mid-range hardware, but with a price to match. With an RRP of £219, again Microsoft has an extremely capable device without a hefty price tag. Compare to what the competition is doing, and that price looks even more enticing.
More: 7 things to know about The Microsoft Lumia 640 XL
Update 2!
The software - Windows Phone 8.1 Update 2 on board
Despite the recent 'rollout' as part of the Windows 10 preview for phones, the Lumia 640 XL is one of the first phones to officially have Windows Phone 8.1 Update 2 loaded up. While a lot of what's important in Update 2 is under the hood, there are also a few forward facing features we can see.
One of the more lauded features included is the 'remote kill switch' as it's so often called, now required by law in the U.S. It's no doubt played a big part in Update 2 even existing. But elsewhere the Settings app has had an organizational refresh, there are some mild visual tweaks and a few handy little features that are going to be useful to some.
All about Update 2
Update 2 is the very latest version of Windows Phone 8.1. While it's a minor upgrade overall, it does bring some important features with it, including the so-called 'remote kill switch.' Find out everything right here.
Windows Phone 8.1 Update 2 - Everything you need to know
The software - everything else
Aside from Update 2, it's pretty much business as usual on the Lumia 640. It comes with the latest Lumia Denim firmware and all the goodness that brings. Which, like the Lumia 640, also includes the Lumia Camera 5 application.
Before the launch of the Lumia 640 and 640 XL, Lumia Camera 5 had been exclusive to Microsoft's higher end, Pureview camera phones. The camera on the Lumia 640 XL isn't Pureview, but it's still pretty good. And it benefits greatly from the additional features provided by Lumia Camera 5.
Otherwise, there are a couple of pre-loaded items, one of which is the Fitbit app. Microsoft and Fitbit have a pretty good relationship these days, but the Lumia 640 XL isn't one of the phones offered with a free Fitbit Flex. But you can delete it if you don't want it, at least.
One issue that I have seen during testing this phone is some conflict between the on-screen buttons and in-app content. It's tough to describe exactly, and it doesn't happen all the time, but I'll describe an easily imaginable situation. In the Windows Central app, the very last comment sometimes won't be fully visible because of the on-screen buttons. It never happened on the Lumia 640, so I'm almost inclined to believe it's something that's happening with apps scaling up to the larger display.
Productivity
Office 365
Worth highlighting on its own, the Lumia 640 XL along with the 640 marks the first time Microsoft has given away a free one-year subscription to Office 365 with one of its smartphones.
Such an offer has been commonplace on small Windows 8.1 tablets for some time now. It's perhaps less useful on a phone, especially given the current state of Office on Windows Phone. But since you get bundled Skype calls, 1TB of OneDrive storage and access to the Office desktop apps as part of it, it's nothing to turn your nose up at.
The links below will guide you through what it is you're getting, and how you go about getting it.
How to get your free Office 365 subscription on the Lumia 640
A model for everyone
Connectivity - Dual SIM, LTE or not
One of the most amazing, yet easily forgotten features of the Lumia 640 XL is its connectivity. There are single and dual-SIM versions for different parts of the world, that's nothing new. What is new is the availability of a dual-SIM LTE model. Remember, the Lumia 640 XL is a mid-range device with an affordable price. And yet in some locations it'll take two LTE SIM cards. That's still a rarity in smartphones in general. At this price point, unheard of right now.
But not everyone wants that. And not everyone wants or can get LTE support. As such the Lumia 640 comes in variants with or without both of these options. We've got the Italian CV here with single-SIM and no LTE.
Aside from the choice, performance is as good as you get on any Lumia smartphone. We've had no issues locking onto and maintaining a 3G connection, though bear in mind this review unit isn't matched to the market we're testing it in.
Hopefully we'll get to spend some time with an LTE version at some point in the future and update on performance and battery life.
Shutterbug
The rear camera
The rear camera is one of the stand out features of the Lumia 640 XL. It's a 13MP, Zeiss lens unit, and even on a phone of this size we get a noticeable hump on the rear. Smartphone cameras are ever improving, but considering the price point that this phone hits, its camera is even more amazing.
As with the Lumia 640, the 640 XL is living proof that having a good smartphone camera doesn't have to cost the earth.
Until now, Microsoft has reserved Lumia Camera 5 for its very best camera phones. The likes of the Lumia 930, Lumia 1520 and Lumia 830 (in certain regions) all have it, but those are all Pureview. The Lumia Camera app has always been more capable than many equivalent stock apps on competing platforms, offering a level of manual control not found everywhere. Lumia Camera 5 adds the much-praised, Rich Capture, feature, to help you take more exciting photos. And the Lumia 640 XL makes the most of that.
Image 1 of 15
The Lumia 640 XL captures great detail in the images. You get less issues with white balance with everything set to auto than on the Lumia 640. Image quality is better than its smaller stable mate, but the 640 XL isn't any quicker at taking and processing.
But it's a pretty great all round camera. Low light performance is strong (with the usual limitations in mind), as has so often been the case on Lumia phones. Stick Rich Capture on, snap away, and leave the rest to the phone. You're not going to be disappointed.
Lumia Camera 5 isn't the only Lumia Camera app in town. There's actually three, and each one applies to a different phone in the lineup and has different features depending on the hardware? Confused much?
Selfie-tastic
The front camera
One of the other hardware bumps the Lumia 640 XL gets is a higher resolution front-facing camera. You'll be capturing your selfies at a respectable 5MP and your self, er, videos at 1080p. Not world beating, but very good given the price point of this phone.
On the 640 XL, the front facing camera is in the center of the phone. So that means whether you're using it portrait, or tilted left or right in landscape, you're going to get well framed shots.
Moving pictures
Recording video
The Lumia 640 XL also does a decent job at recording videos, too. The rear camera will shoot at 1080p at a continuous 30fps with auto-focus. You won't be shooting any blockbusters on it, but for capturing those casual clips and stuff to share with social media it does pretty well. The auto-focus is still a little aggressive, but less so than it is on the Lumia 640.
What we like about the front-facing camera from the 640 also applies here. The quality of video is good and the microphone does a solid job even with some background wind noise.
It can go all day (and maybe the next)
Battery life
One important fact to remember while we're discussing battery life is the version of the Lumia 640 XL that we have here. This is a European phone, from Italy specifically, without LTE support. So in testing we haven't been able to use the LTE model on our locally supported carriers.
But, all that aside, the battery life is pretty stellar. The combination of 3000mAh and a 720p display leads to real world use that can stretch to two days. Naturally dependent on what you're doing.
The usual suspects such as using the camera a lot will take a hit on the battery, but largely using the Lumia 640 XL is one of relative comfort over ending your day without hunting for a charger. And for most people, getting through the day is the important thing.
It'll also be a comfort to the business focused buyer, a target market whom Microsoft is partly pushing towards with the 640 XL. Even with some pretty intensive use draining the power before the end of the working day should be pretty tough.
And it's removable. So you can always carry a spare.
Show me the money
Pricing and availability
The Lumia 640 XL is on sale already or very soon in a number of markets across Europe and Asia. The RRP from Microsoft is around £219 though that will vary from market to market, and it's on sale in the UK from April 28.
What is important to mention is that the Microsoft Store is probably the most expensive place you'll find one to buy. Third-party retailers and carriers will always be worth checking out in the search for deals. The Lumia 640 was available in the UK almost immediately with strong discounts over the Microsoft Store pricing, so there's a good chance the same will apply with the 640 XL.
At the time of writing there's no concrete information on a U.S. launch..
Summing up
The bottom line
If you want a large-screened Windows Phone, there aren't many options for you right now. You could get the much older Lumia 1320 or spring for the higher-end Lumia 1520. The Lumia 640 XL isn't a high-end phone, there's no other way to say that. If you want the high-res screen and beefier internals, the Lumia 1520 is still the only option (if you can find one, that is) at this kind of size.
But, all things considered, the Lumia 640 XL is incredible value for money. The balance of price, experience and the excellent rear camera produces something that Microsoft should be proud to have boosting its lineup. There will be more devices in the future for large screen fans, I'm sure, but as with the regular Lumia 640, the 640 XL is an option for everyone. Solid hardware, good features, great price. And it won't be long before you'll get it under £200, either. But, for more of the people, the Lumia 640 might still turn out to be the better option. The XL is pretty big, but it's also comforting to know that there's a smaller option which is almost identical bar the cameras.
With the 640 phones, Microsoft has laid down a pretty bold benchmark. This is the middle of its pack. We haven't yet seen what Microsoft is going to do with what stands above these in the range, but we're getting ever more excited to see what's next. When the mid-range is this good, the future starts looking much brighter.
To see some elements of this review please visit m.windowscentral.com in the browser on your mobile device
Get the Windows Central Newsletter
All the latest news, reviews, and guides for Windows and Xbox diehards.
Managing Editor - Tech, Reviews
Richard Devine is a Managing Editor at Windows Central with over a decade of experience. A former Project Manager and long-term tech addict, he joined Mobile Nations in 2011 and has been found on Android Central and iMore as well as Windows Central. Currently, you'll find him steering the site's coverage of all manner of PC hardware and reviews. Find him on Mastodon at mstdn.social/@richdevine