What is Microsoft Office 365?
With the addition of free Office 365 subscriptions to the purchase of some small tablets and the Surface 3 and now with Office 2016 released, there's never been a better time to try it out.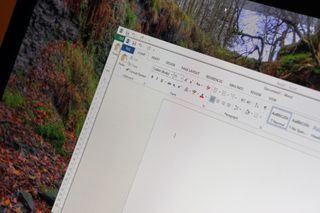 (Image credit: Windows Central)
But while the name is thrown around a lot, it's perfectly reasonable to ask yourself: "What is Office 365?"
Let's break it down.
So, what is Office 365 then?
Microsoft describes it thusly:
But that's not altogether clear in and of itself. There are different tiers to Office 365, such as personal, home and student and business. In its most basic form you get access to full Office desktop apps, mobile apps for Android and iOS should you wish, OneDrive storage, Skype minutes and more.
The free subscription offers on things like Surface 3 you'll find yourself with a personal subscription. It's also the cheapest tier if you're handing over money. So let's examine exactly what that gets you.
Office 365 Personal
Here's what you get:
The full, installed Office 2016 experience on 1 PC or Mac, Office Mobile on 1 tablet (including iPad and Android tablet) and 1 phone.
1 TB of OneDrive online storage
60 monthly Skype minutes. Use Skype minutes to call mobile phones in 8 countries or landlines in 60+ countries.
Access to latest Office applications, updates and features
As an Office 365 subscriber, you can get help right away from Microsoft-trained experts, by phone or chat—at no extra charge.
After the free year you will have to pay to continue the subscription.
How much does it cost?
In the U.S., Office 365 Personal costs $69.99 per year or $6.99 per month. Regional prices may vary, but it's a little cheaper always to stump up for a full year in advance.
If you want to step up from Personal to Home, which allows you to install Office on 5 PCs or Macs, 5 tablets and 5 phones it's a little more expensive at $99.99 a year or $9.99 a month.
What can I use it on?
The good thing about the Office 365 subscription is that it's one payment that covers whichever device on whichever platform you want to use it on.
Office now has a presence on every major platform. There are desktop apps for Windows and Mac, there are mobile apps for iOS and Android as well as Windows Phone.
We also now have the touch office apps that are available on Windows 10 which will, in some cases (like on 10+inch devices), require Office 365. Likewise to get full functionality out of the Android and iOS Office Mobile apps you'll need a subscription.
How do I buy it?
If you're interested in buying the good news is it's pretty easy. Most major retailers that carry computer products should also carry the vouchers you can go in and buy a 12-month subscription for.
But if you want to pay online, or just don't want to go outside, Microsoft's Office website (opens in new tab) will take care of everything for you.
Where can I learn more?
That's just a very quick introduction to what Office 365 is and what you get from it. To learn more about the product, including the various tiers including business and student, be sure to drop by the Office portal and our own at the links below.
Originally published April 2015, updated September 2015
Richard Devine is an Editor at Windows Central. A former Project Manager and long-term tech addict, he joined Mobile Nations in 2011 and has been found on Android Central and iMore as well as Windows Central. Currently you'll find him covering all manner of PC hardware and gaming, and you can follow him on Twitter and Instagram.
What happens when the first year completes & we still wanna use on Lumia without subscription.

It'll be as it has always been on Lumia. And as I wrote in the post, the Windows 10 touch Office apps will be free.

Oh. Thanks for letting me know :)

@Richard Devine:
"It'll be as it always has been on Lumia."
Translation: On a Lumia [or any other Windows Phone that is] the (included) Office365-subscription gives you Jack, providing editing capabilities that are not only sub-par to what an Offic365-subscription should offer to the user, but that are INFERIOR EVEN to the functionality the Office Touch-apps provide on competing platforms WITHOUT an Office365-subscription.

Which is being fixed with Windows 10. That's why we haven't seen an update for Office on WP. Join the Insiders program and you could possibly have a new and much improved Office on your phone with the next build release.

Mmmm strange, when I try to edit a document in word or excel in Windows 10 mobile I get a message that I need a 365 subscription to edit.

so the office mobile will really be free on windows mobile (so small tablets too)? can you confirm? last time i tried to use word mobile on my l535 w10m preview it told me that i need a subscription. is it a bug?

I dont want all their online storage everything shit.. Why the hell would I entrust MS with personal documents in the cloud ????

Just store your files locally then.

True. If they wanted them, they could snatch them right of your desktop. The cloud is just much easier to use when you have multiple devices at multiple locations

Exactly. I never understood this logic. People claim that MS can't be trusted for cloud storage, but they have Windows and other MS products installed on their PCs. It's like they have so little understanding of technology that they don't know that MS could make the OS, or other installed software, read your files and send them back to their servers if they really wanted to do that (which they don't because it would be really bad for business). Windows could bypass user permissions, decrypt your files, and log all of your keystrokes. If you don't trust MS cloud services for whatever reason, why would you run their OS and software LOCALLY?!? It's makes no sense, but I hear this line of thinking anytime the topic of logging in with Microsoft Accounts is mentioned.

The only way to keep something to yourself is to have it all in your head. At least for now...

This. They could literally do anything and we wouldn't know. Not to sound paranoid but everything we do and type can be accessed. It's all code!

You're not just trusting MS. You're trusting they'll never be hacked, or turn over everything you have to your national government and the American government on a simple request rather than a subpoena. There is no such thing as "cloud security."

I'm guessing there really is no true "privacy" these days. Store anything, anywhere and it can be accessed one way or another. I think what we have nowadays is "responsible privacy" which is in the hands of Microsoft, Google, Apple and every Bank or Internet Service. Lets hope they keep us safe to the best of their abilities, and of course, we also take the best precautions too.

It is you that doesn't understand. We have the ability to sniff the network and know if the OS is trying to phone home. We have thousands of white hat security people analyzing what the OS is doing or not doing. With cloud storage on the other hand we have zero visibility and 100% trust in the provider, be it MS, Dropbox, Google, or whoever. In some cases if you read their EULA you will see that they say whatever you upload to their service they own. Additionally, huge cloud -based services are big targets for hackers. By their nature they must have openings in their firewalls to allow users to connect, which exposes them. On the contrary, all modern home networks will have no open ports on the firewall.

Very good insight. Now watch what happens between Apple and the government. It's like uuuum okay soooo we are safe???

True, so true...i am in charge of a college campus, holy cow, cloud is a savior...

No need to store documents in OneDrive if you choose not to, but of course, you then miss out on the benefit of accessing your files on any device. I'm curious though: what makes you trust Microsoft less than Google or Apple? Of the major platform players, I've always found Microsoft to be more consumer focused when it comes to privacy.

@SilverSee: He's probably afraid Microsoft is too "consumer focused" (focused on siphoning his precious Excel sheets that list his DVD collection).

@It Wasnt Me:
The internet is for porn.
So what DVDs could be useful for is anyone's guess...

Like Google is any safer.

Don't use Google Drive either; it's entirely cloud-based.

This is not a Microsoft problem in fact they have a good track record of protecting your data, the issue is why would you entrust anyone with my data in the cloud. To answer your question in more detail you should visit the Trust centre and see for yourself how Microsoft go the extra mile to protrect your data certainly better than most people manage to do themselves. Office 365 Trust centre

Having cloud stoage saved me many times... I travel a lot and this reduces to carry additional harddrive... I can access my documents from anywhere as far as there is internet. I would trust MS over any other cloud storage, esp Google drive. Actually I had really bad expereice with google drive... I lost my docuemnts and photos... however they have improved a lot since then. My only complain is that how long MS would support it. When MS shut down Mesh I had to download almost 20 GB of storage. Now all files are on one drive. Got 10+ TB for 4 years, then I have to purchase the storage. I hope MS would suppurt OneDrive for longer term.

Or, you could set up your own FTP or VPN at home and pay nothing except the one time hardware cost. These have been options before the internet even existed. Plenty of videos on Youtube to show you how to do either.

And then you have to hope your internet connection at home never goes down. And you have to manage the hardware yourself, including active backup and file versioning and such. Most people don't want to or have the time to be an IT professional. That's why we have services we can buy/rent.

Except people don't really have time to manage and (more importantly) to secure it. Your personal VPN is completely useless if it's security is flawed. Oh, and let's not forget that the speed of your internet connection might impair this performance.

Oh you do. If you're in university or school, an online storage goes far. It helped me recover my documents. I also do not need to bring any USB anymore. Also now if I want to get a file (like music) on my new phone, I'll just download it off my cloud. It's real easy. MS as a company is known to fight for data privacy. The only thing you need to be scared of is Google prying on your info for their adverts.

Store you files where ever you need. After they are lost or deleted don't be a cry baby, or don't say I just forgot my files in my home, hard disk, laptop, or any other storage when ever you need then at an instant.

True. You only need to loose your data once to know that the cloud is heaven sent. It's like the old saying; women do backups and men cry...

But you entrust Google with your data, right?

One of the beauty of 365 subscription is that it comes with 1Terabyte of cloud space. Now if you don't trust their cloud or any other cloud for that matter, you don't have to use it. You still enjoy your office subscription. Now if you have faith in dropbox cloud and you have one, guess what? office 365 got you covered and supports dropbox from any device.

That's actually incorrect. It comes with 1 TB of storage space PER USER!!!!! Up to 5 users. So you really get 5 TB of storage.

You're already creating these documents through their online interface. You think that only using cloud storage makes you vulnerable? I recommend you just use notepad on a computer that is not online. Or write your own apps.

Or just buy a local install of Office like we've always done.

"I dont want all their online storage everything shit.. Why the hell would I entrust MS with personal documents in the cloud ????" Because MS uses the more secure and aesthetically pleasing Cirrocumulus clouds while Google uses evil stratocumulous clouds. Do your homework before posting.

"I dont want all their online storage everything shit.. Why the hell would I entrust MS with personal documents in the cloud ????" Because MS uses the more secure and aesthetically pleasing Cirrocumulus clouds while Google uses evil stratocumukous clouds. Do your homework before posting.

I didn't use to bother with all the pay subscription crap and i used to flout privacy by running pirated windows (and being a source of malware for everyone else). But Dan Rubino set me straight. And holy cow, everything just works better when you update regularly and got access to Microsoft services. We used to think that mac was the shit, but it turns out everything was crap on my end because we were using pirated software and had no access to updates and virus definitions.

Just use the cloud for big bloated things like music, photos and videos. Your page of passwords and bank account stuff is probably under 124k of memory and can fit on a 1995 floppy disk....or print it up and slide it under the rug

And does it still work on February 29 in a leap year?

So how do we get them on lumias wp10? Wait for another phone update? Or?

They're not included in the current previews. Yet. When Windows 10 is an actual product, they will be completely free on phones and small tablets. http://www.windowscentral.com/office-windows-10-free-phone-and-small-tablets-office-2016-way

The name Office 365 was weird sometime in the past :)

Subscription also includes Office 365 University for students 79$/79€/59£ for 4 years http://products.office.com/en-GB/university

That's interesting, my college offers Office 365 for free for use up to 5 devices for students.

The school is probably paying on your behalf via your tuition. That allows them to ensure that all students/faculty have access to the same tools instead of just suggesting that students get the subscription themselves at the student discount price and then having to deal with compatibility/support issues from students that decided not to spend the money.

Is a Surface Pro 3 considered as a PC or "tablet" from a "Personal" subscription point of view ?

Surface 3 is bigger than 10 inches. However is included, Surface Pro 3 has no the same luck, we have to pay for. That's is.

Well, they mention in advertising that it replaces your laptop. I honestly think its some kind of a unique hybrid device, not common to tablets or laptops but something new.

It would be considered a PC/laptop in regards to the subscription. Tablets are more or less app-only devices such as the Galaxy Note family or iPads

The Surface Pro 3, or Surface 3 for that matter, are PCs. It is not related to the form factor of the device, but rather what software is installed. On those devices you will be installing the full X86 Office Suite, including Outlook through Access. One confusing thing right now is there really is no 'tablet' version for Windows, except for the previews available for the Win 10 Tech Preview. Once those Windows Store apps are actually available, you could install them on a Surface (whatever flavor) counting against your tablet allotment, and also install the full suite counting against the PC. (It is possible that the Store apps may not count against a tablet on an MS OS device, but that isn't clear). That might actually be worthwhile, as the Store apps are way more touch friendly than the desktop versions. You can experience that with OneNote which is available in both forms. The Store App (Metro version) really lends itself to touch, while the desltop version favors a mouse and keyboard. Desktop Outlook vs the trio of Mail, Calendar and People provide a similar comparison. Right now, tablet versions are only available on iOS and Android. Phone versions are also only available for Android and iOS. Windows Phone versions, which will undoubtedly look just like the other phone versions, will come with Windows Phone, replacing the current Office Mobile Hub/Suite.

good thing my school offered this for free...and not just for a year, i think its for life, they said it had no expiration as long as we used our school microsoft accounts

Probably refering to this. http://blogs.technet.com/b/educloud/archive/2013/10/15/student-advantage-and-office-365-proplus-faq.aspx Office365 is already free to non-profit organizations.

As long as you are paying tuition is more likely. 20 years from now your school account probably won't work anymore.

in that time i'd have the money to buy a real license

Does a Surface count as a tablet or as a PC?

Surface 3 is bigger than 10 inches. However is included, Surface Pro 3 has no the same luck, so we have to pay for.

Nothing to do with the size. If you install the full Office suite (X86) it is a PC. Even my 7" HP Stream is a PC in this respect. There actually is no 'tablet', or Store app version(s) for Windows yet. [not counting the previews available on the Win 10 tech Preview. You can't put them on your Win 8 anything]

Office apps (Mobile) for Windows 10 PC isn't preview anymore, and Yes, they're available through Store. The only Preview version available it's the Windows 10 for phones. Edit: And I just realized that your comment it's 5 months old lol

@Zapella Tiago, that's what happens when they repost an article lol.

Still can't put them on my Lumia 2520 though. That might really benefit from them. RT has been abandoned, new Start Menu not withstanding. Oh well, it still does everything it ever did. ;)

It only runs on Windows 10 phone/desktop etc.

Touch Office is free for Windows 10 users... Android/iOS need subscription for more than basic functionality... So what is considered basic functionality? What extras do Windows 10 tablet and phone users get? I wish this was explained in the article.

Surface 3 is bigger than 10 inches. However is included, Surface Pro 3 has no the same luck, we have to pay for.

This should help you http://blogs.office.com/2014/09/02/post-title-office-ipad-now-supports-monthly-subscriptions/

Normally the home edition costs €99,99 here, but I got it for €64,95 at the local computer store :)

& I got 4 years of Office 365 Home for the equivalent of 90 dollars...
(4x office personal codes from Ebay, stacked, then converted to Home via a 1 month 365 Home subscription).
5x users, unlimited storage & a March 2019 expiry.
That's what I call a good deal :)

Wow, I never thought of that!

Are you sure? I did the same thing some months ago with several "free" subscribtions which came with laptops and tablets we bought in my family. But here 1 year personal becomes 9 months Home, when you convert. So I'm up to September 2018. Started with a free Home subscibtion, added myself, my girlfriend, my son, my daughter and my mother. Next I bought 2 cheap (60 Euro) Windows tablets which came with a free year Personal subscribtion. Added those and they were converted to 9 months Home each. Next bought 2 Asus Notebooks (for my kids school) which also came with a free year Personal subscribtion. Added those to to my account and converted to 9 months Home again. So in the end, now I'm okay till Sept 2018

Office 365 is an excellent product. Exchange + Office (offline/online) + SharePoint + Lync (RIP) is what most business need and what Office 365 offers priced well and as a service.
Office 365 for non office time.. At least brand it differently and still not sure if it has future as paid service ( money not privacy) even if it has working OneDrive what Business side lacks.

Lync isn't dead, it's just been rebranded! Skype for Business now Posted via the Windows Central App for Android

We have been testing Skype for Business for 3 months here where I work. I like it quite a bit. Been in 5 conference calls for feedback directly to the development team giving our suggestions and complaints. ALl items we have brought to their attention have been fixed, changed or added. You will like the new interface. Much cleaner and friendlier to the user. Ex

Skype was quite an expensive acquisition. I'm just a bit suspicious that branding & new app is short term good will balance sheet operation rather than making better product for paid customers. Hope I'm wrong.

I think the plan is to merge the best of both into a single product line (still consumer and enterprise targeted versions though) rather than support two different sets of technology with very similar goals.

Heyyyyy, you are posting to WPC via WCA for Android?.... Ohh my gosh.. omg.. I am hyper ventilatting right now, give me a minute to catch my self and my breath.... Some pinch me, is he or she allowed to do this? someone please check the rule book, check the non-resident non-rule book... for heavens sake check all the books.... This is unbelievable..... OMG! Ohhh. found it.. He is Ok, we are allowed to jolly with him and welcome.... Welcome Greg2k.... Hope that was fun for you as much as it was for me.

I've always wondered why there isn't an Android Central app on WP. Some of us likes to be reminded why we switched ;)

Don't forget students can get a 4 year subscription including Access database for between £53 and £70 depending where you buy it. All you need is an NUS card with ISIC (an extra £2) to register as a student. You also get other discounts from Mictosoft store online.

The student one is very helpful, I know many people who own the subscription and love it.

Love office 365, I have a subscription til 2016. Word and Publisher are often used by myself. It worth it!

The one that never comes to windows phone. But fulfils apple's and androids needs

It's a little confusing since there's also Microsoft Office web apps that are completely free, but online only and with limited features. Then there's Windows RT with full Microsoft Office for free with no subscription.

The Office on Windows RT is not full featured in any of the apps, macros and VBA are not supported among other things. There is no Publisher or Access, and it never updates. If you are using Office 2013 via Office 365 and Office 2016 releases, you just get it. Office on RT is just like a copy of office you used to get in a box. What you got, is what you got forever. Except in this case you don't even have the option of buying a new box. BTW, Windows RT is dead if you haven't heard. (I'm writting this on a Lumia 2520 BTW, so I am in that situation. No regrets. Actually wish they had kept RT.)

I have Office 365 on my phone, (2) desktops, and (2) laptops... Great product... As our company uses all their services.

So, basically the "365" thing is related to cloud-based services? I mean, when the subscription ends, the regular offline Office app still works, right?

If you allow your subscription to lapse then you can only use Office to view files.

Oh, that sucks!!! I think I will stay with the regular old-fashioned offline Office app. Thanks for the clarification.

No, the subscription is also for the current version of the software on any platform. If you discontinue the subscription the software won't continue to work in it's full capacity. The subscription model replaces the old (still avaiable) model of buying a license for a specific version of the Office suite on a specific platform for hundreds of dollars and then paying seperately for upgrade licenses to keep the software current.

I guess 99% of regular home users are not going to pay these ridiculously high prices. It looks like Microsoft is about to lose one of its last two assets (Office and the desktop OS are all that is left).

Office 365 is not a new service and from what I have read sells better than the disk version, Office 2013, and that's before Office 365 was available on iOS and Android.

Your guess seems to be wrong based on MS financial reports. Office 365 has been very successful in enterprise, small business, and consumer markets. I know several people that are fine with paying the "ridiculously high prices" for Office 365 and none of those people had ever paid the hundreds of dollars for a normal Office suite license in the past. They all used pirated or old copies instead, but now it's just easier to get the authentic product for all of your devices (or whole family) for around $8 per month with Skype minutes and unlimited OneDrive thrown in as a bonus. If your work/school/whatever doesn't require the level of functionality of office then you don't have to buy it. There is a free online version of MS office and there are plenty of alternatives. However, for people that need the real deal, Office 365 is a really good value.

Sadly not supported in my country, Guyana . Only english speaking country in South America, part of caribbean, i'd really like to get the home subscription.

You can change your Microsoft account region to USA. That'll work.

I was actually driving through Guyana today....*
.
.
*In the French part, at the space centre...driving a Ferrari 458...courtesy of Asphalt 8 Airborne :)

LOL, I see what you did there !