AT&T officially announces the Pure ($149) and Tilt 2 ($299)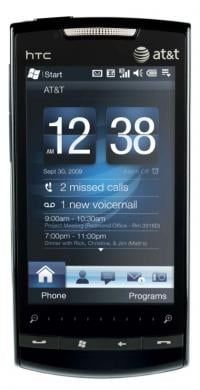 There's nothing like closing the barn door after the horse is out, but AT&T has officially announced (opens in new tab) the HTC Pure, which actually hit stores Sunday. Also announced, finally, was the Tilt 2, the Touch Pro 2 follow up to the Fuze or the original Tilt, depending on how you want to look at it. Both of the phones have (or will have, for the Tilt 2) Windows Mobile 6.5 on board from the get-go.
The Pure is available now, as we said, for $149.99 after contract and rebate. The Tilt Pro 2 "will be available in the coming weeks" — we've seen that Oct. 18 rumor floating around — for $299.99 after contract and rebate.
Full presser after the break.
AT&T* and HTC Corporation, a global designer of mobile phones, today announced the upcoming availability of the HTC Tilt™ 2 and the HTC PURE™ with Windows® Mobile 6.5. The HTC PURE delivers a touch screen experience in an alluring, compact form factor, and the HTC Tilt 2 features the convenience of a tilting touch screen combined with the practicality of a slide out full QWERTY keyboard.
Powered by the nation's fastest 3G network and the Windows phone platform, the HTC Tilt 2 and HTC PURE deliver an enhanced TouchFLO® 3D interface on a large vibrant touch screen that makes navigation intuitive and rich while enabling smooth access to desktop like web browsing. Both devices embody HTC's approach to put people at the center of the communications experience by providing full access to voice, text, or email in a single contact view, regardless of whether voice, text or email was used. This view can be accessed from the contact card or in the in-call screen during a phone conversation, ensuring the latest conversations are always at hand.
"As one of the first carriers to support Windows Mobile 6.5 in the U.S. and the largest distributor of Windows phones worldwide, AT&T has a long history of leadership in smartphones and Windows Mobile," said Michael Woodward, vice president, Mobile Phone Portfolio, AT&T Mobility and Consumer Markets. "Twice as many smartphone users choose AT&T over any other carrier and the HTC Tilt 2 and HTC PURE will lead our Windows phone lineup into 2010."
AT&T will support Windows Marketplace for Mobile in 2009 for access to a variety of applications on new AT&T devices, including the HTC PURE and HTC Tilt 2. Additionally, AT&T customers' purchases from Windows Marketplace can be added to their monthly statements. After Microsoft delivers Windows Marketplace later this year for other versions of Windows Mobile, AT&T will make it available to customers using those versions.
Windows Mobile 6.5 received several upgrades that enhance ease-of-use, such as a touch-friendly user interface and improved browser with Flash support. Content and applications are just a fingertip away on the redesigned Start Menu and Internet Explorer Mobile will support the rich experiences that many Web pages offer for desktop computers.
"AT&T and HTC have a long history of innovation with Windows phones," said Andy Lees, senior vice president of Microsoft's Mobile Communications Business. "AT&T, by bringing out the both the HTC Pure with its touch slate, and the HTC Tilt 2 with its keyboard, gives people the ability to choose a Windows phone that matches their preference."
HTC Tilt 2
Designed for the business professional, the HTC Tilt 2 is designed with distinct style and strength while delivering the most powerful productivity experience available on a mobile phone. The HTC Tilt 2 features a high-resolution 3.6-inch widescreen WVGA display which can be easily tilted for an expanded viewing area and a large QWERTY keyboard, which is optimized for heavy email use. A quality speakerphone experience is enabled by dual speakers and dual microphones with advanced noise cancellation, and HTC's Straight Talk™ which allows for simplified conference calling and activation of the speakerphone by simply turning over the device. The HTC Tilt 2 also features a 3.2 megapixel camera.
HTC PURE
Leveraging HTC's TouchFLO 3D experience, the all touch screen HTC PURE offers an advanced touch experience that is optimized for one-hand use, which further evolves the compact smartphone design. Incorporating a large, brilliant 3.2-inch WVGA touch screen, the HTC PURE is crafted to fit perfectly into the hand and accentuates one's sense of style. With a crisp advanced five megapixel auto-focus camera with video capture, expandable memory, gravity sensor and an ambient light sensor, the HTC PURE brings many of the most sophisticated features to a broad consumer audience looking for the professional benefits of a smartphone, without sacrificing size, looks or functionality.
"The HTC Tilt 2 and HTC PURE are not only powerhouse devices, they also provide a natural simplicity in the way we communicate with the people in our lives whether through voice, text or email," said Jason Mackenzie, vice president of HTC America. "Our desire is to put people at the center of every mobile experience, and we are pleased to work with AT&T, who shares this common vision."
Pricing and Availability
The HTC PURE is available at AT&T retail stores nationwide and online at www.wireless.att.com (opens in new tab) for $149.99. The HTC Tilt 2, will be available in the following weeks for $299.99. (For the HTC PURE, pay $199.99 and receive $50 mail-in-rebate, for the HTC Tilt 2, pay $349.99 and receive a $50 mail-in-rebate. Two-year agreement on a minimum $69.99 plan required.)
Small business customers also can subscribe to AT&T's new, industry-first BusinessTalk voice plans, which start at $60 a month for five users and 700 Anytime Minutes and can be expanded for $9.99 a line to accommodate up to 40 users and 20,000 Anytime Minutes. AT&T Music, AT&T Navigator, Video Share, Push-To-Talk and MobiTV all require separate monthly subscriptions.
Windows Central Newsletter
Get the best of Windows Central in in your inbox, every day!
Phil is the father of two beautiful girls and is the Dad behind Modern Dad. Before that he spent seven years at the helm of Android Central. Before that he spent a decade in a newsroom of a two-time Pulitzer Prize-finalist newspaper. Before that — well, we don't talk much about those days. Subscribe to the Modern Dad newsletter!
No mention of a 3.5mm jack on the Tilt. So 3.5? Or no 3.5? I've got my fingers crossed for my AT&T bretheren!

Probably not. A BGR commenter who claims to work for AT&T and have seen a display unit says that it doesn't have a 3.5mm jack. That would be consistent with Phone Arena's Tilt 2 preliminary specifications.

As I am sure it will be asked many more times, does the AT&T Tilt2 (TouchPro2) have a headphone jack? I hope so, I could have just bought the unlocked HTC version, but waited for the AT&T version hoping it would have a headphone jack... I hope I didn't wait for nothing...
M

@msh441 - well an unlocked HTC version wouldn't have AT&T's US 3G band so either way you didn't wait for nothing ...

According to this photo, it does not look like it will have a 3.5mm headset jack. Very sad. It looks like At&t thinks business people don't like to have fun. Although the sprint and Verizon versions have the 3.5mm headset jack, the coverage At&t has in Los Angeles is just too good for me to consider leaving over a headset jack. I guess I will just continue using the itouch for Pandora with the htc wifi app. (using an adapter do not provide the same audio quality using Pandora on winmo as the itouch sadly). Much more fidelity with the itouch for some reason. I guess the bitrate or compression used is better from the Pandora folks. Maybe by the time At&t figures out that it's high end business devices should be full featured, Pandora will get it together for winmo as well.
Link to photo showing lack of headset jack.
http://www.computerworld.com/s/article/9138831/AT_T_announces_first_Wind...

theres a plug you plug into where the charger goes and it has a 3.5 mm jack on it and a head phone jack

Here's what I'd like to know: assuming you use TouchFlo3D, does it really matter whether underneath it's 6.1 or 6.5? Because if it doesn't matter, then what's most important is what version of TF3D is running on the device, and once the Tilt2 is out someone should post on WMExperts the version of TF3D each TP2 has, because I don't think they're all the same, and it's an important purchasing consideration. Also, regarding the claim that Los Angeles has such good AT&T coverage: LA is very large. I live in LA and I think AT&T sucks. I'll be sitting in my car, parked, and signal will fall in and out. It's pathetic. I don't know where shootthis lives in LA, but I doubt he lives near me.

Hi Who?,
Regarding the version of Touchflo, having played with the t-mo and sprint version and doing some online research, I found that they all seam to be running Touchflo 3d version 2. This is the version with the "Contact Centric"
theme. The new version with the weather on the clock is version 2.5 from the Leo Rom. As far the 2 biggest differences between 6.1 and 6.5 that I have seen are battery life and performance. I have been using 6.5 roms from XDA since late April and not all are great. Some of them even had bad battery life. If you can find a chef who is a couple of versions in on a particular build, they usually have worked out all the bugs by then. Energy and RRE for me personally are the best and most stable. As far as a purchasing consideration. The GSM versions already have cooked 6.5 roms with the latest Touchflo 3d 2.5 on XDA. No waiting for an upgrade from the carrier.
And finally, I am sorry to hear you are having trouble with coverage in L.A. I have had At&t since it was At&t Wirless, then Cingular and now just At&t. Ever since the iphone, service has gotton a lot better. I live in the Downtown area and work in Hollywood. Granted, their are spots of L.A. that it drops down to Edge Data, but I do a lot of driving from one side of town to another playing pandora using my data connection and rarely have a hiccup.
3g coverage in the last year has been greatly improved.
I have experienced a dropped call or two, but not any more that my friends on Verizon or Sprint have reported.
Sorry to hear you are having problems.

Anybody notice the fine print about the $69.99 calling plan being required? So is that in addition to the "mandatory data plan" or are they going to have a combined calling/data plan scheme for these phones, like Sprint does?

Sad Day for TP2 on AT&T. A video clearly shows that there will no 3.5mm Headphone jack built in. I really will have to think hard on this one. The jack would have really put me over the edge but without I guess I keep using the original Tilt. I am tired of carrying around an adapter. Can anyone get the Sprint or Verizon version working on AT&T please.!!lol

I know I am not the biggest audiophile out there, but I have been using Bluetooth Stereo headsets for years with good success. What concerns me more, is the fact that the processor isn't an upgrade from the Fuze. If this had a Snapdragon, I would be much more interested. Now I will wait till they get the LG Monaco and I hear maybe an Omnia with Snapdragon before I make a decision.

If the phone is your only music player, BT headsets are fine. If you alternate between your phone and a dedicated PMP, like the iPod, you'd have to either carry an additional wired headset and/or a miniUSB adapter. iPod alternatives typically don't have BT adapter. And then there's the problem of having to charge a second device.

I agree. Everything isn't equipped for BT stereo. My car does have bluetooth but I like to listen to podcasts through the phone. I guess I will have to keep using the iPod for this reason.

I am on the fence regarding the lack of a 3.5mm jack. Sure, you can always go and get an stereo BT headset, however I do tend to travel by plane somewhat often and, in theory *wink wink* one cannot have wireless radios turned on while in the air, so that kills the vibe. Fortunately I kept my usb to 3.5mm adaptor back from the original Tilt days...

I know some serious audiophiles have invested in high quality headphones whose price rivals the cost of the phone/player but if you have never experienced the freedom of BT (wireless) heaphones, then you should try it. Unless you are able to distinguish the difference between a 320kbps and 256 kbps audio file, have the hearing of a 12 year old, and have all your songs in lossless flac (like I do) then jammin on some good wireless phones while not tied to anything will soon become a repeated experience. For the rest of you, I recommend that you not listen to headphones at all because they damage your hearing. ;-)

The issue isn't just sound quality. It's jack portability, device charging, carrying extra hardware (either 2 headsets or 1 plus an adapter) to accommodate other players, the limited range of wireless headset styles in retail channels (you usually can't just walk into any consumer electronics store and find a selection of headsets anywhere near as extensive as wired ones), and pocketability (most BT headsets won't fit in your front pants pocket). Stereo BT is a nice feature to have in addition to 3.5mm headset jacks, but not at their expense. And for the record, I use A2DP about 85% of the time -- for my car stereo and at the office, where I keep my phone docked in a cradle. So it's not a case of not having experienced this "freedom." Real freedom is having the options you need available when you need them.
Windows Central Newsletter
Thank you for signing up to Windows Central. You will receive a verification email shortly.
There was a problem. Please refresh the page and try again.