AT&T Tilt 2 and Pure get hotfixes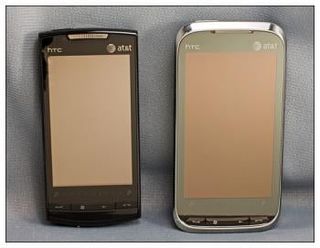 We've stumbled across two hotfixes for the AT&T Tilt 2 and Pure. The first fix addresses inconsistent caller id functions and the second where the Windows phone freezes in the SMS application.
Both fixes are not ROM updates and will not cause you to lose your data. HTC notes that these fixes will survive a hard reset and will only need to be installed once. Do note that the fixes might not load if you're running a custom ROM. Stock AT&T only, it looks like.
The fixes for the Tilt 2 can be found here (opens in new tab) and for the Pure (opens in new tab) here. It appears that these issues are present only in the AT&T models so Sprint, Verizon and T-Mobile users need not worry.
Windows Central Newsletter
Get the best of Windows Central in your inbox, every day!
Phil is the father of two beautiful girls and is the Dad behind Modern Dad. Before that he spent seven years at the helm of Android Central. Before that he spent a decade in a newsroom of a two-time Pulitzer Prize-finalist newspaper. Before that — well, we don't talk much about those days. Subscribe to the Modern Dad newsletter!
BRICKED MY PHONE!!! :( now im stuck at "AT&T World Phone" screen

Installed both updates, one by one, with reboots in between, on my Tilt2 with no problems. I held my breath deep when I saw these comments but went ahead with it anyhow, and am glad I had no issues. My Tilt2 is "stock" but I do have lots of marketplace apps installed on it, and some other stuff from cabs (ie: opera10b2) but nothing too custom - were you on some kind of custom ROM maybe?

Installed both on my Tilt2, no problems. But didn't really understand what it was fixing. Anyway, no harm done here.

:( lucky you! Everything SEEMED fine until reboot. then....... nothing......

vivienne westwood jewellery,vivienne westwood earrings,vivienne westwood necklace,vivienne westwood bracelet,vivienne westwood wallet,vivienne westwood,vivienne westwood jewelry,vivienne westwood pin,vivienne westwood ring,vivienne westwood cufflinks,vivienne westwood clothes,cheap vivienne westwood,cheap vivienne westwood jewellery,vivienne westwood jewellery sale,vivienne westwood jewellry,vivienne westwood sale.
vivienne westwood jewellery,vivienne westwood earrings,vivienne westwood necklace,vivienne westwood bracelet,vivienne westwood wallet,vivienne westwood,vivienne westwood jewelry,vivienne westwood pin,vivienne westwood ring,vivienne westwood cufflinks,vivienne westwood clothes,cheap vivienne westwood,cheap vivienne westwood jewellery,vivienne westwood jewellery sale,vivienne westwood jewellry,vivienne westwood sale.
vivienne westwood jewellery,vivienne westwood earrings,vivienne westwood necklace,vivienne westwood bracelet,vivienne westwood wallet,vivienne westwood,vivienne westwood jewelry,vivienne westwood pin,vivienne westwood ring,vivienne westwood cufflinks,vivienne westwood clothes,cheap vivienne westwood,cheap vivienne westwood jewellery,vivienne westwood jewellery sale,vivienne westwood jewellry,vivienne westwood sale.
vivienne westwood jewellery,vivienne westwood earrings,vivienne westwood necklace,vivienne westwood bracelet,vivienne westwood wallet,vivienne westwood,vivienne westwood jewelry,vivienne westwood pin,vivienne westwood ring,vivienne westwood cufflinks,vivienne westwood clothes,cheap vivienne westwood,cheap vivienne westwood jewellery,vivienne westwood jewellery sale,vivienne westwood jewellry,vivienne westwood sale.
vivienne westwood jewellery,vivienne westwood earrings,vivienne westwood necklace,vivienne westwood bracelet,vivienne westwood wallet,vivienne westwood,vivienne westwood jewelry,vivienne westwood pin,vivienne westwood ring,vivienne westwood cufflinks,vivienne westwood clothes,cheap vivienne westwood,cheap vivienne westwood jewellery,vivienne westwood jewellery sale,vivienne westwood jewellry,vivienne westwood sale.
vivienne westwood jewellery,vivienne westwood earrings,vivienne westwood necklace,vivienne westwood bracelet,vivienne westwood wallet,vivienne westwood,vivienne westwood jewelry,vivienne westwood pin,vivienne westwood ring,vivienne westwood cufflinks,vivienne westwood clothes,cheap vivienne westwood,cheap vivienne westwood jewellery,vivienne westwood jewellery sale,vivienne westwood jewellry,vivienne westwood sale.

My Pure was totally STOCK! Atleast I am not the only one who's phone broke during the process... Now, has ANYONE had any luck on FIXING the problem? I have a post on xda-developers and when and IF they help me out, I will be sure to post a fix for the issue. If someone else beats me to the ounch, PLEASE post how the issue was resolved. I would really hate to have to throw away a 1-week old phone! :( (I bougt it new on craigslist, so there is no warrenty or return option for me)

After calling HTC for an answer, I am to send the phone in to them to get fixed. I was told that since it is a software issue, that it will more than likely be fixed for free and returned to me for free. I only have to pay for the shipping to them and if it is a hardware issue that is not covered under the initial 1-year warrenty. At this point, they seem like the only people who have what they need to get my phone to boot. This seems like the best option for the amount of time I potentially have to wait for a solution on here. Although, I have no doubt one will be found sooner or later. Atleast I finally found a solution and will be able to use my phone ahain and throw aside this oooooooold motorola flip phone from the 90's! The option is now yours people... Hope I helped point a few people in the right direction.

3 Fisher Price DinosaurFisher Price fp3 PlayerFisher Price Fun to Learn PottyFisher Price HighchairFisher Price IncrediblockFisher Price Papasan SwingFisher Price School BusFisher Price SwingsGraco Baby SwingsGraco Booster Seats