AT&T Tilt, Samsung SCH-i760, XV6800 in the wild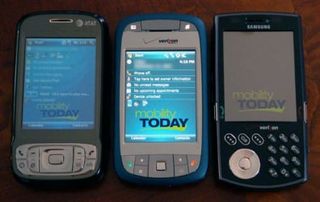 Mobility Today scored some live shots of the hottest sliders coming this fall. On the Verizon side we have the UTStarComm XV6800, which has a blue casing that manages to look even uglier than its name sounds. Also on Verizon we have the near Samsung slider and I agree with Ciccone - it's a lot chunkier than I expected.
The real hotness, though, is our first real shot of an AT&T branded Tilt instead of unlocked Kaisers. The good news is that, except for the badge, there appears to be virtually no change. The bad news is that, according to Engadget Mobile (opens in new tab), the Tilt will be missing it's rumored launch date tomorrow due to "some pesky network certification issues."
Windows Central Newsletter
Get the best of Windows Central in your inbox, every day!