Audiocloud, the best SoundCloud app for Windows Phone, gets a nice update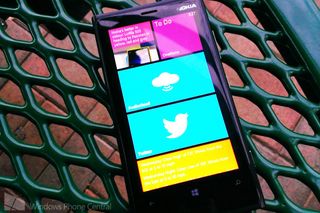 SoundCloud is one of my favorite sites for music discovery and a constant supply of new music. It does however such that there isn't an official SoundCloud app for Windows Phone, but after the latest update to Audiocloud, I don't know what else I'd want in an 'official' app. Check it out.
There are a handful of 3rd party SoundCloud apps in the Windows Phone Store, but only one has had any significant updates in the past year, most of the others seem to have broken API's since users can't log in. Audiocloud is that one that has been getting a steady stream of updates and the latest is great if you're into passive consumption on SoundCloud.
Audiocloud was updated to version 2.0 a few days ago and brings with it a variety of new features for both Windows Phone 7.x and 8 users. There are also a handful of new features unique to folks running the Windows Phone 8. Here are the features available to everybody:
Improved data loading speed
Improved track seeking function
Replaced save ringtone function with more flexible create ringtone function
Added Explore section on main page panorama, revamped genre list
Added FAQ section
Bug fixes
An impressive list of features for sure. The revamped genre list is something I especially appreciate. A few months back SoundCloud did a complete site redesign that also changed functionality and the layout of everything. They also added an 'explore' section on the site that allows you to browse popular tracks in all the different genres. For example on the website I often find myself hitting up Explore -> Electronic -> Trap to get some new tracks for the gym. Before this update, you couldn't do that sort of exploration for new tracks on any SoundCloud app on Windows Phone, now with Audiocloud you can. Don't think SoundCloud is just a place for the EDM crowd, there are catergories for every music genre you can think of as well as a fairly robust selection of podcasts and news outlets.
For Windows Phone 8 users, here are some features you can also look forward to in addition to the ones above:
Added save track to device music library option
Added lock screen quick status notification for new sounds in stream
Added English voice command support
Added voice search
In the older version of the app, you could download a track for offline use. However, you would have to go to the 'saved sounds' section of Audiocloud as opposed to seeing it in your music library. Now with the latest version you can, an awesome feature to add new sounds on the go.
Creating ringtones is a slick new feature too. It's very similar to the Ringtone Maker from Nokia in terms of functionality and implementation. You select a 20 second or so portion from a track (that would be available for free download from the sound creator to begin with) and a few more taps and you're rocking a new ringtone. It's a really neat way to grab the before and after of your favorite bass drop for a ringtone.
There isn't an ability to upload sounds, some other apps in the Windows Phone Store allow you to record and upload. But if you can live without that feature Audiocloud is by far the best Soundcloud app I've played with for Windows Phone.
You can download the app for free in the Windows Phone Store right here, use the QR code below, or swipe right in our Windows Phone Central app.
Windows Central Newsletter
Get the best of Windows Central in in your inbox, every day!
Same here. Losing the charm WPC, are we now?

Still many might not know about this

I tried it, don't really like it as much as SoundDrivin. SoundDrivin looks and feels more like the SoundCloud app. The only knock I have with SoundDrivin is that it hasn't been updated to support the higher resolutions of WP8 (HTC 8X).


or that it doesn't support the new 'explore' feature of SoundCloud.

News to me. I've been using free music cloud & nebula. Definitely will give audio cloud a shot.

News to me too and very glad to hear it also.

How the hell does Word not catch that? Thanks for the heads up.

Jason is my Boy!! Love that lil Malaysian kid!!!

Wooow and just last night I was looking for an app for it! Awesome!

I actually prefer Soundrivin - I tried both and didn't find audiocloud very user friendly. I'll give it another shot though after this update.

It's free, so you totally should check it out. I used to use Soundrivin but it hasn't been updated since last May. Also the new features in Audiocloud make it great. Reflects the SoundCloud redesign too in terms of functionality and organization.

I used soundrivin the UI is more beautiful but it's very buggy.. And no dark theme.. I just downloaded audiocloud because I was irritated with soundriving!
Audiocloud is AWESOME!

Not working. Can't Register, meaning after registration, login fails...

Bummer. Works fine for me. You can't create a SoundCloud app from the app or log in with your existing credentials? If you're signing up for the first time, maybe try it from your browser?

You may need to make an edit to the 2nd sentence of the article.
First sentence reads poorly too. 2nd sentence of paragraph 3 is incomplete.

soundrivin looks better in my opinion, you should check it out ;)

"looks better' is subjective. However, Audiocloud has better functonality by a long shot. The design can be tweaked, but when I'm listening to music I'd much rather it play music really well and help me discover new artists. Audiocloud does that, Soundrivin does not. Plus we're coming up on a year since Soundrivin has had an update...

Love the voice commands, one of the first genuinely useful implementations for me. "audiocloud play my likes" and pow i have a good in-car playlist - time saver!

thanks, testing it today. Using free musci cloud, and it crashe frequently

How to download a track ?
My Download Icon is Grey
Cant Click on it

Nehul, not all tracks on SoundCloud are downloadable. In other words, the track owner has only allowed streaming but not download.

Hmmm idk why but it wont install on my pc, it says *something happened on out end* ,does anyone else have this error? it just for this app, i can install other apps from store just fine
Windows Central Newsletter
Thank you for signing up to Windows Central. You will receive a verification email shortly.
There was a problem. Please refresh the page and try again.