Australia-based Westpac releases official mobile banking app for Windows Phone
Westpac has released an official mobile banking app for Windows Phone. The Australia-based bank offers a variety of features in the official solution and is a must-have for account holders.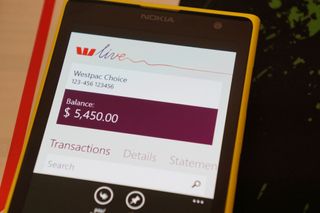 The app not only supports the ability to check account balances, as well as previous transactions, but it also allows for hot-swapping between personal and business accounts. Bills can be paid from within the app, or funds can be wired to available contacts. An interesting feature of the app is the ability to withdraw cash from Westpac ATMs without a debit card.
In case you're a bit lost, the app can also help you locate the nearest ATM or branch in Australia, and while abroad there's the global ATM Alliance Partner Network for savings to be made when withdrawing cash. As an added bonus, the app looks well-designed. The Windows Phone app joins the Windows 8.1 app listed on the Windows Store.
Download Westpac Banking for Windows Phone (free)
Download Westpac Banking for Windows 8.1 (opens in new tab) (free)
Thanks to everyone who tipped us!
Rich Edmonds is Senior Editor of PC hardware at Windows Central, covering everything related to PC components and NAS. He's been involved in technology for more than a decade and knows a thing or two about the magic inside a PC chassis. You can follow him over on Twitter at @RichEdmonds.
Good to see the banks in Australia supporting windows phone and make apps

Back when I had a Westpac account they wouldn't even recognise the windows phone browser and wouldn't let you log in. Commonwealth isn't much better as they have no plans to bring the app in line with iOS and android with the cardless cash feature.

I don't bank with them, but still good to see them there.

Finally, I have been waiting for this for 5 years!

You and me both! The mobile site was always pretty good but this is much better! This is actually a pretty big deal in Australia as we have four big banks that compete aggressively and Westpac is one of them! Hopefully it will push the others along...

CBA also has a good app... glad to see Aus banks stick with WP

It really is! I mean, I make do with the mobile site at the moment with my bank, but I would really prefer an app. Nice to see more support happening. I think Windows is getting a bit more of a foot hold in Australia. I'm seeing it featured more and more in catalogues and having displays in stores. Good sign!

I think Windows Phone has around 3 times the amount of market share in Straya than the whole world market share! It still isn't much compared to Android and iOS but shows a relatively strong Windows Phone presence in Aus :)

Actually, I think WinPhone share in Aus is lower than the global market share overall. That has certainyl been the case over the past 5 years and, if anything, I thin Windows phones are becoming less and less visible in stores. Virgin, for example, no longer offer any at all.

no tap to pay tho... hopefully soon

Two weeks after I upgrade from my 1020 to a nexus 6 :( just my luck Posted via the Windows Central App for Android

Less than 100 comments for this, but if it was an app pulled? 500+ comments ...trolls

True. It's actually depressing, the amount of doom and gloom we get when an app is pulled.

It's more that it's not American. :-)

Well done Westpac. Great app. Just need BOQ to pull their finger out then I'll have all I need

Please update commonwealth bank too

Commbank app is missing a) Tap & Pay, b) Cardless Cash, c) Lock, Block & Limit Credit Cards, and d) Replace a misplaced card.

Oh okay that's a lot then!

I would like to know what the CBA app is missing too. It is on par with the Android and iOS apps minus the Tap to Pay feature. What else do you want it to do?

ANZ is the only odd one out now...

Don't know what took the bastards so long. Cheers anyway.

no, this is the end, windows phone is doomed!! wait.. :D

I like to think my constant whingeing on Twitter got us this. I also tipped last week about Westpac supplying 640's to employees. Not sure how reliable source is but now that they've released this app seems plausible.

I saw my first 640 in the flesh today in Cyan and my god it looked amazing!

You mean you think Australia is somewhere in the US? Go back to geography classes then.

Kangaroo steak with vegemite!

best munchies ever, u gotta try it marinated in VB. taste buds wont stop partying

I should move to Australia because they support windows phone with good banking application the U.S nothing.

Europe is an option too :)

I was hoping for a Westpac app for New Zealand customers...... but alas no, maybe one day.

Please contact them and ask. That's what I just did.

Good to see. I use the NAB app, but happy to see another bank onboard. Just need ANZ to have the big 4 completed.

Now can we all massively email Nordea in Sweden to make a new app? They had one but they discontinued it due to "low user base" and I have been bugging them since. To be honest though, their app was "skit", yes that means shit.

They still have an app in Finland though so it shouldn't be to difficult to provide it in Sweden also

That's the part that is pissing me off mostly.. They have a very nice app for Finland.. Just take it and make it work with the Swedish branch.. Pfff

Nice one, thanks for sticking w/ Windows phone Westpac! :)

Wow, this is huge news here in Australia for Windows Phone, another one of the major local banks supporting the platform.

I am a NZ Westpac customer and I have contacted them (on Facebook) querying if they will be releasing for NZ customers. I suggest fellow Kiwis do the same, otherwise they might not realise there is demand out there. I also mentioned that ASB have an excellent Windows Phone app.

Great call dude ill back you up!

Finally - Been waiting for this !!!

Commonwealth.............. Westpac's shit

I agree Westpac are shit, the CBA app has been improved a lot since WP7 days when it was basically a web-wrapper

Nice to see that new major apps are joining WP.

Great work Westpac, now port that sucker to Westpac in new Zealand! Woohoo!

Just tried it and the initial impressions are seriously good. Awesome work by Westpac, even though they took their sweet time to build this app.

Downloaded but can't use - need to be upgraded to Westpac Live first, which will happen "over the next few months". Redirects you to their mobile web site until then, which isn't too bad. I actually don't access mobile banking on my phone much, anyway, but nice to have for the future when I can actually access...

Finally, I've been asking them for this for ages

It's about bloddy time! We've had one for the desktop version of Windows 8 for the longest time...

Standards are slipping VERY low round here..... 50 comments and no "wen in india"? Disgraceful.

One and half year after CBA released their app for windows phone. Too late brah. But its good to see little bit support for windows phone.

Awesome, us Aussies need this, 4 banks with apps now at a guess.

More than 4, in Australia we have ING, HSBC, Westpac, Commonwealth and NAB banks all supporting Windows Phone locally.

Been waiting for it for years! Fantastic stuff. Viva la Windows Phone!

Awesome! Need more banking apps so Chase and BoA can be put to same Speaking of banks, Santander are one the worst banks of all time.

Awesome! Need more banking apps so Chase and BoA can be put to shame Speaking of banks, Santander are one the worst banks of all time.

About time. They had released apps for all the other banks they own (st George, bank sa) but not Westpac.

I wouldn't classify St George as an app, just mobile website wrapper. The Westpac one is a real app.

Time to dump ANZ in favour of Westpac.

Yeah ANZ is just far too slow and shows zero interest in changing.

When I was in Australia I used the NAB app for my needs there. Good to see Westpac there!

Congrats, WP Aussies. Unfortunately, no Philippine bank has ever released an app in Our store. But they have one for BlackBerry World. Now, that pisses me off.

Seems the banks are seeing the growth of WP in Australia. All the phone carriers have updated all their Windows Phones to Denim a little over a month ago. Using the Firmware Checker app, all the listed phones across all carriers across all of Australia are a sea of deep blue in the list. When I check the list back home in Canada, it's dismal. They have about 1/3 the phone models as Australia does and out of all the carriers and the few models, last I checked, only two were in Denim, the rest still in Cyan & one model on one carrier was still on Amber ffs. I have a Lumia 800, 625, 925 and a 930. My wife switched from a Galaxy S3 to a Lumia 1320 and never looked back. Her mom has a 630, my co worker has a 1020.... My old boss got me to order a 630 for his son because he liked my 925 (at the time) while he had a Galaxy S4. I saw him a couple of months ago and he saw my 930 & said he'll probably upgrade to a Windows Phone next time. They are gaining ground here in Australia but one problem I have noticed is that most of the carriers (Telstra, Vodafone, Optus) no longer sell any Windows Phones, which happened recently. From what I heard from a lady at Optus is that they are phasing out the Nokias due to the Microsoft transition & phones like the 640/640XL are not yet available. Odd that they wouldn't at least hang onto the 930. If they don't get these new phones in soon, or if MS doesn't ramp up talk about more new phones (flagship) they can start to lose momentum... Which could lead to these bank apps and others to fizzle out. What's my point?
I like stories.
Oh wait, Telstra is still offering the 635 & the 830.
Hey, that b**ch at Optus lied. They have the 636 & 930 on their web site. Frickn liar.

Hopefully this means the St George app will be getting a makeover soon (St George is owned by Westpac).
Windows Central Newsletter
Thank you for signing up to Windows Central. You will receive a verification email shortly.
There was a problem. Please refresh the page and try again.