Autodesk releases preview version of AutoCAD 360 for Windows 8.1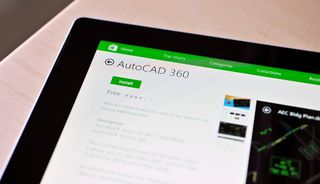 Autodesk, the well known middleware company that's released a number of Windows 8 and 8.1 apps in the past, has launched its newest software for the OS. It's called AutoCAD 360 and it allows users to view DWG, DWF, and DXF files, but not to create or edit them.
Autodesk says that this first release of AutoCAD 360 is a preview version. In other words, don't expect a lot of features out of the box. Besides viewing DWG, DWF, and DXF files online and offline, it also lets users switch between viewing those files in model space and paper space. It also lets people sync up the app to their Auto360 account and open drawings stored on their PC or upload drawings through the AutoCAD 360 web-app. That's pretty much it.
The app description states that Autodesk plans to add more features and functionalities in future versions of AutoCAD 360 so hopefully we will see many updates in the near future.
You can download the free preview version of AutoCAD 360 right now from the Windows Store (opens in new tab). What do you think of Autodesk launching this first version of the app with only a limited amount of features?
Thanks to the many people who tipped us!
Windows Central Newsletter
Get the best of Windows Central in your inbox, every day!
Finally. Solidworks is next.

Waiting for wp version as well

The same here. AutoCAD 360 is a very useful app and having it in WP would be great!

Awesome! View AutoCAD files on my Surface RT? WINNING!

Yes!!! Finally I can use my surface for work. Oh

Am waiting for this.cmon Autodesk release it for WP already.

Great soon it will be on WP :))

it does and you could easily check in store if it says "x86, x64 and ARM", even I did and I am not interested in or installing this app.

Well, can't wait for them to update the app for creating and editing in the near future. Touch-based drawing seems something I look forward to.

AutoCAD is three decades old.
Why not give us a Revit viewer or better yet the real program on 32bit.

Because most of the industries that use AutoCAD are not architecture based, even then the architectural industry is very slow to adopt new tech. Like BIM. Go where your user base is first and fill in after

Huh, agreed that there are a lot of industries that also use AutoCAD, but for the most part, there isnt an Architectural firm anywhere in the world that doesnt use the software. BIM was slow to advance because the software was not capable of replacing AutoCAD until the 2008 version, and that was even a reach. Revit 2010 forward has been great. A Revit viewer would be great, or even a 3D dwf viewer in modern ui would be awesome, that way you can export from any software (CAD, Revit, Rhino, etc.) and view on modern ui tablet.

Cmon Autodesk, now add some touch support to the desktop program!

Well seeing how Autodesk develop their software, I doubt they will add touch support anytime soon, I guess someday they will since Microsoft has hybrids and that's what windows 8 started... but knowing Autodesk, I doubt they can do something right.

I am an architect and I installed AutoCAD ws on my iPhone a couple of years ago but I never really used it, just kept it for the app icon on my springboard. The app is really limited and a PDF with my blueprints was a better choice most of the time. A half baked version of that? I think I'll pass...

finally windows rt can be used for engineering works while on site.hope they bring it to wp.i am pleased to see this since there was no dwg viewer in store.hope they follow universal app route

This is a well designed app - fundamentally just a viewer, there's some obvious thought gone into the design of this, right down to the loading animation. Can't wait to see what else they do with it.

A Cad viewer is OK but PDF works fine for me. I would like a light weight version for 2D drawings. I use AutoCAD on a powerhouse desktop for 3D and can't imagine it working very well. I now use Drawboard with a pen on my tablet for quick 2D and it is decent and even lets you make a library for icons but its not very fluid for importing AutoCAD formats. Using a light weight AutoCAD with a pen would be optimum for me.

Should've called it AutoCAD 365

Want it for my windows phone there is no cad viewing software:(

does anyone know a cad app, free the is as good as Autocad to do bacis plans. i learned autcad way back but dont have the money to personally own the software, any suggestion? i tried a few but they suck, doesnt have to be free but i need something decent, small learning curve if possible

use autocad lt. alternatively you can use rhino it is cheaper than full autocad with all functions.

autocad lt and rhino are out of my price range even thought their far cheaper then autocad itself, anything cheaper or free

Dassault has a program called draftsight you could try, its free opens dwg files as well. Been a while since I've used it but it was OK

Thanks I will definitely try it out

Please release also pixlr app..

Its about freaking time..........too bad i sold my Surface RT and picked up the Dell Venue 8 pro, now I can run full AutoCAD - the Atom processor is suprisingly decent at it too......installing even though, ill prob never use it. I just want Autodesk to keep porting their apps to Windows.

Won't use it on Windows 8.1, but definitely waiting for WP version.

hell yeah loving this cant wait to see my work on the WP version on my 1520 which i jus ordered ;)

So much awesome here! This is a real must have app.

I hope Autodesk would release Pixlr Express for Windows Phone I am waiting for that app

So does it have mark up tools? If not its useless

I looked no query or mark up utilities, it's nice to view a dwg on the run but you'd be better off with a pdf viewer you could note up a drawing with to send comments. Bit sad really, I would have expected more from Autodesk, I'd still like to see a good navisworks utility for arm and atom tablets

As everyone stated, we, architects, are just a small percent of the Autodesk's user base, that's why AutoCAD is the priority. There will be a 3ds Max and Maya viewer/app sooner, then Revit.
Also there is the problem with firms run by skeletons that can't see the benefits of adopting modern technologies as BIM, so that makes Revit even less important in that "architects" percent. Keep in mind that times are changing, Autodesk is making more specific apps for the range of industries, so AutoCAD will fall-off in time and enter others, industry-specific branches. Plus I still don't find in comfortable using AutoCAD with touch. With time, the whole UI and experience will change, as well as the work flow, adapting for touch.
We will look back on these times and laugh at how shitty the work process is now.

Yeah just provide the AutoCAD 360 mobile app...we need it.