Baby Connect, a cross-platform app for managing and tracking your baby's needs (Hidden Gems)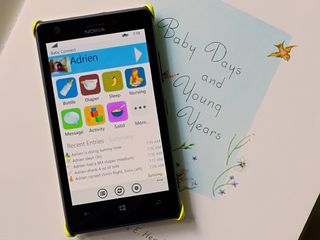 Our Windows Phones are fantastic tools for keeping up with our day-to-day activities from reminding us of appointments, providing access to email, managing finances and more all while on the go. With the Windows Phone app Baby Connect, you can now keep track of and manage a wide range of childcare needs. To date, Baby Connect has logged over 350 million events since the service launched in 2009.
Baby Connect lets you record feedings, nursings, naps, diaper changes, milestones, your baby's mood and more. Being available on Windows Phone, Android, iOS and from the web, the app allows you to exchange information in real time with your spouse, baby sitter or daycare service.
The app is a comprehensive way to chart your baby's daily activities and while Baby Connect may not be for every Windows Phone user in the crowd, it definitely qualifies as a Hidden Gem. Being such, remember that in leaving a comment below you will be automatically entered into our daily Hidden Gems contest to win a new tablet or phone.
Baby Book of the future
I'm sure the practice continues today but one of the gifts many new parents received was a Baby Book where they could record milestones and achievements their child makes during the early years. In many respects, Baby Connect acts as a Baby Book of the future.
Your first order of business when you launch Baby Book is to create an account with baby-connect.com. Membership is free and will allow you to exchange information with others on the network and access your account through Baby Connect's web portal.
Once membership is established, you will need to create a profile for your baby that includes the child's name, any allergies, blood type, sex and add a profile picture.
The main page for Baby Connect has tile button to record all your baby activities that include:
Bottle: Record your child's feeding times, how much was fed to the baby and how long the feeding took.
Diaper: One of the more glamorous jobs of caring for a baby is the diaper change. I was constantly amazed at what such a small person can produce. This tool lets you record the diaper change and the condition of the diaper (BM, wet or dry). You can even note that an open-air accident (a fart) caused you to change the diaper.
Sleep: Here you can record when and for how long your baby has slept. Additionally, you can record the manner of the sleep (in crib, on their back, with pacifier, etc.)
Nursing: Much like the bottle entries, this feature lets you record the time, duration and break things down as to how much time was spent on each nipple.
Message: This is more or less a free-form note for you to record your child's activities.
Activity: This will cover playtime, crawling, sitting, standing, and other basic activities a baby may experience.
Solid: Eventually your baby will graduate to solid food such as cereal, blended food and other solids. This tool will note the time, duration and what type solid food eaten.
Mood: Babies can be moody and this feature lets you record the daily (if not hourly) mood changes your baby may experience.
Milestones: Need to remember when you baby first rolled over? When their first tooth came in? What their first words were? This tool will let you record those milestones and many more.
Each of the above tools includes a free-form notes section to add more information on your baby's activities. If your baby does not like a certain brand of baby food, you can note that for future reference. Maybe your baby likes a certain kind of toy over another. All can be noted in these areas.
Baby Connect's Network
While Baby Connect gives you the ability to record just about every aspect of your baby's daily (and nightly) activities, the app's strength comes in the form of the network you are a part of.
All the information you enter on your baby is synchronized with Baby Connect's network and accessible to authorized caregiver. This allows babysitters, nannies and daycare services to record the activities and then synchronize them to Baby Connect for you to monitor and review. In addition, being a cross platform app, you won't have to worry if your babysitter has a Windows Phone or an iPhone. Should a smartphone not be available, there's always the web interface available.
Synchronization can be set to automatic (after every entry) or low (every few entries). Being on the Baby Connect network will also give your spouse the opportunity to monitor activities while they are away.
Overall Impression
While it has been over thirteen years since I cared for a newborn baby, I remember trying to keep track with feedings, diaper changes, mood swings and everything else my daughter was doing. A lot of my tracking was done with paper and pen, which wasn't always convenient.
Baby Connect is an easy to use Windows Phone app that makes recording your baby's activities simple. Add the network aspect and Baby Connect takes the guesswork out of trying to find out what your baby has done in your absence.
I wouldn't mind seeing a photo or video gallery and toast notifications on activities being added to the mix but as is, Baby Connect is a solid Windows Phone app. It may not be useful to some but the app is definitely a Hidden Gem for those faced with diaper changes and discovering the joy of Gerber's baby food.
Baby Connect - Windows Phone 8 - Free* - Store Link
*In celebrating the release of the Windows Phone version of the Baby Connect app, the app will be offered free for a limited time. Regular pricing is in the neighborhood of $4.99.
Windows Central Newsletter
Get the best of Windows Central in your inbox, every day!
George is the Reviews Editor at Windows Central, concentrating on Windows 10 PC and Mobile apps. He's been a supporter of the platform since the days of Windows CE and uses his current Windows 10 Mobile phone daily to keep up with life and enjoy a game during down time.
Another app that will make my sister feel so happy!!

Need baby center app. I emailed them and concluded that baby center doesn't care about WP users.

I could use that for my own personal needs :p na seriously looks well done. I'm not a father though, so don't see me using this for the time being.

When you are going to be a father , soon ™ you can use this

You didn't see the "Soon™ "??, its special to windows phone users

Mine broke. Getting a new one tomorrow

Congrats man (for the new one)

Yeah cheers mate. Was really hoping Daniel'd have his 630 review up by then, but owell. It's much faster than the 720 anyways, just the FFC and flash that's lacking...

You can't do with a flash though? & the 720 has great cameras front & back with lens by Carl Ziess... Just saying...

As an adult you could use this to track your own goodies too.

Downloading.I'll reply to this comment with a review soon after I've tested the app.

Ok,used the app for quite a while now.I'm a 17 year old guy so this app was probably not meant for me but since I have a 8 year old bro whom I've seen grow so I'm going to judge it based on that experience. First impression and general user experience -Download size only 2mb so the app is pretty well compressed and saves the download width of the user. -No splashcreen.There should be a splash screen in my opinion. -Works without internet(once you have logged in/signed up),that's even better. :) -The app is quite fast,fluid and smooth What I like about this app -Many things/phases of the baby's life are covered just like a baby book :) -Option to add multiple babies.A basic thing expected from such an app but neatly done. -Bottle Section:-Nicely done.Almost everything with date/time,quantity in oz./ml.Notes option as well.Neat. -Diaper Section:-Again nicely done with date/time,type of diaper and notes. -Sleep section:-Neat with date/time,options of in which position did the baby sleep/nap and notes section as well. -Nursing Section:-Date/Time with notes and for how long did the baby suck from each side.Definitely well thought out. -Message Section:-A section to make general notes about your baby with date and time. -Activity section:-A section with date/time,notes and an activity section as well.Could add more things in the future updates but ok as it is now. -Solid section:-Types of food the baby ate,but this section has a major bug I'll mention in the "Things I didn't like about this app section". -Mood section:-Useful addition with date/time and notes as usual along with the baby's mood as well.Couldn't think of any more moods to add but maybe people with excellent English can think up more of them. :p -Milestone Section:-Neat with the usual stuff but could add a few things more like "started crawling backwards"(Don't know if every baby does that but my bro started crawling backwards first :p ),"holds object as support when standing up" etc. -A the bottom is the "Recent Entries" and "Summary" section which makes a neat list of all the things your baby has done. -Settings section:-Very well done.Don't think it need facebook integration.don't want minute by minutes updates of a baby on a facebook,could definitely annoy some people. :p Option to add multiple caretakers is fine as it is. Things I don't like about this app Discovered some major bugs in this section so I'll list them here. -Ok,you are about to add a child.Name,gender,allergies,due date fine.But what about that box below allergies section.What is it for?Why can't I write in it.Definitely needs to be fixed. -The picture doesn't resize and fit perfectly into the picture slot.Definitely irritating. -Blood type section.Needs a thorough redesigning.Blood groups should be in icons or in some other way instead of just writing them in such a small font and so little line spacing that you could easily tick the wrong option. -App crashes if you press the tick button on this screen without an internet connection without the data being saved.Definitely irritated me.Should have at least given a warning before crashing. -Solid section:There's a button right there in the middle of the screen overlaying the options behind it,written on it is "<tap to set>" ,I think the button was not placed properly.Needs to be fixed ASAP. -Another major bug I found out was the recent entries section on the main screen.You can't scroll down if the section is filled up.Needs to be fixed ASAP as well. -The picture of the baby at the top does not fit.Looks weird,unclear and irritating.No use of the picture if you can't even clearly see it. -The UI of the app:A white and grey UI about an app about a baby?Seriously?Splash in some colors,add a background,make it more colorful.Anything!The UI gets a bit to get used to as well but works fine once you've used it for a while. My Suggestions -Add a splash screen. -Fix the bugs I've mentioned above. -Add a more color in the app.Looks dull. -Add some barchart/histogram/pie chart/frequency polygon,basically anything to monitor the child's growth,daily consumption of food/milk etc.A very basic thing that should've been there from the start. -Add an option to attach pictures to various achievements/activity.Would definitely make it more memorable. -Add some data for optimum daily consumption so the parent/guardian has an idea what's best for his/her baby. -Change the name of the "message" section to somthing more clear.Quite difficult to figure out what it is without opening this section. Overall Rating:-6.5/10 or 7/10 This app has a huge potential to be one of the best baby-related apps in the store.It covers most of the things you need to know.But it is missing many features required for perfect functionality as I've mentioned above.Fix the major bugs as well,make it a unique colorful and interactive app and you'll soon see it at the top of the store. ;) This app has potential,just needs to exploit it.It's currently free but the usual price is $4.99.Looks ok to me,but not sure how many parents would like to spend this much,but what do I know,maybe they will ;) Add more features and fix the bugs and I don't think any parent will mind paying $4.99 for this app.And oh yeah!Make it universal as well ;) :D

EDIT:- Another improvement I forgot to suggest was to give it a live tile and also the wide tile shouldn't be transparent.Make it a live transparent tile like WPC app has one! :D

Reviews in comments...!!! WPCentral community is progressing.

Thanks god i don't need this app, but here is my review :
The app is good and looks colorful
fast launching and getting back from multitasking (why won't FB or WA work just like this !)
The UI is meh, maybe a metro style ?
the only downside i found was the live tile, come on ! it's not live it's just a photo and the large tile isn't working it will turn into transparent tile only What i like : Fast, smooth and handy app for new father/mother
and the most thing i liked about this app ( i don't know if it's common between this type of apps) is that it sync between two accounts like mother and father that's really awesome feature ! What i didn't like : UI and the live tile
why would they put "More..." ? it only shows 2 more options, they can be shown without any problem.. i would 10/10 recommend this app for new parents

I'd recommend this to my sister

Would you recommend this to anyone else?

Great app fast and fuild. It's not really for me since I have no kids but if I did this is a great app for them. The one thing it does need is a real live tile.

it is funny that many people who never used this app reviews it for wpcentral gifts :P... man just a comment would enter you into draws... You ain't need to boast the app ;)..

Nice and simple app, the design is simple and easy to navigate. I like the use of profiles on it.

This app seems to be very cool. I'm a bachelor and I don't think I'll be using this soon, but I'm surely gonna suggest this app to my cousins.

Sounds like this would be really beneficial to new mothers!

Pretty cool idea! Add ability to put in pics and it would be even more valuable.

Don't have kids, but i dont like the white on this app. So many white :D

I'm also commenting on behalf of "Gautam Kabiraj" as he's offline right now.We both were waiting for today's hidden gems eagerly but he had to go offline.He writes one of the best reviews.He'll write a review as a reply to this comment when he comes online.I hope his review isn't lost in this comment section.

Thanks bro for your kindness! Well to be honest, I didn't think WPC will come up with something like this as a Hidden Gem but yeah I know apps are meant for people of all ages! I'll surely try this app. It may come handy in my future days and when… well leave it, here's my review: FIRST IMPRESSION (10/10) Size of the app is just 2MB (I love optimized apps!) so even those with limited bandwidth limit can download it without a second thought! Price is not a concern since its free, what else we expect? USER INTERFACE (6/10) In "Create a new child profile" you can enter details about the child. I'll suggest to increase "Blood type:" selection font in there. Once the profile is created, it shows a page where you can choose between Bottle, Diaper, Sleep, Nursing, Message, Activity, Solid, Mood and Milestone. (This page gave me an iPhone look for a second! Not sure why…should look more like a WP app, maybe Tiles can help) I loved the UI. Although it doesn't meet WP's native design layout perfectly yet, it's fast, simple and clean. And I'll suggest some tips: It lacks splash screen which is good if you're among those who don't want to wait. Next, you need to register to get started which is pretty quick and simple. When in "Create Account" page, there's a "Login" button after the form. I suggest to put it at the bottom of the screen and then put a "Sign Up" button here which is currently on navigation bar. The text that appear under "Summary" are a bit too small, kindly enlarge them. There's a little bug in "Solid" section of the app where a button "< tap to set>" floats on the screen. Kindly fix this. WORKING (7/10) Bottle: Here you can select range / duration and the number of bottles of milk / Formula etc that your baby drank. Once you make a selection, its shown under "Recent Entries" in home page which is really good to have a summary at a glance. Diaper: In this section you can select at what time Time the baby had a Diaper. Sleep: It manages the range of time and also the place where the baby slept. Nursing: Here again you can choose the range of time for nursing with "Left" and "Right" columns that maintains the duration. Message: This section helps you write any kind of message and set it for a specific time. Activity: In this page you can choose between what the baby was doing and during what range of time. Example: Playing alone, Playing with other, Crawling etc Mood: You can set the mood of the baby in here, with the time. Milestone: This is probably, the most important part of this app. Here you can mark the date when your baby for the first time, "Rolls over", "Grabs", "crawls" or just mark the range in which he "Sits up", "Smiles" etc. Apart from these, I'd love to have an option for "Baby's health" where I can put his / her weigth, height, etc. This would help me learn how she/he is growing. Please look into the bugs I've discussed above. Overall, I liked the app but I also felt it could have more potential as a "Baby Managing App". I hope this review will help the developer make it better. Okay, so I think I've already included the suggestions above, and I'll rate now: ______________conclusion_______________ AVERAGE RATING: 7.6 / 10 ______________________________________ Again, I thank the developer for making this app through WP store and I guess unlike me, it can really come handy to moms and dads and they'll really love this app ;)

This could help me when I'm babysitting for my Aunts! I'm downloading this!

Yeah my sister could use this kind of thing!

This would be a good app to use to keep track for medical issues.

Sadly I don't have a kid! What will I do? Lol

Wow. I could have used this like 2yrs ago. Looks great!

Downloading ...give my review after testing the app

FIRST IMPRESSION:
A small sized app just 2mb with clean UI.
WHAT I LIKED ABOUT THE APP:
-Simple design and clean UI.
-Easy to register and login.
-All the sections in the app are detailed like:
•BOTTLE : This section is detailed with everything like duration, quantity(in oz or in ml).
• Similar to this all section are well detailed about everything parents needed.
- Caretaker of baby can use this app to interact with parents.
-Liked all the recent activities in recent activities section.
-Liked the milestone section.
WHAT I DON'T LIKED ABOUT THE APP:
-The UI and design is simple but quite boring and dull. I can't use this app for a long time.
-I have difficulty in scrolling down the recent activities.(bug)
-In solid section option overlap certain words in the solid section.(bug)
-The app sometimes crashes.I don't found any reason of this crash.(bug)
-The child picture looks small on the main page.Quite irritating.
-Live tile looks very ugly and wide live tile only shows transparent tile not any wallpaper(app logo) on it.(bug)
SUGGESTIONS OR HOW COULD MADE THIS APP EVEN BETTER:
-Fix all the bugs i mentioned above.
-Bring good transparent live tile with good app logo on it.
-Please change the design of the app so which the app looks interesting or give the feature to customise the app.(needed the most).
-Please add bigger size for child picture.
-Add splash screen if possible(optional) OVERALL RATING : 6/10
The idea is good for the app and specially helpful to parents. Developer seriously need to work hard to make this app perfect.

Nice Cross platform app. It would be nice to have it on Windows 8.1 as well. It has a web app as well, that's nice.The UI is a bit iOS ish though. Hope they change it for good in future updates. All in all a great app for monitoring and keeping track of babies. Definitely a hidden gem.

This is such exciting news. My wife uses the app on her iPhone for our eleven month old and now I can get in on the action as well. So far the app seems to work just as well, and easily as the iPhone app. So excited to be able to unpin the website from my start screen and replace it with this.

I showed this to my friend who just had a baby. He's on WP and wife on Android. He was happy to see it cross platform and web. Will have to delve into the privacy policy since it seems to require an external account, especially if there is any difference for web access versus the app via the store.

Looks great. Will check it out!

Dont have a child or so but seems a good idea and nice fluid app... :)

I don't have a kid yet, but this looks very promising.

Honeyyyyyy! Whereeee areeeee yoou? Come here! Come too me. Arrrrrummmmmmm grr!

Liked the ideia. The app is pretty solid and have many features. I will probably recommend this app for my sister in law so she will can track all the steps of my one year old niece. :)

Got two little ones at 1,5 and 3,5... This seems like a bit of an overkill, but hey - if it helps someone! :-) I'm missing a baby alarm among all the functions. Preferably one that can text or call another phone - can't seem to find this functionality in any WP app...?!?

Awesome app! It's really easy to use, it looks nice and it has great utility. I'm sure that if I was a parent that I would really appreciate this app. I have a 3 year old brother but it's a bit too late to test this app on him

Downloading the app right now......... After using the app and its features, I will be leaving my review of the app as a reply to this comment

.............FIRST IMPRESSION @_@ ............... First of all, I wonder how this app got into the hidden gem section of WP Central, no offence. After using this app for a while, my first thought was " why would WP Central choose such a app into hidden gems? , Did they ran out of good worthy apps this quickly!!" . I am going to be honest to say that, this app never deserve to be on the hidden gem. This is more like a hidden rock. What I have to say about the app is mostly bad reviews than the good ones. Devolopers of this app,, " you really spoiled such a good idea of baby book on a windows phone. You could have done better than this. I think you didn't even tested the app on the phone before publishing it. Any way, I can suggest you to make this better" .
And to the WP Centre , " Did you guys atleast looked into the app clearly before posting it on hidden gems article!!?, I dont think so" . I will point out what are the things I felt good and bad about this app . .............WHAT I LIKED......... First lets start with the good things about the app.
* I got to say that this app is a unique one on windows phone cause I have never saw a baby book app on the windows phone ever. I congrats the developers and WP Central for bringing this idea forward to windows phone.
* This could help a very few parents who are very busy to take care of there baby. ..............WHY I HATE THIS APP.......... Yeah, since hidden gems comments needs to be honest and sincere, I am gonna say the truth is ' I hate this app'. I will tell you my reasons. And there are plenty more reasons which cannot be expressed on words. * First of all, I dont think many people are going to use this app. Cause who would write down when the baby sleeped, pissed, eated and all. Family members of a somewhat average family might note down, when the baby first talked, walked, like that...... But most of such average families dont have a smartphone like Lumia and all . If we are looking at above average and high status people, honestly they dont give a shit about what there kid did. So I find this app will only be used by some middle class people. But it didn't mean this app is useless. * Secondly, this app is very poorely build. It has lot of bugs on it. Which I will be mentioning on a seperate topic because there are a lot of them . I could write a book about the bugs of this app. *Thirdly, This app didn't make anyone the feel to use it. The background colour is white and the way things are arranged is boring. Totally , this app looks like a person who haven't bathed for his entire lifetime. !!!!..........BUGS..............!!! 1, (Major bug) In the options, if you select "solid", there is a major bug. " " is shown in the middle of nothing. Just a button in the screen. I have never seen such a bug in any apps. Se the bug here
https://onedrive.live.com/?cid=81E61E6FDC6C05BC&id=81E61E6FDC6C05BC%2177... 2.(Major Bug) Have you noticed the large live tile. If you didn't then check how worse can it be.
https://onedrive.live.com/?cid=81E61E6FDC6C05BC&id=81E61E6FDC6C05BC%2177...
Its blank. 3.(Magor Bug) In the begining of registration when we add a child, the column for writing "allergies" wont work 4. (Major Bug) In the main menu , the recent actives cant be scroll down to the very last activity. 5.(Magor Bug) The pictures added are not fit to the box. Its feels horrible to see. Thats I for Magor bugs.
.......i dont wanna mention the minor bugs. It might make me smash my phone on the ground. Its never gonna end in a comment. .........CONCLUTION......... I cant give suggestion because if I suggest, I will ask you to dump this app recreate this app in a new style without any bugs like this. WP Central, what were you thinking before you put this app on hidden gems. Have guys gone mad. Is this the app you said to be handpicked from the unknown apps for us. Shame.
You should come up with good apps and games that 'deserve' to be known to the world. Not this kind. At first, I didn't wanted to review this app. Hope the next on will be a good one. I will be waiting
Aahh, I got a head ache on reviewing this app. I am not kidding

perfect! I got five lumias on my AT&T account and one is for my niece who just had a baby... this is perfect for her! im downloading this directly into her phone right now...

great idea to keep communication lines open even for divorced parents.. you can find out what the baby ate without having to talk to the Ex!

Second Hidden Gem very useful for parents :) No children myself as of yet but I can see this being very useful to parents. The cross-platform is great as well. As for yesterday's app this has a limited audience so I can't really judge the quality of the app but I trust it is good as it has been selected as part of the hidden gem contest :)

Wow great app...will suggest to my sister...a perfect combination of all needs...:thumbs up:

One of the greatest features of this app is that it is cross-platform so that anyone with most devices can use the app and sync their information. Also with all the information kept online, information can be accessed from any web browser as well. This app is well designed and can prove to be useful for families with young ones.

I'm going to log my own "open air accident"!!! Sounds like the same functionality as the recent fitness apps you guys have been reviewing.

I like the idea of this app. I'll admit that I don't exactly have any future plans for motherhood, but if I did, I'd definitely be on this!

How awesome! I won't ever have kids, but when my bro decides to switch, I can recommend this app. ;)

Baby... ??? I am not married yet... So not for me....

Wassup Guys... Looks like Hiddengems contest is not leaving any chance to take a digg at WindowsPhone Competetors(Andriod and ios). I know Android has some be beautiful apps for this purpose. Even though I've never used one, Baby connect for Windows phone looks cool. I wish every women on this earth a Happy and Wonderful life. -vamsi

I think the designs on the main page should be changed to fit the Windows Phone branding. The icons appear as if they were copied and pasted from the iPhone or Android apps. Also, like a lot of Windows Phone apps, the designs in the app don't scale well in the 1520 because they are not vectors.

Yea! Seriously! Previous app was somewhat similar.. :/ I can't participate in this one too.i don't have kids!

Glad to see they don't want accesss to all your private data in this app. This could potentially be a major privacy leak.

Is this actually helpful to people?

I don't need this app yet but when I need it I will surely get it

I understand the need for this app. But I don't really understand how it could be useful in the future or during the growth process. Maybe adding new features that track the growth of the toddler could be more useful.

Great to see a cross platform solution. Not a fan of the design though... The spacing just looks... Off.

I remember meticulously writing down EVERYTHING regarding my firstborn: his meals, his diapers, his sleep, etc. My second one? Not so much. One thing I know for sure: after having my log-on credentials stolen from 4 different sites last year (2 of which I hadn't used in 4 years!), you'll be hard pressed to get me to sign up for another service! If only it could use a single sign on (like google, or windows), then I might consider it.

Such a nice app having beautiful UI.... And it's really nice.... And Windows will soon reach the app level as on Android and IOS God willing

Pity this didn't come out in three weeks when our second baby is due. I can't do much live testing just yet but it seems pretty handy. 1) The wet/dry diaper tracking is especially useful as that is one of the first things our pediatrician asks about.
2). I have to agree with the person above who dislikes all of the white backgrounds. I think this type of app could really use the ability to change themes as the background makes it seem incredibly generic. 3) Also, there is an overlapping element on the solid food section where "tap to set" overwrites the list of food types.
4). It would be nice if we could include pictures to go along with the baby milestones.
5). One last thing is that the app doesn't play nice with all of the new keyboard changes 8.1 brings. I can't get the Word Flow to work in it. Unfortunately, I won't be able to go more in-depth about how convenient it is until our next baby is born.

Interesting -- probably not for my 2yo old; but I do have some friends with newborns

WP getting more baby friendly

Totally functional app. Missing some useful functionality though. It could do with sections for tracking weight gain, height, immunisation, baptism and such

I don't have any children and I'm not thinking in have one. But this app seems very useful for those who have children. Only for the baby time, not really in baby's future

I could have used this app a few months ago. I tried apps that do similiar functionality but they didn't fair well. Honest company has an app like this on windows phone but it had issues which made me not use it. This app seems to cover it all, including a really important feature in that it is cross platform and I would be able to see/share the data with my wife who uses an iphone. That was the initial reason I download the Honest Company app but it didn't do what I expected. The baby book feature of this app is great as I am starting to forget when milestones were reached. I may use this app just for that feature. The interface flows well and the app is simple to use.

Looks nice and much better way to record your baby's progress. For me I would want to be able to publish a paper version, maybe once a year, for long term keeping. Nothing better to look back to reminisce after a decade or two.

The UI needs some work. But a good start.

Forwarding this page to my wife, she will love it

Too many kiddie apps in Hidden Gems. :/

but still finds recommend this app

office to the ones who have a baby :p

Not for me. I have nothing else to add, I am not an hypocrite.

I could use this app but after 8 month because the little kid gonna come after 8 month...

Perfect timing Seacloud software. With a baby on the way, this app is absolutely perfect for us and our extended family. I really like the level of detail and that breast feeding is separate from bottle feeding. Both my lady and myself will be using this app as will many curious members of our extended family. Thank you for a useful quality app.

Seems like a really good idea! Only useful for those who have children though. The cross platform implementation is really nice.. :D

Wassup Guys... Looks like Hiddengems contest is not leaving any chance to take a digg at WindowsPhone Competetors(Andriod and ios). I know Android has some be beautiful apps for this purpose. Even though I've never used one, Baby connect for Windows phone looks cool. I wish every women on this earth a Happy and Wonderful life. -vamsi

very useful app! thumbs up

The app is great for the parents handling their babies..
The app's live tile is somewhere unattractive whereas the app itself is colorful and simple which is nice.
Overall no bugs and crashes found.
So from me 4.5 starts

I really wish this app was around when my two kids were babies (not that long ago, actually). My wife and I were always struggling to remember when exactly we last fed, diapered, gave Tylenol, etc. in the early days when we were in a sleep deprived fog. I agree with George that a way to add pictures would be really cool. Especially when logging first steps, playtime activities, or other milestones. That would be a pretty cool way to log the activities.


Wish I had the baby center app but this will due. Downloading now! :)

This is perfect my friends daughter who's about to have her first child! Glad I helped them switch from Andriod to Windows Phone! Now only if this was a "Universal App", I could install it on their PC and Dell Venue 8.

I don't have a baby. Free stuff!

Could have used this about 30 years ago!!! Haha

Looks great for new parents, but my babies are all over 190 months old. I don't see myself needing this

Looks great for new parents, but all my babies are over 190 months old. I don't see myself needing this.

a little too late for me :D

3.5 months into Fatherhood... Any help appreciated!

Very cool. I've got twins on the way, I'll check this so our. Thanks!

This app seems useful, especially with cross-platforms support, for new fathers and mothers, but not me. Why? I'm still a student :p By the way, not very important, but the app's design isn't Windows Phon-y at all. :/

Here's my short review :
I think Baby Connect is functionally good but it does lack in terms of presentation.I love the fact that it is cross platform and it lets users to keep track of anything and everything related to child, whether it's feedings, sleep, diapers, or just about anything else.
Very useful app.

Reminds me of win 95 ui... On second thought maybe 3.1 ui. Looks simple

Don't have kids, so the app isn't really applicable to me... yet. haha Not gonna lie looking at all that this app helps you keep track of kind of scares me a little about when (or if) I ever have kids. haha But I guess that's the beauty of technology, that it can help you keep track of all the complexities of life.

Pretty slick app. Would be a great app for first time parents. Our daughter had food allergies and this would've been good to track what she ate, mood changes and BM's to narrow down what foods affected her.

This perfect as my wife and I are expecting our first child in January. This will give us plenty of time to play with the app and see how it works. Would be nice if it got Cortana and Calendar integration that sync'd with mine (lumia 928) and my wife's (HTC 8X) phones though!

Great! I'll recommend this app to my aunt with a small child and I'll keep this app in mind in case I need it.

When my kids were babies, there was no Windows Phone. Now I wonder how we could raise them. But they seem ok... :)

This would have been great a couple of years ago especially being cross platform as my wife uses an iPhone(like most girls). I remember very well having to monitor all of these parameters and the constant talks about them. Would have been great for the mid wives as well who always asked about such things. Great to see Windows phone store doing so well with these useful additions. Windows phone.. What else would you need...

Actually this looks even better than baby center.. Thanks guys!!! Testing it out now.

Firstly, kudos to the developer for coming up with such idea and such great apps.
I can't imagine how much simple it will be for working parent, to keep a track of their babies while they're at work. And share this info with their nanny. What I like:
1. This app just made things so much easier for Parents. Each and every section they have is just terrific.
2. How detailed each section is, Amount of food the baby had, what they had, and at what time. Just soo cool. Share everything they want and leave notes in each entry.
3. The variety in sections. They have a section for almost EVERYTHING. Although more things can be added over time. Things can be done to improve the app One of the major feature this app lacks is a section for baby's health record. When he got his first immunity injection, when is the next one due, how often does the baby fall ill, what problems he faced and kind of medication used and number of visits to the doctor
That way even the nanny can keep track and take a baby's care accordingly. Just a suggestion, for making this one hub for keeping records. Overall: This app does opens really fast, registration was quick easy and perfect. Conclusion: Its definitely worth the price they are charging. A must have for all parents with newborns.
Don't have kids, so can't contribute as well. But great concept..
Once again GREAT job whosever came with this idea..

Funny, I don't believe my wife tracked most of this stuff with my 2 kids. You had to track immunizations and certain milestones. I suppose this is useful but real does look like overkill.

Just what I was looking for

Awesome app! I don't have kids yet, but my fiance and I are planning on it soon. This will definitely be useful. Thanks!

Very good lately a nice app to manage children its looking helpful lets checkout what's this app is about

This looks like a great app, but thank God, I am not going to be needing it anytime soon.

Really? Do we need this app? Newborns need more one-on-one time with mommy/daddy than they need you to be logging each bowl movement and minute by minute mood swing on your smartphone.

This app would have been awesome a few years ago when my kids were younger. I think this is a great tool. The key is really making it user friendly for all parties that care for the same kid; mom, dad, babysitter, grandparents, etc. If you can make is super simple and have them all log into the same account (different users so you can see what each has done) then this is a winning idea!

I like that you can document child's basic medical information, the fact that is cross platform is awesome too. The UI is simple and I like that, because i don't want somthing over the top to read records. I think its a good idea because what parent couldn't use help now and again.

another cool app that i can't use because i don't have kids, but hey, i'll let my cousin know, i'm sure he'll love this

Let's see what this is all about :)

To be honest I think this is a bit over the top :)

This is a fantastic addition to the WP app library. I wish I had this four years ago. This is a great alternative to using trixietracker in a browser window. I would prefer a cleaner and simpler ui layout, but the app itself seems to do exactly what it sets out to do.

Wish this and WP were around 4 years ago when my daughter was born. Would have saved my wife a ton of writing. I do like how the app feels. I have at least 3 people I know expecting babies before the end of year and will definitely recommend it to them.

Nice app! nice features like the ability to share data with others(a nanny probably or the mother herself). It is really good feature. Its also a cross platform app so great. but still some features are missing that are present in ios version. Hope for more future updates from the dev.

The idea of this app is great. I'm sure many would find it useful. A suggestion to this app would be to make the UI cleaner and nicer, and to release it on windows 8 too, as a universal app.

Wow, 18 and 21 years ago today, my daughters were born. Happy Birthday to them!!! Yes, same birthday for both of them yet 3 years apart. Now I can say "back in my day, we didnt have baby apps...we barely had internet" Nice app though and I hope it helps the users. Taking care of a baby is a learning experience beyond measure and advice and experience from other people is always welcome.

To the developer-Make this a universal app! Develop for Windows 8.1 too, Don't want to purchase the app again for my tablet!

seems useful, but thankfully i don't have any use for it now.

No baby, no cry. Everything's gonna be all right!

I think I might start using this with my newborn, perfect timing George!

I don't have kids, this App is not useful for me.

This app totally meets my aunt's needs. She's got a baby and now, she won't struggle anymore.

Not a bad app.... Major plus is the cross platform feature. The design looks ok, although a little dated. Not sure if I missed it, but is there a Windows app that allows you to view the information? The ability to add photos would be OK, although not essential. While this app would not be one I would use (I do have kids, but I don't want this level of information), I know several people that would lap this up. My sister recorded minute details with her first child, and still has the notebooks. My biggest objection for me is the request for my email, and the need to register. I understand why they want it, but as soon as any app asks for it, I hate it. Personal thing, I know, but I really hate registering and signing up for stuff.

Wish I'd known about this a while ago. It seems most of the app's features may be targeted towards a younger child than the one we currently have. Several months ago we really, really could have used the functions in this app as we were logging just about everything.

This app looks very promising; use Cozi for rest of family organization but this will allow for easier tracking between mom and I. Expecting soon, so checking this off is great.

It's a nice little app. But in my opinion, you lose that certain normality or special-ness when recording your baby's first steps or first words. Taking notes and writing down dates on your portable devices is very convenient, however, you lose that sense of familiarity when you move away from the pen and paper. However, this app has a fairly nice UI and it's a great concept. Nice job!

Really like the future book, but the interface could be a little more flat/iconic.

It's a good idea and the app looks really nice but personally I really like looking back at my hand-written baby book sometimes. A clip of hair, a card from a grandparent, etc. This serves a similar purpose but there's still a place for paper!

Very good app for all mothers having infant

I can only assume that the writers at WPcenter have reached into my emails and noted how important this is going to be for me in the next 6 months. I'll have to dig around and give it a try, but I've already sent it to my wife for her to look at. I like that it's cross platform (since the wife is thinking of jumping ship to android.) I do wish there were a Win8 app as well though.

Seems quite usefull with a simple enough interface. I'll recomend to my brother

No baby here either - but that is a fantastic looking UI. I'm wondering if this kind of app might be useful for monitoring care/meds for disabled/elderly...

Seems like a well put together app, but not sure how practical it is. You'd have to be a major tech head just to make this last more than a few years.

Won't be needing this app, but looks like it is well made. Who knows, in a couple of years

This would be handy for my two kids :)

Yes another great app. Wife has this on iphone and now I have it. The excuses for not getting a wp is running out. ;)

I would love to have had an app like this 6 years ago!

Cool app. We are close to advancing to the next stage and can really see myself using this app. Haven't logged in completely yet because we don't have a child yet, but the question is, will we both have to register our apps on individual emails or will my wife and I be able to use the same login details? Anyway, nice app

I don't know if i will use this app, the synchronisation can be usefull but storing all the info of a baby on a network, thats some Facebook from the start, everything it does get's digitally stored. Though not everybody can view this information it is still the idea and besides everything can be hacked. Thats why they should make this app available without an account just offline on your Phone, that feels much safer too me and to be honest i don't think i need to know what my child has done all day long. (altough I have no children and hope it stay's that way for a couple more years so my opinion might change then.) For the people who do want to store and share everything about their baby this looks like a very usefull app.

My rewie on the app
First impression-
Was really impressed by the fast working of app.registration was quick.
Liked the way every section had detailed feature of note this feature is really helpfull.
Liked the option to sync between different platforms.
This app really has fantastic features and it is really a small app of 2mb to have.
Suggestion.
I would really like to have an option to pin the various tile buttons of super,feed and all to be pinnned to startmenu that wolud realyy help. And the notifications too.
I also dint like the live tile it should have been rather attractive.
I would also like a feature to hote health status.
Overall a nice app with a handfull of features.

I don't think this is a good idea for an app... I say who has got enough time to keep feeding data about diaper change and its condition... Who cares enough to feed baby's mood every hour... I mean they are just babies.. You can't conclude anything from their moods... And if baby is having enough sleep that's good enough.. then why worry about how many hours of sleep...I just don't understand why would anyone keep noting time and again what baby is doing now either playing around alone or with someone... Or where did he slept on couch or on bed or even in car... Or whether his diaper his wet or dry and if it is small medium or large... Well the app could have been good enough of it would have had reminded to change the diaper or feed the baby at right time... Overall app is not good enough.. atleast for me...
It would have been better app if it would have been more about Baby's First... Like his first smile.. His first time opening of eyes... First walk... First laughter... And all that along with pics... And have option to make Baby Album or Notebook...
App needs to be Reworked on...

Don't have any baby but hey nice I would like a new phone from this competition too!

This is the type of thing that first time parents might use. After #3 or so, forget about having time to reach for your phone after everything your baby does...

For all those planning to have children in the near future, apps like these are a great help. We had to use a stopwatch-like device that was so limiting and slow. This will be great for the next baby!

Wow, haha, this is one of those apps that will never be in my "apps I need" list, but it looks very useful for new parents, it covers almost every single thing a baby can need, except for money of course. I don't like the design, it's just not "cool" in any sense, I know, I know, it doesn't needs to look "cool", it needs to be useful, and that's what it does, but design could be better for me. Beside that it's a very complete app, and I will use it if I have to take care of a baby anytime in my life, but I would add 2 important things: As a neuropsychologist student I know how important "Milestones" option is, here you can register the development of the baby, I'd also add a "doctor appointment" record, so you could know when the next visit to the doctor is, or when baby need his next vaccine. Is a cool feature, when I first read the title of the app I thought it was a "baby's cry translator" that kind of technology could be very useful here, and would complement the app ;)

WooHoo! Used this a ton with my first child (when I had an iPhone). As I just recently had a second kid this will make things easier (since my wife has been using it already).

I don't need it but seems to be a nice app

Will recommend this app to some of my firends, but it's not of any use to me. Looks very nice, though.

Sounds like a good app if you got babies ... I love the detailed sections

Definitely needs integration with Cortana. If you are going to record when you changed a diaper, you may not want to really touch your phone right afterward!

Looks like a really good app, definitely will recommend to friends and families who have babies.

Looks a little complicated for me (but I am only 15) and I'm sure it's helpful to all those who have babies and know how to use the app

I have three boys. This is the kind of thing you do with the first child. After that, "it" gets real and all your good intentions go out the window. However, I think this could be useful for "charting" in the case of an illness. Once your brains are scrambled by children, you have to write everything down. You may remember that the diaper was runny but NOT when you gave the last dose of medicine.

Looks like a great app, but not yet useful for me

A lot of cool apps for parents lately :-)

Could be nice. I'll keep my nose for knowing when to change diaper tough.

I actually found this app last night when my wife was talking about needing to start tracking our 2 month old's naps. I shared it with her and she is thrilled to start using it!


My sister and her Nokia Lumia 520 are in love with this app. great discovery, thanks WPC.

I should have had this app when my brother was still a toddler :P

Having a baby next month. Not sure if I care about an app like this though. With my last kid my wife and I didn't really track all this stuff.

Only really commenting to enter the competition, but something like this would have come in handy when my twin girls were babies. Didn't know what I was doing half the time.

Blown away by this app. Never thought this kind of app existed. Some parents out there sure is going to be happy. Parents don't have to keep track of things in their minds which is a relief since raising a baby is already hard.

Got another one on the way, could be useful for my wife. When the first two came along WP wasn't even a twinkle in Terry Myerson's eye!

This app is incredible!!! You can do everything, from recording how long your baby has slept to keeping track of what he has eaten!

Wow! The app is very comprehensive. I don't think I ever recorded this much information with my son when he was that little, and this isn't something I would use if I were to have another child, but for the super OCD parent this is perfect.

Nice app, excellent, to bad it doesn't change the nasty diapers for you. Everything else just great.

Necesito un bebe para usar la aplicacion

I'm not ready for a baby xD

Dejando a un lado el no ser padre me gusta mucho la interfaz de la app

My wife would love this app. The amount of granular detail is impressive.

It made take care and remember more things about my little brother

This application is awesome if you have a kid. I know my mother uses it for the grandkids (nephews and nieces). Helps her keep track of everything, especially those important moments. I can't tell you how much she wished this was a thing when I was a kid in the 90s.

Neat. I'll have to recommend this to my children when they have kids of their own.

Wife is due around New Years... This app seems like it will be pretty handy for us. Thanks for reporting on it!

This is another one nice and clear app.

This app would have been invaluable when my two, now 1 & 2 years, were born. A great addition to the store.

Second app in a row, that I don't need, I hope there will be other apps also which are not only for very small children. Apart from that I downloaded and installed the app, and it is OK, as far as I can say. Although a darker theme shouldn't be bad.

Don't need this one ever probably, but good that this kind of apps go to wp too. more variation of apps means bigger market.

I have to admit I couldn't use this app as thoroughly as I did with other Hidden Gems, and of course I'm not the right person to say if it's good or bad for new mums and dads, so I can only give a heartfelt and short review of this app. PROS: probably the best Hidden Gem so far. Complete, keeps track of every single thing connected to your babies. If you can think of something important for a newborn baby, well you can be sure this app will help you. I'm quite amazed by the tons of features it has. And that clean design adds a taste of tenderness that will probably be enjoyed by mums. It's a perfect mobile version of a baby book. CONS: it's free for now, but isn't it a little expensive? Anyway, toast notifications, activity lists, reminders and health tips would be highly appreciated. It's quite an amazing app. Great job.

I really love this app especially that I have two baby nieces that I take care. It would really make it easy taking care of them knowing that I am a guy.

Gonne be a dad in a few days so it is a really great app for me. Although the design is a bit too flat/boring in my opinion. Apart from that it is very useful...

Sounds like an interesting app, but I don't intend to have any more babies to try it out!

I'm hoping this would be a great replacement for Honest Baby.

Is there something like a common interface for babyphones? (So the app can connect to those?)

2.4 GHz is generally the transmission frequency for wireless IP Cameras.

The app's design is nice and I like it. I just like the way it works smoothly and very useful for new parents.

It looks pretty good and useful. I'd use it if I had a kid. I've recommended it to someone I know with a baby.

Only 17 so its not the kind of app id use, but it certainly looks like a decent app, would be good for people who could use it. Not that I plan to have kids, but if I did id definitely find something like this to be very helpful. Good review btw.

My wife uses this app exclusively on her Android. The problem was that when she wasn't around, I couldn't track anything. It's perfect to have this app now on my Lumia. There are some differences though between the versions on the app. It'd be nice to have the Medicine option.

Great to see so many features and apps to help make life a little bit easier for new parents on WP! Another one to recommend :)

Being a bachelor, I don't really have a use for this app. However, I cam certainly see the usefulness of this app for first time mothers. Downloaded the app, and it seems to me that while the UI is simple and straightforward, the entire app looks too dull and plain for my liking. I understand that the developer is trying to go for a metro look, but quite frankly, this is going in the wrong direction. And I'm sure as many have noted, the live tile aren't really live. It didn't display any useful information, especially when the I set the live tile to wide.

I like that this syncs between two people. Very nice. Needs a better live tile, maybe a reminder.

This seems to be a good and useful app. The UI is easy to follow, but I would like better media files. We are planning to have a baby in the next months, so this will be really useful. Also, something that would increase value in this app is ti have good charts. Cheers

Nice app the UI is smooth in my 520

That will be nice once I have kids in a couple years.

Where was this app when I had an infant?! I constantly lost my notes about diaper changes, feedings, naps, etc in my sleep deprived state but could find my phone. This app simplifies an already stressful time and would have definitely made my life easier. Downloaded it for (hopefully) future use.

Another baby related app.... not my area of interest so not gonna try. But based on the screenshots, it looks quite simple, while providing functionality. While the white BG does looks pure & bright, as it should for a baby related app, a dark theme wouldn't be too bad, I guess.

I will be using this app in a few months :). I like that they have an app on all platforms so I can sync with my wife and her iPhone. The WP app design needs some work though. It could look nicer and be a little more intuitive.

Let me first say that I have a competing app in the store. But let me also say that my app is a pile of... well... something that goes in a diaper... compared to this app. To be fair, I was using the app to teach myself C#, XAML, and Windows Phone development, all at the same time. So it is a piece of crap, since I haven't had the time to go back and fix it. I have no need of this app (the one I wrote was for a lady at church who had just bought a Windows Phone when they first came out), so I haven't installed it, but just looking at the images here and the write-up, it is a gorgeous app, and I wish the developer much success with it.

Wish this was available when mine were little.

I'm downloading this app, so as to appear responsible enough to care for a baby! ;) I won't actually do that, but if I were to have a baby, I think that this sort of app would help with the overwhelming fear that I was "doing it wrong" with regards to raising a baby.

For those who have a child

And for those who will have a child in near future ;)

I've been using this app for my little nephew. I love all the information I can keep track of in this app, because Lord knows we are too sleepy to keep it all in our heads! The only thing I would like to see added is the ability to look at individual nursing sessions, rather than combining all of them. For example, we can't remember what time he's 4am-ish feeding started and ended, and we have no way of looking specifically at that feeding. I also want to be able to record notes for each feeding, because we're having an issue with him as he is occasionally crying during feedings, but it's not all the time and it would be helpful to be able to note a pattern. I would like to see that in the next coming update.!

I haven't had a baby yet :(

Nice to see such an app for babies. This is definitely a hidden gem.
Best part is that it is cross platform not limited to a specific OS.

Its a manual log app for your children. I dont know, wich parents have enough time and energy to doing this kind of logging. I am a parent too and I love to watch my children, but if I have to play with my phone, while she doing things I could be crazy.

Less size, smooth speed, many things and phases are covered, Multiple Babies option! Bottle section, disaster and sleep section, nursing section, mood section, solid section and much more. Very nicely featured app. But pictures cant be resized, allergy section-how to write? I can't understand, and biggest negative this that it crashes a lot.

The first thing that grabbed my attention when I see it was its UI. Not because it's good, it's kinda mediocre. Overall though, it's suits the target audience quite well actually, no major complains from me, but the designs could surely have some more works.

LIKE: UI is easy to pick up and understand Loves the many options available to pick. seems like they cover everything a parent would need History of entries DON'T LIKE: Does not seem to fit into the Windows Phone UI IMPROVEMENTS: At the start of set-up: Blood Type is not Touch Friendly, there should be a note panel for the create a child profile for extra categories that are not pre-set i.e. something besides bday, due date, blood type, allergies

A nice app but a little late for me and my wife :(

Nice UI. Useful app for baby sitters actually. they can manage various profiles and know what to do with which baby. Need some improvements in Live tiles. Notifications must there. i rate it 6/10.

Nice looking app and a great idea, however, I think most parents with babies would be looking to sleep in the spare moments they have rather than fill stuff in on this :D

i'll recomend it to my frnd (father of 2 yr old son), might come handy for him:)

Duhh.. I don't need this app though it is simple and the UI looks great specially the colours

This is a nice app to have an overview of the babies needs and habits. I like the Idea but I think design-wise it would be good to have e.g. sliders instead of blank fields to fill in numbers. It makes the handling much easier and looks better. There should be more colors in the app instead of only white and gray, e.g. if you would have some green sliders, the app would look much better :)

I don't need this app. This app is great for the busy moms, I guess. And the UI is terrible, no offence.

I don't like that I have to register in order to use the application. I don't appreciate the design too, but I think it does what it has to do.

Your asked to register as it keeps the information you enter centralised so if you have multiple care givers they all can track and access the data. Maybe an option to have it localy stored as your the sole care giver or because the device will travel with the baby could be an option though.

Will not download this app since it ain't useful for me at this moment. I am 17.

Amazing app, just tried it. would be a great deal for my cuz, as my new cute little nephew has arrived.

I could recommend this app to some friends of mine ... :D Maybe sool I'll use it myself.

omg now this looks like an app most people would never use.

i dont have a son or daughter yet, but to those who were in the stage of marriage and having their babies, this app is very useful and helpful. the app is very simple and as stated above from the users, there are some bugs i had encounter while scanning and exploring update this app and make it more and more productive and simple yet meaningful. this is very helpful to those parents dont know how to care their babies and very young to become parents. over all. 9/10. Good Job

Well I don't need this app, but I did downloaded it and tested it, because it is a part of 'Hidden-Gems' series. It is a solid app, so here is my Review.
------------------------------
First Impression (6/10):
------------------------------
A really decent app for parents. It gives so many tools to parents, so that they can easily monitor their child. App size is just 2MB. Perfect? Yeah, everyone can download it easily. This is also one of those much needed Windows Phone Apps.
App is free too, which is always good.
Although when you first launch the app it looks.... uhhh... quite dull, I'll explain the reason later on.
--------------------------------
User Interference (5/10):
--------------------------------
The app has quite simple UI, which is always good, but in the case of Baby Connect it is too simple. I wouldn't mind seeing Metro UI in this app, considering this app has the potential to become one of the best app in it's category.
When I first launched the app, I was shown the page to login or create an account. Well it was really simple and it only took 2 minutes for me to create my account, it asked for the info about baby then which I don't have, but still it was pretty straight forward so I liked it.
Despite the lackluster UI, I like the fact that app is fast, slick, smooth & fluid to use, it is also really easy to navigate around, no hidden settings or functions.
I did felt the need of a Splash Screen.
---------------------------
Functionality (8/10):
---------------------------
The app is really good, and provides a lot of features to manage/monitor your baby, it is specially helpful if you are new parents (My gf said that >_>). App is divided into the following sections.
____________
Bottle:
---------
This is where you can monitor your baby's bottle timing, you can choose the time & quantity of the Milk/Formula/Water/Juice that your baby drinks. You can set notes too.
___________
Diaper:
----------
This is where you can manage your baby's diaper timing.
You can choose the time you usually change your baby's diaper and note it down in notes section, you can choose when you found your baby's diaper wet, dry or BM.
___________
Sleep:
--------
Sleep section is where you will manage you baby's sleep routine.
You can note the time when your baby sleeps or takes a nap. You can also choose the the way he sleeps.
_________

Nursing:
-----------
In this section you can set the timing when you breast fees your baby, the time he used the left breast and right breast.
__________
Message:
-------------
Here you can tell (your husband /wife or any other person you have registered in the app) about the activities of your baby.
You will see Message listed in Recent Entries.
___________
Activity:
-----------
Here you can note the activities of your baby, like if he is playing alone or with other kids. The time he plays.
____________
Solid:
-------
Here you can manage the solid diet of your baby, like what he eats, how much he eats e.t.c.
_____________
Mood:
---------
Mood is the section where you can note the mood of your baby, like when he is usually happy or fussy.
___________
Milestone:
--------------
Here you can note down your growth of your baby, like when he/she was born. When he started to crawl/walk and stuff like that.
----------------
What I Like:
----------------
The is really a decent baby monitoring app. And the one that provides a great functionality.
• App is really fast & fluid to use.
• Instant Resume, just love the fact that it resumes instantly when you come back to it after using another app.
• Simple UI that makes is easy to navigate around.
• You can also add another person's email ID, so he/she can also monitor the baby. Perfect for parents.
• App size is 2MB which is perfect.
• App is free, which is the thing I like the most about the app.
------------------------
What I Don't Like:
------------------------
• Lackluster UI, although it is fast but UI is really lacking.
• It is lacking few basic features, like monitoring the weight/height of your baby.
• No Splash Screen.
• Icon of the app is Ugly.
• No live tile.
--------
Bugs:
--------
I found a few bugs in the app.
• The app sometime crashes right after you open it (but do keep in mind that it rarely happens. So it doesn't bother much, but still it can be annoying).
• There is a "< tap to set >" icon floating in 'Solid' section of the app.
-----------------
Suggestions:
-----------------
I have few suggestions, that might help. I hope the developers consider these suggestions.
• Add a 'section' where you can monitor the growth of your baby, like his height/weight.
• Please add Push notifications, like the app should notify when it's the time for your baby to eat/sleep e.t.c.
• I would really love to see 'Metro UI' this will make the app perfect.
• Please add a Splash Screen.
• Add a 'Section' where you can add pictures of your baby along with the details (like the date when it was taken, the age of baby when it was taken) & ability to share pics on social networks.
• Add a better App Icon.
• Add Live Tile.
-------------------
Overall (6.3/10):
-------------------
The app has the potential to be one of the best app in it's category, with just a few improvements. The app provides alot of sections to manage/monitor your baby.
The app is well built, is colorful, but is greatly lacking in UI department. It needs a major UI overhaul, but if UI is none of your concern than this app is easily one of the best app it's field. As it is extremely fast & easy to use.
All in all it is a great app, and a good addition to your app list, if you are a parent. And it's not a bad ideas to download it now, if you haven't as the size of the app is just 2MB.
_____________

It won't let me post all the review in one comment so I posted in two sorry for that.

Another application that will help a lot the mums... very nice

I am a father of 2 daughters, one 3yrs old and one 9months old. We used a simlar app available on iPhone and Android for my first daughter and fleetingly with my second daughter. The app was very useful at times especialy with your first born when your not sure what the baby should be doing, how much it should be feeding, sleeping, pooing, weeing etc. and when your really tiered and find it difficult to remember what has happened in the last few hours it was useful. However when your tiered and forgetfull it can mean you forgetting to add the information to the app as your too focused on this new life that is totaly dependent on you! After a period of time though with the first and defiantly with the second you learn that each baby is diffrent and it doesnt really matter if they have 5 poo's and 6 wees today but yesterday only had 4 poos and 7 wees, etc. Nor does it matter if they spend 10 mins feeding on one brest or 30 mins (as you have no idea how much they have actually eaten...). The only time this information is really important is if they are ill or not putting on enough weight etc then having a log can be very useful. What my wife found useful when breast feeding was the ability to tracking which side has been offered. However even that after a while she learnt to remember / be able to tell which side was needed to be used. So in conclusion I think these apps have a limited usefulnes and with all such apps they rely on your input so they are only as useful as the information you add to them. That aside, this app looks very simlar to the other one I used on Android / iOS. It doesnt have any input / tracker for medicine which would be useful. It has the "more" button that shows two more options but there is no option to keep these shown all the time. It is not very optimised for my 1520, if I go to enter "solid" information, the box to enter the quantity covers the box to enter the food type. (Personal prefrence): It doesnt have a windows phone app feeling. I dont lik the icons and I dont like WP apps that dont have a metro style start screen icon. Found "Open-Air Accident" quite funny in the diaper section no idea what this means :) I'd give the app 5/10 its an ok start, it could do with a design overhall, it could add in tracking of medican. Though at the end of the day I think these type of apps have a small window of usfulness. They dont have a killer feature that would make us keep using it / want to use it.

This is a great idea, I like it, no use for it, but I still like it.

Pro: - Registration needs less data (Mail-Adress, Name, Password)
- Also Metric system available (ml for bottles)
- Secure connection over https Neutral: - UI is ok and easy to use but isn't really the Win Phone UI Style Con: - No dark theme
- Only english
- Can't add custom activities

im not a parent so i dont really have use for the app. But still a nice useful app for parents and nannys. I like the UI, its colorful and easy to use. The activitys(nursing, eating, sleeping, change of diaper...) are easy to add and edit. The summary section is very useful to keep track on the last feeding, nursing, sleeping... The Milestone function is a nice idea, for adding the first times, like first tooth, first word, first step... Detected only one bug in the Solid section, but its not a big of a problem. Im not a parent so really cant say what more could be added. But in my opinion a great made app, and a nice idea. Would really recommend it to new parents and nannys.

Now that's something my sister is going to download. Realy usefull and comes handy when you need to remember when was the last time you changed the baby's diaper and you are taking turns with your wife. A suggestion would be sync between devices so both the parents can be kept updated no matter what. Nice app :)

I think it's a cool idea for an app for new, exciting and doting parents to use for their new children. It would be interesting if the developers included health information and nutrition tips for parents such as when they can start introducing solid foods, how to determine allergic reactions or more specific things like not feeding honey to infants less than 1 year. It would definitely need some expert advice and resources but it could make the app more useful!

Very interesting app. Some times I'm amused on how original some apps may be. This is a well executed app with lots of note taking. Useful for those who need it....looks like I'm not one of them though

This looks like a pretty good app. I'm sure that my wife will definitely want to check this one out. I'm not sure if it will help seeing as our son is 20 months, but still, it look useful. Thanks for the Hidden Gem. This one is a keeper.

The "Baby Connect" App for Windows Phone 8 is definitely handy for parents with newborn babies. The App allows you to record your babies feedings, nursings, naps, your babies mood, diaper changes and milestones (So any big events, date/times can be documented into this App, meaning you don't need a baby book/diary to record these events. The App saves them forever). One of the coolest features of the App is the ability to have everything sync between the mobile Apps on various platforms and even on the web. This means if your spouse or nanny (baby-sitter) has a different device, they can also record and update your babies information for you to monitor. The App is definitely great if you're a parent with a child however I feel the interface isn't as clean or slick as it should be. A more modern feel like on most Windows Phone Apps would be more appropriate. Secondly, the ability to add photos and/or videos to the milestones would make these memories much more realistic when looking back and would set the difference between a physical to a digital Baby book. Although there are some improvements needed, if I become a parent in the future, this is the sort of App I would love to use. My rating for the "Baby Connect" App is 8/10.

Great app for recent parents, especially for first timers. :) Everyone that has kids knows that the stress of the taking care of the baby, work and day to day activity can make a person tired and take part of the joy of taking care of a baby. This app let the parent record when the baby eat, take the medicine, etc and share that information with people you trust, this way you don't have to worry about telling the person that will take care of the baby that information, and believe me that you will forget and then you will have to call, or receive a call, just to say when is the next meal. One thing that I didn't find was a way to register reminder with alert and share them with your network.

It would be nice to see some Excel-like charts where you can track your offspring's progress over time in terms of weight, height, shoe-size etc.

Well as of right now I don't have a need for this app but perhaps I will sooner than I think. Though $4.99 is a pretty steep price tag.

This is a good solid app for what it is, although my baby is now 18 months old its an ideal app for when mum is at work and then I get so what did you do today how much has she eaten etc. Shame I couldn't get it to be a little more British eg nappy lop buy hey one I'm going to keep for the mean time. Thanks

just shared app with the wife. If she thinks it's useful, I will probably be using it as well. She might even try and get daycare to use it since it's cross platform.

This would have been useful 5 1/2 years ago for me.

I have 6 month old and me and my wife both have windows phones. This would be amazing if I could get her to use it regularly.

It works well. The UI is a little boring, but otherwise I can see it being useful - I just don't have a baby.

If I grew up on a farm, and had a kid, it might impress me but I didn't, so it doesn't.

I like how this app was really polished and well detailed and smooth. I love to have a dark theme for this. Also the design and function was really thought out from the general needs up to the small details of the needs of a baby was included here. Good job to the developer. This can serve as a great journal and log while taking care of our precious little babies.

This is only an app if you have a baby.
The features of this app are great, it's prepared for anything you're baby could do. It also has a great sync feature, so you're partner / the parents / the nanny, can see what happened, even if they don't have a windows phone.
The app looks really ugly, and not WP style, with rounded icons, no support for dark theme and accent colors.
I think this app is only useful if you're a nanny who don't wanna use paper and a clock.

This is really hard to test out, when I don't have a baby...
But it seems quite extensive, and clearly a great app :)

The diaper record would have been great when we were having issues with my youngest, we kept loosing the notepad we were using.

I don't have an infant to care of, so I'll give my technical opinion. Baby connect as a service it's certainly useful in many ways. it provides an easy way for parents and caretakers to share informations about the baby, but I can't help but feel like it's more of an unnecessary aide. I don't think that a rigorous diaper dryness timetable it's really useful, and it all seems a little too analytical. A parent it's supposed to keep track of his newborn mood even without writing down every little change, it's not a scientific experiment. The app in itself it's not bad, but it's not great either. The interface feels a little rushed, and I found a graphic glitch 30 seconds in. Not to mention that the main menu does't fit the wp UX guidelines at all. it's clear that the app it's just a port of the iOS/Android experience, and there wasn't much work on their part to bring it up to WP standards. Generally I think it's a very good app for parents but it could use a little more work

I used the iPad app to track my daughters first 2 years. The pediatrician was blown away. I had extensive charts of every diaper change, feeding, wellness visit, etc. Yes. I also paid attention to the baby. Nice to see it coming to windows phone. I'll let the wife know I'm ready to start working on baby number 2 now that I have a way to track stats.

Very good app and interesting. The design doesn't follow the WP principles though. Also it crashes if you have internet off. Overall 4/5 for its usefullness !!

First off, I don't like the app icon design. On the other hand, the app UI is quite good. I'm not a father yet, hopefully soon, but I never thought of using an app to document baby stuff, and the app does a great job of doing just that. But I hope that it expands to do more stuff, more like a baby book.

The app is a little help full but not much. The design is simple but could have been a little nicer with pictures.
There are a lot of features to choose from but I do not need it. Perhaps it is well suited to someone with less time than I

Interesting. I never was one for journalling everything my kids did, but this would have been useful for what I did track. Look like a good app.

Allowing NSA to track even our babies, huh? Or maybe SkyNet's way of finding out when and where John Connor is born to act proactively.

wow that's an amazing app.
the idea is brilliant

Interesting concept, but, judging from all parents I know (especially mothers), they barely have time to take care of the childrens... I wonder where will they find time to manage this... I think time would better spent with the childs... But, I think it may be useful in special circumstances in which they need to keep track of something, maybe when the child needs to take some medication or a special diet.

All I can say is that I don't think moms need this, but as a fresh father I may try it :-)

i think these sort of apps are a bit overkill... Our moms and dads didnt use it and look at us... we still live parenting is done by heart and common sense. without tracking you will quick learn what is good or bad. believe me, i'am an expert in being a dad

Definitely going to recommend this one to my cousins.

I showed this app to my sister-in-law who's the mother of a 1 year-old. And she loved it. Me personally though, i'd love to see a bit more improvement in the UI. More color and less dull would be good.

I like this Baby Connect as a fully-featured free app, but if I can give you a contribution, I'd suggest to re-design the User Interface because there is much room for improvement on that side! Thanks

A nice app.. Loves it being crosed platform. really helful in manging child activity the UI need a little more work, its not that attacrative.

This app seems to be pretty cool. I'll let my wife play with it for our 3 month old.

Definitely a must have for couples having a baby. As one of them, downloading at once!! Thank you WPCentral :)

Really good! Useful for the mothers (but i'm not a dad right now haha)

Wish we had this a few years ago. Kept the same info in one of those old fashioned paper notebooks.

Although i don't need this app because i'm only 16 and not a parent yet, it looks like a fantastic app for parents to help them for all their baby needs and the good thing about it is it's free now but only for a limited time though.

I really could've used an app like this after my daughter was born! I absolutely love that the information can be shared with select caregivers. This is great for parents so they can both know what's going on with their baby even when they're not there (e.g., mom is at work and can check on her baby via updates from dad). An area for improvement I see is the ability to add pictures (though not for the diapers!) :)

Glad to say we have passed the baby days. With that said, I checked out this app for the review and must admit it would have been helpful several years back. Would have been nice to coordinate with the wife. I don't think app this would be of interest to all parents, but for a certain subset, this will be a welcomed addition to the store.

learned about those nursing-apps from my sister, who's having her first child. found it very useful.
this app looks nicer, and very easy to use.

Its good to see that such app that are useful for new parents are also available on the windows phone From the picture the app looks great with very beautiful yet easy to understand and use UI..

People who create apps always have to find a gap in the market (Which is quite difficult these days) and then make it stand out from the rest of the many apps out there.
I think Baby Connect is quite a unique app and different from anything I have ever seen on the market place. I personally don't have any children, but I have friends who have just had children and of course nieces and nephews, I can see this app appealing to them a great deal. I like the fact that all the information you sync can be accessed by whoever you choose. I also like the fact that you can keep a constant diary of your baby, because not only is this nice for the parents, friends and family to keep a record of their baby which they could revisit in the far future, but I think it's a good app if your baby is not feeling well, because it gives you the opportunity to share all the important information with your doctor which they might need to know to find out what the matter is with your baby.
I think the best features of this app is the ability to sync all the information you record, and it's a Universal Phone OS app, which is great, because the mobile phone market place has mostly Android, iOS & Windows Phone OS, so it's ingenious that you don't have to feel neglected, if you have opted to use a different platform, which is the case with many apps.
The only thing that I think might be missing is the ability to share your logs with social networks, as this might be something a parent may want to do; like first footsteps, or to add to what George said in his review about adding a picture/video gallery, you might want the ability to share these from within the app; and the difference between sharing them via your phone gallery and the app, is the app allows you to caption your picture (Below it or directly on it) or add graphics and of course it says "Shared Via Baby Connect".

plEase give what models it supports but not simply "windows 8 and windows phone ". Regards

While the functionality is pretty good, the design is just... Not that great. Please use more colors! Choose maybe a nice background graphic for the whole app. And well, maybe you could change these iOS icons to tiles! ;) Would be great!

this is a pretty cool idea, and my parents would have loved this when they had babysitters.. or maybe not because they would still have had to dealt with all of my crap without even being there :)

The app is wonderful for parents who will have their first child. (or the forgetful ones). However, this app has a few bugs (which have already been reported by other users) and almost everybody hates the large tile. However, the app should have a sync feature that converts the data into plain text so that it can be texted anywhere as per need or emergencies. Further, the User Interface is plain and simple with no frills (after all its not for the baby.. its for the parents, but it wouldn't hurt if there was a section on 'things to do' sort of a thing or 'how to take care of your baby'. Parents would love that.

it be nice to have a schedualing feature that ties into calanders and day planners, u could foward it to babysitters, schools, or daycares via the app or document or email somthing like that would help to have a complete outlook.

interesting, my kids really just do what they want, not what the app tells me they want.

I guess it would become useful in future

A mom would probably write a better comment but this is cool app. Ability to sync information is good. It looks so feature-ful that I don't know how can I be constructive. Haha

Is this not just a log book? I'm feering that all administration and recording can take time away from actualy interact and nurse the child.

- It is great that the app is also available on Windows Phone. The phone is almost always in hand reach and I don't have my journal+pen with me all the time.
- Cross platform is great, but don't lag behind on Windows Phone. I like the sync feature.
- Is there a darker theme/background? IMO not really Windows Phone Modern/Metro UI look.
- Good option of units/measurements. Some developpers do forget this kind of stuff so it's is troublesome for us users to convert the measurentments before able to input the data.
- Add more charts/monitoring growth like weight and height etc
- Adding photos and videos to milesones

If you have the baby it's one of the apps that is your smartphone made for. The only bad thing is that it has some lags but that can be fixed throught the updates. It can be better by putting in some more features.

please make it available for wp7.8...Developers are concentrating on developing apps for wp8 .what about wp7.8?? We too need updates we too need apps.these apps are good to use .. we bought our phones at high costs yet we aren't getting any good apps for wp7.8..we are suffering even after spending lots of money on phones(wp7.8)..please make good apps like these availible on wp7.8

Afraid to say that I can't try this out as I don't own a Windows Phone, but it's a very interesting concept, and I can see this being a great utility for some people

Tried it. Looks great. Has many options and can get confusing if u don't know what you're doing(like i did:):)). Live tile needs to be fixed. Overall a great app and definitely useful as everything will be at your fingertips

not everyone needs it.its good for parents. this is a great app.new apps are gaining their attention in windows 8 and wp8 what about wp7.8?developers please develop these apps for wp7.8.people bought these phones paying a lot of money and getting disappointed because they cant get best softwares like this.help us by developing apps to 7.8

FIRST IMPRESSION:
A small sized app just 2mb with clean UI.
WHAT I LIKED ABOUT THE APP:
-Simple design and clean UI.
-Easy to register and login.
-All the sections in the app are detailed like:
•BOTTLE : This section is detailed with everything like duration, quantity(in oz or in ml).
• Similar to this all section are well detailed about everything parents needed.
- Caretaker of baby can use this app to interact with parents.
-Liked all the recent activities in recent activities section.
-Liked the milestone section.
WHAT I DON'T LIKED ABOUT THE APP:
-The UI and design is simple but quite boring and dull. I can't use this app for a long time.
-I have difficulty in scrolling down the recent activities.(bug)
-In solid section option overlap certain words in the solid section.(bug)
-The app sometimes crashes.I don't found any reason of this crash.(bug)
-The child picture looks small on the main page.Quite irritating.
-Live tile looks very ugly and wide live tile only shows transparent tile not any wallpaper(app logo) on it.(bug)
SUGGESTIONS OR HOW COULD MADE THIS APP EVEN BETTER:
-Fix all the bugs i mentioned above.
-Bring good transparent live tile with good app logo on it.
-Please change the design of the app so which the app looks interesting or give the feature to customise the app.(needed the most).
-Please add bigger size for child picture.
-Add splash screen if possible(optional)
OVERALL RATING : 6/10
The idea is good for the app and specially helpful to parents. Developer seriously need to work hard to make this app perfect.

FIRST IMPRESSION:
A small sized app just 2mb with clean UI.
WHAT I LIKED ABOUT THE APP:
-Simple design and clean UI.
-Easy to register and login.
-All the sections in the app are detailed like:
•BOTTLE : This section is detailed with everything like duration, quantity(in oz or in ml).
• Similar to this all section are well detailed about everything parents needed.
- Caretaker of baby can use this app to interact with parents.
-Liked all the recent activities in recent activities section.
-Liked the milestone section.
WHAT I DON'T LIKED ABOUT THE APP:
-The UI and design is simple but quite boring and dull. I can't use this app for a long time.
-I have difficulty in scrolling down the recent activities.(bug)
-In solid section option overlap certain words in the solid section.(bug)
-The app sometimes crashes.I don't found any reason of this crash.(bug)
-The child picture looks small on the main page.Quite irritating.
-Live tile looks very ugly and wide live tile only shows transparent tile not any wallpaper(app logo) on it.(bug)
SUGGESTIONS OR HOW COULD MADE THIS APP EVEN BETTER:
-Fix all the bugs i mentioned above.
-Bring good transparent live tile with good app logo on it.
-Please change the design of the app so which the app looks interesting or give the feature to customise the app.(needed the most).
-Please add bigger size for child picture.
-Add splash screen if possible(optional)
OVERALL RATING : 6/10
The idea is good for the app and specially helpful to parents. Developer seriously need to work hard to make this app perfect..

The timeline for recent entries is a good idea, easy to get a quick idea of what's happened

So finally we, the parents, have some helping hands raising our children. This app is definitely worth downloading which will make your life easy going with tracking day to day activities of your kids. I would definitely going to recommend this within my friends groups!

Amazing app, the ability to share data and that it is cross platform stands out . The iOS version has more features though, like the timeline, would be great if that'd be added to the WP version

It's been a busy day for me reviewing three apps and Baby Connect is one of them. Here is what I Found: WHAT I LIKED ABOUT THE APP: The App is quite fast! Even while switching from different apps I didn't see "resuming" screen.. That's Good! This App is the best way to record and monitor your Baby's Activities. This App covers eveything related to a baby like diapers, How much milk he/she had, What time he/she fell asleep and at what time did he/she woke up, his/her mood, His/her activity etc. etc... I coldn't find any use of "Message" though! Milestone is a very cool feature to record all the "first-time" of your baby for eg when he/she smiled or when he/she takes a step for the first time.. It's Pretty good! "Do you have more than one baby?? Or Do you have more than two babies??" No Problem! This App can record and Monitor Activites of all your babies! You can Add Child by going into the settings! That's Pretty Useful! WHAT I DIDN"T LIKE ABOUT THE APP: The Developers definitely needs to work on the UI.. I didn't liked the UI.. Please make it more beautiful! Otherwise than this the apps doesn't fails to deliver! WHAT THIS APP NEEDS: Improvements in UI for sure! Make it more beautiful! WRAPPING IT UP: The App is good! But I think that most of the parents won't go for this app! They'll use it once or twice or maybe thrice but not again and again! I Mean who has that much time to unlock your phone>go to baby connect>Record the data! But Some may find it great who seriously wants to record their baby's activities! So, It all depends on the parents whether they find it useful or not! Kudos to developers!

This is a nice "diary" type app where you can record all sorts of information about your child. I wonder though how embarrassing it could be for the child to view such details when they get a older!

A great app. I suggested apps like this to my neighborhood and they l most of them converted to Windows Phone. But they just complained me only for some app crashes but everything else is smooth. Thanks developers for great apps like these.

In all is a great app which makes caring for babies more effective and also fun. I love it.

The thing which i most like in the app is all the sections it has all nicely managed seems a lot of thought went into making these sections.Also very small in size and doesnot need internet conection always for it to work. Cons, The app looks very pale some colorfull sections will make it more attractive.

My cousin just gave birth to a baby girl and this will be the perfect app for her. It's fast and fluid. The UI is a bit bland in certain pages, but I guess that's ok. Found the app to be very useful, however it is a reactive based application. We can record things as they happen. Is it possible to make the app proactive? Like if we feed it the time when certain things are expected to be done and the app reminding you via alarms or toast notifications? Overall, the app is good. A bit of UI polishing would go a long way in a better UX. thanks for the free app, dev :)

The app doesn't seems of much help... Rather will increase our task of feeding data into it all the time instead of feeding the baby... Lol...

Looks really useful and full-featured. I'm not married though, so, this is not for me.

Seems like a very good application for new parents. Those things wont concern me for a long time (I hope) but I can see how they can be usefull to parents with newborns. The one complain I have about the app is the UI/design of those input boxes. Too basic and too rought. Apart from that it's a great application. Thanks for bringing it to Windows Phone!

Since I'm not a parent I didn't create an account. Therefore I couldn't use the app first-hand. However, the features listed in the article are impressive and I can easily see how this app would be helpful. I like the universal app and web-portal features. I also agree that it should have toast notifications for those paranoid parents that want to be tethered to their child while away.

Wow, impressive featureset! It'd be interesting to see if the developers permit data backup to OneDrive and/or other cloud storage services.

I'm probably being a bit paranoid, but would be great to have a backup option independent of the developer's services :)

The UI is neat, but it is too neat. I would have been nice to add more colors (use the phone's accent color) for some buttons and headers.

nice app, my son is too old to use this on him as he is out of diapers and no longer uses a bottle, but the UI is really nice and i can definitely see how handy this woudl have been if we had it. One thing i think it should have as part of it is a camera lens so that you can load into a camera lens and it directly saves it to your baby book without having to go into the app first

The apps should include more features into it like sleeping music. When activated the music, it automatically start count how long the baby sleep. Secondly, the solid section, the button [tap to set] need to be fixed on Lumia 1320 display. The choice of drink should allow we to add new drinks to easier check back what the baby drink [ don't need use note ]. The apps can be designed to more beautiful like put emoticon for every mood, icon for every activity. Besides, the recent entry can't display all entry. Last but not least, the UI maybe can change to windows-like style or make it more colorful

The app's design is great and cool and related to the intention of this app. i like how detailed the information for tracking a baby's needs that they put in this app. very helpful for those who needs tracking their baby.

Just a few little things:
I can make the Tile big, but there's no image showing anymore, it's completely empty with only the name of the app displaying on the bottom left. The overall design of the app is more than just basic. Would be great if the developer let some designer look over it. This also shows on the apps icon, just a couple of clip-arts. This needs some improvement.

Functionally, the app is great. As the uncle of many neices, but newlywed without kids, I can see how this would be valuable. My main beef with this app is how vanilla it is. It doesn't really have the metro design that I look for in a WP8 app. No Black theme, all small font, nothing that raelly says fresh and clean.

Good app for new parents, the amount of detailed information that can stored for future reference or can be refrenced by your spouse/ babysitter is astounding. The Baby connect's network is a very useful feature and one of the major USP's of this app. Two suggestions from my side: 1. Make the app a universal windows app.
2. Liven up the UI a bit, may be a bit more clean, metro UI feel. Apart from these, the app has no major flaws, its easy to use and covers all the features required in a Baby care app.

This app is just on time for my wife and I. I added a profile and everything seems to be working great. I haven't quite shown my wife yet, but I'm sure she'll be excited!

lots of useful features to keep track of activities of baby care. the app maybe for baby care but he/doesn't have to use it. wasn't impressed with the interface. a genuine windows phone look would have worked for me. It could probably use a feature like sending images of baby to the parents or videos from the baby sitter.

Downloaded this app over weekend...
A good concept,....although i don't use these kind of apps...but a good concept....
The app is fast and sleek...
One problem i found is live tile concept is not leveraged by the app properly,,..
Also UI needs little more work... Rest is fine with the app...

Wonderful app, I'm sure it must come in handy to some parents... It has a really lovely interface, it's fast, clean and very small. I would just like to see a section dedicated to health (what medication is the baby on, when is his next doctor's appointment, how is he growing, and so on), because, unless I missed it, I couldn't find it in the app. I would also love a better live tile, I don't like this one very much... :)

Well, not something I need or will ever need again, but it works for what it is.

My suggestion is to be able to export a log of the activities, as well as being able to take pictures and assign them to a specific activity on a specific date... Kind of like a timeline of the first year. This would provide the ultimate in embarassing records to show future boyfriends and girlfriends. "Would you like to see her diaper change record, complete with pictures, from June until July of 2014 Mr. prospective boyfriend?" Yes, of course you would.

A nice app for newbie parents!

Someone in my family recently had a premature infant and had to watch every detail of his life extremely closely. I showed the app to them and found out that they never actually thought of searching for an app like this. So you really have kind of a "hidden" gem in this. ;) Since both of the parents are on different on OS' the cross platform usability is a big deal, especially by having all the information backed up in the cloud. The idea itself is brilliant! You can't loose the book, you can't spill something on it and even if you spill something on your phone, you can access all the information through the website or an tablet. Jounalizing every ml of fluid the baby drinks, minute he sleeps and so on is fast and simple, just like it should be. The UI is very straight forward which makes it easy to learn and understand. I have not found the reminders yet but maybe I overlooked them. They would be very much appreciated.


User interface not really according to windows phone guidelines, icons look like they are copied from ios. Content could be useful but can't imagine myself buying this app for this price.

gotta find some women with babies to review this app :p jokes aside, i dont think many parents would use such apps..depending on an app isnt what parents normally do to get their stuff done with babies..sometimes the good old fashion jotting down on paper, using a brain method jst works for people.. In India especially, an app like this would a few more years before being even being considered..parents are way too cautious here to depend on an app so yeah..not our kind of thing...:)

Oh man, this came a year too late for me. I would have LOVED to have this when my daughter was born a year ago. We did almost all of the tracking in a notebook. As she was the last baby we are having, I'll be sure to pass this on to my brother and his wife as they about to have their first baby. Great looking app; I really wish I had a need for it.

This is going on my future download list. Don't have any children but this looks handy.

This app is so cool. I love cross-platform apps. Even though I do not have a Windows Phone 8 devivce, so I was not able to try it, and I am not in the situation to use the app, I would use it when that time of my life comes. This looks like one of the best apps. It has the design, and is cross-platform. I do agree that they should integrate more windows phone features such as toast notifications, but overall great app!

I like the idea of this app and how it works. However, I really dont like its design. What's up with all that grey? I think a baby app should look more... I don't know... cute? Just nice to look at? Fix that.

That'd be useful if my wife was into smartphones. :D But yeah, judging from the screenshots, it's very good to have when you have a baby!

I had a project at my university with a similar idea.

This is awesome. One of the main reasons I purchased a new iPad two years ago is the lack of this app on Windows (I was pregnant at the time). It seems silly, but I used baby tracking apps with both my kids and it was essential to me for tracking nursing and diapers and the all important sleep habits! So glad I'll be able to use this on my Icon and Surface3 if we go for the third child.

.............FIRST IMPRESSION @_@ ............... First of all, I wonder how this app got into the hidden gem section of WP Central, no offence. After using this app for a while, my first thought was " why would WP Central choose such a app into hidden gems? , Did they ran out of good worthy apps this quickly!!" . I am going to be honest to say that, this app never deserve to be on the hidden gem. This is more like a hidden rock. What I have to say about the app is mostly bad reviews than the good ones. Devolopers of this app,, " you really spoiled such a good idea of baby book on a windows phone. You could have done better than this. I think you didn't even tested the app on the phone before publishing it. Any way, I can suggest you to make this better" .
And to the WP Centre , " Did you guys atleast looked into the app clearly before posting it on hidden gems article!!?, I dont think so" . I will point out what are the things I felt good and bad about this app . .............WHAT I LIKED......... First lets start with the good things about the app.
* I got to say that this app is a unique one on windows phone cause I have never saw a baby book app on the windows phone ever. I congrats the developers and WP Central for bringing this idea forward to windows phone.
* This could help a very few parents who are very busy to take care of there baby. ..............WHY I HATE THIS APP.......... Yeah, since hidden gems comments needs to be honest and sincere, I am gonna say the truth is ' I hate this app'. I will tell you my reasons. And there are plenty more reasons which cannot be expressed on words. * First of all, I dont think many people are going to use this app. Cause who would write down when the baby sleeped, pissed, eated and all. Family members of a somewhat average family might note down, when the baby first talked, walked, like that...... But most of such average families dont have a smartphone like Lumia and all . If we are looking at above average and high status people, honestly they dont give a shit about what there kid did. So I find this app will only be used by some middle class people. But it didn't mean this app is useless. * Secondly, this app is very poorely build. It has lot of bugs on it. Which I will be mentioning on a seperate topic because there are a lot of them . I could write a book about the bugs of this app. *Thirdly, This app didn't make anyone the feel to use it. The background colour is white and the way things are arranged is boring. Totally , this app looks like a person who haven't bathed for his entire lifetime. !!!!..........BUGS..............!!! 1, (Major bug) In the options, if you select "solid", there is a major bug. " " is shown in the middle of nothing. Just a button in the screen. I have never seen such a bug in any apps. Se the bug here
https://onedrive.live.com/?cid=81E61E6FDC6C05BC&id=81E61E6FDC6C05BC%2177... 2.(Major Bug) Have you noticed the large live tile. If you didn't then check how worse can it be.
https://onedrive.live.com/?cid=81E61E6FDC6C05BC&id=81E61E6FDC6C05BC%2177...
Its blank. 3.(Magor Bug) In the begining of registration when we add a child, the column for writing "allergies" wont work 4. (Major Bug) In the main menu , the recent actives cant be scroll down to the very last activity. 5.(Magor Bug) The pictures added are not fit to the box. Its feels horrible to see. Thats I for Magor bugs.
.......i dont wanna mention the minor bugs. It might make me smash my phone on the ground. Its never gonna end in a comment. .........CONCLUTION......... I cant give suggestion because if I suggest, I will ask you to dump this app recreate this app in a new style without any bugs like this. WP Central, what were you thinking before you put this app on hidden gems. Have guys gone mad. Is this the app you said to be handpicked from the unknown apps for us. Shame.
You should come up with good apps and games that 'deserve' to be known to the world. Not this kind. At first, I didn't wanted to review this app. Hope the next on will be a good one. I will be waiting
Aahh, I got a head ache on reviewing this app. I am not kidding

I downloaded this partially because it is free currently and I might need it in the next year or so. We have different devices currently (Windows Phone and iOS tablet and iPhone). It is incredible how widely it syncs info between devices through the web. I can see this being very helpful to those with kids, especially Moms on-the-go and Mr. Moms needing help at home.

That will be helpful with my nephew

A fast and smooth app. The sections that cover baby activities are really detailed and there is a section for almost every activity. It is a cross-platform app- another cool feature.
However, the UI looks outmoded and needs some work.
I am not a parent so my opinion doesn't really meany anything but I think this could come in handy to an unexperienced parent.
All in all, the dev has a good idea but it needs some work.

Good for people who manage their babies need but all cannot comment on the so because i am still not married but will try when i am so .., but that's ganga make about 5 years or so lol but based on comments they say the app is fine

Gave it to my sister for a spin: she really liked the Bottle function, esp. for those hectic days when trying to keep track of 5 little monsters!

Come on guys! What am I suppose to do with this information?I dont have any kids(that I know of). Commenting for the sake of ...

On my Lumia 1020 with Windows Phone 8.1 Preview PROS - It enters the app very quickly, no intro but hm...
- It is very simple and easy to use
- Direct information shown and to choose from
- Nicely synchronise with the other user (Caregiver)
- I like you give us the option to choose from ml or oz. Some developers doesn't think that the app will be use on the other side of the world. Different country use different measurement. So, this is a thumbs up
- Works offline. Doesn't need a internet connection. Only needed for synchronization
- Option to add multiple baby. Because caretaker maybe take care of not just one baby, maybe 2 or 3 or maybe more CONS - I really don't like the interface.It looks like it was made back from the year 2000. Something around that time. I think you need to change the interface, make it looks more modern or recent times. Nowadays, OS interface are changing into Metrostyle UI. More boxy if i could say. Maybe you should do something like that. Make it more colourful. Because it is a baby app. Baby = fancy things. Easy to understand
- The fonts are too default (i don't know wether it is the correct word to uses). Choose a better font. Make the font more outstanding.
- The logo for example "Bottle, Diaper, Sleep, etc" i don't know why but i think it does not feel right. Maybe the colour contrast doesn't fit. Or maybe the icon itself isn't outstanding.
- Photo section on baby information section. It doesn't have the option to fit the photo to give a square thumbnail of the picture. Instead, if the photo size is 16*9, it will insert the photo by that size. Supposely you make the photo fit into the square shape tumbnail. That will make the thumbnail looks better
- Blood type in baby information section. The font is too small. The space between each letter is small too. Give it a room. Enlarge the font. So that it is easier to click
- I think the bottom section in the baby information section is for Comment. You should put the title on it so that user will understand what it is
- It crashes a lot. I don't know why. Fix the bug please
- Live tiles.Why do you only have large transparent live tile and the other size don't? This is a bug. FIx it SUGGESTIONS - Give the apps more colour. Make it cheerful. Make it fancy. So it will tract anyone on the first sight
- Put a live information on the live tiles. It is named Live Tiles. So... put a live information from the apps
- Maybe the infromation can synchronise with OneNote or something. So that maybe, we can print the details about the care. So that the caretaker can discuss with the parents of the child to improvise or to improve any misguiding or lack in care. If you understand what i mean OVERALL RATING (7/10) I gave it a 7 out 10 because the apps have so much to improve. The purpose of the app is already great but there are still room for improvements. It covers most of things that we need. This app has the potential to be a great app in the store, if the bugs had been improved. And the price should be lowered down to maybe $0.99 or $1.99. It is too expensieve for this few features of app. Adding more features, make it greater than before, than surely user will have no doubt on buying the apps Thanks

A big help for new parents! Nicely done, fun to use.

A very nice app for recent fathers and mothers. The interface is fairly easy to follow although some of the selections from the list can be a little to small and hard to press. I found that there is a design error in the 'Solid' - Enter the Quantity, As for the Recent Entries, it would be better if we could scroll up and down as well instead of just having scrolling left and right(Summary and Recent Entries). Good Job with the app.

Great idea :D I don't have babies but is helpful +720

They should have called it "Baby Manager" or "Baby Hub"! All jokes aside, this app looks really great. I can relate to the UI, but it isn't WP however.

I have been using Baby Connect only for a few days but I love it, It is 200% useful, the only thing I would change is the desing, because It is no beautiful (sorry folks) I hope that in future updates the developers make it one of the Hits of WP Store ;)

Now I just need my child to teach me how to use the app.

I look a lot for an app of this kind for my sister who has a new-born in house... thank you wpcentral for showing us apps like this Still it will be great if there was also an Windows 8.1 app so we can use it on our computer or tablet too and sync the data

App thats more of a companion to mothers... Thumbs up to the creator :)

Awesome app. But I don't have any baby..

I'm sure this would be more useful for me if i had a child

Love it to track my kids!

Too much consideration being given to babies.... What about us adults! :P

Too young to fully apreciate it but as far as i can see it could work really well for parents

I am downloading the app now so that for my sake, I can be organized with my future children. Well designed and simple to use.

I'll personally not need this any time soon, but apps like this will encourage people to move over to windows phone in time!

I like how you can give the baby a name within the app. Makes it seem as if you're playing with a tamagotchi. Only in this case please dont throw it in the closest for months and forget about it!

Design could be more metro. Too busy on some screens.

Simple to use... I don't need it however, but, will recommend... Wish it was available when my sis was an infant...

Look like great app. Downloaded for future use ;)

Well I'm only 16 so I won't need this app anytime soon. But to people out there with babies it looks like it is very helpful and feature packed.

Good thing I dont have a baby!

I dont have a baby myself, but have several friends with newborns. Both are using similar apps on iOS and after using this one, they both preffered the windows phone app. One of them even stole her husbands dev phone and is using the app on it.Ill be making a note of this when it comes time for my wife and I.

If only it were a few years earlier...

I'll reccommend to a friend of mine - it's crazy how app managed raising a child can be!

Sigh...where was this 2.9 years ago??

This is a pretty good app and quite useful. It definitely can help you with tracking your baby.... provided you don't put your attention to the app first BEFORE the baby! :)

I'm not sure, that such kind of app should have the design that is that serious. Looks more like a business application, as mentioned above. But anyway - it's fast, powerfull and does what it has to! Good work. Try to involve some ladies in the design creation!

Our 5th is almost a year old so this app may not apply as much now, but I have a few people I will be recommending this to.

Gonna save this for my next baby.

The app is very useful, but it could look cooler. Adding themes would probably be cool, but also kind of unnecessary, I guess ... What I woud like would be an option to attach photos to the entries. Wouldn't be necessary for all the tasks obviously, but it's always good to have relevant pictures directly attached to a certain action.

Looks like a great app although I don't know anyone that has a windows phone that has a baby also. :(

I don't think I'll download this anytime soon lol.

Interesting. I can't say that I have much of any use of such an app, but nice to know it exists. Now if I can only get my sister and brother in law off of iOS and onto Windows Phone maybe the would find such an app useful (the have two kids, one that's 7 months old).

Lots of information for those who are expecting a baby or have a newborn. You can record a lot of information about your baby and milestones are useful for you to look back on to remember when certain events happened. Adding the ability to add to the activity/milestone list would make this more useful

No kids...maybe I could try using this with my pets.

I don't like the iOS-inspired designs. Looks ugly.

This app is really cool but could be much cooler with a few added features. I don't have a child, but all of the features make this a must have for recording everything in an easy to remember format. Sharing the info with a babysitter or spouce is great too. Parents who go out could see the babysitter fed the child after updating (or so I gather from the description on the networking aspect of this app) which could put their minds at ease. A photo gallery would probably be the only thing that could change this from a baby recording app to a full on digitial baby book. I'm grad my parents didn't have this when I was a baby. It'd be weird to see what time I was fed every day for 9 months.

Its cross platform! We need more cross platform apps. The app is smooth, I like that the design is simple, but it might be a little oversimple. Does what it is suppposed to though.

I'm currently not in the target group of this app, but my wife used to use a similar one a couple of years ago. The UI could be fine-tuned, IMHO. e.g.: centered text blocks, randomly aligned titles and text blocks. Regarding functionality it's as good as it gets.

Hmm. Can you track what you feed your baby? Like, different formula milks and their respective nutritional content? Might be interesting to add a nutritional component and recommended nutrition for children of arbitrary age.

where was this app when i had a baby two years age.

I don't see the point of the app at all. But hey, I haven't got kids :)

dont need this app.. looks good for new fathers.. downloaded just for the sake of hidden gems.. ;)

may be i will recommend this app to my brother who is expecting his first child this December.. :) <3

-Pros
* works without internet
* fast and fluid
* bottler, diaper, bottle, sleep nursing sections nicely done with activities, time and notes.
* mood and milestone section are near nice and work well.
-Cons
* app crashes when pressing tick button.
* app looks a bit dull.
* live tile not upto the mark.
* child picture looks small.
-Suggestions
* fix live tile.
* child photo must be bigger.
* add some colour to the app.

Haha, great app for those who use it. Remind me after some years ahead about it

Good to see this app on wp8. But the UI as many mentioned here isn't the modern metro.

This is going to be a really useful app for fist time parents especially. I remember with my first, I was scribbling down notes of when nappies (diapers) were changed and how much milk he had. Plus eveyone has a phone on them so you won't lose the scraps of paper you've used!

I may be in the minority, but this app is not for me. Although I'm past the baby stage with my kids, we never really tracked things like this. My wife is a scrapbooker, so she took care of all the milestones, but we never really felt like we had to write down then feedings were, how long, which side, etc. I like tracking apps like this, so I get the appeal, but I don't think this one is for me.

+ If i would be your father, i think i would use this app :) + Cross platform! - As the person before me, i have to say, that the UI of the app doesn't fitt very well to wp

.............FIRST IMPRESSION @_@ ............... First of all, I wonder how this app got into the hidden gem section of WP Central, no offence. After using this app for a while, my first thought was " why would WP Central choose such a app into hidden gems? , Did they ran out of good worthy apps this quickly!!" . I am going to be honest to say that, this app never deserve to be on the hidden gem. This is more like a hidden rock. What I have to say about the app is mostly bad reviews than the good ones. Devolopers of this app,, " you really spoiled such a good idea of baby book on a windows phone. You could have done better than this. I think you didn't even tested the app on the phone before publishing it. Any way, I can suggest you to make this better" .
And to the WP Centre , " Did you guys atleast looked into the app clearly before posting it on hidden gems article!!?, I dont think so" . I will point out what are the things I felt good and bad about this app . .............WHAT I LIKED......... First lets start with the good things about the app.
* I got to say that this app is a unique one on windows phone cause I have never saw a baby book app on the windows phone ever. I congrats the developers and WP Central for bringing this idea forward to windows phone.
* This could help a very few parents who are very busy to take care of there baby. ..............WHY I HATE THIS APP.......... Yeah, since hidden gems comments needs to be honest and sincere, I am gonna say the truth is ' I hate this app'. I will tell you my reasons. And there are plenty more reasons which cannot be expressed on words. * First of all, I dont think many people are going to use this app. Cause who would write down when the baby sleeped, pissed, eated and all. Family members of a somewhat average family might note down, when the baby first talked, walked, like that...... But most of such average families dont have a smartphone like Lumia and all . If we are looking at above average and high status people, honestly they dont give a shit about what there kid did. So I find this app will only be used by some middle class people. But it didn't mean this app is useless. * Secondly, this app is very poorely build. It has lot of bugs on it. Which I will be mentioning on a seperate topic because there are a lot of them . I could write a book about the bugs of this app. *Thirdly, This app didn't make anyone the feel to use it. The background colour is white and the way things are arranged is boring. Totally , this app looks like a person who haven't bathed for his entire lifetime. !!!!..........BUGS..............!!! 1, (Major bug) In the options, if you select "solid", there is a major bug. " " is shown in the middle of nothing. Just a button in the screen. I have never seen such a bug in any apps. Se the bug here
https://onedrive.live.com/?cid=81E61E6FDC6C05BC&id=81E61E6FDC6C05BC%2177... 2.(Major Bug) Have you noticed the large live tile. If you didn't then check how worse can it be.
https://onedrive.live.com/?cid=81E61E6FDC6C05BC&id=81E61E6FDC6C05BC%2177...
Its blank. 3.(Magor Bug) In the begining of registration when we add a child, the column for writing "allergies" wont work 4. (Major Bug) In the main menu , the recent actives cant be scroll down to the very last activity. 5.(Magor Bug) The pictures added are not fit to the box. Its feels horrible to see. Thats I for Magor bugs.
.......i dont wanna mention the minor bugs. It might make me smash my phone on the ground. Its never gonna end in a comment. .........CONCLUTION......... I cant give suggestion because if I suggest, I will ask you to dump this app recreate this app in a new style without any bugs like this. WP Central, what were you thinking before you put this app on hidden gems. Have guys gone mad. Is this the app you said to be handpicked from the unknown apps for us. Shame.
You should come up with good apps and games that 'deserve' to be known to the world. Not this kind. At first, I didn't wanted to review this app. Hope the next on will be a good one. I will be waiting
Aahh, I got a head ache on reviewing this app. I am not kidding.

.............FIRST IMPRESSION @_@ ............... First of all, I wonder how this app got into the hidden gem section of WP Central, no offence. After using this app for a while, my first thought was " why would WP Central choose such a app into hidden gems? , Did they ran out of good worthy apps this quickly!!" . I am going to be honest to say that, this app never deserve to be on the hidden gem. This is more like a hidden rock. What I have to say about the app is mostly bad reviews than the good ones. Devolopers of this app,, " you really spoiled such a good idea of baby book on a windows phone. You could have done better than this. I think you didn't even tested the app on the phone before publishing it. Any way, I can suggest you to make this better" .
And to the WP Centre , " Did you guys atleast looked into the app clearly before posting it on hidden gems article!!?, I dont think so" . I will point out what are the things I felt good and bad about this app . .............WHAT I LIKED......... First lets start with the good things about the app.
* I got to say that this app is a unique one on windows phone cause I have never saw a baby book app on the windows phone ever. I congrats the developers and WP Central for bringing this idea forward to windows phone.
* This could help a very few parents who are very busy to take care of there baby. ..............WHY I HATE THIS APP.......... Yeah, since hidden gems comments needs to be honest and sincere, I am gonna say the truth is ' I hate this app'. I will tell you my reasons. And there are plenty more reasons which cannot be expressed on words. * First of all, I dont think many people are going to use this app. Cause who would write down when the baby sleeped, pissed, eated and all. Family members of a somewhat average family might note down, when the baby first talked, walked, like that...... But most of such average families dont have a smartphone like Lumia and all . If we are looking at above average and high status people, honestly they dont give a shit about what there kid did. So I find this app will only be used by some middle class people. But it didn't mean this app is useless. * Secondly, this app is very poorely build. It has lot of bugs on it. Which I will be mentioning on a seperate topic because there are a lot of them . I could write a book about the bugs of this app. *Thirdly, This app didn't make anyone the feel to use it. The background colour is white and the way things are arranged is boring. Totally , this app looks like a person who haven't bathed for his entire lifetime. !!!!..........BUGS..............!!! 1, (Major bug) In the options, if you select "solid", there is a major bug. " " is shown in the middle of nothing. Just a button in the screen. I have never seen such a bug in any apps. Se the bug here
https://onedrive.live.com/?cid=81E61E6FDC6C05BC&id=81E61E6FDC6C05BC%2177... 2.(Major Bug) Have you noticed the large live tile. If you didn't then check how worse can it be.
https://onedrive.live.com/?cid=81E61E6FDC6C05BC&id=81E61E6FDC6C05BC%2177...
Its blank. 3.(Magor Bug) In the begining of registration when we add a child, the column for writing "allergies" wont work 4. (Major Bug) In the main menu , the recent actives cant be scroll down to the very last activity. 5.(Magor Bug) The pictures added are not fit to the box. Its feels horrible to see. Thats I for Magor bugs.
.......i dont wanna mention the minor bugs. It might make me smash my phone on the ground. Its never gonna end in a comment. .........CONCLUTION......... I cant give suggestion because if I suggest, I will ask you to dump this app recreate this app in a new style without any bugs like this. WP Central, what were you thinking before you put this app on hidden gems. Have guys gone mad. Is this the app you said to be handpicked from the unknown apps for us. Shame.
You should come up with good apps and games that 'deserve' to be known to the world. Not this kind. At first, I didn't wanted to review this app. Hope the next on will be a good one. I will be waiting
Aahh, I got a head ache on reviewing this app. I am not kidding..

.............FIRST IMPRESSION @_@ ............... First of all, I wonder how this app got into the hidden gem section of WP Central, no offence. After using this app for a while, my first thought was " why would WP Central choose such a app into hidden gems? , Did they ran out of good worthy apps this quickly!!" . I am going to be honest to say that, this app never deserve to be on the hidden gem. This is more like a hidden rock. What I have to say about the app is mostly bad reviews than the good ones. Devolopers of this app,, " you really spoiled such a good idea of baby book on a windows phone. You could have done better than this. I think you didn't even tested the app on the phone before publishing it. Any way, I can suggest you to make this better" .
And to the WP Centre , " Did you guys atleast looked into the app clearly before posting it on hidden gems article!!?, I dont think so" . I will point out what are the things I felt good and bad about this app . .............WHAT I LIKED......... First lets start with the good things about the app.
* I got to say that this app is a unique one on windows phone cause I have never saw a baby book app on the windows phone ever. I congrats the developers and WP Central for bringing this idea forward to windows phone.
* This could help a very few parents who are very busy to take care of there baby. ..............WHY I HATE THIS APP.......... Yeah, since hidden gems comments needs to be honest and sincere, I am gonna say the truth is ' I hate this app'. I will tell you my reasons. And there are plenty more reasons which cannot be expressed on words. * First of all, I dont think many people are going to use this app. Cause who would write down when the baby sleeped, pissed, eated and all. Family members of a somewhat average family might note down, when the baby first talked, walked, like that...... But most of such average families dont have a smartphone like Lumia and all . If we are looking at above average and high status people, honestly they dont give a shit about what there kid did. So I find this app will only be used by some middle class people. But it didn't mean this app is useless. * Secondly, this app is very poorely build. It has lot of bugs on it. Which I will be mentioning on a seperate topic because there are a lot of them . I could write a book about the bugs of this app. *Thirdly, This app didn't make anyone the feel to use it. The background colour is white and the way things are arranged is boring. Totally , this app looks like a person who haven't bathed for his entire lifetime. !!!!..........BUGS..............!!! 1, (Major bug) In the options, if you select "solid", there is a major bug. " " is shown in the middle of nothing. Just a button in the screen. I have never seen such a bug in any apps. Se the bug here
https://onedrive.live.com/?cid=81E61E6FDC6C05BC&id=81E61E6FDC6C05BC%2177... 2.(Major Bug) Have you noticed the large live tile. If you didn't then check how worse can it be.
https://onedrive.live.com/?cid=81E61E6FDC6C05BC&id=81E61E6FDC6C05BC%2177...
Its blank. 3.(Magor Bug) In the begining of registration when we add a child, the column for writing "allergies" wont work 4. (Major Bug) In the main menu , the recent actives cant be scroll down to the very last activity. 5.(Magor Bug) The pictures added are not fit to the box. Its feels horrible to see. Thats I for Magor bugs.
.......i dont wanna mention the minor bugs. It might make me smash my phone on the ground. Its never gonna end in a comment. .........CONCLUTION......... I cant give suggestion because if I suggest, I will ask you to dump this app recreate this app in a new style without any bugs like this. WP Central, what were you thinking before you put this app on hidden gems. Have guys gone mad. Is this the app you said to be handpicked from the unknown apps for us. Shame.
You should come up with good apps and games that 'deserve' to be known to the world. Not this kind. At first, I didn't wanted to review this app. Hope the next on will be a good one. I will be waiting
Aahh, I got a head ache on reviewing this app. I am not kidding.

.............FIRST IMPRESSION @_@ ............... First of all, I wonder how this app got into the hidden gem section of WP Central, no offence. After using this app for a while, my first thought was " why would WP Central choose such a app into hidden gems? , Did they ran out of good worthy apps this quickly!!" . I am going to be honest to say that, this app never deserve to be on the hidden gem. This is more like a hidden rock. What I have to say about the app is mostly bad reviews than the good ones. Devolopers of this app,, " you really spoiled such a good idea of baby book on a windows phone. You could have done better than this. I think you didn't even tested the app on the phone before publishing it. Any way, I can suggest you to make this better" .
And to the WP Centre , " Did you guys atleast looked into the app clearly before posting it on hidden gems article!!?, I dont think so" . I will point out what are the things I felt good and bad about this app . .............WHAT I LIKED......... First lets start with the good things about the app.
* I got to say that this app is a unique one on windows phone cause I have never saw a baby book app on the windows phone ever. I congrats the developers and WP Central for bringing this idea forward to windows phone.
* This could help a very few parents who are very busy to take care of there baby. ..............WHY I HATE THIS APP.......... Yeah, since hidden gems comments needs to be honest and sincere, I am gonna say the truth is ' I hate this app'. I will tell you my reasons. And there are plenty more reasons which cannot be expressed on words. * First of all, I dont think many people are going to use this app. Cause who would write down when the baby sleeped, pissed, eated and all. Family members of a somewhat average family might note down, when the baby first talked, walked, like that...... But most of such average families dont have a smartphone like Lumia and all . If we are looking at above average and high status people, honestly they dont give a shit about what there kid did. So I find this app will only be used by some middle class people. But it didn't mean this app is useless. * Secondly, this app is very poorely build. It has lot of bugs on it. Which I will be mentioning on a seperate topic because there are a lot of them . I could write a book about the bugs of this app. *Thirdly, This app didn't make anyone the feel to use it. The background colour is white and the way things are arranged is boring. Totally , this app looks like a person who haven't bathed for his entire lifetime. !!!!..........BUGS..............!!! 1, (Major bug) In the options, if you select "solid", there is a major bug. " " is shown in the middle of nothing. Just a button in the screen. I have never seen such a bug in any apps. Se the bug here
https://onedrive.live.com/?cid=81E61E6FDC6C05BC&id=81E61E6FDC6C05BC%2177... 2.(Major Bug) Have you noticed the large live tile. If you didn't then check how worse can it be.
https://onedrive.live.com/?cid=81E61E6FDC6C05BC&id=81E61E6FDC6C05BC%2177...
Its blank. 3.(Magor Bug) In the begining of registration when we add a child, the column for writing "allergies" wont work 4. (Major Bug) In the main menu , the recent actives cant be scroll down to the very last activity. 5.(Magor Bug) The pictures added are not fit to the box. Its feels horrible to see. Thats I for Magor bugs.
.......i dont wanna mention the minor bugs. It might make me smash my phone on the ground. Its never gonna end in a comment. .........CONCLUTION......... I cant give suggestion because if I suggest, I will ask you to dump this app recreate this app in a new style without any bugs like this. WP Central, what were you thinking before you put this app on hidden gems. Have guys gone mad. Is this the app you said to be handpicked from the unknown apps for us. Shame.
You should come up with good apps and games that 'deserve' to be known to the world. Not this kind. At first, I didn't wanted to review this app. Hope the next on will be a good one. I will be waiting
Aahh, I got a head ache on reviewing this app. I am not kidding...

.............FIRST IMPRESSION @_@ ............... First of all, I wonder how this app got into the hidden gem section of WP Central, no offence. After using this app for a while, my first thought was " why would WP Central choose such a app into hidden gems? , Did they ran out of good worthy apps this quickly!!" . I am going to be honest to say that, this app never deserve to be on the hidden gem. This is more like a hidden rock. What I have to say about the app is mostly bad reviews than the good ones. Devolopers of this app,, " you really spoiled such a good idea of baby book on a windows phone. You could have done better than this. I think you didn't even tested the app on the phone before publishing it. Any way, I can suggest you to make this better" .
And to the WP Centre , " Did you guys atleast looked into the app clearly before posting it on hidden gems article!!?, I dont think so" . I will point out what are the things I felt good and bad about this app . .............WHAT I LIKED......... First lets start with the good things about the app.
* I got to say that this app is a unique one on windows phone cause I have never saw a baby book app on the windows phone ever. I congrats the developers and WP Central for bringing this idea forward to windows phone.
* This could help a very few parents who are very busy to take care of there baby. ..............WHY I HATE THIS APP.......... Yeah, since hidden gems comments needs to be honest and sincere, I am gonna say the truth is ' I hate this app'. I will tell you my reasons. And there are plenty more reasons which cannot be expressed on words. * First of all, I dont think many people are going to use this app. Cause who would write down when the baby sleeped, pissed, eated and all. Family members of a somewhat average family might note down, when the baby first talked, walked, like that...... But most of such average families dont have a smartphone like Lumia and all . If we are looking at above average and high status people, honestly they dont give a shit about what there kid did. So I find this app will only be used by some middle class people. But it didn't mean this app is useless. * Secondly, this app is very poorely build. It has lot of bugs on it. Which I will be mentioning on a seperate topic because there are a lot of them . I could write a book about the bugs of this app. *Thirdly, This app didn't make anyone the feel to use it. The background colour is white and the way things are arranged is boring. Totally , this app looks like a person who haven't bathed for his entire lifetime. !!!!..........BUGS..............!!! 1, (Major bug) In the options, if you select "solid", there is a major bug. " " is shown in the middle of nothing. Just a button in the screen. I have never seen such a bug in any apps. Se the bug here
https://onedrive.live.com/?cid=81E61E6FDC6C05BC&id=81E61E6FDC6C05BC%2177... 2.(Major Bug) Have you noticed the large live tile. If you didn't then check how worse can it be.
https://onedrive.live.com/?cid=81E61E6FDC6C05BC&id=81E61E6FDC6C05BC%2177...
Its blank. 3.(Magor Bug) In the begining of registration when we add a child, the column for writing "allergies" wont work 4. (Major Bug) In the main menu , the recent actives cant be scroll down to the very last activity. 5.(Magor Bug) The pictures added are not fit to the box. Its feels horrible to see. Thats I for Magor bugs.
.......i dont wanna mention the minor bugs. It might make me smash my phone on the ground. Its never gonna end in a comment. .........CONCLUTION......... I cant give suggestion because if I suggest, I will ask you to dump this app recreate this app in a new style without any bugs like this. WP Central, what were you thinking before you put this app on hidden gems. Have guys gone mad. Is this the app you said to be handpicked from the unknown apps for us. Shame.
You should come up with good apps and games that 'deserve' to be known to the world. Not this kind. At first, I didn't wanted to review this app. Hope the next on will be a good one. I will be waiting
Aahh, I got a head ache on reviewing this app. I am not kidding.....

.............FIRST IMPRESSION @_@ ............... First of all, I wonder how this app got into the hidden gem section of WP Central, no offence. After using this app for a while, my first thought was " why would WP Central choose such a app into hidden gems? , Did they ran out of good worthy apps this quickly!!" . I am going to be honest to say that, this app never deserve to be on the hidden gem. This is more like a hidden rock. What I have to say about the app is mostly bad reviews than the good ones. Devolopers of this app,, " you really spoiled such a good idea of baby book on a windows phone. You could have done better than this. I think you didn't even tested the app on the phone before publishing it. Any way, I can suggest you to make this better" .
And to the WP Centre , " Did you guys atleast looked into the app clearly before posting it on hidden gems article!!?, I dont think so" . I will point out what are the things I felt good and bad about this app . .............WHAT I LIKED......... First lets start with the good things about the app.
* I got to say that this app is a unique one on windows phone cause I have never saw a baby book app on the windows phone ever. I congrats the developers and WP Central for bringing this idea forward to windows phone.
* This could help a very few parents who are very busy to take care of there baby. ..............WHY I HATE THIS APP.......... Yeah, since hidden gems comments needs to be honest and sincere, I am gonna say the truth is ' I hate this app'. I will tell you my reasons. And there are plenty more reasons which cannot be expressed on words. * First of all, I dont think many people are going to use this app. Cause who would write down when the baby sleeped, pissed, eated and all. Family members of a somewhat average family might note down, when the baby first talked, walked, like that...... But most of such average families dont have a smartphone like Lumia and all . If we are looking at above average and high status people, honestly they dont give a shit about what there kid did. So I find this app will only be used by some middle class people. But it didn't mean this app is useless. * Secondly, this app is very poorely build. It has lot of bugs on it. Which I will be mentioning on a seperate topic because there are a lot of them . I could write a book about the bugs of this app. *Thirdly, This app didn't make anyone the feel to use it. The background colour is white and the way things are arranged is boring. Totally , this app looks like a person who haven't bathed for his entire lifetime. !!!!..........BUGS..............!!! 1, (Major bug) In the options, if you select "solid", there is a major bug. " " is shown in the middle of nothing. Just a button in the screen. I have never seen such a bug in any apps. Se the bug here
https://onedrive.live.com/?cid=81E61E6FDC6C05BC&id=81E61E6FDC6C05BC%2177... 2.(Major Bug) Have you noticed the large live tile. If you didn't then check how worse can it be.
https://onedrive.live.com/?cid=81E61E6FDC6C05BC&id=81E61E6FDC6C05BC%2177...
Its blank. 3.(Magor Bug) In the begining of registration when we add a child, the column for writing "allergies" wont work 4. (Major Bug) In the main menu , the recent actives cant be scroll down to the very last activity. 5.(Magor Bug) The pictures added are not fit to the box. Its feels horrible to see. Thats I for Magor bugs.
.......i dont wanna mention the minor bugs. It might make me smash my phone on the ground. Its never gonna end in a comment. .........CONCLUTION......... I cant give suggestion because if I suggest, I will ask you to dump this app recreate this app in a new style without any bugs like this. WP Central, what were you thinking before you put this app on hidden gems. Have guys gone mad. Is this the app you said to be handpicked from the unknown apps for us. Shame.
You should come up with good apps and games that 'deserve' to be known to the world. Not this kind. At first, I didn't wanted to review this app. Hope the next on will be a good one. I will be waiting
Aahh, I got a head ache on reviewing this app. I am not kidding....

.............FIRST IMPRESSION @_@ ............... First of all, I wonder how this app got into the hidden gem section of WP Central, no offence. After using this app for a while, my first thought was " why would WP Central choose such a app into hidden gems? , Did they ran out of good worthy apps this quickly!!" . I am going to be honest to say that, this app never deserve to be on the hidden gem. This is more like a hidden rock. What I have to say about the app is mostly bad reviews than the good ones. Devolopers of this app,, " you really spoiled such a good idea of baby book on a windows phone. You could have done better than this. I think you didn't even tested the app on the phone before publishing it. Any way, I can suggest you to make this better" .
And to the WP Centre , " Did you guys atleast looked into the app clearly before posting it on hidden gems article!!?, I dont think so" . I will point out what are the things I felt good and bad about this app . .............WHAT I LIKED......... First lets start with the good things about the app.
* I got to say that this app is a unique one on windows phone cause I have never saw a baby book app on the windows phone ever. I congrats the developers and WP Central for bringing this idea forward to windows phone.
* This could help a very few parents who are very busy to take care of there baby. ..............WHY I HATE THIS APP.......... Yeah, since hidden gems comments needs to be honest and sincere, I am gonna say the truth is ' I hate this app'. I will tell you my reasons. And there are plenty more reasons which cannot be expressed on words. * First of all, I dont think many people are going to use this app. Cause who would write down when the baby sleeped, pissed, eated and all. Family members of a somewhat average family might note down, when the baby first talked, walked, like that...... But most of such average families dont have a smartphone like Lumia and all . If we are looking at above average and high status people, honestly they dont give a shit about what there kid did. So I find this app will only be used by some middle class people. But it didn't mean this app is useless. * Secondly, this app is very poorely build. It has lot of bugs on it. Which I will be mentioning on a seperate topic because there are a lot of them . I could write a book about the bugs of this app. *Thirdly, This app didn't make anyone the feel to use it. The background colour is white and the way things are arranged is boring. Totally , this app looks like a person who haven't bathed for his entire lifetime. !!!!..........BUGS..............!!! 1, (Major bug) In the options, if you select "solid", there is a major bug. " " is shown in the middle of nothing. Just a button in the screen. I have never seen such a bug in any apps. Se the bug here
https://onedrive.live.com/?cid=81E61E6FDC6C05BC&id=81E61E6FDC6C05BC%2177... 2.(Major Bug) Have you noticed the large live tile. If you didn't then check how worse can it be.
https://onedrive.live.com/?cid=81E61E6FDC6C05BC&id=81E61E6FDC6C05BC%2177...
Its blank. 3.(Magor Bug) In the begining of registration when we add a child, the column for writing "allergies" wont work 4. (Major Bug) In the main menu , the recent actives cant be scroll down to the very last activity. 5.(Magor Bug) The pictures added are not fit to the box. Its feels horrible to see. Thats I for Magor bugs.
.......i dont wanna mention the minor bugs. It might make me smash my phone on the ground. Its never gonna end in a comment. .........CONCLUTION......... I cant give suggestion because if I suggest, I will ask you to dump this app recreate this app in a new style without any bugs like this. WP Central, what were you thinking before you put this app on hidden gems. Have guys gone mad. Is this the app you said to be handpicked from the unknown apps for us. Shame.
You should come up with good apps and games that 'deserve' to be known to the world. Not this kind. At first, I didn't wanted to review this app. Hope the next on will be a good one. I will be waiting
Aahh, I got a head ache on reviewing this app. I am not kidding.,

.............FIRST IMPRESSION @_@ ............... First of all, I wonder how this app got into the hidden gem section of WP Central, no offence. After using this app for a while, my first thought was " why would WP Central choose such a app into hidden gems? , Did they ran out of good worthy apps this quickly!!" . I am going to be honest to say that, this app never deserve to be on the hidden gem. This is more like a hidden rock. What I have to say about the app is mostly bad reviews than the good ones. Devolopers of this app,, " you really spoiled such a good idea of baby book on a windows phone. You could have done better than this. I think you didn't even tested the app on the phone before publishing it. Any way, I can suggest you to make this better" .
And to the WP Centre , " Did you guys atleast looked into the app clearly before posting it on hidden gems article!!?, I dont think so" . I will point out what are the things I felt good and bad about this app . .............WHAT I LIKED......... First lets start with the good things about the app.
* I got to say that this app is a unique one on windows phone cause I have never saw a baby book app on the windows phone ever. I congrats the developers and WP Central for bringing this idea forward to windows phone.
* This could help a very few parents who are very busy to take care of there baby. ..............WHY I HATE THIS APP.......... Yeah, since hidden gems comments needs to be honest and sincere, I am gonna say the truth is ' I hate this app'. I will tell you my reasons. And there are plenty more reasons which cannot be expressed on words. * First of all, I dont think many people are going to use this app. Cause who would write down when the baby sleeped, pissed, eated and all. Family members of a somewhat average family might note down, when the baby first talked, walked, like that...... But most of such average families dont have a smartphone like Lumia and all . If we are looking at above average and high status people, honestly they dont give a shit about what there kid did. So I find this app will only be used by some middle class people. But it didn't mean this app is useless. * Secondly, this app is very poorely build. It has lot of bugs on it. Which I will be mentioning on a seperate topic because there are a lot of them . I could write a book about the bugs of this app. *Thirdly, This app didn't make anyone the feel to use it. The background colour is white and the way things are arranged is boring. Totally , this app looks like a person who haven't bathed for his entire lifetime. !!!!..........BUGS..............!!! 1, (Major bug) In the options, if you select "solid", there is a major bug. " " is shown in the middle of nothing. Just a button in the screen. I have never seen such a bug in any apps. Se the bug here
https://onedrive.live.com/?cid=81E61E6FDC6C05BC&id=81E61E6FDC6C05BC%2177... 2.(Major Bug) Have you noticed the large live tile. If you didn't then check how worse can it be.
https://onedrive.live.com/?cid=81E61E6FDC6C05BC&id=81E61E6FDC6C05BC%2177...
Its blank. 3.(Magor Bug) In the begining of registration when we add a child, the column for writing "allergies" wont work 4. (Major Bug) In the main menu , the recent actives cant be scroll down to the very last activity. 5.(Magor Bug) The pictures added are not fit to the box. Its feels horrible to see. Thats I for Magor bugs.
.......i dont wanna mention the minor bugs. It might make me smash my phone on the ground. Its never gonna end in a comment. .........CONCLUTION......... I cant give suggestion because if I suggest, I will ask you to dump this app recreate this app in a new style without any bugs like this. WP Central, what were you thinking before you put this app on hidden gems. Have guys gone mad. Is this the app you said to be handpicked from the unknown apps for us. Shame.
You should come up with good apps and games that 'deserve' to be known to the world. Not this kind. At first, I didn't wanted to review this app. Hope the next on will be a good one. I will be waiting
Aahh, I got a head ache on reviewing this app. I am not kidding.,,

.............FIRST IMPRESSION @_@ ............... First of all, I wonder how this app got into the hidden gem section of WP Central, no offence. After using this app for a while, my first thought was " why would WP Central choose such a app into hidden gems? , Did they ran out of good worthy apps this quickly!!" . I am going to be honest to say that, this app never deserve to be on the hidden gem. This is more like a hidden rock. What I have to say about the app is mostly bad reviews than the good ones. Devolopers of this app,, " you really spoiled such a good idea of baby book on a windows phone. You could have done better than this. I think you didn't even tested the app on the phone before publishing it. Any way, I can suggest you to make this better" .
And to the WP Centre , " Did you guys atleast looked into the app clearly before posting it on hidden gems article!!?, I dont think so" . I will point out what are the things I felt good and bad about this app . .............WHAT I LIKED......... First lets start with the good things about the app.
* I got to say that this app is a unique one on windows phone cause I have never saw a baby book app on the windows phone ever. I congrats the developers and WP Central for bringing this idea forward to windows phone.
* This could help a very few parents who are very busy to take care of there baby. ..............WHY I HATE THIS APP.......... Yeah, since hidden gems comments needs to be honest and sincere, I am gonna say the truth is ' I hate this app'. I will tell you my reasons. And there are plenty more reasons which cannot be expressed on words. * First of all, I dont think many people are going to use this app. Cause who would write down when the baby sleeped, pissed, eated and all. Family members of a somewhat average family might note down, when the baby first talked, walked, like that...... But most of such average families dont have a smartphone like Lumia and all . If we are looking at above average and high status people, honestly they dont give a shit about what there kid did. So I find this app will only be used by some middle class people. But it didn't mean this app is useless. * Secondly, this app is very poorely build. It has lot of bugs on it. Which I will be mentioning on a seperate topic because there are a lot of them . I could write a book about the bugs of this app. *Thirdly, This app didn't make anyone the feel to use it. The background colour is white and the way things are arranged is boring. Totally , this app looks like a person who haven't bathed for his entire lifetime. !!!!..........BUGS..............!!! 1, (Major bug) In the options, if you select "solid", there is a major bug. " " is shown in the middle of nothing. Just a button in the screen. I have never seen such a bug in any apps. Se the bug here
https://onedrive.live.com/?cid=81E61E6FDC6C05BC&id=81E61E6FDC6C05BC%2177... 2.(Major Bug) Have you noticed the large live tile. If you didn't then check how worse can it be.
https://onedrive.live.com/?cid=81E61E6FDC6C05BC&id=81E61E6FDC6C05BC%2177...
Its blank. 3.(Magor Bug) In the begining of registration when we add a child, the column for writing "allergies" wont work 4. (Major Bug) In the main menu , the recent actives cant be scroll down to the very last activity. 5.(Magor Bug) The pictures added are not fit to the box. Its feels horrible to see. Thats I for Magor bugs.
.......i dont wanna mention the minor bugs. It might make me smash my phone on the ground. Its never gonna end in a comment. .........CONCLUTION......... I cant give suggestion because if I suggest, I will ask you to dump this app recreate this app in a new style without any bugs like this. WP Central, what were you thinking before you put this app on hidden gems. Have guys gone mad. Is this the app you said to be handpicked from the unknown apps for us. Shame.
You should come up with good apps and games that 'deserve' to be known to the world. Not this kind. At first, I didn't wanted to review this app. Hope the next on will be a good one. I will be waiting
Aahh, I got a head ache on reviewing this app. I am not kidding.,,,

.............FIRST IMPRESSION @_@ ............... First of all, I wonder how this app got into the hidden gem section of WP Central, no offence. After using this app for a while, my first thought was " why would WP Central choose such a app into hidden gems? , Did they ran out of good worthy apps this quickly!!" . I am going to be honest to say that, this app never deserve to be on the hidden gem. This is more like a hidden rock. What I have to say about the app is mostly bad reviews than the good ones. Devolopers of this app,, " you really spoiled such a good idea of baby book on a windows phone. You could have done better than this. I think you didn't even tested the app on the phone before publishing it. Any way, I can suggest you to make this better" .
And to the WP Centre , " Did you guys atleast looked into the app clearly before posting it on hidden gems article!!?, I dont think so" . I will point out what are the things I felt good and bad about this app . .............WHAT I LIKED......... First lets start with the good things about the app.
* I got to say that this app is a unique one on windows phone cause I have never saw a baby book app on the windows phone ever. I congrats the developers and WP Central for bringing this idea forward to windows phone.
* This could help a very few parents who are very busy to take care of there baby. ..............WHY I HATE THIS APP.......... Yeah, since hidden gems comments needs to be honest and sincere, I am gonna say the truth is ' I hate this app'. I will tell you my reasons. And there are plenty more reasons which cannot be expressed on words. * First of all, I dont think many people are going to use this app. Cause who would write down when the baby sleeped, pissed, eated and all. Family members of a somewhat average family might note down, when the baby first talked, walked, like that...... But most of such average families dont have a smartphone like Lumia and all . If we are looking at above average and high status people, honestly they dont give a shit about what there kid did. So I find this app will only be used by some middle class people. But it didn't mean this app is useless. * Secondly, this app is very poorely build. It has lot of bugs on it. Which I will be mentioning on a seperate topic because there are a lot of them . I could write a book about the bugs of this app. *Thirdly, This app didn't make anyone the feel to use it. The background colour is white and the way things are arranged is boring. Totally , this app looks like a person who haven't bathed for his entire lifetime. !!!!..........BUGS..............!!! 1, (Major bug) In the options, if you select "solid", there is a major bug. " " is shown in the middle of nothing. Just a button in the screen. I have never seen such a bug in any apps. Se the bug here
https://onedrive.live.com/?cid=81E61E6FDC6C05BC&id=81E61E6FDC6C05BC%2177... 2.(Major Bug) Have you noticed the large live tile. If you didn't then check how worse can it be.
https://onedrive.live.com/?cid=81E61E6FDC6C05BC&id=81E61E6FDC6C05BC%2177...
Its blank. 3.(Magor Bug) In the begining of registration when we add a child, the column for writing "allergies" wont work 4. (Major Bug) In the main menu , the recent actives cant be scroll down to the very last activity. 5.(Magor Bug) The pictures added are not fit to the box. Its feels horrible to see. Thats I for Magor bugs.
.......i dont wanna mention the minor bugs. It might make me smash my phone on the ground. Its never gonna end in a comment. .........CONCLUTION......... I cant give suggestion because if I suggest, I will ask you to dump this app recreate this app in a new style without any bugs like this. WP Central, what were you thinking before you put this app on hidden gems. Have guys gone mad. Is this the app you said to be handpicked from the unknown apps for us. Shame.
You should come up with good apps and games that 'deserve' to be known to the world. Not this kind. At first, I didn't wanted to review this app. Hope the next on will be a good one. I will be waiting
Aahh, I got a head ache on reviewing this app. I am not kidding.,,,,

This app looks very promising. My sister just got a WP and is need of a baby planner!

I'll review this app in due time...

My friend is getting a baby soon and already I have observered his life getting more chaotic trying to arrange everything. I expect it to become even more in need of proper managing once the baby has arrived. I will recommend him this app in trying to help him (and his wife) with this management, as it seems a nice and helpful tool.

It's not well-designed but it's a pretty useful app.

Nice app idea! The functionality feels very complete, but the look doesn't seem to complement the intent. The app should feel warmer not like data entry more like moment captures.

For those who have a child, or will have in in near future im pretty sure its a very nice app because: + Simple UI + Many options to record the mood etc. on the other side, the simple UI doesnt go hand in hand with the "traditional" WP UI

For those who have a child, or will have in in near future im pretty sure its a very nice app because: + Simple UI + Many options to record the mood etc. on the other side, the simple UI doenst go hand in hand with the "traditional" WP UI

a comprehensive baby diary that syncs with cloud.

Like others have said, I'm not hot on the UI. It really doesn't fit the WP paradigm but really I find it quite plain. That said, it is quite straight forward in terms of usability. My only real problem with it is the requrement to create an account on first launch. I realize that this is for sync purposes but it really doesn't allow someone to see what the app is like without creating an account. If I didn't like the app then I'd have to go about deleting the account and my information. I think that an option to skip account creation and subsequent notifications would be better.

For all parents who would love to keep track of everything their baby does and which care has been given on a daily basis, this is a must have app (if they don't like to keep a shedule on paper that is). The bad: The app is quite well developend, but there are some bugs which need fixing.
- Presssing the solid button, brings you to the menu for inserting solid food your baby has eaten, but on my lumia 625 I get a "tap to set" square over the two first meals. I have no idea what it does there.
- At registering you get a text box in which you can't write, what is it for then?
- A more button for only two extra options? Feels irrelevant to have this "more" button.
- No charts for weight, BMI and head circumference. The good: The things I lovedmost (there's a lot to love, but I tried to keep it nice and tidy so I only mentioned the most important things for mee).
- Small download size
- Fluent and fast navigation
- Offline mode
- Summary of your entries
- Being able to set time periods over which you have given care Conclusion:
Really well developed app. Job well done, but try fixing the bugs in order to get 5 stars from a lot of users. I give it 8 out of 10.

i forgot the cross plattform use! :)

+ Great idea + Very usefull (for parents, not for me, I'm 14) + Much options - I don't like the UI

It's very useful for my baby

Funny how a lot of these are targeted to parents, when a big portion of the WPCentral-community are a bit younger. Really great app though!

Never had a need for this. A live/real mother's insticts are usually much better than these kind of apps.


Although it's terrifying to think that I'll ever need that app in the next 5 years, it does look polyshed and well-made. The only thing I don't like is that the app name is always on the top of the app. I mean come on, I know what I'm using, no need to show it me non-stop ;)

.............FIRST IMPRESSION @_@ ............... First of all, I wonder how this app got into the hidden gem section of WP Central, no offence. After using this app for a while, my first thought was " why would WP Central choose such a app into hidden gems? , Did they ran out of good worthy apps this quickly!!" . I am going to be honest to say that, this app never deserve to be on the hidden gem. This is more like a hidden rock. What I have to say about the app is mostly bad reviews than the good ones. Devolopers of this app,, " you really spoiled such a good idea of baby book on a windows phone. You could have done better than this. I think you didn't even tested the app on the phone before publishing it. Any way, I can suggest you to make this better" .
And to the WP Centre , " Did you guys atleast looked into the app clearly before posting it on hidden gems article!!?, I dont think so" . I will point out what are the things I felt good and bad about this app . .............WHAT I LIKED......... First lets start with the good things about the app.
* I got to say that this app is a unique one on windows phone cause I have never saw a baby book app on the windows phone ever. I congrats the developers and WP Central for bringing this idea forward to windows phone.
* This could help a very few parents who are very busy to take care of there baby. ..............WHY I HATE THIS APP.......... Yeah, since hidden gems comments needs to be honest and sincere, I am gonna say the truth is ' I hate this app'. I will tell you my reasons. And there are plenty more reasons which cannot be expressed on words. * First of all, I dont think many people are going to use this app. Cause who would write down when the baby sleeped, pissed, eated and all. Family members of a somewhat average family might note down, when the baby first talked, walked, like that...... But most of such average families dont have a smartphone like Lumia and all . If we are looking at above average and high status people, honestly they dont give a shit about what there kid did. So I find this app will only be used by some middle class people. But it didn't mean this app is useless. * Secondly, this app is very poorely build. It has lot of bugs on it. Which I will be mentioning on a seperate topic because there are a lot of them . I could write a book about the bugs of this app. *Thirdly, This app didn't make anyone the feel to use it. The background colour is white and the way things are arranged is boring. Totally , this app looks like a person who haven't bathed for his entire lifetime. !!!!..........BUGS..............!!! 1, (Major bug) In the options, if you select "solid", there is a major bug. " " is shown in the middle of nothing. Just a button in the screen. I have never seen such a bug in any apps. Se the bug here
https://onedrive.live.com/?cid=81E61E6FDC6C05BC&id=81E61E6FDC6C05BC%2177... 2.(Major Bug) Have you noticed the large live tile. If you didn't then check how worse can it be.
https://onedrive.live.com/?cid=81E61E6FDC6C05BC&id=81E61E6FDC6C05BC%2177...
Its blank. 3.(Magor Bug) In the begining of registration when we add a child, the column for writing "allergies" wont work 4. (Major Bug) In the main menu , the recent actives cant be scroll down to the very last activity. 5.(Magor Bug) The pictures added are not fit to the box. Its feels horrible to see. Thats I for Magor bugs.
.......i dont wanna mention the minor bugs. It might make me smash my phone on the ground. Its never gonna end in a comment. .........CONCLUTION......... I cant give suggestion because if I suggest, I will ask you to dump this app recreate this app in a new style without any bugs like this. WP Central, what were you thinking before you put this app on hidden gems. Have guys gone mad. Is this the app you said to be handpicked from the unknown apps for us. Shame.
You should come up with good apps and games that 'deserve' to be known to the world. Not this kind. At first, I didn't wanted to review this app. Hope the next on will be a good one. I will be waiting
Aahh, I got a head ache on reviewing this app. I am not kidding.,

.............FIRST IMPRESSION @_@ ............... First of all, I wonder how this app got into the hidden gem section of WP Central, no offence. After using this app for a while, my first thought was " why would WP Central choose such a app into hidden gems? , Did they ran out of good worthy apps this quickly!!" . I am going to be honest to say that, this app never deserve to be on the hidden gem. This is more like a hidden rock. What I have to say about the app is mostly bad reviews than the good ones. Devolopers of this app,, " you really spoiled such a good idea of baby book on a windows phone. You could have done better than this. I think you didn't even tested the app on the phone before publishing it. Any way, I can suggest you to make this better" .
And to the WP Centre , " Did you guys atleast looked into the app clearly before posting it on hidden gems article!!?, I dont think so" . I will point out what are the things I felt good and bad about this app . .............WHAT I LIKED......... First lets start with the good things about the app.
* I got to say that this app is a unique one on windows phone cause I have never saw a baby book app on the windows phone ever. I congrats the developers and WP Central for bringing this idea forward to windows phone.
* This could help a very few parents who are very busy to take care of there baby. ..............WHY I HATE THIS APP.......... Yeah, since hidden gems comments needs to be honest and sincere, I am gonna say the truth is ' I hate this app'. I will tell you my reasons. And there are plenty more reasons which cannot be expressed on words. * First of all, I dont think many people are going to use this app. Cause who would write down when the baby sleeped, pissed, eated and all. Family members of a somewhat average family might note down, when the baby first talked, walked, like that...... But most of such average families dont have a smartphone like Lumia and all . If we are looking at above average and high status people, honestly they dont give a shit about what there kid did. So I find this app will only be used by some middle class people. But it didn't mean this app is useless. * Secondly, this app is very poorely build. It has lot of bugs on it. Which I will be mentioning on a seperate topic because there are a lot of them . I could write a book about the bugs of this app. *Thirdly, This app didn't make anyone the feel to use it. The background colour is white and the way things are arranged is boring. Totally , this app looks like a person who haven't bathed for his entire lifetime. !!!!..........BUGS..............!!! 1, (Major bug) In the options, if you select "solid", there is a major bug. " " is shown in the middle of nothing. Just a button in the screen. I have never seen such a bug in any apps. Se the bug here
https://onedrive.live.com/?cid=81E61E6FDC6C05BC&id=81E61E6FDC6C05BC%2177... 2.(Major Bug) Have you noticed the large live tile. If you didn't then check how worse can it be.
https://onedrive.live.com/?cid=81E61E6FDC6C05BC&id=81E61E6FDC6C05BC%2177...
Its blank. 3.(Magor Bug) In the begining of registration when we add a child, the column for writing "allergies" wont work 4. (Major Bug) In the main menu , the recent actives cant be scroll down to the very last activity. 5.(Magor Bug) The pictures added are not fit to the box. Its feels horrible to see. Thats I for Magor bugs.
.......i dont wanna mention the minor bugs. It might make me smash my phone on the ground. Its never gonna end in a comment. .........CONCLUTION......... I cant give suggestion because if I suggest, I will ask you to dump this app recreate this app in a new style without any bugs like this. WP Central, what were you thinking before you put this app on hidden gems. Have guys gone mad. Is this the app you said to be handpicked from the unknown apps for us. Shame.
You should come up with good apps and games that 'deserve' to be known to the world. Not this kind. At first, I didn't wanted to review this app. Hope the next on will be a good one. I will be waiting
Aahh, I got a head ache on reviewing this app. I am not kidding
.,,

.............FIRST IMPRESSION @_@ ............... First of all, I wonder how this app got into the hidden gem section of WP Central, no offence. After using this app for a while, my first thought was " why would WP Central choose such a app into hidden gems? , Did they ran out of good worthy apps this quickly!!" . I am going to be honest to say that, this app never deserve to be on the hidden gem. This is more like a hidden rock. What I have to say about the app is mostly bad reviews than the good ones. Devolopers of this app,, " you really spoiled such a good idea of baby book on a windows phone. You could have done better than this. I think you didn't even tested the app on the phone before publishing it. Any way, I can suggest you to make this better" .
And to the WP Centre , " Did you guys atleast looked into the app clearly before posting it on hidden gems article!!?, I dont think so" . I will point out what are the things I felt good and bad about this app . .............WHAT I LIKED......... First lets start with the good things about the app.
* I got to say that this app is a unique one on windows phone cause I have never saw a baby book app on the windows phone ever. I congrats the developers and WP Central for bringing this idea forward to windows phone.
* This could help a very few parents who are very busy to take care of there baby. ..............WHY I HATE THIS APP.......... Yeah, since hidden gems comments needs to be honest and sincere, I am gonna say the truth is ' I hate this app'. I will tell you my reasons. And there are plenty more reasons which cannot be expressed on words. * First of all, I dont think many people are going to use this app. Cause who would write down when the baby sleeped, pissed, eated and all. Family members of a somewhat average family might note down, when the baby first talked, walked, like that...... But most of such average families dont have a smartphone like Lumia and all . If we are looking at above average and high status people, honestly they dont give a shit about what there kid did. So I find this app will only be used by some middle class people. But it didn't mean this app is useless. * Secondly, this app is very poorely build. It has lot of bugs on it. Which I will be mentioning on a seperate topic because there are a lot of them . I could write a book about the bugs of this app. *Thirdly, This app didn't make anyone the feel to use it. The background colour is white and the way things are arranged is boring. Totally , this app looks like a person who haven't bathed for his entire lifetime. !!!!..........BUGS..............!!! 1, (Major bug) In the options, if you select "solid", there is a major bug. " " is shown in the middle of nothing. Just a button in the screen. I have never seen such a bug in any apps. Se the bug here
https://onedrive.live.com/?cid=81E61E6FDC6C05BC&id=81E61E6FDC6C05BC%2177... 2.(Major Bug) Have you noticed the large live tile. If you didn't then check how worse can it be.
https://onedrive.live.com/?cid=81E61E6FDC6C05BC&id=81E61E6FDC6C05BC%2177...
Its blank. 3.(Magor Bug) In the begining of registration when we add a child, the column for writing "allergies" wont work 4. (Major Bug) In the main menu , the recent actives cant be scroll down to the very last activity. 5.(Magor Bug) The pictures added are not fit to the box. Its feels horrible to see. Thats I for Magor bugs.
.......i dont wanna mention the minor bugs. It might make me smash my phone on the ground. Its never gonna end in a comment. .........CONCLUTION......... I cant give suggestion because if I suggest, I will ask you to dump this app recreate this app in a new style without any bugs like this. WP Central, what were you thinking before you put this app on hidden gems. Have guys gone mad. Is this the app you said to be handpicked from the unknown apps for us. Shame.
You should come up with good apps and games that 'deserve' to be known to the world. Not this kind. At first, I didn't wanted to review this app. Hope the next on will be a good one. I will be waiting
Aahh, I got a head ache on reviewing this app. I am not kidding
.,,,

.............FIRST IMPRESSION @_@ ............... First of all, I wonder how this app got into the hidden gem section of WP Central, no offence. After using this app for a while, my first thought was " why would WP Central choose such a app into hidden gems? , Did they ran out of good worthy apps this quickly!!" . I am going to be honest to say that, this app never deserve to be on the hidden gem. This is more like a hidden rock. What I have to say about the app is mostly bad reviews than the good ones. Devolopers of this app,, " you really spoiled such a good idea of baby book on a windows phone. You could have done better than this. I think you didn't even tested the app on the phone before publishing it. Any way, I can suggest you to make this better" .
And to the WP Centre , " Did you guys atleast looked into the app clearly before posting it on hidden gems article!!?, I dont think so" . I will point out what are the things I felt good and bad about this app . .............WHAT I LIKED......... First lets start with the good things about the app.
* I got to say that this app is a unique one on windows phone cause I have never saw a baby book app on the windows phone ever. I congrats the developers and WP Central for bringing this idea forward to windows phone.
* This could help a very few parents who are very busy to take care of there baby. ..............WHY I HATE THIS APP.......... Yeah, since hidden gems comments needs to be honest and sincere, I am gonna say the truth is ' I hate this app'. I will tell you my reasons. And there are plenty more reasons which cannot be expressed on words. * First of all, I dont think many people are going to use this app. Cause who would write down when the baby sleeped, pissed, eated and all. Family members of a somewhat average family might note down, when the baby first talked, walked, like that...... But most of such average families dont have a smartphone like Lumia and all . If we are looking at above average and high status people, honestly they dont give a shit about what there kid did. So I find this app will only be used by some middle class people. But it didn't mean this app is useless. * Secondly, this app is very poorely build. It has lot of bugs on it. Which I will be mentioning on a seperate topic because there are a lot of them . I could write a book about the bugs of this app. *Thirdly, This app didn't make anyone the feel to use it. The background colour is white and the way things are arranged is boring. Totally , this app looks like a person who haven't bathed for his entire lifetime. !!!!..........BUGS..............!!! 1, (Major bug) In the options, if you select "solid", there is a major bug. " " is shown in the middle of nothing. Just a button in the screen. I have never seen such a bug in any apps. Se the bug here
https://onedrive.live.com/?cid=81E61E6FDC6C05BC&id=81E61E6FDC6C05BC%2177... 2.(Major Bug) Have you noticed the large live tile. If you didn't then check how worse can it be.
https://onedrive.live.com/?cid=81E61E6FDC6C05BC&id=81E61E6FDC6C05BC%2177...
Its blank. 3.(Magor Bug) In the begining of registration when we add a child, the column for writing "allergies" wont work 4. (Major Bug) In the main menu , the recent actives cant be scroll down to the very last activity. 5.(Magor Bug) The pictures added are not fit to the box. Its feels horrible to see. Thats I for Magor bugs.
.......i dont wanna mention the minor bugs. It might make me smash my phone on the ground. Its never gonna end in a comment. .........CONCLUTION......... I cant give suggestion because if I suggest, I will ask you to dump this app recreate this app in a new style without any bugs like this. WP Central, what were you thinking before you put this app on hidden gems. Have guys gone mad. Is this the app you said to be handpicked from the unknown apps for us. Shame.
You should come up with good apps and games that 'deserve' to be known to the world. Not this kind. At first, I didn't wanted to review this app. Hope the next on will be a good one. I will be waiting
Aahh, I got a head ache on reviewing this app. I am not kidding
.,,,,

.............FIRST IMPRESSION @_@ ............... First of all, I wonder how this app got into the hidden gem section of WP Central, no offence. After using this app for a while, my first thought was " why would WP Central choose such a app into hidden gems? , Did they ran out of good worthy apps this quickly!!" . I am going to be honest to say that, this app never deserve to be on the hidden gem. This is more like a hidden rock. What I have to say about the app is mostly bad reviews than the good ones. Devolopers of this app,, " you really spoiled such a good idea of baby book on a windows phone. You could have done better than this. I think you didn't even tested the app on the phone before publishing it. Any way, I can suggest you to make this better" .
And to the WP Centre , " Did you guys atleast looked into the app clearly before posting it on hidden gems article!!?, I dont think so" . I will point out what are the things I felt good and bad about this app . .............WHAT I LIKED......... First lets start with the good things about the app.
* I got to say that this app is a unique one on windows phone cause I have never saw a baby book app on the windows phone ever. I congrats the developers and WP Central for bringing this idea forward to windows phone.
* This could help a very few parents who are very busy to take care of there baby. ..............WHY I HATE THIS APP.......... Yeah, since hidden gems comments needs to be honest and sincere, I am gonna say the truth is ' I hate this app'. I will tell you my reasons. And there are plenty more reasons which cannot be expressed on words. * First of all, I dont think many people are going to use this app. Cause who would write down when the baby sleeped, pissed, eated and all. Family members of a somewhat average family might note down, when the baby first talked, walked, like that...... But most of such average families dont have a smartphone like Lumia and all . If we are looking at above average and high status people, honestly they dont give a shit about what there kid did. So I find this app will only be used by some middle class people. But it didn't mean this app is useless. * Secondly, this app is very poorely build. It has lot of bugs on it. Which I will be mentioning on a seperate topic because there are a lot of them . I could write a book about the bugs of this app. *Thirdly, This app didn't make anyone the feel to use it. The background colour is white and the way things are arranged is boring. Totally , this app looks like a person who haven't bathed for his entire lifetime. !!!!..........BUGS..............!!! 1, (Major bug) In the options, if you select "solid", there is a major bug. " " is shown in the middle of nothing. Just a button in the screen. I have never seen such a bug in any apps. Se the bug here
https://onedrive.live.com/?cid=81E61E6FDC6C05BC&id=81E61E6FDC6C05BC%2177... 2.(Major Bug) Have you noticed the large live tile. If you didn't then check how worse can it be.
https://onedrive.live.com/?cid=81E61E6FDC6C05BC&id=81E61E6FDC6C05BC%2177...
Its blank. 3.(Magor Bug) In the begining of registration when we add a child, the column for writing "allergies" wont work 4. (Major Bug) In the main menu , the recent actives cant be scroll down to the very last activity. 5.(Magor Bug) The pictures added are not fit to the box. Its feels horrible to see. Thats I for Magor bugs.
.......i dont wanna mention the minor bugs. It might make me smash my phone on the ground. Its never gonna end in a comment. .........CONCLUTION......... I cant give suggestion because if I suggest, I will ask you to dump this app recreate this app in a new style without any bugs like this. WP Central, what were you thinking before you put this app on hidden gems. Have guys gone mad. Is this the app you said to be handpicked from the unknown apps for us. Shame.
You should come up with good apps and games that 'deserve' to be known to the world. Not this kind. At first, I didn't wanted to review this app. Hope the next on will be a good one. I will be waiting
Aahh, I got a head ache on reviewing this app. I am not kidding
.,,,,,

.............FIRST IMPRESSION @_@ ............... First of all, I wonder how this app got into the hidden gem section of WP Central, no offence. After using this app for a while, my first thought was " why would WP Central choose such a app into hidden gems? , Did they ran out of good worthy apps this quickly!!" . I am going to be honest to say that, this app never deserve to be on the hidden gem. This is more like a hidden rock. What I have to say about the app is mostly bad reviews than the good ones. Devolopers of this app,, " you really spoiled such a good idea of baby book on a windows phone. You could have done better than this. I think you didn't even tested the app on the phone before publishing it. Any way, I can suggest you to make this better" .
And to the WP Centre , " Did you guys atleast looked into the app clearly before posting it on hidden gems article!!?, I dont think so" . I will point out what are the things I felt good and bad about this app . .............WHAT I LIKED......... First lets start with the good things about the app.
* I got to say that this app is a unique one on windows phone cause I have never saw a baby book app on the windows phone ever. I congrats the developers and WP Central for bringing this idea forward to windows phone.
* This could help a very few parents who are very busy to take care of there baby. ..............WHY I HATE THIS APP.......... Yeah, since hidden gems comments needs to be honest and sincere, I am gonna say the truth is ' I hate this app'. I will tell you my reasons. And there are plenty more reasons which cannot be expressed on words. * First of all, I dont think many people are going to use this app. Cause who would write down when the baby sleeped, pissed, eated and all. Family members of a somewhat average family might note down, when the baby first talked, walked, like that...... But most of such average families dont have a smartphone like Lumia and all . If we are looking at above average and high status people, honestly they dont give a shit about what there kid did. So I find this app will only be used by some middle class people. But it didn't mean this app is useless. * Secondly, this app is very poorely build. It has lot of bugs on it. Which I will be mentioning on a seperate topic because there are a lot of them . I could write a book about the bugs of this app. *Thirdly, This app didn't make anyone the feel to use it. The background colour is white and the way things are arranged is boring. Totally , this app looks like a person who haven't bathed for his entire lifetime. !!!!..........BUGS..............!!! 1, (Major bug) In the options, if you select "solid", there is a major bug. " " is shown in the middle of nothing. Just a button in the screen. I have never seen such a bug in any apps. Se the bug here
https://onedrive.live.com/?cid=81E61E6FDC6C05BC&id=81E61E6FDC6C05BC%2177... 2.(Major Bug) Have you noticed the large live tile. If you didn't then check how worse can it be.
https://onedrive.live.com/?cid=81E61E6FDC6C05BC&id=81E61E6FDC6C05BC%2177...
Its blank. 3.(Magor Bug) In the begining of registration when we add a child, the column for writing "allergies" wont work 4. (Major Bug) In the main menu , the recent actives cant be scroll down to the very last activity. 5.(Magor Bug) The pictures added are not fit to the box. Its feels horrible to see. Thats I for Magor bugs.
.......i dont wanna mention the minor bugs. It might make me smash my phone on the ground. Its never gonna end in a comment. .........CONCLUTION......... I cant give suggestion because if I suggest, I will ask you to dump this app recreate this app in a new style without any bugs like this. WP Central, what were you thinking before you put this app on hidden gems. Have guys gone mad. Is this the app you said to be handpicked from the unknown apps for us. Shame.
You should come up with good apps and games that 'deserve' to be known to the world. Not this kind. At first, I didn't wanted to review this app. Hope the next on will be a good one. I will be waiting
Aahh, I got a head ache on reviewing this app. I am not kidding
..,

.............FIRST IMPRESSION @_@ ............... First of all, I wonder how this app got into the hidden gem section of WP Central, no offence. After using this app for a while, my first thought was " why would WP Central choose such a app into hidden gems? , Did they ran out of good worthy apps this quickly!!" . I am going to be honest to say that, this app never deserve to be on the hidden gem. This is more like a hidden rock. What I have to say about the app is mostly bad reviews than the good ones. Devolopers of this app,, " you really spoiled such a good idea of baby book on a windows phone. You could have done better than this. I think you didn't even tested the app on the phone before publishing it. Any way, I can suggest you to make this better" .
And to the WP Centre , " Did you guys atleast looked into the app clearly before posting it on hidden gems article!!?, I dont think so" . I will point out what are the things I felt good and bad about this app . .............WHAT I LIKED......... First lets start with the good things about the app.
* I got to say that this app is a unique one on windows phone cause I have never saw a baby book app on the windows phone ever. I congrats the developers and WP Central for bringing this idea forward to windows phone.
* This could help a very few parents who are very busy to take care of there baby. ..............WHY I HATE THIS APP.......... Yeah, since hidden gems comments needs to be honest and sincere, I am gonna say the truth is ' I hate this app'. I will tell you my reasons. And there are plenty more reasons which cannot be expressed on words. * First of all, I dont think many people are going to use this app. Cause who would write down when the baby sleeped, pissed, eated and all. Family members of a somewhat average family might note down, when the baby first talked, walked, like that...... But most of such average families dont have a smartphone like Lumia and all . If we are looking at above average and high status people, honestly they dont give a shit about what there kid did. So I find this app will only be used by some middle class people. But it didn't mean this app is useless. * Secondly, this app is very poorely build. It has lot of bugs on it. Which I will be mentioning on a seperate topic because there are a lot of them . I could write a book about the bugs of this app. *Thirdly, This app didn't make anyone the feel to use it. The background colour is white and the way things are arranged is boring. Totally , this app looks like a person who haven't bathed for his entire lifetime. !!!!..........BUGS..............!!! 1, (Major bug) In the options, if you select "solid", there is a major bug. " " is shown in the middle of nothing. Just a button in the screen. I have never seen such a bug in any apps. Se the bug here
https://onedrive.live.com/?cid=81E61E6FDC6C05BC&id=81E61E6FDC6C05BC%2177... 2.(Major Bug) Have you noticed the large live tile. If you didn't then check how worse can it be.
https://onedrive.live.com/?cid=81E61E6FDC6C05BC&id=81E61E6FDC6C05BC%2177...
Its blank. 3.(Magor Bug) In the begining of registration when we add a child, the column for writing "allergies" wont work 4. (Major Bug) In the main menu , the recent actives cant be scroll down to the very last activity. 5.(Magor Bug) The pictures added are not fit to the box. Its feels horrible to see. Thats I for Magor bugs.
.......i dont wanna mention the minor bugs. It might make me smash my phone on the ground. Its never gonna end in a comment. .........CONCLUTION......... I cant give suggestion because if I suggest, I will ask you to dump this app recreate this app in a new style without any bugs like this. WP Central, what were you thinking before you put this app on hidden gems. Have guys gone mad. Is this the app you said to be handpicked from the unknown apps for us. Shame.
You should come up with good apps and games that 'deserve' to be known to the world. Not this kind. At first, I didn't wanted to review this app. Hope the next on will be a good one. I will be waiting
Aahh, I got a head ache on reviewing this app. I am not kidding
..,,

.............FIRST IMPRESSION @_@ ............... First of all, I wonder how this app got into the hidden gem section of WP Central, no offence. After using this app for a while, my first thought was " why would WP Central choose such a app into hidden gems? , Did they ran out of good worthy apps this quickly!!" . I am going to be honest to say that, this app never deserve to be on the hidden gem. This is more like a hidden rock. What I have to say about the app is mostly bad reviews than the good ones. Devolopers of this app,, " you really spoiled such a good idea of baby book on a windows phone. You could have done better than this. I think you didn't even tested the app on the phone before publishing it. Any way, I can suggest you to make this better" .
And to the WP Centre , " Did you guys atleast looked into the app clearly before posting it on hidden gems article!!?, I dont think so" . I will point out what are the things I felt good and bad about this app . .............WHAT I LIKED......... First lets start with the good things about the app.
* I got to say that this app is a unique one on windows phone cause I have never saw a baby book app on the windows phone ever. I congrats the developers and WP Central for bringing this idea forward to windows phone.
* This could help a very few parents who are very busy to take care of there baby. ..............WHY I HATE THIS APP.......... Yeah, since hidden gems comments needs to be honest and sincere, I am gonna say the truth is ' I hate this app'. I will tell you my reasons. And there are plenty more reasons which cannot be expressed on words. * First of all, I dont think many people are going to use this app. Cause who would write down when the baby sleeped, pissed, eated and all. Family members of a somewhat average family might note down, when the baby first talked, walked, like that...... But most of such average families dont have a smartphone like Lumia and all . If we are looking at above average and high status people, honestly they dont give a shit about what there kid did. So I find this app will only be used by some middle class people. But it didn't mean this app is useless. * Secondly, this app is very poorely build. It has lot of bugs on it. Which I will be mentioning on a seperate topic because there are a lot of them . I could write a book about the bugs of this app. *Thirdly, This app didn't make anyone the feel to use it. The background colour is white and the way things are arranged is boring. Totally , this app looks like a person who haven't bathed for his entire lifetime. !!!!..........BUGS..............!!! 1, (Major bug) In the options, if you select "solid", there is a major bug. " " is shown in the middle of nothing. Just a button in the screen. I have never seen such a bug in any apps. Se the bug here
https://onedrive.live.com/?cid=81E61E6FDC6C05BC&id=81E61E6FDC6C05BC%2177... 2.(Major Bug) Have you noticed the large live tile. If you didn't then check how worse can it be.
https://onedrive.live.com/?cid=81E61E6FDC6C05BC&id=81E61E6FDC6C05BC%2177...
Its blank. 3.(Magor Bug) In the begining of registration when we add a child, the column for writing "allergies" wont work 4. (Major Bug) In the main menu , the recent actives cant be scroll down to the very last activity. 5.(Magor Bug) The pictures added are not fit to the box. Its feels horrible to see. Thats I for Magor bugs.
.......i dont wanna mention the minor bugs. It might make me smash my phone on the ground. Its never gonna end in a comment. .........CONCLUTION......... I cant give suggestion because if I suggest, I will ask you to dump this app recreate this app in a new style without any bugs like this. WP Central, what were you thinking before you put this app on hidden gems. Have guys gone mad. Is this the app you said to be handpicked from the unknown apps for us. Shame.
You should come up with good apps and games that 'deserve' to be known to the world. Not this kind. At first, I didn't wanted to review this app. Hope the next on will be a good one. I will be waiting
Aahh, I got a head ache on reviewing this app. I am not kidding
..,,,

.............FIRST IMPRESSION @_@ ............... First of all, I wonder how this app got into the hidden gem section of WP Central, no offence. After using this app for a while, my first thought was " why would WP Central choose such a app into hidden gems? , Did they ran out of good worthy apps this quickly!!" . I am going to be honest to say that, this app never deserve to be on the hidden gem. This is more like a hidden rock. What I have to say about the app is mostly bad reviews than the good ones. Devolopers of this app,, " you really spoiled such a good idea of baby book on a windows phone. You could have done better than this. I think you didn't even tested the app on the phone before publishing it. Any way, I can suggest you to make this better" .
And to the WP Centre , " Did you guys atleast looked into the app clearly before posting it on hidden gems article!!?, I dont think so" . I will point out what are the things I felt good and bad about this app . .............WHAT I LIKED......... First lets start with the good things about the app.
* I got to say that this app is a unique one on windows phone cause I have never saw a baby book app on the windows phone ever. I congrats the developers and WP Central for bringing this idea forward to windows phone.
* This could help a very few parents who are very busy to take care of there baby. ..............WHY I HATE THIS APP.......... Yeah, since hidden gems comments needs to be honest and sincere, I am gonna say the truth is ' I hate this app'. I will tell you my reasons. And there are plenty more reasons which cannot be expressed on words. * First of all, I dont think many people are going to use this app. Cause who would write down when the baby sleeped, pissed, eated and all. Family members of a somewhat average family might note down, when the baby first talked, walked, like that...... But most of such average families dont have a smartphone like Lumia and all . If we are looking at above average and high status people, honestly they dont give a shit about what there kid did. So I find this app will only be used by some middle class people. But it didn't mean this app is useless. * Secondly, this app is very poorely build. It has lot of bugs on it. Which I will be mentioning on a seperate topic because there are a lot of them . I could write a book about the bugs of this app. *Thirdly, This app didn't make anyone the feel to use it. The background colour is white and the way things are arranged is boring. Totally , this app looks like a person who haven't bathed for his entire lifetime. !!!!..........BUGS..............!!! 1, (Major bug) In the options, if you select "solid", there is a major bug. " " is shown in the middle of nothing. Just a button in the screen. I have never seen such a bug in any apps. Se the bug here
https://onedrive.live.com/?cid=81E61E6FDC6C05BC&id=81E61E6FDC6C05BC%2177... 2.(Major Bug) Have you noticed the large live tile. If you didn't then check how worse can it be.
https://onedrive.live.com/?cid=81E61E6FDC6C05BC&id=81E61E6FDC6C05BC%2177...
Its blank. 3.(Magor Bug) In the begining of registration when we add a child, the column for writing "allergies" wont work 4. (Major Bug) In the main menu , the recent actives cant be scroll down to the very last activity. 5.(Magor Bug) The pictures added are not fit to the box. Its feels horrible to see. Thats I for Magor bugs.
.......i dont wanna mention the minor bugs. It might make me smash my phone on the ground. Its never gonna end in a comment. .........CONCLUTION......... I cant give suggestion because if I suggest, I will ask you to dump this app recreate this app in a new style without any bugs like this. WP Central, what were you thinking before you put this app on hidden gems. Have guys gone mad. Is this the app you said to be handpicked from the unknown apps for us. Shame.
You should come up with good apps and games that 'deserve' to be known to the world. Not this kind. At first, I didn't wanted to review this app. Hope the next on will be a good one. I will be waiting
Aahh, I got a head ache on reviewing this app. I am not kidding
..,,,,

.............FIRST IMPRESSION @_@ ............... First of all, I wonder how this app got into the hidden gem section of WP Central, no offence. After using this app for a while, my first thought was " why would WP Central choose such a app into hidden gems? , Did they ran out of good worthy apps this quickly!!" . I am going to be honest to say that, this app never deserve to be on the hidden gem. This is more like a hidden rock. What I have to say about the app is mostly bad reviews than the good ones. Devolopers of this app,, " you really spoiled such a good idea of baby book on a windows phone. You could have done better than this. I think you didn't even tested the app on the phone before publishing it. Any way, I can suggest you to make this better" .
And to the WP Centre , " Did you guys atleast looked into the app clearly before posting it on hidden gems article!!?, I dont think so" . I will point out what are the things I felt good and bad about this app . .............WHAT I LIKED......... First lets start with the good things about the app.
* I got to say that this app is a unique one on windows phone cause I have never saw a baby book app on the windows phone ever. I congrats the developers and WP Central for bringing this idea forward to windows phone.
* This could help a very few parents who are very busy to take care of there baby. ..............WHY I HATE THIS APP.......... Yeah, since hidden gems comments needs to be honest and sincere, I am gonna say the truth is ' I hate this app'. I will tell you my reasons. And there are plenty more reasons which cannot be expressed on words. * First of all, I dont think many people are going to use this app. Cause who would write down when the baby sleeped, pissed, eated and all. Family members of a somewhat average family might note down, when the baby first talked, walked, like that...... But most of such average families dont have a smartphone like Lumia and all . If we are looking at above average and high status people, honestly they dont give a shit about what there kid did. So I find this app will only be used by some middle class people. But it didn't mean this app is useless. * Secondly, this app is very poorely build. It has lot of bugs on it. Which I will be mentioning on a seperate topic because there are a lot of them . I could write a book about the bugs of this app. *Thirdly, This app didn't make anyone the feel to use it. The background colour is white and the way things are arranged is boring. Totally , this app looks like a person who haven't bathed for his entire lifetime. !!!!..........BUGS..............!!! 1, (Major bug) In the options, if you select "solid", there is a major bug. " " is shown in the middle of nothing. Just a button in the screen. I have never seen such a bug in any apps. Se the bug here
https://onedrive.live.com/?cid=81E61E6FDC6C05BC&id=81E61E6FDC6C05BC%2177... 2.(Major Bug) Have you noticed the large live tile. If you didn't then check how worse can it be.
https://onedrive.live.com/?cid=81E61E6FDC6C05BC&id=81E61E6FDC6C05BC%2177...
Its blank. 3.(Magor Bug) In the begining of registration when we add a child, the column for writing "allergies" wont work 4. (Major Bug) In the main menu , the recent actives cant be scroll down to the very last activity. 5.(Magor Bug) The pictures added are not fit to the box. Its feels horrible to see. Thats I for Magor bugs.
.......i dont wanna mention the minor bugs. It might make me smash my phone on the ground. Its never gonna end in a comment. .........CONCLUTION......... I cant give suggestion because if I suggest, I will ask you to dump this app recreate this app in a new style without any bugs like this. WP Central, what were you thinking before you put this app on hidden gems. Have guys gone mad. Is this the app you said to be handpicked from the unknown apps for us. Shame.
You should come up with good apps and games that 'deserve' to be known to the world. Not this kind. At first, I didn't wanted to review this app. Hope the next on will be a good one. I will be waiting
Aahh, I got a head ache on reviewing this app. I am not kidding
...,

.............FIRST IMPRESSION @_@ ............... First of all, I wonder how this app got into the hidden gem section of WP Central, no offence. After using this app for a while, my first thought was " why would WP Central choose such a app into hidden gems? , Did they ran out of good worthy apps this quickly!!" . I am going to be honest to say that, this app never deserve to be on the hidden gem. This is more like a hidden rock. What I have to say about the app is mostly bad reviews than the good ones. Devolopers of this app,, " you really spoiled such a good idea of baby book on a windows phone. You could have done better than this. I think you didn't even tested the app on the phone before publishing it. Any way, I can suggest you to make this better" .
And to the WP Centre , " Did you guys atleast looked into the app clearly before posting it on hidden gems article!!?, I dont think so" . I will point out what are the things I felt good and bad about this app . .............WHAT I LIKED......... First lets start with the good things about the app.
* I got to say that this app is a unique one on windows phone cause I have never saw a baby book app on the windows phone ever. I congrats the developers and WP Central for bringing this idea forward to windows phone.
* This could help a very few parents who are very busy to take care of there baby. ..............WHY I HATE THIS APP.......... Yeah, since hidden gems comments needs to be honest and sincere, I am gonna say the truth is ' I hate this app'. I will tell you my reasons. And there are plenty more reasons which cannot be expressed on words. * First of all, I dont think many people are going to use this app. Cause who would write down when the baby sleeped, pissed, eated and all. Family members of a somewhat average family might note down, when the baby first talked, walked, like that...... But most of such average families dont have a smartphone like Lumia and all . If we are looking at above average and high status people, honestly they dont give a shit about what there kid did. So I find this app will only be used by some middle class people. But it didn't mean this app is useless. * Secondly, this app is very poorely build. It has lot of bugs on it. Which I will be mentioning on a seperate topic because there are a lot of them . I could write a book about the bugs of this app. *Thirdly, This app didn't make anyone the feel to use it. The background colour is white and the way things are arranged is boring. Totally , this app looks like a person who haven't bathed for his entire lifetime. !!!!..........BUGS..............!!! 1, (Major bug) In the options, if you select "solid", there is a major bug. " " is shown in the middle of nothing. Just a button in the screen. I have never seen such a bug in any apps. Se the bug here
https://onedrive.live.com/?cid=81E61E6FDC6C05BC&id=81E61E6FDC6C05BC%2177... 2.(Major Bug) Have you noticed the large live tile. If you didn't then check how worse can it be.
https://onedrive.live.com/?cid=81E61E6FDC6C05BC&id=81E61E6FDC6C05BC%2177...
Its blank. 3.(Magor Bug) In the begining of registration when we add a child, the column for writing "allergies" wont work 4. (Major Bug) In the main menu , the recent actives cant be scroll down to the very last activity. 5.(Magor Bug) The pictures added are not fit to the box. Its feels horrible to see. Thats I for Magor bugs.
.......i dont wanna mention the minor bugs. It might make me smash my phone on the ground. Its never gonna end in a comment. .........CONCLUTION......... I cant give suggestion because if I suggest, I will ask you to dump this app recreate this app in a new style without any bugs like this. WP Central, what were you thinking before you put this app on hidden gems. Have guys gone mad. Is this the app you said to be handpicked from the unknown apps for us. Shame.
You should come up with good apps and games that 'deserve' to be known to the world. Not this kind. At first, I didn't wanted to review this app. Hope the next on will be a good one. I will be waiting
Aahh, I got a head ache on reviewing this app. I am not kidding
...,,

.............FIRST IMPRESSION @_@ ............... First of all, I wonder how this app got into the hidden gem section of WP Central, no offence. After using this app for a while, my first thought was " why would WP Central choose such a app into hidden gems? , Did they ran out of good worthy apps this quickly!!" . I am going to be honest to say that, this app never deserve to be on the hidden gem. This is more like a hidden rock. What I have to say about the app is mostly bad reviews than the good ones. Devolopers of this app,, " you really spoiled such a good idea of baby book on a windows phone. You could have done better than this. I think you didn't even tested the app on the phone before publishing it. Any way, I can suggest you to make this better" .
And to the WP Centre , " Did you guys atleast looked into the app clearly before posting it on hidden gems article!!?, I dont think so" . I will point out what are the things I felt good and bad about this app . .............WHAT I LIKED......... First lets start with the good things about the app.
* I got to say that this app is a unique one on windows phone cause I have never saw a baby book app on the windows phone ever. I congrats the developers and WP Central for bringing this idea forward to windows phone.
* This could help a very few parents who are very busy to take care of there baby. ..............WHY I HATE THIS APP.......... Yeah, since hidden gems comments needs to be honest and sincere, I am gonna say the truth is ' I hate this app'. I will tell you my reasons. And there are plenty more reasons which cannot be expressed on words. * First of all, I dont think many people are going to use this app. Cause who would write down when the baby sleeped, pissed, eated and all. Family members of a somewhat average family might note down, when the baby first talked, walked, like that...... But most of such average families dont have a smartphone like Lumia and all . If we are looking at above average and high status people, honestly they dont give a shit about what there kid did. So I find this app will only be used by some middle class people. But it didn't mean this app is useless. * Secondly, this app is very poorely build. It has lot of bugs on it. Which I will be mentioning on a seperate topic because there are a lot of them . I could write a book about the bugs of this app. *Thirdly, This app didn't make anyone the feel to use it. The background colour is white and the way things are arranged is boring. Totally , this app looks like a person who haven't bathed for his entire lifetime. !!!!..........BUGS..............!!! 1, (Major bug) In the options, if you select "solid", there is a major bug. " " is shown in the middle of nothing. Just a button in the screen. I have never seen such a bug in any apps. Se the bug here
https://onedrive.live.com/?cid=81E61E6FDC6C05BC&id=81E61E6FDC6C05BC%2177... 2.(Major Bug) Have you noticed the large live tile. If you didn't then check how worse can it be.
https://onedrive.live.com/?cid=81E61E6FDC6C05BC&id=81E61E6FDC6C05BC%2177...
Its blank. 3.(Magor Bug) In the begining of registration when we add a child, the column for writing "allergies" wont work 4. (Major Bug) In the main menu , the recent actives cant be scroll down to the very last activity. 5.(Magor Bug) The pictures added are not fit to the box. Its feels horrible to see. Thats I for Magor bugs.
.......i dont wanna mention the minor bugs. It might make me smash my phone on the ground. Its never gonna end in a comment. .........CONCLUTION......... I cant give suggestion because if I suggest, I will ask you to dump this app recreate this app in a new style without any bugs like this. WP Central, what were you thinking before you put this app on hidden gems. Have guys gone mad. Is this the app you said to be handpicked from the unknown apps for us. Shame.
You should come up with good apps and games that 'deserve' to be known to the world. Not this kind. At first, I didn't wanted to review this app. Hope the next on will be a good one. I will be waiting
Aahh, I got a head ache on reviewing this app. I am not kidding
...,,,

.............FIRST IMPRESSION @_@ ............... First of all, I wonder how this app got into the hidden gem section of WP Central, no offence. After using this app for a while, my first thought was " why would WP Central choose such a app into hidden gems? , Did they ran out of good worthy apps this quickly!!" . I am going to be honest to say that, this app never deserve to be on the hidden gem. This is more like a hidden rock. What I have to say about the app is mostly bad reviews than the good ones. Devolopers of this app,, " you really spoiled such a good idea of baby book on a windows phone. You could have done better than this. I think you didn't even tested the app on the phone before publishing it. Any way, I can suggest you to make this better" .
And to the WP Centre , " Did you guys atleast looked into the app clearly before posting it on hidden gems article!!?, I dont think so" . I will point out what are the things I felt good and bad about this app . .............WHAT I LIKED......... First lets start with the good things about the app.
* I got to say that this app is a unique one on windows phone cause I have never saw a baby book app on the windows phone ever. I congrats the developers and WP Central for bringing this idea forward to windows phone.
* This could help a very few parents who are very busy to take care of there baby. ..............WHY I HATE THIS APP.......... Yeah, since hidden gems comments needs to be honest and sincere, I am gonna say the truth is ' I hate this app'. I will tell you my reasons. And there are plenty more reasons which cannot be expressed on words. * First of all, I dont think many people are going to use this app. Cause who would write down when the baby sleeped, pissed, eated and all. Family members of a somewhat average family might note down, when the baby first talked, walked, like that...... But most of such average families dont have a smartphone like Lumia and all . If we are looking at above average and high status people, honestly they dont give a shit about what there kid did. So I find this app will only be used by some middle class people. But it didn't mean this app is useless. * Secondly, this app is very poorely build. It has lot of bugs on it. Which I will be mentioning on a seperate topic because there are a lot of them . I could write a book about the bugs of this app. *Thirdly, This app didn't make anyone the feel to use it. The background colour is white and the way things are arranged is boring. Totally , this app looks like a person who haven't bathed for his entire lifetime. !!!!..........BUGS..............!!! 1, (Major bug) In the options, if you select "solid", there is a major bug. " " is shown in the middle of nothing. Just a button in the screen. I have never seen such a bug in any apps. Se the bug here
https://onedrive.live.com/?cid=81E61E6FDC6C05BC&id=81E61E6FDC6C05BC%2177... 2.(Major Bug) Have you noticed the large live tile. If you didn't then check how worse can it be.
https://onedrive.live.com/?cid=81E61E6FDC6C05BC&id=81E61E6FDC6C05BC%2177...
Its blank. 3.(Magor Bug) In the begining of registration when we add a child, the column for writing "allergies" wont work 4. (Major Bug) In the main menu , the recent actives cant be scroll down to the very last activity. 5.(Magor Bug) The pictures added are not fit to the box. Its feels horrible to see. Thats I for Magor bugs.
.......i dont wanna mention the minor bugs. It might make me smash my phone on the ground. Its never gonna end in a comment. .........CONCLUTION......... I cant give suggestion because if I suggest, I will ask you to dump this app recreate this app in a new style without any bugs like this. WP Central, what were you thinking before you put this app on hidden gems. Have guys gone mad. Is this the app you said to be handpicked from the unknown apps for us. Shame.
You should come up with good apps and games that 'deserve' to be known to the world. Not this kind. At first, I didn't wanted to review this app. Hope the next on will be a good one. I will be waiting
Aahh, I got a head ache on reviewing this app. I am not kidding.
....,

.............FIRST IMPRESSION @_@ ............... First of all, I wonder how this app got into the hidden gem section of WP Central, no offence. After using this app for a while, my first thought was " why would WP Central choose such a app into hidden gems? , Did they ran out of good worthy apps this quickly!!" . I am going to be honest to say that, this app never deserve to be on the hidden gem. This is more like a hidden rock. What I have to say about the app is mostly bad reviews than the good ones. Devolopers of this app,, " you really spoiled such a good idea of baby book on a windows phone. You could have done better than this. I think you didn't even tested the app on the phone before publishing it. Any way, I can suggest you to make this better" .
And to the WP Centre , " Did you guys atleast looked into the app clearly before posting it on hidden gems article!!?, I dont think so" . I will point out what are the things I felt good and bad about this app . .............WHAT I LIKED......... First lets start with the good things about the app.
* I got to say that this app is a unique one on windows phone cause I have never saw a baby book app on the windows phone ever. I congrats the developers and WP Central for bringing this idea forward to windows phone.
* This could help a very few parents who are very busy to take care of there baby. ..............WHY I HATE THIS APP.......... Yeah, since hidden gems comments needs to be honest and sincere, I am gonna say the truth is ' I hate this app'. I will tell you my reasons. And there are plenty more reasons which cannot be expressed on words. * First of all, I dont think many people are going to use this app. Cause who would write down when the baby sleeped, pissed, eated and all. Family members of a somewhat average family might note down, when the baby first talked, walked, like that...... But most of such average families dont have a smartphone like Lumia and all . If we are looking at above average and high status people, honestly they dont give a shit about what there kid did. So I find this app will only be used by some middle class people. But it didn't mean this app is useless. * Secondly, this app is very poorely build. It has lot of bugs on it. Which I will be mentioning on a seperate topic because there are a lot of them . I could write a book about the bugs of this app. *Thirdly, This app didn't make anyone the feel to use it. The background colour is white and the way things are arranged is boring. Totally , this app looks like a person who haven't bathed for his entire lifetime. !!!!..........BUGS..............!!! 1, (Major bug) In the options, if you select "solid", there is a major bug. " " is shown in the middle of nothing. Just a button in the screen. I have never seen such a bug in any apps. Se the bug here
https://onedrive.live.com/?cid=81E61E6FDC6C05BC&id=81E61E6FDC6C05BC%2177... 2.(Major Bug) Have you noticed the large live tile. If you didn't then check how worse can it be.
https://onedrive.live.com/?cid=81E61E6FDC6C05BC&id=81E61E6FDC6C05BC%2177...
Its blank. 3.(Magor Bug) In the begining of registration when we add a child, the column for writing "allergies" wont work 4. (Major Bug) In the main menu , the recent actives cant be scroll down to the very last activity. 5.(Magor Bug) The pictures added are not fit to the box. Its feels horrible to see. Thats I for Magor bugs.
.......i dont wanna mention the minor bugs. It might make me smash my phone on the ground. Its never gonna end in a comment. .........CONCLUTION......... I cant give suggestion because if I suggest, I will ask you to dump this app recreate this app in a new style without any bugs like this. WP Central, what were you thinking before you put this app on hidden gems. Have guys gone mad. Is this the app you said to be handpicked from the unknown apps for us. Shame.
You should come up with good apps and games that 'deserve' to be known to the world. Not this kind. At first, I didn't wanted to review this app. Hope the next on will be a good one. I will be waiting
Aahh, I got a head ache on reviewing this app. I am not kidding.
....,,

.............FIRST IMPRESSION @_@ ............... First of all, I wonder how this app got into the hidden gem section of WP Central, no offence. After using this app for a while, my first thought was " why would WP Central choose such a app into hidden gems? , Did they ran out of good worthy apps this quickly!!" . I am going to be honest to say that, this app never deserve to be on the hidden gem. This is more like a hidden rock. What I have to say about the app is mostly bad reviews than the good ones. Devolopers of this app,, " you really spoiled such a good idea of baby book on a windows phone. You could have done better than this. I think you didn't even tested the app on the phone before publishing it. Any way, I can suggest you to make this better" .
And to the WP Centre , " Did you guys atleast looked into the app clearly before posting it on hidden gems article!!?, I dont think so" . I will point out what are the things I felt good and bad about this app . .............WHAT I LIKED......... First lets start with the good things about the app.
* I got to say that this app is a unique one on windows phone cause I have never saw a baby book app on the windows phone ever. I congrats the developers and WP Central for bringing this idea forward to windows phone.
* This could help a very few parents who are very busy to take care of there baby. ..............WHY I HATE THIS APP.......... Yeah, since hidden gems comments needs to be honest and sincere, I am gonna say the truth is ' I hate this app'. I will tell you my reasons. And there are plenty more reasons which cannot be expressed on words. * First of all, I dont think many people are going to use this app. Cause who would write down when the baby sleeped, pissed, eated and all. Family members of a somewhat average family might note down, when the baby first talked, walked, like that...... But most of such average families dont have a smartphone like Lumia and all . If we are looking at above average and high status people, honestly they dont give a shit about what there kid did. So I find this app will only be used by some middle class people. But it didn't mean this app is useless. * Secondly, this app is very poorely build. It has lot of bugs on it. Which I will be mentioning on a seperate topic because there are a lot of them . I could write a book about the bugs of this app. *Thirdly, This app didn't make anyone the feel to use it. The background colour is white and the way things are arranged is boring. Totally , this app looks like a person who haven't bathed for his entire lifetime. !!!!..........BUGS..............!!! 1, (Major bug) In the options, if you select "solid", there is a major bug. " " is shown in the middle of nothing. Just a button in the screen. I have never seen such a bug in any apps. Se the bug here
https://onedrive.live.com/?cid=81E61E6FDC6C05BC&id=81E61E6FDC6C05BC%2177... 2.(Major Bug) Have you noticed the large live tile. If you didn't then check how worse can it be.
https://onedrive.live.com/?cid=81E61E6FDC6C05BC&id=81E61E6FDC6C05BC%2177...
Its blank. 3.(Magor Bug) In the begining of registration when we add a child, the column for writing "allergies" wont work 4. (Major Bug) In the main menu , the recent actives cant be scroll down to the very last activity. 5.(Magor Bug) The pictures added are not fit to the box. Its feels horrible to see. Thats I for Magor bugs.
.......i dont wanna mention the minor bugs. It might make me smash my phone on the ground. Its never gonna end in a comment. .........CONCLUTION......... I cant give suggestion because if I suggest, I will ask you to dump this app recreate this app in a new style without any bugs like this. WP Central, what were you thinking before you put this app on hidden gems. Have guys gone mad. Is this the app you said to be handpicked from the unknown apps for us. Shame.
You should come up with good apps and games that 'deserve' to be known to the world. Not this kind. At first, I didn't wanted to review this app. Hope the next on will be a good one. I will be waiting
Aahh, I got a head ache on reviewing this app. I am not kidding.
.....,

.............FIRST IMPRESSION @_@ ............... First of all, I wonder how this app got into the hidden gem section of WP Central, no offence. After using this app for a while, my first thought was " why would WP Central choose such a app into hidden gems? , Did they ran out of good worthy apps this quickly!!" . I am going to be honest to say that, this app never deserve to be on the hidden gem. This is more like a hidden rock. What I have to say about the app is mostly bad reviews than the good ones. Devolopers of this app,, " you really spoiled such a good idea of baby book on a windows phone. You could have done better than this. I think you didn't even tested the app on the phone before publishing it. Any way, I can suggest you to make this better" .
And to the WP Centre , " Did you guys atleast looked into the app clearly before posting it on hidden gems article!!?, I dont think so" . I will point out what are the things I felt good and bad about this app . .............WHAT I LIKED......... First lets start with the good things about the app.
* I got to say that this app is a unique one on windows phone cause I have never saw a baby book app on the windows phone ever. I congrats the developers and WP Central for bringing this idea forward to windows phone.
* This could help a very few parents who are very busy to take care of there baby. ..............WHY I HATE THIS APP.......... Yeah, since hidden gems comments needs to be honest and sincere, I am gonna say the truth is ' I hate this app'. I will tell you my reasons. And there are plenty more reasons which cannot be expressed on words. * First of all, I dont think many people are going to use this app. Cause who would write down when the baby sleeped, pissed, eated and all. Family members of a somewhat average family might note down, when the baby first talked, walked, like that...... But most of such average families dont have a smartphone like Lumia and all . If we are looking at above average and high status people, honestly they dont give a shit about what there kid did. So I find this app will only be used by some middle class people. But it didn't mean this app is useless. * Secondly, this app is very poorely build. It has lot of bugs on it. Which I will be mentioning on a seperate topic because there are a lot of them . I could write a book about the bugs of this app. *Thirdly, This app didn't make anyone the feel to use it. The background colour is white and the way things are arranged is boring. Totally , this app looks like a person who haven't bathed for his entire lifetime. !!!!..........BUGS..............!!! 1, (Major bug) In the options, if you select "solid", there is a major bug. " " is shown in the middle of nothing. Just a button in the screen. I have never seen such a bug in any apps. Se the bug here
https://onedrive.live.com/?cid=81E61E6FDC6C05BC&id=81E61E6FDC6C05BC%2177... 2.(Major Bug) Have you noticed the large live tile. If you didn't then check how worse can it be.
https://onedrive.live.com/?cid=81E61E6FDC6C05BC&id=81E61E6FDC6C05BC%2177...
Its blank. 3.(Magor Bug) In the begining of registration when we add a child, the column for writing "allergies" wont work 4. (Major Bug) In the main menu , the recent actives cant be scroll down to the very last activity. 5.(Magor Bug) The pictures added are not fit to the box. Its feels horrible to see. Thats I for Magor bugs.
.......i dont wanna mention the minor bugs. It might make me smash my phone on the ground. Its never gonna end in a comment. .........CONCLUTION......... I cant give suggestion because if I suggest, I will ask you to dump this app recreate this app in a new style without any bugs like this. WP Central, what were you thinking before you put this app on hidden gems. Have guys gone mad. Is this the app you said to be handpicked from the unknown apps for us. Shame.
You should come up with good apps and games that 'deserve' to be known to the world. Not this kind. At first, I didn't wanted to review this app. Hope the next on will be a good one. I will be waiting
Aahh, I got a head ache on reviewing this app. I am not kidding.
,.

.............FIRST IMPRESSION @_@ ............... First of all, I wonder how this app got into the hidden gem section of WP Central, no offence. After using this app for a while, my first thought was " why would WP Central choose such a app into hidden gems? , Did they ran out of good worthy apps this quickly!!" . I am going to be honest to say that, this app never deserve to be on the hidden gem. This is more like a hidden rock. What I have to say about the app is mostly bad reviews than the good ones. Devolopers of this app,, " you really spoiled such a good idea of baby book on a windows phone. You could have done better than this. I think you didn't even tested the app on the phone before publishing it. Any way, I can suggest you to make this better" .
And to the WP Centre , " Did you guys atleast looked into the app clearly before posting it on hidden gems article!!?, I dont think so" . I will point out what are the things I felt good and bad about this app . .............WHAT I LIKED......... First lets start with the good things about the app.
* I got to say that this app is a unique one on windows phone cause I have never saw a baby book app on the windows phone ever. I congrats the developers and WP Central for bringing this idea forward to windows phone.
* This could help a very few parents who are very busy to take care of there baby. ..............WHY I HATE THIS APP.......... Yeah, since hidden gems comments needs to be honest and sincere, I am gonna say the truth is ' I hate this app'. I will tell you my reasons. And there are plenty more reasons which cannot be expressed on words. * First of all, I dont think many people are going to use this app. Cause who would write down when the baby sleeped, pissed, eated and all. Family members of a somewhat average family might note down, when the baby first talked, walked, like that...... But most of such average families dont have a smartphone like Lumia and all . If we are looking at above average and high status people, honestly they dont give a shit about what there kid did. So I find this app will only be used by some middle class people. But it didn't mean this app is useless. * Secondly, this app is very poorely build. It has lot of bugs on it. Which I will be mentioning on a seperate topic because there are a lot of them . I could write a book about the bugs of this app. *Thirdly, This app didn't make anyone the feel to use it. The background colour is white and the way things are arranged is boring. Totally , this app looks like a person who haven't bathed for his entire lifetime. !!!!..........BUGS..............!!! 1, (Major bug) In the options, if you select "solid", there is a major bug. " " is shown in the middle of nothing. Just a button in the screen. I have never seen such a bug in any apps. Se the bug here
https://onedrive.live.com/?cid=81E61E6FDC6C05BC&id=81E61E6FDC6C05BC%2177... 2.(Major Bug) Have you noticed the large live tile. If you didn't then check how worse can it be.
https://onedrive.live.com/?cid=81E61E6FDC6C05BC&id=81E61E6FDC6C05BC%2177...
Its blank. 3.(Magor Bug) In the begining of registration when we add a child, the column for writing "allergies" wont work 4. (Major Bug) In the main menu , the recent actives cant be scroll down to the very last activity. 5.(Magor Bug) The pictures added are not fit to the box. Its feels horrible to see. Thats I for Magor bugs.
.......i dont wanna mention the minor bugs. It might make me smash my phone on the ground. Its never gonna end in a comment. .........CONCLUTION......... I cant give suggestion because if I suggest, I will ask you to dump this app recreate this app in a new style without any bugs like this. WP Central, what were you thinking before you put this app on hidden gems. Have guys gone mad. Is this the app you said to be handpicked from the unknown apps for us. Shame.
You should come up with good apps and games that 'deserve' to be known to the world. Not this kind. At first, I didn't wanted to review this app. Hope the next on will be a good one. I will be waiting
Aahh, I got a head ache on reviewing this app. I am not kidding.
,..

.............FIRST IMPRESSION @_@ ............... First of all, I wonder how this app got into the hidden gem section of WP Central, no offence. After using this app for a while, my first thought was " why would WP Central choose such a app into hidden gems? , Did they ran out of good worthy apps this quickly!!" . I am going to be honest to say that, this app never deserve to be on the hidden gem. This is more like a hidden rock. What I have to say about the app is mostly bad reviews than the good ones. Devolopers of this app,, " you really spoiled such a good idea of baby book on a windows phone. You could have done better than this. I think you didn't even tested the app on the phone before publishing it. Any way, I can suggest you to make this better" .
And to the WP Centre , " Did you guys atleast looked into the app clearly before posting it on hidden gems article!!?, I dont think so" . I will point out what are the things I felt good and bad about this app . .............WHAT I LIKED......... First lets start with the good things about the app.
* I got to say that this app is a unique one on windows phone cause I have never saw a baby book app on the windows phone ever. I congrats the developers and WP Central for bringing this idea forward to windows phone.
* This could help a very few parents who are very busy to take care of there baby. ..............WHY I HATE THIS APP.......... Yeah, since hidden gems comments needs to be honest and sincere, I am gonna say the truth is ' I hate this app'. I will tell you my reasons. And there are plenty more reasons which cannot be expressed on words. * First of all, I dont think many people are going to use this app. Cause who would write down when the baby sleeped, pissed, eated and all. Family members of a somewhat average family might note down, when the baby first talked, walked, like that...... But most of such average families dont have a smartphone like Lumia and all . If we are looking at above average and high status people, honestly they dont give a shit about what there kid did. So I find this app will only be used by some middle class people. But it didn't mean this app is useless. * Secondly, this app is very poorely build. It has lot of bugs on it. Which I will be mentioning on a seperate topic because there are a lot of them . I could write a book about the bugs of this app. *Thirdly, This app didn't make anyone the feel to use it. The background colour is white and the way things are arranged is boring. Totally , this app looks like a person who haven't bathed for his entire lifetime. !!!!..........BUGS..............!!! 1, (Major bug) In the options, if you select "solid", there is a major bug. " " is shown in the middle of nothing. Just a button in the screen. I have never seen such a bug in any apps. Se the bug here
https://onedrive.live.com/?cid=81E61E6FDC6C05BC&id=81E61E6FDC6C05BC%2177... 2.(Major Bug) Have you noticed the large live tile. If you didn't then check how worse can it be.
https://onedrive.live.com/?cid=81E61E6FDC6C05BC&id=81E61E6FDC6C05BC%2177...
Its blank. 3.(Magor Bug) In the begining of registration when we add a child, the column for writing "allergies" wont work 4. (Major Bug) In the main menu , the recent actives cant be scroll down to the very last activity. 5.(Magor Bug) The pictures added are not fit to the box. Its feels horrible to see. Thats I for Magor bugs.
.......i dont wanna mention the minor bugs. It might make me smash my phone on the ground. Its never gonna end in a comment. .........CONCLUTION......... I cant give suggestion because if I suggest, I will ask you to dump this app recreate this app in a new style without any bugs like this. WP Central, what were you thinking before you put this app on hidden gems. Have guys gone mad. Is this the app you said to be handpicked from the unknown apps for us. Shame.
You should come up with good apps and games that 'deserve' to be known to the world. Not this kind. At first, I didn't wanted to review this app. Hope the next on will be a good one. I will be waiting
Aahh, I got a head ache on reviewing this app. I am not kidding.
,...

.............FIRST IMPRESSION @_@ ............... First of all, I wonder how this app got into the hidden gem section of WP Central, no offence. After using this app for a while, my first thought was " why would WP Central choose such a app into hidden gems? , Did they ran out of good worthy apps this quickly!!" . I am going to be honest to say that, this app never deserve to be on the hidden gem. This is more like a hidden rock. What I have to say about the app is mostly bad reviews than the good ones. Devolopers of this app,, " you really spoiled such a good idea of baby book on a windows phone. You could have done better than this. I think you didn't even tested the app on the phone before publishing it. Any way, I can suggest you to make this better" .
And to the WP Centre , " Did you guys atleast looked into the app clearly before posting it on hidden gems article!!?, I dont think so" . I will point out what are the things I felt good and bad about this app . .............WHAT I LIKED......... First lets start with the good things about the app.
* I got to say that this app is a unique one on windows phone cause I have never saw a baby book app on the windows phone ever. I congrats the developers and WP Central for bringing this idea forward to windows phone.
* This could help a very few parents who are very busy to take care of there baby. ..............WHY I HATE THIS APP.......... Yeah, since hidden gems comments needs to be honest and sincere, I am gonna say the truth is ' I hate this app'. I will tell you my reasons. And there are plenty more reasons which cannot be expressed on words. * First of all, I dont think many people are going to use this app. Cause who would write down when the baby sleeped, pissed, eated and all. Family members of a somewhat average family might note down, when the baby first talked, walked, like that...... But most of such average families dont have a smartphone like Lumia and all . If we are looking at above average and high status people, honestly they dont give a shit about what there kid did. So I find this app will only be used by some middle class people. But it didn't mean this app is useless. * Secondly, this app is very poorely build. It has lot of bugs on it. Which I will be mentioning on a seperate topic because there are a lot of them . I could write a book about the bugs of this app. *Thirdly, This app didn't make anyone the feel to use it. The background colour is white and the way things are arranged is boring. Totally , this app looks like a person who haven't bathed for his entire lifetime. !!!!..........BUGS..............!!! 1, (Major bug) In the options, if you select "solid", there is a major bug. " " is shown in the middle of nothing. Just a button in the screen. I have never seen such a bug in any apps. Se the bug here
https://onedrive.live.com/?cid=81E61E6FDC6C05BC&id=81E61E6FDC6C05BC%2177... 2.(Major Bug) Have you noticed the large live tile. If you didn't then check how worse can it be.
https://onedrive.live.com/?cid=81E61E6FDC6C05BC&id=81E61E6FDC6C05BC%2177...
Its blank. 3.(Magor Bug) In the begining of registration when we add a child, the column for writing "allergies" wont work 4. (Major Bug) In the main menu , the recent actives cant be scroll down to the very last activity. 5.(Magor Bug) The pictures added are not fit to the box. Its feels horrible to see. Thats I for Magor bugs.
.......i dont wanna mention the minor bugs. It might make me smash my phone on the ground. Its never gonna end in a comment. .........CONCLUTION......... I cant give suggestion because if I suggest, I will ask you to dump this app recreate this app in a new style without any bugs like this. WP Central, what were you thinking before you put this app on hidden gems. Have guys gone mad. Is this the app you said to be handpicked from the unknown apps for us. Shame.
You should come up with good apps and games that 'deserve' to be known to the world. Not this kind. At first, I didn't wanted to review this app. Hope the next on will be a good one. I will be waiting
Aahh, I got a head ache on reviewing this app. I am not kidding.
,....

.............FIRST IMPRESSION @_@ ............... First of all, I wonder how this app got into the hidden gem section of WP Central, no offence. After using this app for a while, my first thought was " why would WP Central choose such a app into hidden gems? , Did they ran out of good worthy apps this quickly!!" . I am going to be honest to say that, this app never deserve to be on the hidden gem. This is more like a hidden rock. What I have to say about the app is mostly bad reviews than the good ones. Devolopers of this app,, " you really spoiled such a good idea of baby book on a windows phone. You could have done better than this. I think you didn't even tested the app on the phone before publishing it. Any way, I can suggest you to make this better" .
And to the WP Centre , " Did you guys atleast looked into the app clearly before posting it on hidden gems article!!?, I dont think so" . I will point out what are the things I felt good and bad about this app . .............WHAT I LIKED......... First lets start with the good things about the app.
* I got to say that this app is a unique one on windows phone cause I have never saw a baby book app on the windows phone ever. I congrats the developers and WP Central for bringing this idea forward to windows phone.
* This could help a very few parents who are very busy to take care of there baby. ..............WHY I HATE THIS APP.......... Yeah, since hidden gems comments needs to be honest and sincere, I am gonna say the truth is ' I hate this app'. I will tell you my reasons. And there are plenty more reasons which cannot be expressed on words. * First of all, I dont think many people are going to use this app. Cause who would write down when the baby sleeped, pissed, eated and all. Family members of a somewhat average family might note down, when the baby first talked, walked, like that...... But most of such average families dont have a smartphone like Lumia and all . If we are looking at above average and high status people, honestly they dont give a shit about what there kid did. So I find this app will only be used by some middle class people. But it didn't mean this app is useless. * Secondly, this app is very poorely build. It has lot of bugs on it. Which I will be mentioning on a seperate topic because there are a lot of them . I could write a book about the bugs of this app. *Thirdly, This app didn't make anyone the feel to use it. The background colour is white and the way things are arranged is boring. Totally , this app looks like a person who haven't bathed for his entire lifetime. !!!!..........BUGS..............!!! 1, (Major bug) In the options, if you select "solid", there is a major bug. " " is shown in the middle of nothing. Just a button in the screen. I have never seen such a bug in any apps. Se the bug here
https://onedrive.live.com/?cid=81E61E6FDC6C05BC&id=81E61E6FDC6C05BC%2177... 2.(Major Bug) Have you noticed the large live tile. If you didn't then check how worse can it be.
https://onedrive.live.com/?cid=81E61E6FDC6C05BC&id=81E61E6FDC6C05BC%2177...
Its blank. 3.(Magor Bug) In the begining of registration when we add a child, the column for writing "allergies" wont work 4. (Major Bug) In the main menu , the recent actives cant be scroll down to the very last activity. 5.(Magor Bug) The pictures added are not fit to the box. Its feels horrible to see. Thats I for Magor bugs.
.......i dont wanna mention the minor bugs. It might make me smash my phone on the ground. Its never gonna end in a comment. .........CONCLUTION......... I cant give suggestion because if I suggest, I will ask you to dump this app recreate this app in a new style without any bugs like this. WP Central, what were you thinking before you put this app on hidden gems. Have guys gone mad. Is this the app you said to be handpicked from the unknown apps for us. Shame.
You should come up with good apps and games that 'deserve' to be known to the world. Not this kind. At first, I didn't wanted to review this app. Hope the next on will be a good one. I will be waiting
Aahh, I got a head ache on reviewing this app. I am not kidding.
,.....

.............FIRST IMPRESSION @_@ ............... First of all, I wonder how this app got into the hidden gem section of WP Central, no offence. After using this app for a while, my first thought was " why would WP Central choose such a app into hidden gems? , Did they ran out of good worthy apps this quickly!!" . I am going to be honest to say that, this app never deserve to be on the hidden gem. This is more like a hidden rock. What I have to say about the app is mostly bad reviews than the good ones. Devolopers of this app,, " you really spoiled such a good idea of baby book on a windows phone. You could have done better than this. I think you didn't even tested the app on the phone before publishing it. Any way, I can suggest you to make this better" .
And to the WP Centre , " Did you guys atleast looked into the app clearly before posting it on hidden gems article!!?, I dont think so" . I will point out what are the things I felt good and bad about this app . .............WHAT I LIKED......... First lets start with the good things about the app.
* I got to say that this app is a unique one on windows phone cause I have never saw a baby book app on the windows phone ever. I congrats the developers and WP Central for bringing this idea forward to windows phone.
* This could help a very few parents who are very busy to take care of there baby. ..............WHY I HATE THIS APP.......... Yeah, since hidden gems comments needs to be honest and sincere, I am gonna say the truth is ' I hate this app'. I will tell you my reasons. And there are plenty more reasons which cannot be expressed on words. * First of all, I dont think many people are going to use this app. Cause who would write down when the baby sleeped, pissed, eated and all. Family members of a somewhat average family might note down, when the baby first talked, walked, like that...... But most of such average families dont have a smartphone like Lumia and all . If we are looking at above average and high status people, honestly they dont give a shit about what there kid did. So I find this app will only be used by some middle class people. But it didn't mean this app is useless. * Secondly, this app is very poorely build. It has lot of bugs on it. Which I will be mentioning on a seperate topic because there are a lot of them . I could write a book about the bugs of this app. *Thirdly, This app didn't make anyone the feel to use it. The background colour is white and the way things are arranged is boring. Totally , this app looks like a person who haven't bathed for his entire lifetime. !!!!..........BUGS..............!!! 1, (Major bug) In the options, if you select "solid", there is a major bug. " " is shown in the middle of nothing. Just a button in the screen. I have never seen such a bug in any apps. Se the bug here
https://onedrive.live.com/?cid=81E61E6FDC6C05BC&id=81E61E6FDC6C05BC%2177... 2.(Major Bug) Have you noticed the large live tile. If you didn't then check how worse can it be.
https://onedrive.live.com/?cid=81E61E6FDC6C05BC&id=81E61E6FDC6C05BC%2177...
Its blank. 3.(Magor Bug) In the begining of registration when we add a child, the column for writing "allergies" wont work 4. (Major Bug) In the main menu , the recent actives cant be scroll down to the very last activity. 5.(Magor Bug) The pictures added are not fit to the box. Its feels horrible to see. Thats I for Magor bugs.
.......i dont wanna mention the minor bugs. It might make me smash my phone on the ground. Its never gonna end in a comment. .........CONCLUTION......... I cant give suggestion because if I suggest, I will ask you to dump this app recreate this app in a new style without any bugs like this. WP Central, what were you thinking before you put this app on hidden gems. Have guys gone mad. Is this the app you said to be handpicked from the unknown apps for us. Shame.
You should come up with good apps and games that 'deserve' to be known to the world. Not this kind. At first, I didn't wanted to review this app. Hope the next on will be a good one. I will be waiting
Aahh, I got a head ache on reviewing this app. I am not kidding.
,,.

.............FIRST IMPRESSION @_@ ............... First of all, I wonder how this app got into the hidden gem section of WP Central, no offence. After using this app for a while, my first thought was " why would WP Central choose such a app into hidden gems? , Did they ran out of good worthy apps this quickly!!" . I am going to be honest to say that, this app never deserve to be on the hidden gem. This is more like a hidden rock. What I have to say about the app is mostly bad reviews than the good ones. Devolopers of this app,, " you really spoiled such a good idea of baby book on a windows phone. You could have done better than this. I think you didn't even tested the app on the phone before publishing it. Any way, I can suggest you to make this better" .
And to the WP Centre , " Did you guys atleast looked into the app clearly before posting it on hidden gems article!!?, I dont think so" . I will point out what are the things I felt good and bad about this app . .............WHAT I LIKED......... First lets start with the good things about the app.
* I got to say that this app is a unique one on windows phone cause I have never saw a baby book app on the windows phone ever. I congrats the developers and WP Central for bringing this idea forward to windows phone.
* This could help a very few parents who are very busy to take care of there baby. ..............WHY I HATE THIS APP.......... Yeah, since hidden gems comments needs to be honest and sincere, I am gonna say the truth is ' I hate this app'. I will tell you my reasons. And there are plenty more reasons which cannot be expressed on words. * First of all, I dont think many people are going to use this app. Cause who would write down when the baby sleeped, pissed, eated and all. Family members of a somewhat average family might note down, when the baby first talked, walked, like that...... But most of such average families dont have a smartphone like Lumia and all . If we are looking at above average and high status people, honestly they dont give a shit about what there kid did. So I find this app will only be used by some middle class people. But it didn't mean this app is useless. * Secondly, this app is very poorely build. It has lot of bugs on it. Which I will be mentioning on a seperate topic because there are a lot of them . I could write a book about the bugs of this app. *Thirdly, This app didn't make anyone the feel to use it. The background colour is white and the way things are arranged is boring. Totally , this app looks like a person who haven't bathed for his entire lifetime. !!!!..........BUGS..............!!! 1, (Major bug) In the options, if you select "solid", there is a major bug. " " is shown in the middle of nothing. Just a button in the screen. I have never seen such a bug in any apps. Se the bug here
https://onedrive.live.com/?cid=81E61E6FDC6C05BC&id=81E61E6FDC6C05BC%2177... 2.(Major Bug) Have you noticed the large live tile. If you didn't then check how worse can it be.
https://onedrive.live.com/?cid=81E61E6FDC6C05BC&id=81E61E6FDC6C05BC%2177...
Its blank. 3.(Magor Bug) In the begining of registration when we add a child, the column for writing "allergies" wont work 4. (Major Bug) In the main menu , the recent actives cant be scroll down to the very last activity. 5.(Magor Bug) The pictures added are not fit to the box. Its feels horrible to see. Thats I for Magor bugs.
.......i dont wanna mention the minor bugs. It might make me smash my phone on the ground. Its never gonna end in a comment. .........CONCLUTION......... I cant give suggestion because if I suggest, I will ask you to dump this app recreate this app in a new style without any bugs like this. WP Central, what were you thinking before you put this app on hidden gems. Have guys gone mad. Is this the app you said to be handpicked from the unknown apps for us. Shame.
You should come up with good apps and games that 'deserve' to be known to the world. Not this kind. At first, I didn't wanted to review this app. Hope the next on will be a good one. I will be waiting
Aahh, I got a head ache on reviewing this app. I am not kidding.
,,..

.............FIRST IMPRESSION @_@ ............... First of all, I wonder how this app got into the hidden gem section of WP Central, no offence. After using this app for a while, my first thought was " why would WP Central choose such a app into hidden gems? , Did they ran out of good worthy apps this quickly!!" . I am going to be honest to say that, this app never deserve to be on the hidden gem. This is more like a hidden rock. What I have to say about the app is mostly bad reviews than the good ones. Devolopers of this app,, " you really spoiled such a good idea of baby book on a windows phone. You could have done better than this. I think you didn't even tested the app on the phone before publishing it. Any way, I can suggest you to make this better" .
And to the WP Centre , " Did you guys atleast looked into the app clearly before posting it on hidden gems article!!?, I dont think so" . I will point out what are the things I felt good and bad about this app . .............WHAT I LIKED......... First lets start with the good things about the app.
* I got to say that this app is a unique one on windows phone cause I have never saw a baby book app on the windows phone ever. I congrats the developers and WP Central for bringing this idea forward to windows phone.
* This could help a very few parents who are very busy to take care of there baby. ..............WHY I HATE THIS APP.......... Yeah, since hidden gems comments needs to be honest and sincere, I am gonna say the truth is ' I hate this app'. I will tell you my reasons. And there are plenty more reasons which cannot be expressed on words. * First of all, I dont think many people are going to use this app. Cause who would write down when the baby sleeped, pissed, eated and all. Family members of a somewhat average family might note down, when the baby first talked, walked, like that...... But most of such average families dont have a smartphone like Lumia and all . If we are looking at above average and high status people, honestly they dont give a shit about what there kid did. So I find this app will only be used by some middle class people. But it didn't mean this app is useless. * Secondly, this app is very poorely build. It has lot of bugs on it. Which I will be mentioning on a seperate topic because there are a lot of them . I could write a book about the bugs of this app. *Thirdly, This app didn't make anyone the feel to use it. The background colour is white and the way things are arranged is boring. Totally , this app looks like a person who haven't bathed for his entire lifetime. !!!!..........BUGS..............!!! 1, (Major bug) In the options, if you select "solid", there is a major bug. " " is shown in the middle of nothing. Just a button in the screen. I have never seen such a bug in any apps. Se the bug here
https://onedrive.live.com/?cid=81E61E6FDC6C05BC&id=81E61E6FDC6C05BC%2177... 2.(Major Bug) Have you noticed the large live tile. If you didn't then check how worse can it be.
https://onedrive.live.com/?cid=81E61E6FDC6C05BC&id=81E61E6FDC6C05BC%2177...
Its blank. 3.(Magor Bug) In the begining of registration when we add a child, the column for writing "allergies" wont work 4. (Major Bug) In the main menu , the recent actives cant be scroll down to the very last activity. 5.(Magor Bug) The pictures added are not fit to the box. Its feels horrible to see. Thats I for Magor bugs.
.......i dont wanna mention the minor bugs. It might make me smash my phone on the ground. Its never gonna end in a comment. .........CONCLUTION......... I cant give suggestion because if I suggest, I will ask you to dump this app recreate this app in a new style without any bugs like this. WP Central, what were you thinking before you put this app on hidden gems. Have guys gone mad. Is this the app you said to be handpicked from the unknown apps for us. Shame.
You should come up with good apps and games that 'deserve' to be known to the world. Not this kind. At first, I didn't wanted to review this app. Hope the next on will be a good one. I will be waiting
Aahh, I got a head ache on reviewing this app. I am not kidding.
,,...

.............FIRST IMPRESSION @_@ ............... First of all, I wonder how this app got into the hidden gem section of WP Central, no offence. After using this app for a while, my first thought was " why would WP Central choose such a app into hidden gems? , Did they ran out of good worthy apps this quickly!!" . I am going to be honest to say that, this app never deserve to be on the hidden gem. This is more like a hidden rock. What I have to say about the app is mostly bad reviews than the good ones. Devolopers of this app,, " you really spoiled such a good idea of baby book on a windows phone. You could have done better than this. I think you didn't even tested the app on the phone before publishing it. Any way, I can suggest you to make this better" .
And to the WP Centre , " Did you guys atleast looked into the app clearly before posting it on hidden gems article!!?, I dont think so" . I will point out what are the things I felt good and bad about this app . .............WHAT I LIKED......... First lets start with the good things about the app.
* I got to say that this app is a unique one on windows phone cause I have never saw a baby book app on the windows phone ever. I congrats the developers and WP Central for bringing this idea forward to windows phone.
* This could help a very few parents who are very busy to take care of there baby. ..............WHY I HATE THIS APP.......... Yeah, since hidden gems comments needs to be honest and sincere, I am gonna say the truth is ' I hate this app'. I will tell you my reasons. And there are plenty more reasons which cannot be expressed on words. * First of all, I dont think many people are going to use this app. Cause who would write down when the baby sleeped, pissed, eated and all. Family members of a somewhat average family might note down, when the baby first talked, walked, like that...... But most of such average families dont have a smartphone like Lumia and all . If we are looking at above average and high status people, honestly they dont give a shit about what there kid did. So I find this app will only be used by some middle class people. But it didn't mean this app is useless. * Secondly, this app is very poorely build. It has lot of bugs on it. Which I will be mentioning on a seperate topic because there are a lot of them . I could write a book about the bugs of this app. *Thirdly, This app didn't make anyone the feel to use it. The background colour is white and the way things are arranged is boring. Totally , this app looks like a person who haven't bathed for his entire lifetime. !!!!..........BUGS..............!!! 1, (Major bug) In the options, if you select "solid", there is a major bug. " " is shown in the middle of nothing. Just a button in the screen. I have never seen such a bug in any apps. Se the bug here
https://onedrive.live.com/?cid=81E61E6FDC6C05BC&id=81E61E6FDC6C05BC%2177... 2.(Major Bug) Have you noticed the large live tile. If you didn't then check how worse can it be.
https://onedrive.live.com/?cid=81E61E6FDC6C05BC&id=81E61E6FDC6C05BC%2177...
Its blank. 3.(Magor Bug) In the begining of registration when we add a child, the column for writing "allergies" wont work 4. (Major Bug) In the main menu , the recent actives cant be scroll down to the very last activity. 5.(Magor Bug) The pictures added are not fit to the box. Its feels horrible to see. Thats I for Magor bugs.
.......i dont wanna mention the minor bugs. It might make me smash my phone on the ground. Its never gonna end in a comment. .........CONCLUTION......... I cant give suggestion because if I suggest, I will ask you to dump this app recreate this app in a new style without any bugs like this. WP Central, what were you thinking before you put this app on hidden gems. Have guys gone mad. Is this the app you said to be handpicked from the unknown apps for us. Shame.
You should come up with good apps and games that 'deserve' to be known to the world. Not this kind. At first, I didn't wanted to review this app. Hope the next on will be a good one. I will be waiting
Aahh, I got a head ache on reviewing this app. I am not kidding.
,,....

.............FIRST IMPRESSION @_@ ............... First of all, I wonder how this app got into the hidden gem section of WP Central, no offence. After using this app for a while, my first thought was " why would WP Central choose such a app into hidden gems? , Did they ran out of good worthy apps this quickly!!" . I am going to be honest to say that, this app never deserve to be on the hidden gem. This is more like a hidden rock. What I have to say about the app is mostly bad reviews than the good ones. Devolopers of this app,, " you really spoiled such a good idea of baby book on a windows phone. You could have done better than this. I think you didn't even tested the app on the phone before publishing it. Any way, I can suggest you to make this better" .
And to the WP Centre , " Did you guys atleast looked into the app clearly before posting it on hidden gems article!!?, I dont think so" . I will point out what are the things I felt good and bad about this app . .............WHAT I LIKED......... First lets start with the good things about the app.
* I got to say that this app is a unique one on windows phone cause I have never saw a baby book app on the windows phone ever. I congrats the developers and WP Central for bringing this idea forward to windows phone.
* This could help a very few parents who are very busy to take care of there baby. ..............WHY I HATE THIS APP.......... Yeah, since hidden gems comments needs to be honest and sincere, I am gonna say the truth is ' I hate this app'. I will tell you my reasons. And there are plenty more reasons which cannot be expressed on words. * First of all, I dont think many people are going to use this app. Cause who would write down when the baby sleeped, pissed, eated and all. Family members of a somewhat average family might note down, when the baby first talked, walked, like that...... But most of such average families dont have a smartphone like Lumia and all . If we are looking at above average and high status people, honestly they dont give a shit about what there kid did. So I find this app will only be used by some middle class people. But it didn't mean this app is useless. * Secondly, this app is very poorely build. It has lot of bugs on it. Which I will be mentioning on a seperate topic because there are a lot of them . I could write a book about the bugs of this app. *Thirdly, This app didn't make anyone the feel to use it. The background colour is white and the way things are arranged is boring. Totally , this app looks like a person who haven't bathed for his entire lifetime. !!!!..........BUGS..............!!! 1, (Major bug) In the options, if you select "solid", there is a major bug. " " is shown in the middle of nothing. Just a button in the screen. I have never seen such a bug in any apps. Se the bug here
https://onedrive.live.com/?cid=81E61E6FDC6C05BC&id=81E61E6FDC6C05BC%2177... 2.(Major Bug) Have you noticed the large live tile. If you didn't then check how worse can it be.
https://onedrive.live.com/?cid=81E61E6FDC6C05BC&id=81E61E6FDC6C05BC%2177...
Its blank. 3.(Magor Bug) In the begining of registration when we add a child, the column for writing "allergies" wont work 4. (Major Bug) In the main menu , the recent actives cant be scroll down to the very last activity. 5.(Magor Bug) The pictures added are not fit to the box. Its feels horrible to see. Thats I for Magor bugs.
.......i dont wanna mention the minor bugs. It might make me smash my phone on the ground. Its never gonna end in a comment. .........CONCLUTION......... I cant give suggestion because if I suggest, I will ask you to dump this app recreate this app in a new style without any bugs like this. WP Central, what were you thinking before you put this app on hidden gems. Have guys gone mad. Is this the app you said to be handpicked from the unknown apps for us. Shame.
You should come up with good apps and games that 'deserve' to be known to the world. Not this kind. At first, I didn't wanted to review this app. Hope the next on will be a good one. I will be waiting
Aahh, I got a head ache on reviewing this app. I am not kidding.
,,,.

.............FIRST IMPRESSION @_@ ............... First of all, I wonder how this app got into the hidden gem section of WP Central, no offence. After using this app for a while, my first thought was " why would WP Central choose such a app into hidden gems? , Did they ran out of good worthy apps this quickly!!" . I am going to be honest to say that, this app never deserve to be on the hidden gem. This is more like a hidden rock. What I have to say about the app is mostly bad reviews than the good ones. Devolopers of this app,, " you really spoiled such a good idea of baby book on a windows phone. You could have done better than this. I think you didn't even tested the app on the phone before publishing it. Any way, I can suggest you to make this better" .
And to the WP Centre , " Did you guys atleast looked into the app clearly before posting it on hidden gems article!!?, I dont think so" . I will point out what are the things I felt good and bad about this app . .............WHAT I LIKED......... First lets start with the good things about the app.
* I got to say that this app is a unique one on windows phone cause I have never saw a baby book app on the windows phone ever. I congrats the developers and WP Central for bringing this idea forward to windows phone.
* This could help a very few parents who are very busy to take care of there baby. ..............WHY I HATE THIS APP.......... Yeah, since hidden gems comments needs to be honest and sincere, I am gonna say the truth is ' I hate this app'. I will tell you my reasons. And there are plenty more reasons which cannot be expressed on words. * First of all, I dont think many people are going to use this app. Cause who would write down when the baby sleeped, pissed, eated and all. Family members of a somewhat average family might note down, when the baby first talked, walked, like that...... But most of such average families dont have a smartphone like Lumia and all . If we are looking at above average and high status people, honestly they dont give a shit about what there kid did. So I find this app will only be used by some middle class people. But it didn't mean this app is useless. * Secondly, this app is very poorely build. It has lot of bugs on it. Which I will be mentioning on a seperate topic because there are a lot of them . I could write a book about the bugs of this app. *Thirdly, This app didn't make anyone the feel to use it. The background colour is white and the way things are arranged is boring. Totally , this app looks like a person who haven't bathed for his entire lifetime. !!!!..........BUGS..............!!! 1, (Major bug) In the options, if you select "solid", there is a major bug. " " is shown in the middle of nothing. Just a button in the screen. I have never seen such a bug in any apps. Se the bug here
https://onedrive.live.com/?cid=81E61E6FDC6C05BC&id=81E61E6FDC6C05BC%2177... 2.(Major Bug) Have you noticed the large live tile. If you didn't then check how worse can it be.
https://onedrive.live.com/?cid=81E61E6FDC6C05BC&id=81E61E6FDC6C05BC%2177...
Its blank. 3.(Magor Bug) In the begining of registration when we add a child, the column for writing "allergies" wont work 4. (Major Bug) In the main menu , the recent actives cant be scroll down to the very last activity. 5.(Magor Bug) The pictures added are not fit to the box. Its feels horrible to see. Thats I for Magor bugs.
.......i dont wanna mention the minor bugs. It might make me smash my phone on the ground. Its never gonna end in a comment. .........CONCLUTION......... I cant give suggestion because if I suggest, I will ask you to dump this app recreate this app in a new style without any bugs like this. WP Central, what were you thinking before you put this app on hidden gems. Have guys gone mad. Is this the app you said to be handpicked from the unknown apps for us. Shame.
You should come up with good apps and games that 'deserve' to be known to the world. Not this kind. At first, I didn't wanted to review this app. Hope the next on will be a good one. I will be waiting
Aahh, I got a head ache on reviewing this app. I am not kidding.
,,,..

.............FIRST IMPRESSION @_@ ............... First of all, I wonder how this app got into the hidden gem section of WP Central, no offence. After using this app for a while, my first thought was " why would WP Central choose such a app into hidden gems? , Did they ran out of good worthy apps this quickly!!" . I am going to be honest to say that, this app never deserve to be on the hidden gem. This is more like a hidden rock. What I have to say about the app is mostly bad reviews than the good ones. Devolopers of this app,, " you really spoiled such a good idea of baby book on a windows phone. You could have done better than this. I think you didn't even tested the app on the phone before publishing it. Any way, I can suggest you to make this better" .
And to the WP Centre , " Did you guys atleast looked into the app clearly before posting it on hidden gems article!!?, I dont think so" . I will point out what are the things I felt good and bad about this app . .............WHAT I LIKED......... First lets start with the good things about the app.
* I got to say that this app is a unique one on windows phone cause I have never saw a baby book app on the windows phone ever. I congrats the developers and WP Central for bringing this idea forward to windows phone.
* This could help a very few parents who are very busy to take care of there baby. ..............WHY I HATE THIS APP.......... Yeah, since hidden gems comments needs to be honest and sincere, I am gonna say the truth is ' I hate this app'. I will tell you my reasons. And there are plenty more reasons which cannot be expressed on words. * First of all, I dont think many people are going to use this app. Cause who would write down when the baby sleeped, pissed, eated and all. Family members of a somewhat average family might note down, when the baby first talked, walked, like that...... But most of such average families dont have a smartphone like Lumia and all . If we are looking at above average and high status people, honestly they dont give a shit about what there kid did. So I find this app will only be used by some middle class people. But it didn't mean this app is useless. * Secondly, this app is very poorely build. It has lot of bugs on it. Which I will be mentioning on a seperate topic because there are a lot of them . I could write a book about the bugs of this app. *Thirdly, This app didn't make anyone the feel to use it. The background colour is white and the way things are arranged is boring. Totally , this app looks like a person who haven't bathed for his entire lifetime. !!!!..........BUGS..............!!! 1, (Major bug) In the options, if you select "solid", there is a major bug. " " is shown in the middle of nothing. Just a button in the screen. I have never seen such a bug in any apps. Se the bug here
https://onedrive.live.com/?cid=81E61E6FDC6C05BC&id=81E61E6FDC6C05BC%2177... 2.(Major Bug) Have you noticed the large live tile. If you didn't then check how worse can it be.
https://onedrive.live.com/?cid=81E61E6FDC6C05BC&id=81E61E6FDC6C05BC%2177...
Its blank. 3.(Magor Bug) In the begining of registration when we add a child, the column for writing "allergies" wont work 4. (Major Bug) In the main menu , the recent actives cant be scroll down to the very last activity. 5.(Magor Bug) The pictures added are not fit to the box. Its feels horrible to see. Thats I for Magor bugs.
.......i dont wanna mention the minor bugs. It might make me smash my phone on the ground. Its never gonna end in a comment. .........CONCLUTION......... I cant give suggestion because if I suggest, I will ask you to dump this app recreate this app in a new style without any bugs like this. WP Central, what were you thinking before you put this app on hidden gems. Have guys gone mad. Is this the app you said to be handpicked from the unknown apps for us. Shame.
You should come up with good apps and games that 'deserve' to be known to the world. Not this kind. At first, I didn't wanted to review this app. Hope the next on will be a good one. I will be waiting
Aahh, I got a head ache on reviewing this app. I am not kidding.
,,,...

.............FIRST IMPRESSION @_@ ............... First of all, I wonder how this app got into the hidden gem section of WP Central, no offence. After using this app for a while, my first thought was " why would WP Central choose such a app into hidden gems? , Did they ran out of good worthy apps this quickly!!" . I am going to be honest to say that, this app never deserve to be on the hidden gem. This is more like a hidden rock. What I have to say about the app is mostly bad reviews than the good ones. Devolopers of this app,, " you really spoiled such a good idea of baby book on a windows phone. You could have done better than this. I think you didn't even tested the app on the phone before publishing it. Any way, I can suggest you to make this better" .
And to the WP Centre , " Did you guys atleast looked into the app clearly before posting it on hidden gems article!!?, I dont think so" . I will point out what are the things I felt good and bad about this app . .............WHAT I LIKED......... First lets start with the good things about the app.
* I got to say that this app is a unique one on windows phone cause I have never saw a baby book app on the windows phone ever. I congrats the developers and WP Central for bringing this idea forward to windows phone.
* This could help a very few parents who are very busy to take care of there baby. ..............WHY I HATE THIS APP.......... Yeah, since hidden gems comments needs to be honest and sincere, I am gonna say the truth is ' I hate this app'. I will tell you my reasons. And there are plenty more reasons which cannot be expressed on words. * First of all, I dont think many people are going to use this app. Cause who would write down when the baby sleeped, pissed, eated and all. Family members of a somewhat average family might note down, when the baby first talked, walked, like that...... But most of such average families dont have a smartphone like Lumia and all . If we are looking at above average and high status people, honestly they dont give a shit about what there kid did. So I find this app will only be used by some middle class people. But it didn't mean this app is useless. * Secondly, this app is very poorely build. It has lot of bugs on it. Which I will be mentioning on a seperate topic because there are a lot of them . I could write a book about the bugs of this app. *Thirdly, This app didn't make anyone the feel to use it. The background colour is white and the way things are arranged is boring. Totally , this app looks like a person who haven't bathed for his entire lifetime. !!!!..........BUGS..............!!! 1, (Major bug) In the options, if you select "solid", there is a major bug. " " is shown in the middle of nothing. Just a button in the screen. I have never seen such a bug in any apps. Se the bug here
https://onedrive.live.com/?cid=81E61E6FDC6C05BC&id=81E61E6FDC6C05BC%2177... 2.(Major Bug) Have you noticed the large live tile. If you didn't then check how worse can it be.
https://onedrive.live.com/?cid=81E61E6FDC6C05BC&id=81E61E6FDC6C05BC%2177...
Its blank. 3.(Magor Bug) In the begining of registration when we add a child, the column for writing "allergies" wont work 4. (Major Bug) In the main menu , the recent actives cant be scroll down to the very last activity. 5.(Magor Bug) The pictures added are not fit to the box. Its feels horrible to see. Thats I for Magor bugs.
.......i dont wanna mention the minor bugs. It might make me smash my phone on the ground. Its never gonna end in a comment. .........CONCLUTION......... I cant give suggestion because if I suggest, I will ask you to dump this app recreate this app in a new style without any bugs like this. WP Central, what were you thinking before you put this app on hidden gems. Have guys gone mad. Is this the app you said to be handpicked from the unknown apps for us. Shame.
You should come up with good apps and games that 'deserve' to be known to the world. Not this kind. At first, I didn't wanted to review this app. Hope the next on will be a good one. I will be waiting
Aahh, I got a head ache on reviewing this app. I am not kidding.
,,,,.

.............FIRST IMPRESSION @_@ ............... First of all, I wonder how this app got into the hidden gem section of WP Central, no offence. After using this app for a while, my first thought was " why would WP Central choose such a app into hidden gems? , Did they ran out of good worthy apps this quickly!!" . I am going to be honest to say that, this app never deserve to be on the hidden gem. This is more like a hidden rock. What I have to say about the app is mostly bad reviews than the good ones. Devolopers of this app,, " you really spoiled such a good idea of baby book on a windows phone. You could have done better than this. I think you didn't even tested the app on the phone before publishing it. Any way, I can suggest you to make this better" .
And to the WP Centre , " Did you guys atleast looked into the app clearly before posting it on hidden gems article!!?, I dont think so" . I will point out what are the things I felt good and bad about this app . .............WHAT I LIKED......... First lets start with the good things about the app.
* I got to say that this app is a unique one on windows phone cause I have never saw a baby book app on the windows phone ever. I congrats the developers and WP Central for bringing this idea forward to windows phone.
* This could help a very few parents who are very busy to take care of there baby. ..............WHY I HATE THIS APP.......... Yeah, since hidden gems comments needs to be honest and sincere, I am gonna say the truth is ' I hate this app'. I will tell you my reasons. And there are plenty more reasons which cannot be expressed on words. * First of all, I dont think many people are going to use this app. Cause who would write down when the baby sleeped, pissed, eated and all. Family members of a somewhat average family might note down, when the baby first talked, walked, like that...... But most of such average families dont have a smartphone like Lumia and all . If we are looking at above average and high status people, honestly they dont give a shit about what there kid did. So I find this app will only be used by some middle class people. But it didn't mean this app is useless. * Secondly, this app is very poorely build. It has lot of bugs on it. Which I will be mentioning on a seperate topic because there are a lot of them . I could write a book about the bugs of this app. *Thirdly, This app didn't make anyone the feel to use it. The background colour is white and the way things are arranged is boring. Totally , this app looks like a person who haven't bathed for his entire lifetime. !!!!..........BUGS..............!!! 1, (Major bug) In the options, if you select "solid", there is a major bug. " " is shown in the middle of nothing. Just a button in the screen. I have never seen such a bug in any apps. Se the bug here
https://onedrive.live.com/?cid=81E61E6FDC6C05BC&id=81E61E6FDC6C05BC%2177... 2.(Major Bug) Have you noticed the large live tile. If you didn't then check how worse can it be.
https://onedrive.live.com/?cid=81E61E6FDC6C05BC&id=81E61E6FDC6C05BC%2177...
Its blank. 3.(Magor Bug) In the begining of registration when we add a child, the column for writing "allergies" wont work 4. (Major Bug) In the main menu , the recent actives cant be scroll down to the very last activity. 5.(Magor Bug) The pictures added are not fit to the box. Its feels horrible to see. Thats I for Magor bugs.
.......i dont wanna mention the minor bugs. It might make me smash my phone on the ground. Its never gonna end in a comment. .........CONCLUTION......... I cant give suggestion because if I suggest, I will ask you to dump this app recreate this app in a new style without any bugs like this. WP Central, what were you thinking before you put this app on hidden gems. Have guys gone mad. Is this the app you said to be handpicked from the unknown apps for us. Shame.
You should come up with good apps and games that 'deserve' to be known to the world. Not this kind. At first, I didn't wanted to review this app. Hope the next on will be a good one. I will be waiting
Aahh, I got a head ache on reviewing this app. I am not kidding.
,,,,..

.............FIRST IMPRESSION @_@ ............... First of all, I wonder how this app got into the hidden gem section of WP Central, no offence. After using this app for a while, my first thought was " why would WP Central choose such a app into hidden gems? , Did they ran out of good worthy apps this quickly!!" . I am going to be honest to say that, this app never deserve to be on the hidden gem. This is more like a hidden rock. What I have to say about the app is mostly bad reviews than the good ones. Devolopers of this app,, " you really spoiled such a good idea of baby book on a windows phone. You could have done better than this. I think you didn't even tested the app on the phone before publishing it. Any way, I can suggest you to make this better" .
And to the WP Centre , " Did you guys atleast looked into the app clearly before posting it on hidden gems article!!?, I dont think so" . I will point out what are the things I felt good and bad about this app . .............WHAT I LIKED......... First lets start with the good things about the app.
* I got to say that this app is a unique one on windows phone cause I have never saw a baby book app on the windows phone ever. I congrats the developers and WP Central for bringing this idea forward to windows phone.
* This could help a very few parents who are very busy to take care of there baby. ..............WHY I HATE THIS APP.......... Yeah, since hidden gems comments needs to be honest and sincere, I am gonna say the truth is ' I hate this app'. I will tell you my reasons. And there are plenty more reasons which cannot be expressed on words. * First of all, I dont think many people are going to use this app. Cause who would write down when the baby sleeped, pissed, eated and all. Family members of a somewhat average family might note down, when the baby first talked, walked, like that...... But most of such average families dont have a smartphone like Lumia and all . If we are looking at above average and high status people, honestly they dont give a shit about what there kid did. So I find this app will only be used by some middle class people. But it didn't mean this app is useless. * Secondly, this app is very poorely build. It has lot of bugs on it. Which I will be mentioning on a seperate topic because there are a lot of them . I could write a book about the bugs of this app. *Thirdly, This app didn't make anyone the feel to use it. The background colour is white and the way things are arranged is boring. Totally , this app looks like a person who haven't bathed for his entire lifetime. !!!!..........BUGS..............!!! 1, (Major bug) In the options, if you select "solid", there is a major bug. " " is shown in the middle of nothing. Just a button in the screen. I have never seen such a bug in any apps. Se the bug here
https://onedrive.live.com/?cid=81E61E6FDC6C05BC&id=81E61E6FDC6C05BC%2177... 2.(Major Bug) Have you noticed the large live tile. If you didn't then check how worse can it be.
https://onedrive.live.com/?cid=81E61E6FDC6C05BC&id=81E61E6FDC6C05BC%2177...
Its blank. 3.(Magor Bug) In the begining of registration when we add a child, the column for writing "allergies" wont work 4. (Major Bug) In the main menu , the recent actives cant be scroll down to the very last activity. 5.(Magor Bug) The pictures added are not fit to the box. Its feels horrible to see. Thats I for Magor bugs.
.......i dont wanna mention the minor bugs. It might make me smash my phone on the ground. Its never gonna end in a comment. .........CONCLUTION......... I cant give suggestion because if I suggest, I will ask you to dump this app recreate this app in a new style without any bugs like this. WP Central, what were you thinking before you put this app on hidden gems. Have guys gone mad. Is this the app you said to be handpicked from the unknown apps for us. Shame.
You should come up with good apps and games that 'deserve' to be known to the world. Not this kind. At first, I didn't wanted to review this app. Hope the next on will be a good one. I will be waiting
Aahh, I got a head ache on reviewing this app. I am not kidding.
,,,,,.

I want to use that app, but i don't want to be a father yet.

I had no idea people tracked their baby's moods, diapers, and sleep. Seems a bit excessive and makes me gald I'm still a bachlor. Good app I'll recommend to a few friends.

I see that this has been brought up by a few people already, but I think it would be a good idea to add Cortana support for this app. Considering how much physical interaction babies require, any way to input this information while minimizing physical interactions with your phone would be imensely helpful.

I don't have children (yet), still tried the app. It's smooth and fast but I had some crashes. Nevertheless, a lot of things are covered with plenty of options. I like the cross-platfom-abilities. Think the livetile can be improved.

As I'm without offspring at this point, this app has limited utility for me. It does seem to be more applicable to those families located in urban centres where parents are more likely absent from their child due to other commitments, and so caregivers are required, etc. The continual feed of information on the child's every action seems a little overkill, but I'm sure that it will find fans with some parents.

This app is targeting a certain group of people: Parents. As someone who is not married yet, i have no use for the app though it may be useful once i become a parent. I dont find the design/UI of the app attractive. The app should be coulorful enough to appeal to the user. I myself dislike the app been too much white.