The Badoo dating app is back for Windows 10 Mobile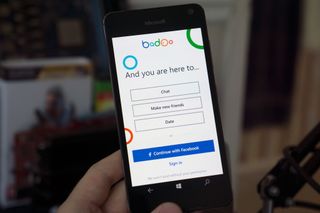 The Windows 10 Mobile version of the popular Badoo dating and social app is back in the Windows Store after being removed a few days ago.
Badoo never offered any specific reason for removing the Windows 10 Mobile version of the app from the store, but we would assume that there was some bug that was bad enough to take it down for a few days to fix it. Badoo actually uses the Windows Phone platform to test new features with its audience that can then be added to the Android and iOS versions.
See Badoo in the Windows Store (opens in new tab)
Windows Central Newsletter
Get the best of Windows Central in your inbox, every day!
There are so few of us using Windows phone whish more developers would use us as Guinea pigs.

Yes, even though we hope W10M will gain market share It's still mind boggling when we see developers decide to support our own platform. Lol. Almost like "wow, you're brave. Good luck with that, but thanks!""

Hanging on the edge of the cliff with two fingers,,,, with a death grip.

Definition of anxiety: Hanging on to the Edge of a cliff with one hand while holding a Win10Mo Lumia in the other hand... And the phone freezes.

Why would a phone be of any importance when you're literally at the edge of your death? This is like, you saying that you're running short on fuel in your jetpack when you've reached the event horizon (of a black hole).

Gotta post that Snapchat hanging there... oh.

Or, going into the black hole your phased out Lumia runs out of battery as you look at it, and scream "NOOOOOO",, while stretched into infinity... Lol

That was fast, cool. Posted via the Windows Central App for Android

WC should post their complete statement. They say that although only 3% of their users are from windows, it translates into hundreds of thousands of users. If this company can understand that, I don't get it why others don't.

Everyone understands. But quoting a percentage makes it look worse than actual numbers.

They did post it a few days ago.

Still only seeing the Win 8.1 version in the store. Whenever I don't see a download link in the app that's usually the case. Weird.

Interesting approach to test features. Appreciate it though. Posted via the Windows Central App for Android

Still haven't gotten laid with this yet, and I'm not too bad looking lol..