Baldur's Gate III PC preview: The sequel you've been waiting for, virtual dice and all
Baldur's Gate III is already an engaging and expansive experience.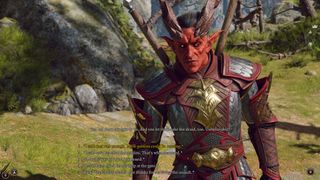 (Image credit: Larian Studios)
On Monday, I went to New York to preview Baldur's Gate III from Larian Studios. Larian has worked on a number of amazing games like Divinity: Original Sin and Divinity: Original Sin II. The team has brought all of its experience to Baldur's Gate III because not only does it feature complex, strategic gameplay, but the story might be one of the most intriguing I've ever come across.
Baldur's Gate III setting and story
Baldur's Gate III starts off with your character getting "tadpoled." While the beginning is similar to the previous Baldur's Gate games, this tadpole seems to be different. The infection doesn't progress as fast and the mysterious figure that infected you promised to make you into a "beautiful weapon." The presentation focused on this initial mystery, but I suspect there are greater forces at play here. I can't wait to see where the story takes us this time around.
The main difference – aside from better visuals and storytelling – from Larian's previous projects is that Baldur's Gate III features a lot of verticality. Instead of roaming a mostly flat map with some raised platforms, entire areas are hidden on various levels. For example, the lowest level of a camp might hold a secret dungeon, the rafters and main level are where the story mission takes place, and the highest level may house an interesting weapon. The game rewards exploration greatly from my understanding.
Baldur's Gate III gameplay and moves
The most important lesson I learned while watching the gameplay presentation for a couple of hours was that it's important to stick together. Even though in single-player or multiplayer you can split your party up and roam opposite ends of the map, it will end in disaster because every combat scenario features hordes of enemies. There's no way you can take on a mini-boss and his minions on you own. This is why it's important to stick together, even though it's tempting to split apart to cover more ground and explore everything Baldur's Gate III has to offer. Try to find higher ground and knock enemies off ledges since it's a bonus action.
Going back to the discussion of verticality, entering "Stealth Mode" and positioning your team around the room is the best way to achieve success in combat. For example, one teammate can climb the rafters and use a bow on enemies. The other two can flank both directions. The final companion can perhaps charge into battle and distract the mini-boss while the others pick off his followers. The choice is yours, but having the element of surprise is the key of success. Try to also have an even distribution of melee and ranged characters, because enemies do a lot of damage and your archers and wizards go down fast.
Environmental interactions have also been heightened in Baldur's Gate III. The handy "superhero jump" mechanic makes it possible to reach greater heights or secret ledges, but you can always stack boxes into makeshift stairs to do the same. You still need to solve puzzles like the Divinity: Original Sin series by placing vases on hidden plates, but there's so much more to do this time around. Always think about what could be above you and try to reach those areas.
Baldur's Gate III dice rolls and unpredictability
The greatest addition to Baldur's Gate III is the virtual Dungeons & Dragons dice in my opinion. Let's say that you have to do a "Perception" or "Charisma" action, you'll be required to roll a virtual dice. The game focuses on the Dungeons & Dragons: 5th Edition ruleset, If the number is larger than the requirement, then the action will be successful, if not, you'll have to either find another way to get information or fight. The figure you have to roll is determined by who your character is as well as other factors. There's a lot of chance involved so always have a backup plan because an interaction could go south at any time.
You can choose a premade hero who has his or her own story, but you can also make a random one. The presentation focused on a vampire who was given special abilities after being tadpoled. It's up to you if you want to go on a path of redemption or pure evil. However, you may lose companions depending on your actions. Luckily, there are a lot of them and it seems like you can only have three in your party. If you go with a pre-made character, you'll also get special cutscenes and other details about them when you rest at camp.
Baldur's Gate III new technology
On the surface, Baldur's Gate III looks similar to Divinity: Original Sin II, but the visuals have received a significant overhaul. Larian is using photogrammetry to achieve realism in this game, a first for the studio. While the basic gameplay remains the same, around 80 percent of the engine has been overhauled to support the added ambition of the title.
Baldur's Gate III is expected to join early access in 2020. So far, it's been confirmed for Google Stadia and PC, but speaking with Executive Producer David Walgrave after the presentation, it was clear that the team wants to bring the game to as many people as possible. It's definitely not a Stadia exclusive so hopefully, it'll come to Xbox Series X and PlayStation 5.
Baldur's Gate III work in progress
Baldur's Gate III still needs a lot of work, but from what I saw, it was already quite polished. It just needs more work in terms of performance, hitboxes, and animations. The game appears to be quite an expansive experience because Walgrave added that Larian wants it to be around the length of Divinity: Original Sin II. While the story may be around 60 hours or longer, we all know that Divinity: Original Sin II takes over 100 hours to complete properly – if you explore every corner – and there's a lot of replayability due to the various classes.
If you want to learn more about the game, be sure to check out the interview between myself and Walgrave. We discuss the game's design philosophies, how the team handled the legacy of such an important franchise, and what are some of the hopes from next-generation consoles. The answers may surprise you.
Image 1 of 11
Play more games
It'll last you a couple of months

Xbox Game Pass gives you access to almost 300 games for one monthly fee. Xbox Game Pass Ultimate also adds Xbox Live Gold to the package so you can play online with your friends.
The preview event was sponsored by the developer.
Get the Windows Central Newsletter
All the latest news, reviews, and guides for Windows and Xbox diehards.
Asher Madan handles gaming news for Windows Central. Before joining Windows Central in 2017, Asher worked for a number of different gaming outlets. He has a background in medical science and is passionate about all forms of entertainment, cooking, and antiquing.