Ball 3D lands on Windows Phone after millions of downloads on Android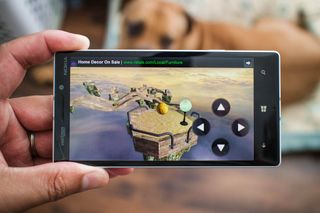 Popular Android game, Balance 3D, has just been ported over to Windows Phone. It boasts 10-50 million downloads from the Google Play store, and now it's over at the Windows Phone Store as Ball 3D. It's a fully 3D game in which you go through mazes with unstable places, and unpredictable gravity.
We've installed it on our Nokia Lumia 930. Watch the gameplay video to see if it's worth your time.
The goal is simple. Look for the end of each level without falling off. Navigate the ball through narrow paths, tubes, and other pathways. There are different ways to control the ball. Experiment with each one to see which is most comfortable for you.
Arrows on the right to move and swipe on the screen to drag camera view.
Arrows on the right to move and joystick on the left to drag camera view.
Tilt phone to move and swipe on the screen to drag camera view.
Joystick on both sides of the screen. Left side to drag camera, right side to move.
After experimenting with the controls, we are most comfortable with the default one, which is arrows to the right, and drag anywhere else on the screen to move the camera. You can also change the size of the arrows. There's a slider in the settings. We've made it a little bigger, which makes it a little easier to control the ball.
Ball 3D can be played in portrait or landscape mode. We appreciate having these options, but we mostly play in landscape view.
We have one major complaint for Ball 3D. There's no sound or music. Perhaps that will be added in an update.
Ball 3D is a free download from the Windows Phone Store. There are currently 31 levels, but more will be added. Check it out and let us know what you think in the comments.
Get the Windows Central Newsletter
All the latest news, reviews, and guides for Windows and Xbox diehards.