Banish the quarantine malaise with this daily dose of good news for April 2
Take a break from the world and embrace the good.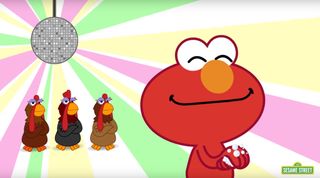 (Image credit: Sesame Street)
Let's face it: We could all use a little break from most of the news dominating headlines right about now. That's especially true if you're stuck inside while social distancing. So, we've decided to round up some of the better headlines from around the web, tech or otherwise, to hopefully cap off your day with a smile.
We'll be doing these posts daily for the foreseeable future, so there's more to come. Also make sure you check out the end for an extra dose of fluffy goodness.
A pandemic can't stop love
Even in the midst of stay-at-home orders and quarantines, couples are still finding a way to say "I do." The Verge has a great write-up on how couples are working around social distancing — the phrase of the year — to get married with a little help from Zoom. Yes, Zoom weddings are now a thing.
You can't stop true love.
Need something to watch? HBO is full of freebies
Let's be honest: We're all watching a little more TV than usual (it's okay, let loose!). But if you're running short on your to-watch list, HBO has made a ton of shows, movies, and documentaries from its roster free to stream on HBO GO and HBO NOW, reports TechCrunch. We're talking heavy hitters like all seven seasons of The Sopranos, along with Veep, The Wire, and Barry.
Personally, I could use a laugh, so I'll be diving back into Silicon Valley. Highly recommend it.
Instacart is providing safety kits for its shoppers
It may have taken a strike to get here, but Instacart announced today that it will provide health and safety kits to its full-service shoppers, CNBC reports. What's inside? A reusable face mask, hand sanitizer, and a thermometer. Instacart shoppers can request kits starting next week.
We're all trying to be as safe as we can, and more people are ordering groceries online as a result. In this climate, it's more important than ever for the workers filling those orders to stay as protected as possible. Good on Instacart for this move.
Sesame Street gets down with PSAs for your tots
With everything in flux, from schools canceling classes to parents working from home, kids may be having a tough time absorbing what's going on. Thankfully, Sesame Street has stepped up to help parents out in the most important area: staying clean and healthy.
The folks behind Sesame Street have uploaded some catchy tunes to YouTube to help kids remember to wash their hands with a little help from Elmo and the gang. There's also Sesame Street's Caring for Each Other initiative, which includes learning activites to keep kids occupied and a whole lot more.
Pets of the day
To cap off this little feel-good post each day, we're going to highlight some cute and cuddly critters from the Windows Central crew and our readers. If you'd like to show off your Very Good Boy or Girl with the rest of the community, tweet to us at the Windows Central Twitter account with a picture of your pet and its name, and we'll include them in these posts. All cats, dogs, reptiles, amphibians, and fish are welcome.
Today, we've got some fluffers from the Windows Central family. Bruce and Charlie are enjoying their first hint of fresh, outside air in months, while Amos is judging everyone who dares look his way.
Image 1 of 2