Baseball fans: At Bat 13, the official app for MLB, is now available for Windows Phone 8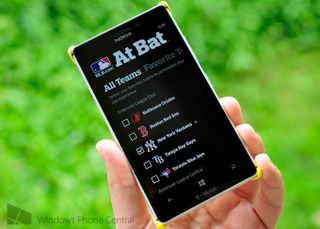 Great news for those who watch America's favorite pastime, aka Major League Baseball (MLB), as their official app for the 2013 season is now available for free download. The app is of course limited to Windows Phone 8, as far as we can tell, but that should not be a surprise considering how much easier it is to develop for.
The app itself has a nice redesign and is chock full of features, allowing even the most devoted baseball fan to be content.
Features included for At Bat 13:
Watch the free MLB.TV Game of the Day or access your MLB.TV Premium subscription to watch every out-of-market game
MLB.TV Premium subscribers can access archives from the 2013 seasons on-demand
Home and away radio broadcasts
Live scoreboard, standings, and schedules
Pin your favorite teams to the Start screen to directly access their team page
Live Tiles display daily match ups
Closed captioning availability for live video
Our baseball guru, George is out catching bad guys today, so we can't vouch for this new version of the app. Luckily there's a reason why the dev gods created comments, so that you can share your thoughts with others, so go right ahead and do that below.
Pick up At Bat 13, the official app of MLB, here in the Store. Free, Windows Phone 8 only. Thanks, Brian P., and others for the tips!
Windows Central Newsletter
Get the best of Windows Central in in your inbox, every day!
Daniel Rubino is the Editor-in-chief of Windows Central, head reviewer, podcast co-host, and analyst. He has been covering Microsoft since 2007 when this site was called WMExperts (and later Windows Phone Central). His interests include Windows, laptops, next-gen computing, and for some reason, watches. Before all this tech stuff, he worked on a Ph.D. in linguistics, watched people sleep (for medical purposes!), and ran the projectors at movie theaters because it was fun.
YES!!!!!!
WP is for real now. :-) Okay...someone help me out here. I can't find the "News" section. Normally there is one for all of MLB and one for your favorite teams. I can't find any News in the app at all. The Favoite Team live tile only does small and medium but the pin to start from the main app live tile does wide. The live tile from the pin to start cycles through today's matchups in medium size and wide size. So far, the favorite team tile only flips between team's logo and a blank team name with at bat 13 on the bottom. That could change if/when there is a game. I might try it with a game in progress to see.

Yeah 1 more apps off the haters list , we gonna get to they point the won't have apps in their list lol

Seriously this is a big app for the platform! Now if we could just get HBO-GO and WWE apps I could convert 3 of my friends...

We have the WWE app HBO-Go is missing

No, we don't have the WWE app... it is HORRIBLY buggy and lacking in functionality and completely lacks the WWE Active features. It hasn't been updated in over 6 months.

WWE? Wouldn't it just be better to find friends that don't watch fake wrestling?

Think of it as reality TV for men. I don't like it whatsoever, but if women like reality TV so much, there must be a noteworthy niche of WWE fans, right?

Dudes climbing all over each other in skimpy man-thongs is not my idea of reality TV for men. But that's me.

It's not about whether you like the WWE or not. It's about how it's missing from WP app store! It makes me mad when I'm watching RAW and my friends say "hey why isn't your crappy phone have the app?"

Ayee #teamdominican con #windowsphone

I know it sucks to use two apps, but try Baseball Live. It's probably the best baseball app I've ever used and it has a pretty good news section.

Anyone know how to get to the audio for the games in this version of MLB AT Bat? I cant find it.

For the audio, find a live game and click on it. On the bottome there will be a little TV and Headphones.

Noticed lack of news too, so I am using Bing Sports with MLB At Bat. Therefore I can use my MLB.TV Subscription while also having a high quality sports news/pbp/standings app.

About time.....hopefully At Bat 14 is there at the start of the season next year.

That's what they say every year, and then they make us wait until just about when the season is almost over to release the effin app. God I hate and love them.

NFL Mobile is on it's way! They said they're polishing it up at the moment but it's pretty much ready for release!

I've had NFL Mobile for months.

Non-Verizon devices, derp

Hey Dan link isn't working...

I know, just rubbing it in.

Store link? I don't have a VZ device, but want to see a few screenshots.

And only 5 or so months after the beginning of baseball spring & the release of the iOS & Android versions. Great job MLB Media!

Won't even touch the no WP7 version issue...

At least it's free this year instead of $12.99.

May or may not get this one, I'm loving the new Bing Sports app so much! :)

I just loaded Bing Sports today; I'll compare to At Bat and see which one is better.

Use both, I use at bat for my MLBTV subscription and audio. Bing Sports for anything else.

Yes! Just in time for it to be irrelevant!

umm, no its not irrelevant...there's still three months of baseball left

It's over for most fans of teams.

Even though I never use this app as an Indian, I am really happy when windows phone gets the popular apps.
Last 2 days are great for WP fans on the app front.

Is it illegal to watch baseball as an Indian?

I thought he was a member of the cleveland indians.....

What nationality do you use this app as?

At Bat & Wells Fargo have been two of the most mentioned missing apps here in recent months... Now they are both here this week, combined with the awesome Bing apps.
Who says no one's listening?
WP8 on a roll!

About time... A little late in the season to capitalize on the cost of premium content.

But many people have already subscribed to the premium content for other devices and now can also play that on WP8.

Also, the price is now only $50 for the rest of the year. It started out at over $120, I believe.

I think we are seeing all the major apps in development being released, gdr3 will force even more organizations to provide apps, this is great news

Will this track banned players?

Nice app! Too bad I don't like baseball.

Won't use it, but I love seeing all the "official" stuff lately! We're growin'!

This. Is it also available in other countries outside US? It will be great.

Works fine in Norway, which was a pleasant surprise!

Nice. Hope we get NHL Gamecenter soon.

Finally! Took them long enough!

Anybody else having trouble streaming games? I'm just getting a black screen....

Exactly. I logged in to ask the same thing. I'm able to stream the game from yesterday on my L1020 by one of the live games today is just a black screen... All there live games currently uinderway get the same black screen result..



Phillies and Pirates games work for me. The Mets does not work.

Are you on WIFI? I'm not at this time and can't get any of the live games to stream... I wonder if I need to be on wifi?
I was able to get all three live games to work via audio only..
Streaming works ok via my cell connection for an archived game I tried... Odd. Odd

No wifi for me. Just ATT LTE. Is your metered connection turned on or off in settings. Mine is off, the default. I would think your archived games wouldn't work though...
You do have a premium account, right?

Yep. I have a premuim account. Still no luck with all three of the live games.

Now waiting for NFL Mobile

Lots of people want this app! Great for the platform!

MLB beat NFL are you kidding! Way to go At Bat Dev Team!

Nope. NFL Mobile has been a Verizon exclusive for quite a while.

Tried it, logged in my Premium sub for mlb.com, works perfect! Is there "everything" that other versions have... no, but the most important things (live video and audio!) are there! Very happy.

IVE BEEN WAITING SOOOO LONG FOR THIS. IM SO HAPPY! I remember At Bat 11 and it was a little rough, hopefully this is better!

Give me NBA app..
And a phablet please***

Between At Bat, NFL Mobile, NASCAR Mobile and the Bing Sports app... ESPN Scorecenter is about to get the boot, its been nothing but disappointing and problematic from the start anyway.

If the Bing Sports app would send me game update toasts, I'd delete it. I'm wondering if At Bat will send game notifications.

Waited for this all summer. DEVELOPERS ARE REALLY HITTING ALL THE MISSING APPS LATELY. Excellent stuff!

Waited all year for this?! Can't believe it took them this long, being that they were on the Windows Phone platform from day one.

I am really happy they have this. I have a mlb.tv subscription and watch games on my comp and tv (roku), but it will be nice to watch on the go. This is definitely a milestone app for WP. 1 Billion app downloads in 6 months is nothing to sneeze at, and I think devs/companies are starting to really take notice.

FINALLY! And, the best thing? If you have MLB Audio you can sign into your MLB account and actually USE it! I'd get so pissed at the Android offering that tried to make me pay twice...
I can fall asleep listening to Rangers games when they are on the west coast now! And, I now don't have to play the 'did they flip the switch' game with TuneIN Radio. Sometimes you'd get in the clear, sometimes you wouldn't.. now, it doesn't matter!

I might end up canceling my XM radio subscription now. I I only got it for mlb in the car since this app was not out for WP.

I have been waiting for this. Now I just want amazon cloud player.

Well,
I must say, I'm glad they changed this to "Free." and then let it use your MLB subscription.
On the WP7 you had to pay for the app itself (which then came with the games) even if you already had an MLB subscription.

Although being releasted halfway into the baseball season does suck, but hopefully it'll come out earlier next year.

It doesn't have the Gameday pitch-by-pitch tracking that other versions have, but this is a huge improvement from last year.

Hopefully, by Opening Day next year, it'll be completely caught up with other versions (and come out on time).

Yeah...i was waiting for this so long...and now it's HERE....i don't remember how many emails I send to MLB about windows phone app.

I peppered them with e-mails as well. Hopefully it made a difference.

Nice! Hopefully it performs better than the Windows 8 version that has been left for dead.

Yeah, that one is a disaster. It doesn't have the "At Bat" branding though like this does, so I'd think that this will be better supported.

Not into Baseball. Might be after this. Really nice app

Too bad they already lost me as a potential customer this season. I was considering getting the premium service this season, but hey had no Windows Phone app. Here's hoping they can get the darned thing launched before the season starts next season--I might subscribe if they do.

Well...I am assuming you still like baseball so...the premium service is cheaper now then it was at the start of the season...

Yeah, and there is less baseball to watch to go with that. Their unwillingness to publish an app to start the season means that they don't get my money for this season. As a Cubs fan, I don't really care to watch every other important game when my team's not worth watching...

Between this app, Bing Sports and upcoming NFL Live app - The sports fan aspect of me is set.
My list of missing apps -
1. AmericanExpress
2. RetailMeNot
3. A better GoogleVoice app or improvements to MetroTalk app I am using today.

Ehh, that Bing Sports apps kind of sucks. The layout's awesome and all, but that they link you to MSN sports from the app is garbage, as that site sucks. I wish they'd have a built-in browser for individual games.

I agree, needs to have more in app content instead of links to websites.

This is awesome. Its noteworthy that this is the first time that the WP version of atbat has had live games

This is HUGE for me. I've been waiting for this app on WP8 since inception. Now down to only one app that I desperately need, Sportacular. This version of At Bat looks nice, but still seems to fall short of the iOS/Android version. Here's to hoping next year is more feature-rich and on par with other platforms.

Wish it had a better live tile. needs scores!!!! Or at least your favorite team score...maybe standings!

My 2 cents after playing with this for 15 minutes (I've been waiting for this to come back all year):
- No settings for alerts
- If you click on a game in process it doesn't have a gameday pitch by pitch option where it shows you the strike zone and what's going on
- It's opens quick and runs fairly smooth
- Videos load fast over wi-fi and play with high quality
- Live tile doesn't appear to show scores
Overall it's really nice but it just needs a couple more features. Just adding the alerts and gameday would almost make this a 5 star app since that would essentially bring it on par with iOS and Android. After not liking it for a while ESPN actually works really well for me. I get near instant score alerts, the live tile updates well enough, and their gameday is pretty quick and has a lot of features. I'm still waiting for a sports app that will allow you to pin multiple games to your homescreen. For those of us who like multiple sports it would be nice to have your basketball, baseball, and football teams all pinned to the homescreen showing score updates.

Not sure what I can say beyong holy s***!
I never expected this to show up. Hopefully "limited time" on the gameday audio means the rest of the season.
And hopefully next year's app will show up before opening day!

The only app I was still waiting for. Awesome.

Where's the play by play? And no gameday hitter/batter animations?

Wow, I thought this day would never come. Better late than never.

I believe this to be a big step for WP8. Next I need an official NHL app. Please! I beg of it!

I think you meant to check Baltimore Orioles!

I complained when this wasn't available and am thrilled that it is. Beautiful, too.

Looks good... I hope they roll this over to 14 as soon as the season starts.

Why do they need to release a new app for every season? It doesn't make sense to me.

So they can charge you for it every year.

I just got my 520 and was looking for a new baseball app dl'n asap go Orioles!!!

Hell yeah! Birdland representing!

I have been using Baseball Scores and Alerts which lets me pin a tile for an game or games that updates with the current score. I can also set alerts for a number of game changing events, such as lead changes, score changes...etc. I don't see where I can do either of these with this app - maybe I am missing something?

You are not missing something, the app is.

WOW! Awesome! I've been waiting for this for so long. Windows Phone is no longer a baby.

Better late than never I guess, lets just hope we get it on time next season

As an avid MLB fan, buying a Lumia 900 last year continues to be a BAD choice.
Hey! Ask me if I'm ever going to switch to a WP8 after getting screwed on app after app with WP7! Go on! ASK ME!!!!!

Are you going to get a WP8 Phone so you can enjoy At Bat 13? Lumia 520 is now only $99 at at&t Go Phone.
Sorry, couldn't help myself...

HELL YES, I'm going to buy a WP8! Because I love WP and I never learn. :P

Would have been nice to have it at the beginning of the season, but I will take it. Another big name app checked off the list.

This is awesome! I recently signed up for mlb.tv, which I've been watching through my Xbox. Now I can watch the tigers' afternoon games at work. Very nice!

How 'bout dem Tigers! Hopefully the Lions will be just as effective! However, I can't wait for hockey to start back up! :)

Does the live tile show scores or just upcoming games?

FINALLY!!!!! Downloading it now! + 920

I'm a big major league baseball fan and thought since more than half the season is over no way we would see At Bat 13 on WP 8. Glad my assumption was wrong and congratulations to the Development Team for having the App ready for the playoff's.
Nice to see more quality Apps appearing just about every week now. My wish list has dwindled down to just one app and that's Sirius XM Radio.
If Microsoft can convince MLB to make an App for Windows Phone 8 then anything is possible.

I may be wrong, but I can't find Box Scores anywhere!

My wife and I have been with XM since nearly their beginning. But I would only listen to may 4 or 5 channels on it. When MS paid for premium Pandora service for this year and now having an official iHeartRadio app, I have found that I don't need XM anymore. There is practically nothing on it I can't find elsewhere, and what I love about Pandora, is that there are no interuptions.

Download Four new apps for Windows Phone for free...visit..
http://windroidblog.blogspot.in/2013/08/download-four-new-apps-for-windows.html

UPCOMMING UPDATE FOR WINDOWS 8 LEAKED. CHECK IT OUT HERE http://windroidblog.blogspot.in/2013/08/upcoming-update-for-windows-phone-8.html

WUHUU!!!! FIFA 13 for WP8 !!!
http://www.windowsphone.com/en-us/store/app/fifa-13/b7f0b0ac-e026-4d6c-9...

Gee thanks, MLB, now that the season is like 2/3's over already.

Nice app. Here in Mexico, the live-radio feature is greatly appreciated. It kinda works well in my 620, although I've experienced a few crashes/freezes without apparent reason (maybe RAM-related?).

Ball and strike umpiring is a disgrace.One contributing factor to this problem is that many umpires seem to believe that it is within their purview to define their own strike zones. I heard one such gentleman explain to a team manager that "his" strike zone was such and such. Unless there has been a secret rules change, I thought the strike zone in baseball was defined in the rule book, not by each umpire. Announcers accord this their inherent acceptance by repeatedly saying that this practice was OK, as long as the umpire was consistent.Wrong, even consistently wrong, is not OK. Both batters and pitchers need to know that strikes and balls will be called according to the way they are defined by the game. The reason that every TV fan knows that there is a problem is that we (the fans) have access to what is called the "k zone," apparently an accurate depiction of where the ball is when it crosses the plate. It would be a simple matter, techologically and practically, to supply every home plate umpire with a portable, phone sized, screen that provided him the same information every TV fan had. I suppose that some umpires might resent this intrusion on their arrogated right to define their own game, but at least they would be transparent and responsible for their behavior and it would vastly improve the fairness of the game, allowing each player to be able to count on his own skills and accurate judgments and not need to compensare for the idiosyncratic quirks of each umpire. Umpires do not define the game; the rule book does. K zone appears to be substantially more accurate than the unaided perception of the umpire, and it is certainly less biased, It could reduce the rate of unnecessary, inadvertent error as well as unwelcome deliberate change by each individual umpire.
Windows Central Newsletter
Thank you for signing up to Windows Central. You will receive a verification email shortly.
There was a problem. Please refresh the page and try again.