Keep tabs on your Windows 10 Mobile power status with Battery X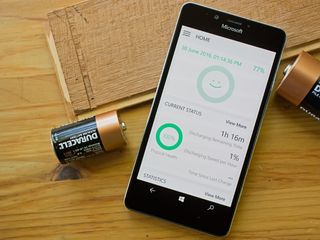 Battery X is a simple Windows 10 Mobile app that monitors your battery performance, alerts you when the battery is low and when it is fully charged.
The layout isn't overly complicated and Battery X offers Live Tile and Lockscreen support provides a few extra ways to monitor your battery status. The free Windows 10 Mobile app does a decent job of things and offers plenty of notification to help you keep sight of your phone's battery performance.
The home screen for Battery X offers an overview of your Windows 10 Mobile device's battery performance. Here you can find snapshot information on the current status of your battery, performance statistics, a chart to illustrate battery performance and access to the app's core settings.
Each section of Battery X's home screen can be expanded to full screen that offers more information on your battery performance. This information includes:
Current Status: Here you can find the discharge rates and time remaining on your present battery level along with the battery's design and actual capacities and current charge time.
Statistics: This is a historical perspective on your battery performance that covers average discharge and recharge rates as well as time spent on battery or on a charger. You can view statistics based on overall performance or narrow it down to the current day's performance.
Graph: If you prefer a more illustrated means of reviewing your battery performance, Battery X can graph your battery's performance by date or chart performance over a 48-hour period.
The menu button in the upper left corner of the home screen offers navigation options to Battery X's screens (Current Status, Statistics, Graphs), an option to upgrade to the Pro version for $0.99 and remove ads. You will also find access to the About page for the app, options to rate the app and access to Battery X's settings on this hidden menu.
Settings cover the look and feel of the app by offering three theme choices (dark, light and black), options for the app's notifications, Live Tile management and Lockscreen management. Battery X's notifications cover alerts for when the battery is fully charged and when the battery is low. You also have the ability to set the battery levels that trigger these alerts (a nice touch).
Live Tile support is on par with other apps and offers a small variety of colored battery indicators that reflect the current power level. The flip side of the Live Tile provides more detailed information on your battery status. There is one Live Tile option that indicates the battery level through a series of smiley faces, which can add a little pop to your Start Screen. Lockscreen support can add detailed status or quick status to your Windows 10 Mobile Lockscreen.
In using Battery X over the past few days, it comes across as a simple means to monitor battery performance. I liked the notifications on when the battery is fully charged and the ability to set the levels for when you receive a low power notification. The Live Tile is a bit easier to view than the in-house battery icon and I prefer the quick status Lockscreen option.
The free Windows 10 Mobile app isn't overly complicated and covers the basics nicely. The theme options allow for a little personalization and there are plenty of notification options to avoid ending up with a dead battery. Battery X may not have enough bells and whistles for some, but if you are in the market for an easy to use battery monitor it is worth a try.
Download Battery X for Windows 10 Mobile (opens in new tab)
Windows Central Newsletter
Get the best of Windows Central in your inbox, every day!
George is the Reviews Editor at Windows Central, concentrating on Windows 10 PC and Mobile apps. He's been a supporter of the platform since the days of Windows CE and uses his current Windows 10 Mobile phone daily to keep up with life and enjoy a game during down time.
I've been using this app for a while. The design is beautiful but the stats aren't always accurate . The developer constantly updates the app but he still has some work to do.

This app has a some time hit and miss issue..

Agreed. Great design but mostly inaccurate, which makes it useless

Agreed that was my only caveat with this app. But I do use it.

I'm a testimony that this app yields inaccurate reading 75% of the time in my experience. I still prefer the built in function in the OS.

Agreed. But built in function misses "time since last charger"

#Ask #OOT : Battery x in detail lock screen, so how about the weather ? How can be like that ? Somebody tell me pls

I think this is the app: https://www.microsoft.com/en-gb/store/apps/weather/9wzdncrfj2sz

I believe that is via Amazing Weather HD

Insider app is a good tool for check the batery drain too.

I also enjoy the insider app, nice battery data.

Ya but really needs an update

Looks appealing... So far Insider Pro has been very useful but hasn't updated or adopted Windows 10 UI so its time to replace it!

Battery Sense is still my fav app for this. The live tile is better and so is the graph and has all the notfications as this one and came out 3 years ago.

Yeah me too, but that ****** developer never updated his app at all. I'm waiting him to update his app, I mailed him but no response. And I'm tired finding a replacement app the uses W10M UI and get updated continuously

The app needs nearly no permissions, that's nice! Some additional languages would be fine though.

Maybe you should ask the developer if you can translate the app. I'm sure he/she would be happy to have you :)

Nice idea, indeed. If I had some time for such things I'd consider it.

I've tried this for a while but haven't gotten it to work on the lockscreen either for quick or detailed status.

Wow thanks for this. Apps look beautiful. Love the design, statistics and functions ! Big props to developer EDIT: App crashes when I want to change the settings of live tiles.

Love the look of this app. I'm not crazy about the live tile using the little black circle notification for battery level. Hopefully the dev will change that.

Contact dev about your request

George, what is the weather app you're using? P.S. - Battery X is a nice app indeed.

Very nice app. The live tile updates the battery percentage in real time like the old Battery Saver in WP 8.1?

If full charge notification will work then 'this app is great '

Full charge notification is not working on my phone too.Statistics is not always accurate.

Hmmmm..... Same here.
Not recommended app

May be windows mobile api limitation.

this(!) for what i downloaded it))

I get a full charge notification on my phone. Have a Lumia 950XL

Never use battery app on my phone

That's wise. Battery apps have negative effect on battery life.

For Windows phones? That doesn't sound right.

Yes it does, but if you won't tell the difference if you have a big battery phone

Looks good...am gonna give it a shot...:)

yes,it is. i wanna see if it drains my battery or not

The Store reviews for this app are mixed, although the rating is sitting nicely at 4.3. Looks like it needs some refinements and new features before it becomes a really awesome app. Nonetheless, it's a really good app in its current state.

Ya, I think it's just like insider... Without the daily pic option... And adding the screenlock option to set

I see weather information on lock screen picture in the article. How is it done?

Tried this app - notifications didn't work, statistics were really incorrect, and I didn't like the tile...

I had been using Battery Performance for the longest time, but it hasn't updated much and doesn't function on many of the Fast Ring Insider Builds. So I tried Battery X and like it. I agree it needs work, though, as it seems to produce false "battery discharging" alerts (whether they're turned on or not) which are annoying and alarming and which provide no information as to what apps are producing the spike. It is a good looking app on the home screen.

I like it. Just reinstalled and thinks its improved. I really wish that MS would put their own app in the top ribbon baked into the is with a bigger icon and number percentage

I've been using the aptly named "Battery" by Arthur Semenov. It's pretty good but generates some wonky stats about average discharge rates. It has a nice charge-decay and recharge timeline that quickly shows power levels over the preceding 24-72 hours. The medium-size tile shows both a graphic representation of remaining charge, a numeric percentage of remaining charge, and a prediction of remaining life in days and hours. It's not perfect, but worth a look if you haven't found satisfaction with a different app.

I am using Battery by Arthur Semanov since 8.1 days.The notifications worked fine but has suddenly stopped for the past 3 days.Notifications are important to me so feeling disappointed.

Battery Pro+ is another good option.

Wow. How fat is the phone in the picture?! Do those batteries fit in it?? They're not rechargeable so a good app to monitor how long before buying new ones is essential!!! :)

I hope this app refreshes frequently enough. Windows default battery detail status on the lock screen seems to be updating every few months.

I haven't found a battery app yet that is accurate on windows phone, you're better off squinting at the tiny battery indicator top right on your windows phone. The old battery level tile on windows 8 was spot on, but that left all other battery App developers irrelevant and useless. I rest my case.

i think this app might have being draining my battery,though not tooo crazy besides, may i ask how to get the weather on the lock screen? which app?