Battlefield 4 and Hardline Premium passes are currently free for EA Access members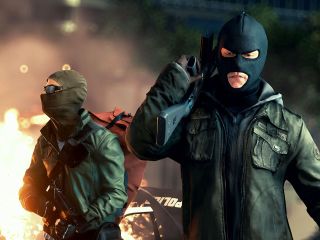 Electronic Arts has added the Battlefield 4 Premium Pass to the EA Access Vault for Xbox One owners. In addition, the Premium pass for Battlefield Hardline is also free on EA Access.
The Battlefield 4 Premium pass is available on EA Access forever, which means you can get the full version of the first-person shooter, plus all five of its DLC packs and other extras, for free when you subscribe to EA Access for $4.99 a month or $29.99 a year. It also gives players access to 19 other full versions of EA games.
The full version of Battlefield Hardline is already in the EA Access Vault, but now those players can access all four of its DLC packs and other features with the free Premium pass. However, this freebie offer will expire on September 1.
EA is already allowing people who own Battlefield 4 and Battlefield Hardline without EA Access a way to download a free DLC pack from each game from now until May 10
Windows Central Newsletter
Get the best of Windows Central in in your inbox, every day!
Not a fan of Hardline, been enjoying it on PC now but may play it on Xbox again cos of this Posted via the Windows Central App for Android

Will I get to keep the dlc's forever or till September 1?
And will they work after my ea access membership expires? Posted via the Windows Central App for Android

Apparently the Hardline Premium pass you get to keep indefinitely, but the BF4 Premium Pass is only valid for as long as you remain a memeber of EA Access.

Please read the article! It clearly states that the BF4 premium will be available indefinitely, whereas Hardline premium will be available until September 1st. And no, as with ALL the other things in the vault, you'll lose access once your subscription runs out.

I just want to verify because I am going to be having a friend do this. once you get the ea access and the premium, when the subscription ends do you get to keep it?

When your subscription ends with Access you loose them. Also you'll loose premium access to Hardline on Sept 1st.

Thanks, that's what I thought

No. Like XOne Games with Gold titles, the ownership is tied to an active subscription (EA Access, in this case). Honestly, I've more than gotten the cost of the subscription out of the service. I budget so many dollars a month for gaming, and this and Xbox Live come out of that. You get enough content that, as a dollars/game measure, you more than make it back. Also, remember that you get a 15% discount on regular priced EA content by having an Access membership. It's useful when a title you just can't wait to get comes out.

it would have nice but I already own both and the season passes/dlc Posted from Windows Central for Windows 10

DICE and EA should pay customers who bought BF4 that they are willing to play that piece of ****. After my money thrown into toilet for BF4 and premium (because I believed the hype) I will never ever again purchase DICE product. Game has nice graphics and concept, but what's it for, when the core mechanics of FPS game are broken. It is like flight sim with broken flight model... :)
Windows Central Newsletter
Thank you for signing up to Windows Central. You will receive a verification email shortly.
There was a problem. Please refresh the page and try again.