Get inspired to cook with BBC Good Food for Windows Phone 8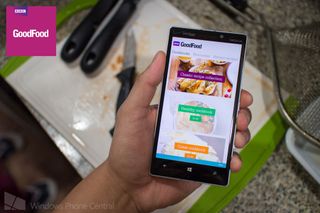 If cooking isn't one of your strengths, it's handy to have cookbooks and recipes around. Whether you're looking for weekday inspiration, trying to cook the perfect steak or attempting your own homemade ice cream, check out the new BBC Good Food app for Windows Phone 8.
When you open the application, you are presented with six cookbooks. BBC Good Food only provides one cookbook for free, while the rest cost $1.49 each. The free Classic recipe collection includes 20 of their favorite recipes, like beef & beer pie, summer vegetable curry, and chocolate & raspberry pots. It also includes a basic glossary of ingredients and techniques to get you started.
Here are the rest of the cookbooks available for purchase:
Healthy - 170+ recipes including Salmon & ginger fish cakes, Thai beef stir-fry and Indian butternut squash curry
Quick - 170+ recipes including Quick lamb biryani, Parmesan spring chicken and easy puds, and White chocolate & berry pudding.
One-pot - 170 recipes including Sausage casserole with garlic toasts to One-pot mushroom & potato curry, Prosciutto & pesto fish gratin
Cake - 170 recipes including Lemon drizzle cake, Best-ever brownies and Carrot cake with cinnamon frosting
Seasonal - 170+ recipes including Asparagus cream pasta, Peppered chicken with watercress and Slow-cooked pork & red cabbage
The presentation of the app looks great with pleasing combinations of text, color, and images. Clicking on a recipe displays one big header photo, but the actual recipe covers up the image when you scroll down to read. The effect looks really good. We also like the labels being used. For example, you can find out right away whether certain recipes are easy, vegetarian-friendly, or freezable.
BBC Good Food is a free download at the Windows Phone Store. Check it out and let us know if it inspires you to cook!
Thanks for the tip, Al!
Windows Central Newsletter
Get the best of Windows Central in in your inbox, every day!
Good to see BBC warming to the windows phone platform

Where's my Bangers' & Mash☺

Wow, 2 BBC apps in less than a month. How times have changed ;).

They can build this but not a decent iPlayer or news app

"BBC Worldwide" vs "Media Application Technology" I think they're different departments within the BBC, and probably don't communicate!

A bit like Microsoft....:D

BBC Worldwide is the BBCs commercial arm. They supplement the licence fee by selling BBC content outside the UK. They always seem to have had no problem supporting WP perhaps because they can recoup costs through charging for their apps and advertising, they released a TopGear app years ago. Media Application Technology are the BBCs in-house app development team which is funded directly from the licence fee and can't use it's apps for profit, perhaps explaining their reluctance to develop for WP.

I think they said they are working on a new iplayer WP app to match the look of the new desktop iplayer.

I don't understand why they'll write all of these less popular apps, but not a news app.

I stick with the easy stuff. I'd like to cook more often, though.

New Iplayer in works. Still waiting for the news app tho

Not really needed when there's the ingeniously named Radioplayer app from Matchbox Mobile that has all the BBC Radio Stations.

Is that true? I dearly hope so...

I am not a big fan of cooking to be honest here, although I do enjoy making some salads.
But on the other hand, the app UI and colors are nothing short than great. Makes me wonder why there are not many apps that are built in this way.
imagin a news reader app, or a Google reader 3rd party app made in this way ( especially the big header picture whit text sliding over it). Developers .. That's a free idea ;) .

I'd spell check your first sentence...

I don't know about you but I prefer cooking to "cocking" but we all have to have a hobby I suppose :P

LOL ... Omg what's wrong with me. Now I know why everyone was laughing XD

Funniest comment this Friday morning!

Cooking apps are welcome anytime. Love to cook and eat! Maybe that's why I can't ever lose weight. LOL

I agree, the Great British Chefs app is good as well.

If only Paul Revere could have said "The British are cooking! The British are cooking!"

Does anyone know what to the Food Network app???. It's no longer in the store. That app has a lot of good things going for it.

That's a good looking app.

Interesting. The bbc consider wp to be big enough to make it profitable for them, but not big enough that license fee payers deserve a decent iplayer app or even basic apps such as sport or news.

As much as its good to see Beeb apps I'll just stick to the Good Food website. Their mobile site is almost like an app in its layout, free and millions of recipes.

I prefer the Recepies by Great British Chefs app, also nicely designed and very useful. On the bright side is free and has no ads, also supports a "cooking mode".

The blurb for this app says it provides nutritional values and data, It DOES NOT!!
Windows Central Newsletter
Thank you for signing up to Windows Central. You will receive a verification email shortly.
There was a problem. Please refresh the page and try again.