Be brings Behance to Windows Phone in a beautiful app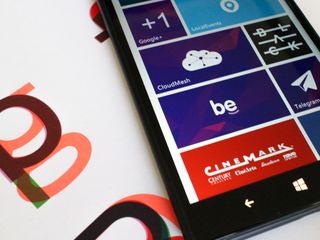 Behance is a platform for artists to promote their work. You'll find graphic design, photography, illustration and more on Behance ( behance.net). They have official apps out for Android and iOS, but nothing for Windows Phone. We don't have any info on any upcoming plans for the company to make an official app for Windows Phone, but we do have an excellent third-party app already available. It's time to check out 'be' for Windows Phone.
Head into the Windows Phone Store and you'll find 'be', currently in beta. It's currently at version 0.6.1.0 and is the first step in bringing features from Behance to Windows Phone.
Here's what features you'll currently get with be on Windows Phone:
Discover Projects, Creators, and Collections
Advanced search for Projects, Creators, and Collections
View projects
View a Creator's Projects, Collections, Appreciations, and Works-In-Progress
View all the Projects in a Collection
Not bad for a beta and one that's limited by the APIs currently available. Behance is owned by Adobe and there's some work Adobe needs to do with the APIs to truly make be the best Behance client on Windows Phone.
Here's what you can look forward to in future updates:
Sign in to Behance Account
Appreciate a Project
Add a Project to a Collection
Create a new Collection
View your Projects, Collections, and Appreciations
View your Activity feed
Follow/Unfollow Creator
Comment on Projects and Works-In-Progress
Our artistic abilities are non-existent, so we can't get much out of Behance. But we can appreciate be for being a great up and coming app for Behance fans on Windows Phone.
Grab the beta version of be and let us (and the developers) know what you think of the app!
Download be (beta) for Windows Phone
Windows Central Newsletter
Get the best of Windows Central in your inbox, every day!
Classy look the app possess

Yeah. Looks great Aashish13

Thank you! I'm glad you like it!

Only the word OFFICIAL matters......:)

The store is growing
Not readily but steadily

Not really. I don't care about official. BEST is the word that matters to me.

well, if the official is the best, which isn't.

I love their Tumblr page, glad it's on WP now :)

Release it for Windows 8.1 RT too?

It's definitely in my plans. Unfortunately because I started developing this before Microsoft announced Universal Apps, I'd have to re-write a lot of it to bring it to Windows 8.1. I'm also concerned as a developer what Adobe is doing with the Behance API. Half of it has been broken for months. Thanks for your interest though. :)

Great work Joshua. You are a very talented developer. Send me a PM to get in touch.

As long as it works well, the word official doesn't really matter.

The store is really growing

Nokia Storyteller got updated, with no changelog, of course. It doesn't seem to be beta anymore though. Or did it go out of beta earlier? I'm just not using it much, couldn't notice.

Just out off topic but in the image is showing google+ which app is that ?

FINALLY!! I am a big fan of that site.

I actually never heard of it till now. Download the app. Jeez for a beta it's pretty good. I enjoyed using it. Something I'll keep ND see how it developed 's along.

This is great...
One of my favourite site to get inspired...

I'm really diggin' "be". Thanks to the WPC crew, for I probably would not have discovered this app.

Ah, such a well designed app. Even though I don't frequently use Behance, I'll just keep it because its pretty! :-)

Finally I've been using behance for ages but there's never been a good app for it, now there's one!

Thank you for bringing this elegant Behance app to Windows Phone. As a graphic designer I'm loving the ergonomy and design. Just hoping for Adobe to let us enjoy the full features.

But not for Nokia Lumia owners

Finally!!
And now there is a problem with Adobe sign-in and that will drag away for a few months.