Beem for SKY.FM struts onto the Windows Phone Store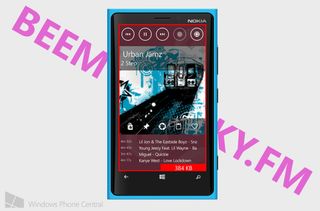 A lot of you are fans of Beem, a Digitally Imported client for Windows Phone. But what if you're not really into the bass drops and seizure inducing music? Den Delimarsky, the lone wolf developer behind Beem, has a new Windows Phone app for music lovers – Beem for SKY.FM.
SKY.FM is a sister channel to Digitally Imported. It offers up pop hits, jazz, hip hop and more (about 60 channels) as opposed to offering just electronic dance music. Here's what you get with Beem for SKY.FM:
Stream recording
Uploading of recorded streams to SkyDrive
Last.fm scrobbling
SKY.FM Premium accounts
When you first fire up the app, you'll notice it looks and functions identical to Beem. But that's a good thing; Beem Plus is an app that a lot of you guys really dig. Do we have any fans of SKY.FM in the audience? What channels should I check out?
Beem for SKY.FM is available for both Windows Phone 7.x and 8 for $0.99. Get it in the Store (no trial yet) right here, use the QR code below, or swipe to the right in our app.
If it hasn't got metal music for us rockers its a fail XD!

Glad you told. I'm not getting it until they do....although, they do have jazz...tell me, is there many different types of jazz stations?

Last.fm is great for Metal / Rock

Remember along time ago I kept bringing up digitally imported when WPcentral kept talkn about groove shark n others makin apps well now its all digitally imported :)

Really nice stuff this ;)

This reminded me I had Beem already installed. Went to play it. Crashed immediately. I mean, it didn't really crash because the app wouldn't even start. Click it, WP8 Start Menu. Click it again, WP8 Start Menu. I guess it can be used as a quick screen refresh tool.

Often where Beem is concerned a simple uninstall, reinstall solves the problem. Usually happens with updates. I have a Beem update waiting in the wings. As a matter of rote, I now uninstall first, then install the update. Works like a hose.

Like Rebel said. Uninstall/reinstall. Worked for me too.

Can't vouch for the music but as far as apps go, spend the .99. Top notch and it only gets better with every new release. If there's an issue, this dev listens and he's right on top of it. I first downloaded the free version of Beem last year. Upon realizing it was my most used app I knew it was time to pony up and after more updates than I can remember I'd say it was money well spent.

I guess I'll give it a shot. Read some reviews and there's a few of them that say this app crashes a lot.

Beem developer here. The only reason Beem could crash (and this applies to the DI.FM build) is when you update from 1.6 to the newer version. If you do a fresh install, there will not be any issues (unless you find something and report it).

If anyone should find an issue, by all means report it instead of one starring the app in the rating section. From personal experience I'm more than glad to say that Den (the dev) came to my house to thank me for my report and dropped by again later to give me an update. Well, actually it was more like email. I would like to have thanked him with a beer but it wouldn't fit through the screen. Here's a virtual beer, Den. Hope you like Shiner Bock.

Appreciate the feedback and the invite :) Beem is pretty user-driven, so if there is an incoming report or high demand for a feature, chances are it will be pushed out in the next release (within a week, usually).

When are we getting back "iheart radio" in the store? Does anyone knows?

I have not long ago bought Beem plus and I am wondering wether to buy this aswell.
I use Rad.io which I find amazing for radio stations, just wondering how different this new Beem is.

Basically the difference is simple - Beem Plus is for DI.FM (EDM - trance, progressive, house, etc.). Beem for SKY.FM streams stations that are a bit more mainstream (rock, indie, pop hits, etc.).

Cool! Is there going to be a free version?

I'm planning on having some promotions eventually where the app might be available for free for a limited time.
Windows Central Newsletter
Get the best of Windows Central in in your inbox, every day!
Thank you for signing up to Windows Central. You will receive a verification email shortly.
There was a problem. Please refresh the page and try again.