A behind the scenes look at the "Don't fight. Switch" Windows Phone ad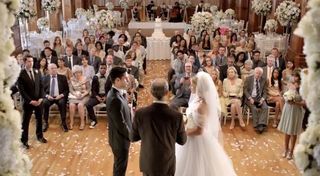 Microsoft launched it's latest Windows Phone ad the other day poking fun at the Samsung/Apple rivalry. The end result was a humorous poke at the competition while highlighting our Windows Phones.
Microsoft is now sharing a behind the scenes video filmed during the making of the commercial. It's an interesting, funny perspective on how the ad was shot. The behind the scenes footage might even make for a nice follow-up commercial.
Source: Windows Phone Blog (opens in new tab)
George is the Reviews Editor at Windows Central, concentrating on Windows 10 PC and Mobile apps. He's been a supporter of the platform since the days of Windows CE and uses his current Windows 10 Mobile phone daily to keep up with life and enjoy a game during down time.
Windows phones make a nice addition ir three to the excisisting smartphone market

If we want to succeed, we need more commercials like this.

The best windows phone ad

Love it! Cracks me up everytime!

Funny. But only it was true. Not worth switching yet. Hopefully GDR2 will add lots of features and bug fixes.

+1 I really love to see some decent bug fix and feature updates such as volume settings and notification center

Notification center is confirmed coming. Hopefully in update this summer, but most likely in the next big version this fall/winter. There will be lots of other goodies too, and hopefully the volume issue as it bugs me a bit as well.

The commercial has already reached 1M+ views in Youtube. Wait was it only uploaded yesterday? And reading on the comments, the war doesn't end in the video! LOL!

iTards and droids are pissed of that their precious OS were thrashed by MS. If they're fighting that much in the comments section, then you know MS hit the right nerve. :)

Oh you bet MS did! Most tech blogs are really praising the commercial. Weird as they never really do appreciate MS at any aspect.

Reading the comments are as funny as watching the video :)

lol yea, I've been reading some of the comments and some of them are pretty ridiculous. haha some comments: (Is this even legal?) -lol

Oh yeah that one cracked me up! Hahaha so we're involving the lawyers here now are we! LOL!!!!

Pretty darn funny. Finally. Great job Microsoft.

This is awesome. Plenty of websites posted it on their sites so it's getting good exposure.

Windows phone started from the bottom now we almost there

Still a very funny commercial! I don't remember her saying"You're as dead as your battery!" LOL! That's some funny stuff...

Often times when shooting something the actors will use/come up with different lines to see what works best, and in this case they used a different line for the actual ad. I did think that battery line was pretty funny, though.

Because Iphone actually has a good battery , atleast better than my Lumia 920

WHo ever edited the commercial is a fool. That would have been a great line to keep in the commercial.

Just my opinion:
1) "Dead" is negative.
2) "Autocorrect this" is shorter.

Now make a behind the scenes of the behind the scenes!

This commercial just went live. Saw it today at work

Man I love this commercial! It helps that I love my Lumia as well but still, its freaking funny as hell! 1 or 2 more similar and people will jump on da wagon.

Would be nice if its shot with PureView. Or a part of it. ;)

It reminds me of the Samsung "The next big thing is already here" ads, in that it makes fun of the status quo and suggests that the more savvy people have moved on from that.

They could have been a little more intentional when incorporating the HK cinema elements...but i still enjoyed the commercial

We need more commercials like this...

Its a great commercial; maybe lure some isheep. #TimeToSwitch.

"Windows Phone really is worth switching to." Amen

What i get from this ad is that ios and android fight a lot cuz they are the best operating system and wp it isn't, that is why in the ad only 2 people have this phones. Sorry but that tells you a lot IOS 45% ANDROID 53% WINDOWS PHONE 2%.

Just a tad ironic when the one guy said 'Whee!' when beaming content to the Galaxy: ever seen that meme involving Firefox? http://www.youtube.com/watch?v=sGyoA92ubzs Supposed to mock IE...

Why only L920? They should also use 8X and AtivS

Only l920, because Engadget said so.. http://www.engadget.com/2013/02/20/winners-2012-engadget-awards-readers-...

Love this commercial, really funny

I rather enjoyed it. Keep it up MS. Please no Seinfeld.

It would have been nice if the lights went out and they had people taking dark pictures on the other phones and bright pictures on the L920

That was/will be the best commercial of the year. Easily.

I just saw this commercial tonight on Hannibal. BRILIANT! It was one of the best commercial that I've ever seen.
Windows Central Newsletter
Get the best of Windows Central in in your inbox, every day!
Thank you for signing up to Windows Central. You will receive a verification email shortly.
There was a problem. Please refresh the page and try again.