Best affordable graphics and photo-editing apps for Windows
Graphics software doesn't have to cost an arm and a leg.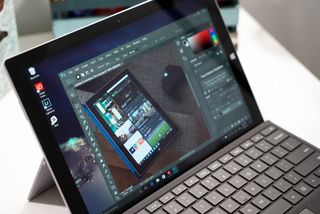 (Image credit: Windows Central)
There are plenty of graphics software packages available that are awfully expensive. When you're looking to edit your vacation photos, or experiment with your own designs, you're likely not looking to spend a fortune on the software you need. Check out our list of graphics software that's easy on the wallet, whether you're an old pro or a total newbie.
ACDSee Photo Editor 6
Why you can trust Windows Central Our expert reviewers spend hours testing and comparing products and services so you can choose the best for you. Find out more about how we test.
For beginner editors, ACDSee is a good place to start. You can learn the basics of editing and experiment with fancy effects without draining your bank account. ACDSee offers free trials of their software, and they frequently put their packages on sale. You'll pay as little as $19.95, but not more than $59.99 for Photo Editor 6. The price is reduced significantly during regular sales on their official website so it's worthwhile to check in and make sure you're getting the best deal you can.
Even at full price, the software is an excellent deal. It comes with over 500 font styles, 77 photo filters, and a large number of templates and pre-designed grids. Batch Processing allows you to apply the same edits to groups of photos, which is a time saver. The user-friendly interface offers easy access to lists of how-to details and interactive lessons.
The major downfall of this budget-friendly software is that it lacks 3D effects and tablet compatibility. You also won't be able to do any photo merging or HDR imaging, but in all likelihood, you'll be ready to spend a little extra on your next software purchase by the time you're ready for those.
Corel PaintShop Pro X8
Corel's software is hard to beat. First, there's the price, which is beyond reasonable at $39.99. Then, there's the learning center lists, which provide tips for each of the tools. The software itself is broken into three user-friendly menus: Manage (where you view your available documents), Adjust (which houses your color correction and photo effects), and Edit (the home of the illustration tools).
This software has loads of good things in store. Corel gives you 88 filters, over 370 font styles, Batch Processing, and that's just the tip of the iceberg. The software also includes HDR imaging, panorama merging, and 3D effects. Those family photos are going to look much, much cooler from now on.
For some time now, Corel's software has been tablet-compatible, so your brush tools can have a completely unique flare. Impressive at this price point, right?
Gimp
The most affordable price of all is free. Gimp (or GNU Image Manipulation Program) is a free app for photographers and artists alike. From original image composition to basic photo retouching, Gimp offers a wide range of tools.
Gimp allows editors to access things like airbrushing and cloning, as well as multiple pencil and brush tools. If you're working on a larger project, you'll be able to have almost limitless numbers of images open at the same time. One of the great things about Gimp is that it's designed to expand. There are already over 100 plug-ins available with extra tools and special effects.
Keep in mind that Gimp is a little more technical than most other photo editors, so it might take you longer to get the hang of some of its tools. But hey, it's free — if you don't love it, you haven't wasted a dime.
Serif PhotoPlus X8
If you want to focus primarily on photos, Serif's PhotoPlus X8 is a strong contender. The emphasis here is on photo perfection and special effects for pre-existing images. At $99.99, the price is still manageable.
PhotoPlus X8 comes with over 560 font styles, good for everything from holiday pictures to school projects to marketing flyers. There are more than 60 filters to choose from and experiment with, so go ahead and make your photos look whimsical and misty before sharing them online. PhotoPlus X8 makes exporting and printing photos easy, so you'll be printing from home more often.
The PhotoFix tool is handy for quick and easy correction of imperfections, and once you've got the hang of that, you'll want to try your hand at restoring old photos. PhotoPlus X8 comes with a StartUp Assistant that's brimming with tutorials, so you'll be ready to go the moment it's installed.
Photoshop Elements 14
Photoshop has long been the go-to name for graphics software. This version is $69.99, but for $112.00, you can add the Premier Elements package, which includes video editing tools. If you or somebody in the house is getting into video editing, it's worth a little extra coin to get it.
If user-friendly software is important to you, this is what you're looking for. Quick Edit Mode includes simple-to-use formatting tools that let you perfect little picture glitches and makes automatic adjustments to help you align images. Hundreds of filters let you experiment until your photo has just the right look. It's also simple to merge photos, so that your group shot looks like you're in the Caribbean (instead of your less-tropical living room). You can also merge those individual shots of the kids so that it looks like they were posing together (instead of refusing to stand next to each other).
Adobe Photoshop CC
The subscription model from Adobe Photoshop CC gives you the basic photography app for $29.99 for one month, or you can pay $74.99 for one month of access to over 20 apps — all continually updated. The tools you'll be provided with are impressive and expansive — and suitable for new users or experienced editors.
The Creative Sync feature allows you to connect your project from your laptop or desktop to your phone. You'll have access to a virtually endless supply of royalty-free photos and graphics, as well as popular assets like brushes, shapes, and shareable Libraries. If everything is new to you, Photoshop CC includes numerous short tutorials that will teach you the essentials. From there your only limit will be your imagination. More experienced users will appreciate the customizable toolbar and workspaces, as well as support for plug-ins.
The bottom line
For versatility, price, and user-friendly, software, Corel's PaintShop Pro X8 is a safe bet. Even well-versed artists will find the tools and effects to be top quality, and its tablet compatibility is a bonus feature you'll come to enjoy.
These are only a selection of graphics software available. Do you have affordable software that you can't do without? Sound off in the comments and tell us why your budget-conscious choice is a contender.
Get the Windows Central Newsletter
All the latest news, reviews, and guides for Windows and Xbox diehards.