Best AirPlay alternatives for Windows
Make up for the sometimes frustrating lack of native streaming in Windows.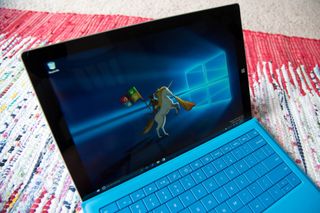 A quick web search reveals a decent amount of programs claiming to fulfill the lack of AirPlay in Windows. Unfortunately, free software and apps were cut from the list due to their inability to function without considerable tweaking and general time-wasting. Remaining after the purge were the following AirPlay alternatives we deemed as the best:
AirServer
Why you can trust Windows Central Our expert reviewers spend hours testing and comparing products and services so you can choose the best for you. Find out more about how we test.
AirServer uses Miracast/Wi-Di technology to mirror screens across devices. This means that if you have a relatively new Windows product supporting Miracast, like a Lumia 930 or a Surface Pro 3, you will be able to stream to any PC with AirServer installed. AirServer is also compatible with AirPlay and Miracast-enabled Android devices, meaning you can share mirror screens across multiples platforms. Because a lot of new Windows PCs are Miracast-enabled, you can mirror screens between PCs.
Unique to AirServer is the ability to stream more than one device to your receiver. This allows you to keep track of multiple screens without switching between devices. Gamers will love that you can stream game footage from mobile device to PC and use AirServer to record every moment.
AirServer is available for Windows 7 and later.
Squirrels AirParrot 2
If you're a stickler for quality, AirParrot 2 can stream media files in 5.1 surround sound without quality loss. AirParrot is capable of streaming to any AirPlay devices, Chromecast devices, or PCs running Squirrels Reflector 2.
AirParrot 2 gives you the option to open a video or audio file on another compatible device while doing something completely different on the sending device. For example, stream a movie from PC to Apple TV while you continue to browse the web.
AirParrot is available for Windows Vista and later.
Squirrels Reflector 2
Reflector 2 is basically the second piece of software you need to fully utilize AirParrot 2. With Reflector, your PC becomes a receiver for streaming content from any Windows 7 or later PC with AirParrot 2 installed. Reflector 2 can also receive streaming content from almost all Apple products and most Android devices — a full list is available here. Unfortunately, Windows Mobile devices are not supported.
Reflector 2 lets you record any content streamed to it and lets you broadcast live over YouTube. This is a fantastic utility for teachers who want to stream lessons to absent students or for gamers who want to show off their skills live. Additionally, Reflector 2 will stream webcam video over YouTube live broadcasts.
Reflector 2 is available for download from the Squirrels website.
Honorable mention: Tubecast
Tubecast is a Windows and Windows Mobile app that lets you cast YouTube videos to most modern devices, including smart TVs, XBox 360, XBox One, Chromecast, AppleTV, Roku, and PS4.
Downside? No screen mirroring is available because it is a YouTube-based app, grounding Tubecast as an honorable mention.
Tubecast (opens in new tab) is available for Windows 8.1 and later, Windows Phone 8 and 8.1, and Windows 10 Mobile
Your favorite?
Let us know in the comments section below what you use in lieu of AirPlay!
Windows Central Newsletter
Get the best of Windows Central in in your inbox, every day!
Senior Editor, Laptop Reviews
Cale Hunt is formerly a Senior Editor at Windows Central. He focuses mainly on laptop reviews, news, and accessory coverage. He's been reviewing laptops and accessories full-time since 2016, with hundreds of reviews published for Windows Central. He is an avid PC gamer and multi-platform user, and spends most of his time either tinkering with or writing about tech.
Miracast (formerly WiDi) support is natively built into Windows and Windows Phone after version 8 provided the hardware supports it. I find it more useful than Airplay as it works with Roku and other more common streaming solutions.

I thought this right away when I saw the title of the article...

And coming with the Windows 10 Anniversary Update: A Store app will be available that lets you use your PC as a Miracast receiver, similar to the programs above.

There even is a Miracast app for the Xbox One in development!

"A lack of streaming utility in Windows doesn't mean you're completely out of luck. Use this guide of the best AirPlay alternatives to fill an absence of native streaming in Windows​" Uhm, hasn't DLNA streaming from Windows Media Player or File Explorer existed since the Vista era? Or if you're talking about streaming your entire screen, Miracast has been native since Windows 8.1...

Don't forget PLAY CAST from the same developer of TUBECAST. You can stream videos, music, photos, and more.

Airdrop, AirPlay... Next is gonna be AirJump...

Windows has native Miracast broadcast and now with Redstone, windows 10 is a Miracast receiver as well. Aside from mirroring, windows has had DLNA in windows for a few generations now. Posted from my Lumia 950XL via Windows Central for Windows 10

Does any of these solutions offer Continuum support?

No, but if you're using a Bluetooth keyboard and mouse, then you could use one of those apps for the screen portion and connect the input devices over Bluetooth. Alternatively, for a more complete solution, you could just use Windows 10's free Connect app, which Microsoft built for this exact purpose. I don't think the Connect app is available to the public Threshold 2 build, but if you're in the Insider program, you should be able to give it a try). Posted from Windows Central for Windows 10

This article is way out of line. Sent from my Lumia 950 XL

Nvm, it was just poorly worded. Should have mentioned that the intent was to turn your computer into a receiver (which is coming natively with Anniversary Update anyway) Sent from my Lumia 950 XL

Windows can stream natively to Roku, Xbox One, any Miracast receiver. And soon in the Anniversary Update, many PCs. Just press Connect from your laptop.

I have to say, I just don't understand what this article is about. Is it trying to suggest alternatives to Cast To Device (Xbox one in my case) or what? I literally don't get it. Could someone give some more context to the article?

It's for people who have only ever been on a mac and so only ever heard of airplay. This is to let them know that they can do all the same stuff with something not called airplay

Except they never mention the free and built in features that do the same thing?

I think Cale Hunt needs some technical help. Writing an article on Windows Central and yet unaware of the existence of capabilities of Windows to do this natively. And whatever it can not do at the moment (work as receiver) is already in the pipeline. People on Windows Insider program are already enjoying it.

Is he the work experience kid, in for a week to help make the coffee? WTF is Airplay anyway? Terrible article, suggesting solutions for something that is already native.

Agreed. And to call the "absence" of the features "frustrating" without even listing the free built in alternatives (and then to use the subtitle "It'll cost you") makes the article come across as unnecessarily negative towards Windows.

Miracast isnt available on any desktop with an Nvidia card. it is hardly a universal solution.

That's far from an excuse to not mention it at all.

Thought AirPlay sounded a bit mac like - so basically no use to anyone unless they are in the mac eco-system then as there are a whole bunch of other options outside of the mac eco-system that just come as standard!

I think this article could be a lot better if it actually talked about the use-case, or technology, and although can be AirPlay focussed it should really give more details on the native parts of the platform too - why does airplay have to be used? Is it because an iPhone can't work with the native features? It would also be good to let those people who are apple users know that the same is possible by whatever the native methods are....still not convinced I have the hang of this article!

Miracast is just a wireless HDMI connection. Airplay is so much more. Dlna is dead and does not work. We need an airplay alternative badly My favorite is an idevice for airplay :/

Miracast may be HDMI based, but DLNA is not and it is not dead. I was using DLNA built into my receiver long before AirPlay was available in any iDevice. I have Miracast devices I have plugged into my TV - My Amazon Fire TV, my Microsoft Wireless Display Adapter, etc. There is no device I can plug into my receiver that does not support AirPlay, I need to, in typical Apple fashion, throw everything out and buy all new devices to use their proprietary tech. They like dongles, you need to buy one to do anything of use with their new MacBook, why not release a new AirPlay dongle? The only supported tech from Apple that is feasable, and the way I do it with my iTouch, is to use Bluetooth.

I'm confused. Why would I use these over Miracast/WiDi?

Re: mdram,
I want to know too.

Why does this sound like it was written by an Apple fanboy who want to educate the plebs who have yet to be enlightened by the one true way? Isn't it funny how Apple users brag about how Apple is standards based, except when there is some way that Apple does not have total and complete control, then propreitary lock in is great!

Apple, standards-based? Hahahahahahahahahahahahahahaha ...

DLNA works pretty well, unless you have an Xbox One and live where there's no Xbox Video or Groove service. Miracast also works like a charm.

What is best alternative of clash of clans? Sent a lumia 1520 as gift to cousin, he loves it but he was asking me to suggest alternative to CoC...any idea fans ?

Try Cloud raiders may u love it.

No mention of Playcast? Made by creators of Tubecast and allows you to cast media files via Airplay, Miracast, Chromecast, etc.

You all make it sounds like the Windows plattform is great when it comes to use media on any device. It is not!!! If i want to use spotify or HBO nordic to watch for example game of thrones it is not possible. I have a Lumia 930, surface pro and a xbox one. If i want to stream spotify i have to use Airfoil and airport express units. When i want to use hbo i have to use chromecast. I realy hate it. I do not want to use any of thoose plattforms. Xbox one has no apps and no flash support wich locks out spotify and hbo nordic. Cast media to device does not support dem content rendering that one pretty useless at the moment. Mirror screen is not a good way to go. Chromecast is better since it gets the stream from the source on internet.

No issues with 950 and SP4 running Insider preview.

I guess everyone's needs are different. I have played around with many of the options out there, including the ones mentioned in the article, the new Connect app in the insider preview, Chromecast, etc. The way I see it there are a number of distinctions that can be made between the different casting options out there: 1. Do they support handoff or do they require the source to handle the playback? AirPlay supports both scenarios, so does Chromecast (though mirroring doesn't work too great) but Miracast only supports the latter. No handoff (yet), although it is coming to Windows with Project Rome. 2. Does it support streaming from the Internet or only local content? DLNA is best for local content, the other protocols support both scenarios. 3. Is it OS native or does it require apps to individually support it? Each protocol has a platform on which they work best. Chromecast has done a better job of getting onto iOS through individual integration into apps, than the others. Miracast is a no show for iOS. 4. What kinds of receivers are out there for each protocol? Chromecast has dongles and software based receivers. AirPlay has Apple TV and a larger number of software options (including XBMC/Kodi). Miracast has dongles and integration into Roku, etc. Each receiver works with varying degrees of quality, stability and performance, depending on the source device too, of course. Summing it up, I'd say the whole thing is kind of a mess. There are definitely good options out there, especially if you stay within a certain ecosystem, though Microsoft does not stand as strong as its competitors, especially when it comes to media casting from (Windows) mobile devices. There is no option on a Windows phone that is as easy to use and works as well as Chromecast or AirPlay, even if those protocols have their problems too sometimes. Besides that, Microsoft has a branding problem. No normal people know what Miracast is. That is why I am excited about Project Rome, app handover in general and the changes coming to SmartGlass. Using the SmartGlass branding makes a lot of sense and finally adding a native handoff construct to Windows is long overdue. Will this save Windows Mobile? Probably not... But it is a necessity to have this functionality if they want to have a chance to stick around.

I thought that Chromecast used Miracast, what is their underlying tech?

Well, my understanding is not very deep, but here goes: basically you have a client and a server. The client "discovers" the server and makes it launch a receiver application (running on the Chromecast). The default receiver is basically a Chrome browser, which you instruct to go stream from a certain URL, but custom receiver apps are possible, that can support custom codecs, etc. It is pretty simple and requires no specific hardware, but it requires app developers to tailor their apps for it to work. Miracast is almost the opposite in that it requires hardware support, but can be built in at the OS level, not requiring tailoring.

You have to pay $$$.99 or $$.99 I only pay $.99. Actually File folder can cast mp4 too.

Tubecast does not support windows phone 10. You will,have problem to cast. So it's useless! They will not respond to your email too! Download is slow and can't be access in Video folder. Try MyTube, the best!

Next thing you know they'll copyright airguitar

I've a mix of Apple and Microsoft devices. For mobile - iOS, for PC - Windows. Applications like these have been very useful as they let me stream from Windows to Apple TVs, AirPort Express and some speakers with AirPlay. I don't need to have a separate Miracast or DLNA receivers for Windows. Anyways, I've had little success with Miracast and DLNA, so prefer AirPlay on Windows too. For audio only streaming (AirPlay), TuneBlade and Airfoil are worth the mention. Both are capable of streaming any audio on Windows to AirPlay receivers, and I can stream to multiple speakers synchronously which isn't possible with DLNA or Miracast.

Contrary to what it says in the review, AirParrot 2 does not work with Windows 10. They offer a workaround that didn't work for me either.
Windows Central Newsletter
Thank you for signing up to Windows Central. You will receive a verification email shortly.
There was a problem. Please refresh the page and try again.