Best Alternative to Microsoft Band
Fitbit's solid reputation and great app experience are what really sells the Charge 2 on Windows 10 Mobile.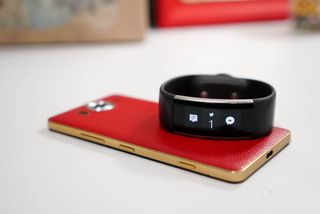 Best overall
(opens in new tab)
The Charge 2 tracks all the necessities, including steps per day, calories burned, and active minutes, and you can see all that information on a bright OLED black and white display. With the Fitbit PurePulse heart-rate monitor attached to the back, you're bound to get accurate results.Although the Charge 2 does have the ability to display notifications from your phone, notifications are still in beta for the Fitbit ecosystem on Windows 10 Mobile. so expect a few issues here and there. The Charge 2 will also keep an eye on you when you're sleeping, and automatically track some exercises, such as running and biking. It can even help you calm down by taking you through breathing exercises.If you feel you need a more substantial overview, check out our in-depth look at the Fitbit Charge 2.Bottom line: The Charge 2 tracks all the necessities and is simple and reliable making it well worth its price tag of $149.One more thing: The Fitbit app looks great on Windows 10 Mobile and functions smoothly, offering a pleasant user experience while providing you with more in-depth statistics on your fitness levels.
Why Fitbit Charge 2 is the best
Why you can trust Windows Central Our expert reviewers spend hours testing and comparing products and services so you can choose the best for you. Find out more about how we test.
Fitbit has been in the fitness tracker game for quite some time and has ironed out a lot of the kinks you see with other companies. Its heart-rate monitors are fast and accurate, it can track most of the excersises you need for a complete workout, and it's Windows 10 Mobile app looks superb and functions virtually flawlessly.
Coming in firmly at a mid-range price, the Fitbit Charge 2 appears to offer quite a compelling proposition as a feature-packed fitness tracker that won't hit your bank account too hard.
Best for runners
(opens in new tab)
The Blaze lets you see your heart rate, steps per day, calories burned and other fitness statistics, all by swiping through the menu with your finger. It also tracks your sleep data and automatically logs certain exercises, such as running and biking. Call, text, and calendar notifications are possible on the Blaze; however, currently that feature is still in beta on Windows 10 Mobile.Bottom line: Fitbit Blaze is very similar to the Charge 2 in functionality, offering the same fitness tracking abilities but on a much more colorful display that's more like a full-fledged smartwatch.One more thing: Blaze costs a little more money than the Charge 2 (usually starting around $199), but you get the added benefit of phone-connected GPS, so serious runners may want to take note.
Best for swimmers
(opens in new tab)
The Vivosmart HR+ is a solid activity tracker that can track a multitude of different types of exercises, from basic running and biking to more extreme sports like snowboarding, all while using the built-in GPS. That makes the device pretty appealing to serious fitness fanatics. With its onboard heart-rate monitor and Windows 10 Mobile app, you aren't going to have a problem reviewing your progress, and you can rest easy knowing it's accurate data.A significant advantage to Garmin's offering is the ability to dive into the pool and do some laps. That's right. The Vivosmart HR+ has an impressive 5ATM rating, meaning it can be submerged in up to 50 meters of water. This feature-laden fitness track will set you back approximately $199.Bottom line: If you like the look of the Microsoft Band, the Garmin Vivosmart HR+ is probably the closest thing out there in that regard. But it isn't a complete replacement, as Windows Central reviewer George Ponder pointed out in his review.One more thing: While Garmin's product excels at the fitness tracking side of things, it falters when it comes to the smartwatch side. The Vivosmart HR+ says it can receive notifications. However, whether or not you can get them to work may be another question.
Best for smartwatch lovers
(opens in new tab)
If you're hoping for an alternative to the Band that can do the smartwatch thing with a little more finesse, the Vector Smartwatch is an interesting, although more expensive ($299), option.The Vector blends a more traditional watch experience into its design and functionality. It allows you to receive notifications and track activity, and it even has an app store with some basic apps you can download. You can also download and add "Streams." Streams are widgets that can be added to any watch face. These Streams range from basic ones that show you the current weather conditions, to some more specific data, such as a Twitter follower count. You can change the watch face and handle other customization options through the dedicated Windows 10 Mobile app.Bottom line: The app doesn't work flawlessly and is prone to syncing issues, but there is a Windows 10 Mobile app, which is more than you can say about other smartwatches on the market. Plus, new updates have been fixing a slew of problems with the Windows 10 Mobile Creators Update.One more thing: Check out our Senior Editor Zac Bowden's review of the Vector Smartwatch, to find out why it truly provides a different experience than most smartwatches on the market.
Conclusion
For the best Microsoft Band alternative, take a look at the Fitbit Charge 2. Fitbit's Windows 10 Mobile app will give you the smoothest experience, and the Charge 2 is the most polished experience we've seen Fitbit offer. If you're a runner, the Fitbit Blaze will give you a little more bang for your buck, because it has the ability to use phone-connected GPS. Swimmers should give the Garmin Vivosmart HR+ a gander, because its waterproof rating means you can track your laps in the pool. However, the notification side of things is lackluster. For people who care more about the smartwatch capabilities of a wearable, Vector smartwatch offers a clean and unique experience for a wearable that does a great job of keep you connected.
Best overall
(opens in new tab)
The Charge 2 tracks all the necessities, including steps per day, calories burned, and active minutes, and you can see all that information on a bright OLED black and white display. With the Fitbit PurePulse heart-rate monitor attached to the back, you're bound to get accurate results.Although the Charge 2 does have the ability to display notifications from your phone, notifications are still in beta for the Fitbit ecosystem on Windows 10 Mobile.. The Charge 2 will also keep an eye on you when you're sleeping, and automatically track some exercises, such as running and biking. It can even help you calm down by taking you through breathing exercises.If you feel you need a more substantial overview, check out our in-depth look at the Fitbit Charge 2.Bottom line: The Charge 2 tracks all the necessities and is simple and reliable.One more thing: The Fitbit app looks great on Windows 10 Mobile and functions smoothly, offering a pleasant user experience while providing you with more in-depth statistics on your fitness levels.
Updated August 6, 2017: We fixed some inaccuracies regarding the functionality of the Fitbit Charge 2 and the Fitbit Blaze.
Windows Central Newsletter
Get the best of Windows Central in your inbox, every day!
I would definitely go for the Vector Luna -- it looks very classy, although am a bit reluctant as, by all accounts, the screen quality is questionable (undoubtedly worse than the pictures make out). The remainder look pretty cheap and tacky, if truth be told.

As a Vector Luna/ Lumia 950 user, I can say that I simply love this watch. The app works flawlessly, you just have to force windows to permit it to run continuously in the background (sync issues come from the auto-managing of background apps by windows 10) and I don't see more than 10% battery drain a day tops. As for the screen quality, it is more than enough, it is definately not HD, but for its use and need, more resolution would not be that much better. Most people don't even realize I'm wearing a smartwatch until they see a notification pop up. Also it says on their website that music app doesn't work with windows phone yet, but it totally does ;)

I ordered one from Amazon.com and got an empty box. I sent it back and got a refund but I'm still without a Vector smartwatch

I ordered one too.....and I'm still waiting. I could've walked to wherever they're shipping it from by now I think :-\

I ended up getting a replacement and am happy with it for the past 2 months. It works really well with my Lumia 950 and the HP Elite x3.
.
One complaint is sometimes the app crashes my phone, but that could be because I'm running Windows Insider builds.

So far I've been able to get up to 45 days of battery on a single charge!

That was one of the selling points I liked.....now if only my 950 would hold a charge for more than a couple of hours at a time I'd be set

Go to a repair centre. Mine used to have this issue, but they replaced the battery and it's A LOT better than before.

Be wary however, because Vector is not updating the Luna or Meridian anymore since they were purchased by Fitbit. They should really mention this in the article.

But the app is still getting updates and the device works really well even if Fitbit decides one day to stop supporting it

The app is currently in limbo. Vector had pushed the app update for CU to end of may, and had now pushed it back to indefinite. They do not seem to be any where near an update for RS2.

I bought Vector right before the Fitbit purchase and was only useable for a couple of months. Since CU, including insider previews, it has been unusable.

I have mi band 2 and happy with it!

Does it support W10M in any way......?

Yes, in every way. There is unoffical app Bind Mi Band!

Do you have any issues with the keyboard. Everything works perfect for me, except for that since going to W10M. SO sad they are discontinuing it. Easily the best of the wearables available.

I just bought a Microsoft band 2 off of ebay for $70.00. Looks brand new and works fantastic. I love it so far! I also had a Motorola 360 android smart watch at one point and although it looks really nice the functionality is not nearly as good as the Microsoft Band 2. Considering that it is really only a year old I would think the software should be supported for a while even if 3rd party apps go away eventually it is still great. It also charges really quick and I normally get about 2 days battery life as compared to my Motorola 360 that I had to charge every night.

Hope your experience turns out better than mine. I bought mine for 70 off of ebay. It worked grest for the first month but then out of nowhere stopped charging. I never dropped it and i wouldnt even wear it in the shower. All of a sudden it stopped working. I was one month out of the warranty and Microsoft would not repair it or replace it. I just threw it away sick to my stomach.

I just died laughing not realizing that i replied to my older post. Lol

Ive have had the band1 from the moment it came out. My wife has the. Band 2. both are excellent devices. We both would have upgraded to the 3. I believe they left the market to soon. the surface didnt really hit stride until the 3rd release. i will pick up a band 2 to replace my band 1.

I agree. I can't believe they canned this so soon. If I'd developed an app for the Band, I'd be royally hacked off at the lack of support MS gave their own product. That said, I'm happy to keep hold of my Band 2 -- it'll be worth a fair bit in a few decades' time :)

I can't remember the details of the article a read a while back, but i believe the main reason MS didn't come out with a Band 3 was, because they could not get Windows 10 on it. If i remember the article correctly, i think it said that they tried, but was unsuccessful. Regardless, i agree with you. If they were in the process of making a 3rd, then they should have just put one out. However, given MS's current direction, they probably didn't want to put out another device that didn't offer anything new feature wise. A slightly wider screen, more refined design, better band material (or, ability to replace) and water proofing would have made it a worthy successor IMHO. This would have given them time to develop a wearable of their current standard, while maintaining customer loyalty to the device.

Great devices (band 2) till the band splits... had it happen to 3 of them... It's not IF it will happen, it's just a WHEN it will happen.

I also bought a Band 2 to replace my deteriorating Band 1. I got the best deal of Ebay where I found many new or refurb'd offerings. I agree with your sentiment about leaving the market too early. I really thought the Band was the best wearable in terms of funtionality and connectivity. The ability to see incoming texts on the Band is great and it integrates well with Android though better on my previous W8.1 phone. Even though I am not a great golfer, I found the golf application invaluable for score keeping and then reviewing my rounds with the TaylorMade partnership. I never saw any alternative that did the same sort of thing.

Agreed! My band 2 tore and MS were aholes about replacing it, but I still considered Band 3... However it never came to my disappointment. I can't believe they terminated the effort...

Blaze would be nice but the lack of gps puts me off... Bad decision on fitbits part. Unless they plan to release the surge 2, hopefully fixing the condensation issues and broken straps.

Tough to find a replacement for my Band 2. Love heart rate zones, smart wake-up, and asian language messaging support. Band app on windows updated not long ago - shows icon of data gathering device - thought there might be some connectivity with other fitness bands.

Vector doesn't offer the best looking combo: square face with metal band. I wonder why?

I'm planning on buying the Vector smartwatch and buy the strap from a local Timex/Casio watch shop. Note any watch strap will work with the Vector :)

I have Band2 which was now on its second replacement due to cracked strap. Sadly I have it not even for a full year now. I was hoping to upgrade to Band 3 when it comes out in hopes that it will solve the strap issue. It would be sad, if the let Band devices die. From mentioned alternatives I would personally go for Fitbit Charge 2.

I am on my third band due to the strap. Amazing functionality and looks amazing but they needed to have replaceable straps

I'm on my fourth (all broken straps), but this last replacement/refurb has got a bad battery. My warranty expires on Jan 5th, so I was thinking of sending it in one last time. The Band 2 is a great device (and even connected to Android, does everything I need it to do), it's too bad there won't be a Band 3.

Yeah, having replaceable straps, or rather not having internal electronics inside them is now a must for my next smartwatch, after my Band 2 tore down and broke after under a year of light use. In terms of functionality, nothing comes close for me. Especially controlling music with it, but also its sleep tracking and notifications. I'll keep waiting to hear from MS in this area.

I was on my second because of the strap... but now the second one has stopped charging (after about 6 months). Hoping they still have replacements when I can get to the store.

Don't waste your time with Fitbit... Get a Garmin Fenix 3 hr😊

Exactly. The F3HR is the only tracker I've found that comes close to the Band 2. None of the Fitbits allow you to create workouts and sync to them. Plus you get all the notifications as well.

I am still rocking my Band 1 and see no reason to move on.

Screen didn't go wonky and no batt detonation I'm quite impress good job taking care if!

Are those common occurrences? Should I be worried???

Listen...the band 2 isn't perfect. But the functionality FAR exceeds everything else on the market for our phones. The keyboard alone is a killer feature. Even my friends with apple watches marvel at how well it works. Being able to set reminders by voice and send texts by voice is also another killer feature. Even simple stuff like being able to read substantial parts of emails, texts, news, and calendar just isn't available on most of those options. Most of them will let you read an email but it lets you read the last 8 or so. I mean come on. There just aren't any REAL alternatives as a smart watch for windows phone. When this one dies I'll probably get another. Unrelated note...how many more of these articles are you guys gonna post? Between regular articles about "buy something other than a band!" And the regular "best webcam" posts...you guys are starting to make me a little worried.

Totally. Nothing comes close to our Band 2. Microsoft should really take note of this, if they don't release something that replaces it they will lose money.

If you only care about the fitness features of MS Band there are decent alternatives. If you primarily care about smartwatch features the best alternative is the Vector. If you want a device that does both really well (fitness and smartwatch) there is no real alternative at this point to the MS Band.

The vector is a better smart watch than the band 2? What? All the features I mentioned simply aren't available on the vector. Assuming I'm thinking about the same watch as you are that is. I think I am though. I mean I'm all for having the newest thing and all that but not at the expense of useful features.

I don't think the Vector is better at being a smartwatch, basically because it doesn't have notifications. And yeah, it's not the same kind of device. if I wanted to wear a watch like the Vector I'd buy a regular watch. Again, there's no replacement for the Band 2.

You really should research more. The Fenix 3 HR is the best alternative to the Band 2.

Prefer the Vector Luna, but the price... The Blaze is just too ugly, and the Charge 2 lacks music controls. The Vivosmart HR+ is just an uglier Charge 2.
The Band itself was never an option, with it's reliance on Cortana, which is not available here.

The MS Band is not reliant on Cortana at all.

Is there anything that supports Cortana, that's the big one for me.

They've dropped the ball on Cortana big time.

Great timing. My Band 2 just stopped charging, but I'm inclined to buy another Band 2 tho...

Get another one. There's really nothing that compares functionality wise. Especially because you can get them so cheap right now.

Have you tried to contact MS Store?
My friends had no problems to replace second bands: one had broken strap and other one had firmware problems. But this were somewhere mid October - start of November.

This one was already replaced, and I believe there's only one replacement allowed on the extended warranty. I could always try anyway...

Nope, I'm on my fourth Band. No problems with replacements, after sales care has been really good with Microsoft.

Can't believe it four replacements! glad I went for the Garmin forerunner when my band 1 failed free one session on a a turbo trainer, Garmin iswaterproof and 10 day battery life

third one here. I think they are just burning through the inventory ...

Yeah, got it successfully replaced...

I had minor problems as far as the band itself with quality but the darn things would quit charging
I had several band 1s and band 2s. Finally had enough and bought a charge two. Still awaiting GATT servers promised by MS. If they don't get here soon may activate an android phone I purchased and reset the charge 2 to android.

After having used both the Band 1 (strap broke 2 weeks after warrenty expired) and Band 2 (the strap was showing cracks, it was not replaced/repaired because I also had 1 scratch on the display), I switched to a Garmin vivoactive HR.
So far, no complaints from me, step counter, heart rate, sleep monitor, activity tracker, customiseable all thw works. The only problem I have untill now, is that I am unable to receive notifications on the Vivoactive. It is enabled in both the Garmin app and the watch itself, but no notifications are received :'(

Also The VivoActive HR
https://buy.garmin.com/en-US/US/wearabletech/wearables/vivoactive-hr/pro...

While I agree from a feature list point of view this is a legitimate alternative, Garmin doesn't work well with Windows 10 Mobile and I had huge fitness accuracy issues with it.

The only issue I've seen with it is the calorie numbers for tracked activities. Like the Garmin cycling computers I've used for years, the calorie counts tend to be greatly inflated. I sync my data to Strava and go by those numbers if I want to see the calorie burn for a bike ride. They seem to be a lot more realistic and inline with other devices. Heart rate and GPS accuracy is about the same as what I saw on the Band 2.

Reading the Android reviews, the app isn't great over there, either

GATT server support took unacceptably long to get here

I was waiting for the Band 3, but with the most recent news, went ahead and bought a Fitbit Blaze during Black Friday sales. So far, I am absolutely thrilled with it! Love the automated ftracking like fitness, as well as sleep. Very happy with it!

The fading away with support is bullshit. Tired of devices being 10 months old and struggling to get support and no fixes coning. The band 2 still has more bugs than you can believe and instead of fixing them it just fades away. Ridiculous and more half ass backing from Nutella. A phone that isnt a year old yet, and this a-hole has passed support of to a third party that when you call them doesnt know the phone exists, doesn't know what to do, and doesnt care. End of the line for Nutella...get this giant **** out of here.

This almost seems like MS corporate culture and not so much Nadella. Countless hardware (and software) have been abandoned simply because they weren't massive immediate hits. Makes one hesitant to buy anything from MS.

Then recall them and refund us our money

WAAAAAAA...😭 Buy a $40 android at Best Buy if you can't afford Microsoft...

Where in all hell did your simpleton mind say I couldn't afford it? C what a clown.

By "not massive and immediate hits" did you mean "complete and total flops"?! No company continues supporting flops. It is a waste of money.

Oh look, MissionSparta, the resident troll who's so tech clueless that he thinks everything's buggy when it's the USER at fault. Can I suggest you learn how to setup your Band and stop complaining, most of us have NO issues with the band besides the hardware fragility. LOL

Really? My fault. That's why tech support admitted it was am issue that was never resolved with Windows 10 Mobile and the Band before they stopped updating it. Guess they are "tech clueless". And a lot of us dont have problems with the fragility. Maybe you should learn to wear it without treating it like your a monkey. LOL

Best alternatives are just about anything, the band was a hideous looking device. That clasp... wow. I wanted to kick my own ass for trying it on in the store

There are a bunch of us that would have volunteered to help....

There are a bunch of us that would have volunteered to help....

Good lord. Overreact much?!

Blaze looks to be the best alternative if you are looking for a model still in production. Or as others have said pick up a cheap band 2 still a very competent fitness device. I am also little disappointed they left the field but have a while yet before I hang up my band. My only concern is the strap will likely split as the one did previously, this does seem to be a major design defect at least on my wrist.

I looked at the Blaze, but 2 things bugged me: 1. It's not waterproof, only resistant. 2. It doesn't have GPS. It connects to the phone GPS, sucking battery from both. I sent with Garmin Vivoactive as I found a great refurb deal on Amazon with same 1 year warranty from Garmin, as if it were new. It covers both of my Blaze issues and has better battery life. The app needs help, though.

Only issue I have had was the cracking strap i use my band 2 24/7 with workouts 6 of 7 days of the week with no glitches. My band 1 however the battery detonated and screen went nuts. Band 2 is a solid device minus the strap. Dare I say they should of followed apple and made it replaceable. And I get the waas concept but they can't sh*t a device because win 10 won't fit on it that's just nuts. Here is to hoping they release another wrist wearable still with the sensors the band 2 packs or another oem jumps in on the Cortana support. At work Cortana is second to none for functionality on the wrist!

I was at T-Mobile the other day playing with the Samsung watch. That thing is cool. That's probably my favorite right now from everything out there.

Just went to the Microsoft Band twitter feed. Not sure what I was expecting to find, but couldn't believe that nearly all of the activity is related to support requests. I know I had to replace my Band 1 three times and I am on my third Band 2 also. It's unfortunate but I think the high repair/replace rate is probably what halted/delyaed future development as it is probably losing money. Still hopeful for a 2017 wearable.

If you have a band2 and you have an extended warranty where you purchased it, can it be replaced by something else of equal value

The problem is finding anything at any price that is comparable to the Band 2.

I turned in my 2 broken bands yesterday and received store credit. I turned around and bought the new Surface ergonomic keyboard, mouse, and dial. Still have credit left over. Really would have preferred to have working bands but I think they're handling it well.

I think at this point the worst thing about the Band 2 is not that it's "losing support", it's that it will tear and break. Otherwise I would have bought another one.

Now its time for OEMs to give the fitness trackers available in the market to add compatibility to W10M...... We don't have any low cost option in India..... Even though Android has tons of it, even if people doesn't buy....... These devices will have a ton of appeal to people who can have one for rough use...

Came from (6 replacements) of my Band 2 over to a Garmin Vivoactive HR and been very happy. The Garmin app in many ways is a bit of an upgrade versus Health/Band app as well.

I really need a Band 2 but I have $50 to pay for it, where can I get it for that price?

If I were to replace my Band 2 right now, I'd go with the Garmin Vivosmart HR+ for the built-in GPS. The Fitbit's "connected GPS" doesn't sound like a good option for tracking distance exercises. Every smartphone I've used to track runs has added additional distance because the mapped route always ends up as a jagged, zigzagging path on straight sections with occasional juts across the street and back. That extra mileage really adds up when doing long distances and tranining for a marathon. The Band 2 always maps a straight line on straight sections and smooth curves on turns. I haven't tested out the Garmin, but I'd hope its GPS would also be more accurate than the phones I've used.

Picked up the Vivosmart HR+ for my wife and she is pretty happy with it. Not as nice looking as the band 2, but directionally very similar. I myself went away from a band and got the Garmin Fenix 3 HR. Only downside is that I am a watch guy, so I rarely get to wear my real watches any longer. In any event, I absolutely love it. Had a waited a bit longer I may have considered the Fenix Chronos, but for the cost difference probably not. Battery lasts forever, looks great, lots of exercises, and pretty solid support from Garmin. Have a look!

I use the Garmin Vivosmart HR+ . It's GPS tracking is not always great. Sometimes you can walk a mile before it is ready to record. The pedometer(step-counter) is super accurate though, if you take the time to set it up with customized walk/run length. What bugs me most is the Win10M app. It crashes 3-5 times a day. Not only does it crash, it crashes by just not reacting anymore and when you have to force it down, you cannot get to the Windows Start screen for 3 seconds, THEN it shuts down and you can open it again -- Except chances are that you have to repeat this 1-2 times before you are back to a functional bluetooth connection between the app and the device and they can see each other and syncs. This was MUCH worse in previous app versions. I have had the device since January (2017), and it has improved reliability a lot. It used to be useless, now it is usuable with daily resets. They broke some of the localization though. I have a feeling it will be working as intended this summer if things continue to improve :P

My Band 2 is still working fine with my L640, so I have no immediate plans to replace it. I did have the strap split problem but it was replaced, no questions asked, at my local MS store. I do hope to see something (a new type band?) from MS next year. I can wait. YMMV

Unfortunately as I just found out recently you can't replace it in the store anymore. You have to mail it in. My wife's took a month last time and when it came in it damaged. It took another month of phone calls and arguments with the people on the phone before it was finally replaced so didn't have hers last time for almost exactly two months. Be careful about the mail in warranty. They have no accountability.

Maybe it depends on the store. I just exchanged my wife's band last week. (San Francisco)

To a point yes. If the store has stock they can replace it but both the store and 800 number confirmed no more replacement bands will be sent to the stores when they run out. All will transition to send it warranty repair which take a minimum of a month. In my case, two months of hell.

Just a heads up, if you have the warranty, Microsoft (at the store) will refund you Band 2 for the original purchase. I did this two weeks ago.

this sucks... was hoping for a 3 like many others.... On my 2nd band 2... 1st one had a cracked strap, this one as of last week, takes 3+ hours to get to 100% from 18% (not an exaggeration, it takes that long) and used to have 30%+ battery after 24 hours and now has between 11-18%... all within the past week.

Just bought Band 2 and it is awesome! I am concerned about the strap, but love all the metrics. Hope my strap lasts. Would really like to see a Band 3 at some point.

Just bought Band 2 and it is awesome! I am concerned about the strap, but love all the metrics. Hope my strap lasts. Would really like to see a Band 3 at some point.

I really liked the bands functionality, even though I'm on my third band 2 replacement. I was hopping to see an improved v3, it is a great all round device, just needed to be more durable.

On my 4th band 2, last replacement came last week, and I know they are removing it from sale etc, but this one is a different design to the last 3,the curve on the screen is a lot more rounded now, and the "hard' edge where the screen joined the band is almost unfeelable now, this replacement was also the only one I didn't receive in retail packaging. Although on the flip side the battery life is deffo not as good as the last 3

i'm still rocking a ms band 1 that was replaced once. matter of time before the strap snaps off from taking it off for showers. looked into getting a charge2 or blaze, but neither seems to have what I'm used to and want from the band. mainly *all* notifications and not just text notifications (charge2/blaze) or specific app notifs (blaze only).

Actually as I said earlier I just got a Band1 for this Christmas and I love it. I checked out all alternatives and seen a couple of other brands around the circle of my aquaintances and have not yet seen anything as great looking and informative as the Band. Haven't yet seen an Apple Watch close in action and feel though.

Fitbit all the way for me. The app on WP10 is great and the bands are helpful

Next time you're sitting on the couch or at the desk, check your number of steps. Sit there for 15-20min and you'll notice the step counter has gone up by at least 100. Terrible tracking.

I love MS Band, please give me 3

Cool. I came to the same decision when my trusty Band 2 died a month ago. While the Blaze is more price comparable to the Band 2, the Charge 2 does what I came to rely on most with the Band 2: heart rate monitor, sleep tracking and step count. Exercise assistance is secondary for me. I would also note that the Charge 2 will run for 4 or 5 days between charges, unlike the Band 2, and the charger itself is clever and easy to attach. I've also found that at least for me the Charge 2 is more accurate at knowing when I've gone to bed and when I've gotten up than the Band 2 was. I haven't had a chance to check the accuracy of the heart rate monitor on the Charge 2. The Band 2 was always within a beat or exactly matched the reading taken by a doctor or nurse during any office visits I had. I've seen no readings from the Charge 2 that cause me to question it, but I haven't been to the doctor since I bought it either. I find the information these trackers provide to be very helpful in keeping my attention on diet, sleep, and the need to move more. It is easy to let these things slide amidst a hectic work and home life.

My charge 2 stopped syncing with my Lumia 635 with Windows 10, only had it a month. thing wan no comparison to Microsoft band 2....that was awesome until the rubberized band started to crack. Hope Microsoft comes out with a new one!

Still none with Cortana integration or keyboard and just bland monochrome screen... I'll get another band off amazon when the current breaks.

If only Garmin could get their crap together. Every fourth or fifth build the smart notifications work great, then they are broken in the next build.

It's a pity they abandoned the Band 3. I hope we will see it again when they will find a way to fit Windows 10. I need a smartwatch or fitness tracker with Cortana support

I'm hoping to see the Band 3 in the form of a smartwatch that runs either Windows 10 on ARM or Windows 10 IoT Core, syncs fitness data to the Microsoft Health platform using the existing mobile apps and has all of the sensors and capabilities of the Band 2 and then some. That'd be such a wonderful device and a worthy successor to the Band Line. And then there's the possibility of it being called the "Windows Watch" or "Windows Wearable"; both of which I love the sound of.

Calling it "Windows Watch" would guarantee that it wouldn't go anywhere. Windows is exactly the most trusted brand. People use it because they have to, not because they want to.

Hey! I just wanted to ask a quick question. Now that I use an android phone, I would really like to get an andoid smartwatch. Something that actually looks like a watch. I love the band, and the way it syncs with Microsoft health. Does Microsoft offer any of the android watches to sync with its Microsoft health platform?

There are plenty of health tracking apps on Android. No reason to continue using Microsoft's.

They got me all upset again that there's no band 3.

No, there will be no 3, it's something else.

I have made the switch to Android, but still love my Band 2. But the heart rate monitor has stopped working. In looking around for a replacement, I realized that nothing can compare to the Band. I want notifications, fitness tracking, heart rate monitoring, and on-board GPS that will work without a phone within Bluetooth range. Only Band fills the bill. Microsoft, please reconsider continuing the line.

I purchased the Garmin Fenix 3 HR late last November, and absolutely love it. Made an excellent replacement for my MSFT Band v2 which was on the border of falling apart. I tried several Fitbit devices which were available at the time, but couldn't stand the quirks. I also really wanted something which could last several days and be worn when swimming or showering (those were my main issues with the MSFT Bands). That being said, I've noticed a lot of people mentioning that the notifications do not work in W10M. I ran into the same issues with my Lumia 950XL. After exchanging emails with several people in the support team, I wound up in contact with their engineering team. Due to the fact that W10M lacks GATT support (finally adding it with the Creators Update), Garmin had cobble together their own solution, which has issues due to a bug in the W10M BT stack (At least this is what I was told). They are confident the issues will be resolved once the big update finally roles out. Honestly, though, this is actually why I left W10M. I picked up an GS7E (partially because the phone is absolutely stunning), because I really liked the Garmin Fenix 3, and was fed-up with the issues I was running into with excessive battery drain (phone and watch due to the BT bugs). This wasn't the only issue I had with W10M, it just happened to be my tipping point. If they can release a truly compelling and competitive device, as well as a truly robust and competitive OS, I'll gladly come back.

Still rocking Band1! If I had to replace it I would pick the Fitbit Flex2, really attracted to a worry free band that tracks everything including swims and no need to constantly fiddle with it as it is constantly ON!

I'm still using the original Band too, and after nearly 2 years of daily use, its rubber molding is actually starting to disintegrate and its green LEDs no longer light up. Heart rate tracking still works, but it's a lot less reliable because of the dead LED circuit.
I'm getting pretty close to needing to replace the thing, but since I'd have to get many different fitness trackers in order to get most (not even all) of the functions of the Band, doing so isn't an economically viable option. The nightmare of exporting my Microsoft Health data to each tracker's apps only emphasizes how bad of an option this is. I'm probably going to end up getting a Band 2 from Amazon to replace it, since I won't have to transfer any data or spend lots of money on many different fitness trackers if I do that.

My wife and I just left the Band 2 for the Garmin 235 (wife) and the Fenix 3 hr (me). The only reason we switched was that MS didn't have replacements for us this last time the band cracked.

@J Frost, I did the same. I found the best replacement for my Microsoft Band was the Garmin Forerunner 235. It has GPS inside, a nice looking Windows 10 app and notifications, sleeptracking etc. I believe it might also be waterproof (while the Microsoft Band was not supposed to be I had it on a half marathon in pouring rain without any troubles...well except the touchscreen was useless in the wet. That is a functional improvement with the Garmin, only buttons to control it)

I've had to abandon my band after the fourth strap broke. Two weeks on my Fitbit, still can't pair it with Windows 10 Insider Preview computers after hours with tech support (tried pairing it in three computers, one running Windows 10 Anniversary Build so not insider build) with no luck. Now it's an ornament on my end table

Went through 2 MS Band 2 because of the strap cracking. I loved my Band 2 and even used it with my iPhone 7, but it was blessing in disguise when it broke and Best Buy could not replace it because I now use Apple Watch and I like it even more. I bought my mom the Fitbit charge 2 this past Christmas for her Android phone, which I consider for myself at one point.

MS band was a hit, it was doing good business and outclassed every smart band/watch out there comprehensively then why did MS discontinue it? I just don't get it.

Band sales never made it out of the "other" group and reviews tended to be average.

I switched to Fitbit Surge after my Band 2 failed as I wanted GPS. Setup was very confusing, needed to be done via PC using supplied Bluetooth dongle. After that it connects seamlessly with my S3 and L950. Works well but still miss the Band 2 ☺

So nobody tried Xiaomi Mi Band 2. There is a third party app developer who has an app called "Band Mi Band" for it on Windows 10 Mobile. Its the cheapest solution.

If you still have Band 2's with good straps then try using heatshrink when they normally split which is where the internal metal portions ends inside the straps. I've had this current one for months and it even works through pushups which is normally how I splt them.

The band was good while it lasted. That was about 6 months. After the replacement did the same as the first, I was out of the Band market. They have a good product but they used garbage materials.

I'm really sad that no Fitness Tracker serves as a *proper* replacement for the Band line, since you'd have to get several fitness trackers to get all of the sensors that the Band had.
And when it came to personalization and really good Windows Phone tie-in, the Band and Band 2 were pretty much the only choices. Sure, the Microsoft Health app only comes with a small number of backgrounds and colors for the Band, but third-party apps like Fanband and Pimp My Band allow you to set any picture and any color to the Band. Not to mention that the Band Line was the only smartwatch with Cortana integration. I feel like this line is a pretty accurate sum-up of the Band Line's demise:
https://youtu.be/9R8MFD8dszI

I begrudgingly picked up a Charge2 yesterday. The sleep tracking is horrible. I don't see a way to manually enable it, it is missing four hours of tracking or sleep...this is going to be a bumpy ride.

I got the Vector watch recently and I'm actually impressed. For people who don't need fitness that much, it'll serve quite perfectly. If you occasionally run like I do, you can always download the Running app and get going. The design is the best part, along with Uber, streams and the water resistance. It doesn't have a touch screen, so that can be a down for people, but after using it for a while, I actually see this as a plus. The always on displah3 and the 30 day battery make up for the lost functionalities. The only down part is that the Windows 10 app doesn't work, but if you contact their support, they can give you a link to a beta app that's working.

My Band just broke today, 8 months:( replaced it with a fitbit charge 2, but it is so boring compared to the Band 2, no Cortana etc, ugly, i miss the Band 2 already:(

I tried Fitbit charge2 as alternative but no where near as good as band2.

I'm still using my original Band. It still works great.

Can any of these recomendations recieve notifications (calls and texts) on windows phone 10?

I'm still using my Band 2. Best one out of all of them, in my opinion. It's just a shame they no longer produce or support them.

I lost the charger for my microsoft band 1, and i really want the second generation, but i cant get it here in Mexico, and the other alternatives are over priced here.

My band 2's strap split near the top. I tried a fitbit and didn't like it. Ended up duck taping the strap on the Band 2 and it works fine now (looks a little dodgy but I only wear it for sports).

Ha! I love all the comments sticking up for the Band: "No thanks, I'll buy another Band". Um from where, other than somebody's second hand item from eBay? Microsoft even cut off support for it, so it's not even worth to buy used.

Blaze for me...and the beta Fitbit app is do close to being final, a few more tweaks and some MS fixes and it's a winner!

I'll be honest still really missing my MS band. Got the Charge 2 but it's just Meh at best has issues syncing and gets a quarter of the notifications of my band

Just bought the Fit Bit Charge running the beta for notifications.. So far notifications work well.

beta of what? Can you expand on that?

Can't believe it's mid-2017 and nobody can come close to what MS accomplished (and threw away) with the Band 2. My own (#7) has been working flawlessly, (GPS lock in 30-45secs) until yesterday when the watch-mode screen started flaking out (turned it off and am wearing a watch on the left wrist.) Been keeping the strap in great condition with Gorilla tape since it came out of the box. Still praying either a B3 comes out, or somebody finally gets both fitness AND smartwatch functions perfected paired with a Windows phone...

even ignoring wp integration, nothing comes close to the b2. i am currently just going without after a terrible experience with the vivoactive hr plus.

2 weeks ago I bought the Fitbit Charge 2 and yes it's the best you can get when having a Windows Phone. The app runs smooth and the Charge 2 is a nice tracker

Samsung Gear S3 works well. But requires a second device (android) Microsoft dropped the ball on the Band2

I ran my Gear S3 for most of a month without tethering it to a device and it worked great during that time.

Settled for a Fitbit Flex 2 (the only waterproof Fitbit),
No more fiddling on the device's screen this thing detects and tracks everythign 24/7!
It's simple, really affordable ($59) and did I mention is also tracks your swims?

No mention of cortana integration, keyboard or color screen, uv sensor. That is why even if my band breaks I would pay for another band 2. So far it still works superbly ☺

My Band 2 band recently split, and when I took it into my local store, they didn't have any left in my size to replace it with. They offered me anything from the Fitbit range in store, I opted for the Blaze after asking a few questions about it. I returned it the following week, was given credit for MSFT, and I purchased a new Band 2 off Amazon. The best feature for me on the Band 2 is setting up your own workout routines. I was actually told in store that you can do that on the Blaze, you can't. The Blaze was basically a glorified step and sleep tracker.

The personalized workout routine from the MS Health Dashboard is really what I most fear losing when my Band 1 dies. My first one already torn apart and I'm now wearing my wife's (the metal backing and her skin didn't agree). I'm still eyeballing a Band 2. There really isn't a replacement for that particular feature, is there? It's literally like having a workout instructor right next to you. Excellent feature.

Yes still miss my guided workouts. But the workouts I was getting was from a site called bodybuilding.com and I found app on another platform.

Right now there is no real alternative to MS Band 2. I've tried Garmin and Fitbit and they don't compare in functionality or style. I love my Band 2. Microsoft needs to keep at it.

Just received a fitbit charge 2 as a gift. I am very pleased with the purchase as it keeps reminding me to be on the move. Only thing that would make it better is to have text and email notifications on my WP10.

i miss my band 2 =( why MS....whyyyyy???

my band 2 just crapped out.....there doesnt seem to be a good replacement out there that matches the Band 2 feature for feature....as I read reviews on all these other wearables, it seems they get just as bad or worse reviews than the band 2, and I was very happy with the band 2..... I think Im going to give the fitbit Charge 2 a try

Am gonna rock my band 2 till the wheels fall off.

Ive got mine taped up.where the band split apart, still works great!

the band 2 was great. You cannot get Cortana messages on the band 2, am I correct?

I bought an extra for when the wheels fell off...still nothing like it...

Well, hardly replacement for band 2, none for band 3. Round watch, moving bezel, LTE would be also great. Apple is about to out one too(lte). Samsung, Huawei and LG already did.

No mention of the Garmin Vivoactive HR. Syncs Ok to Garmin Connect Mobile on my 950XL with W10M. Get text & call notifications in the main reliably. It seemed a sensible choice as I have the Garmin Edge 1000 too.

Love the Charge 2; just wish Microsoft was not dragging its feet again with notification and connected GPS support; WTF Microsoft get you **** and Win10 together, so it does not constantly lag behind iOS and Android. p.s. for uninformed MS fanboys, its not Fitbits fault, but Microsofts, because they fail to support uniform standards in win10. Hope Fitbit makes the Charge 3 waterproof for swimming that would make it the ultimate watch/fitness accessory.

This article really shows how great the band was. There's just nothing out there that csn rplace it fully.

Maybe great in features, but Microsoft seriously screwed up on the bulid quality and QC, whch is what doomed it; if people are getting 3-4 replacements each under warranty its a **** product no matter what.

The build quality was excellent except for the band part of it which cracked under heavy use which is why most people got themreplaced.MS should have fixed the design flaw instead of killing the product.

Samsung Gear Fit 2, almost the exact same device.

I've had both iterations of the Band since the day they came out… I really do miss them. With that being said, I now have the Blaze. The battery life I'd so much better. I was part of the private beta for notifications and now they work flawlessly with my 950XL. The only thing missing is it's own GPS, ability to respond to texts from the device and the smart wake up.

Misfit's Shine 2 also good.

The Charge 2 is great, but Connected GPS does not work well at all with my 950XL. Notifications, though, do come trough, most of the time.

Still Rocking a Pebble Time Steel.... Yep, Pebble is dead but, the watch still works 100%... No matter how you look at it, 10 day battery life WITH a always on color (e-ink) display that is very slim, does voice texting, is water proof to 30m and is very stylish... It cant be beat with any other watches... And no, not with WIndows Phone... Band 2...biggest piece of crap ever....went through 3 of them bands keep on breaking, even on the 3rd one... junk...

All 3 of mine eventually developed a problem where they would not hold a charge. Quality control on those devices was terrible, glad I got a full refund though.

The loss of The Band is just another reminder of what a failure Nutella has been.

It was a strategic decision to stop Band Development because the engineers could not get Windows IOT to run on the device. I fail to see how it was Nadella's fault that the software/hardware wasn't ready, and it was a correct decision to stop development on a product that did nothing to add to the one core Windoes ecosystem, and never would. Microsoft isn't Apple. where they can release a niche product and sell millions to loyalist customers. MS is at its best (from a hardware development standpoint) when it develops segment leaders that can build an ecosystem mostly filled by partner companies, a la the entire Surface line. The band was/is a cool product, but it doesn't add to the overall strategic direction fo the company, (alternatively, selling so many that it is cost effective on its own) it is not worth the investment of time & money to continue development.

Noirsoft: You are probably right. But anyway I miss my band. I have a Fitbit change 2 now, and it is usable, but it is not so plesant to have on my wrist as the Band was. And most thing do not works as well as it did with my band. I allso has order a OnePlus 5 phone, to have when my Lumia 950 XL not will work anymore. Allready this summer several major apps here in Norway will loose support for Windows 10 mobil. And there is not so many UWP apps as one would think. Microsoft - are you sure you have not made it too difficoult to make UWP apps?

As great as the Band is (was?) Android and iOS users weren't flocking to it. It was dependent on the Windows Phone/Mobile market. Selling to some percentage of <1% is not something that is sustainable. Sad but true. My Band is my main wearable hooked to my 950XL. I will miss both when they are no longer viable. When (probably not if) I am forced to iOS or Android it is likely I would move to their respective 'native' wearables.

Does anyone know what's going on with the Microsoft Band App ? The second day on the screen: "We couldn't load the data. Please try again later". And after trying checking the Band: "System error. Something went wrong. Please try again later."
Who knows?


https://answers.microsoft.com/en-us/band/forum/all/microsoft-band-app-on...

https://answers.microsoft.com/en-us/band/forum/all/microsoft-band-app-on...

I have same problem-stopping working July 17th, all 3 phones I have. I don't use a tracker but like checking out steps taken. Link provided by pepelepieux says they are working on fix. Highly doubt it since most poeple aren't having problems..

No Gear Fit 2 love? Compares favorably to any of these IMO. It's served my wife and I very well for months.

To make this list it needs to work with Windows Phone.

Fitbit Charge is really great, but don't use it in our car. If you use bluetooth connection for the smartphone integration you will loose the connection and calling and other functions will get lost. Without Fitbit with me everything works smoothly.

Still loving my gear S3 Frontier. It's a shame Microsoft jumped ship on WP and the band. Oh well....finally using actual smart tech now....;)

Same hear rocking the S3 classic only thing I ca find that was close to band. Not as comfortable ( I wore band while playing sports). But this device is rock solid so far.

Can any of the Garmins and/or Fitbits select "Next Song" if the person is using Groove?

I replaced my Band 2 with another Band 2, and have two more as backups. I've tried these Garmins and Fitbits and none arenas good. I'll use it as long as I can.

Gear fit 2. Very cool and feels like my old broke band

Bought MS Band 1 and 2, love it but MS abandoned it. Wasted about $700 in total.