4 'green' Earth Day apps for Windows 10
By George Ponder last updated
Each year, April 22 marks the anniversary of the birth of the modern environmental movement.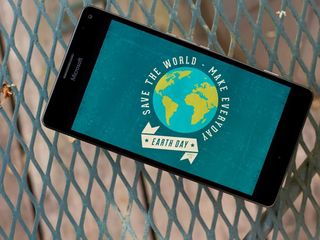 Established in 1970, Earth Day is a day designed to raise your environmental awareness, and there are a few Windows 10 apps available to help you live a little "greener."
Earth Day came about during a time where leaded gas was the norm, air pollution was rampant and environmental concerns were almost nonexistent. The idea to rally around the environment came from a former U.S. Senator from Wisconsin, Gaylord Nelson, and over 20 million people took to the streets on April 22, 1970, to raise awareness and concerns over our environment. Today, the movement has become global, with a presence in nearly 200 countries.
While the Windows Store isn't overrun by environmental apps, there are a few available to help you do your part in keeping the earth a little greener. From recycling reminders to finding the nearest vehicle charging stations, these Windows 10 apps can lighten the load at our landfills, help cut down fossil fuel dependence and make the earth a better place to live for future generations.
These are the best Windows 10 apps for Earth Day.
Recyclopedia
Recycling may be the easiest way all of us can pitch in to improve the environment. Recyclopedia is a Windows 10 app that's designed to inform you on the various ways old materials can be recycled and provide contact information for global recycling companies.
It is not the most complicated of apps, but it nicely illustrates ways that household materials can be recycled, as opposed to filling up a landfill. Recyclopedia offers recommendations on recycling batteries, computers, furniture, power tools and more. If you are not sure if an item can be recycled or need help finding a recycling location, the company listings span 20 countries, ranging from Tunisia to the U.S.
Recyclopedia is a free app, available for Windows 10 PC and Mobile. It can be a handy reference to help you live a little greener.
Next Charge
Electric vehicles are growing in popularity from the all-electric Tesla to hybrid models such as the Chevy Volt. Next Charge is a free Windows 10 Mobile app designed to help you find the nearest charging vehicle station when your electric or hybrid car needs a little recharge time.
The app includes more than 100,000 charging stations worldwide. You can search for a charging station by keyword or based on your Windows 10 Mobile phone's location services. Once you have located a charging station, general information on the station is available such as the address, public access and any website information.
Settings allow you to filter the stations by charging speed, status (available or down for maintenance), connector type and more. If you are sporting an electric car to help cut down on fuel emissions and to be more ecological, Next Charge is a Windows 10 Mobile app that can help you make it a little further down the road when your batteries are running low.
Download Next Charge from the Windows Store (opens in new tab)
Prune
Prune is a beautifully designed game that is available for Windows 10 PC and Mobile. It may not help you recycle garbage or discover new ways to live a greener life, but it offers a Zen-like gaming experience that can help you chill out. Plus, the beautiful tree artwork can instill a higher appreciation for the environment.
The concept behind this award winning game has you growing and shaping a tree into the sunlight while avoiding the dangers of a hostile world. Simply swipe at the ground to begin your tree's growth and then prune the tree by swiping at branches to allow it to grow. How you prune the tree helps guide the growth towards the light and when the branches hit the light, they blossom and you advance to the next level of play.
There is no single solution for each level, and environmental elements, such as wind, are also present that can impact how you prune your trees. Prune not only offers a gaming experience that is relaxing but also taps into your creativity and imagination. Prune has the option to create a user account based on your Microsoft account, which allows you to synchronize gaming progress between Windows 10 devices.
Currently priced at $3.99, Prune is a beautiful game that can offer you a new appreciation of nature.
Download Prune from the Windows Store (opens in new tab)
Bin Days Lite
While recycling is the easiest way we can help the environment, recycling day can also be the easiest thing to forget. If you have trouble remembering when the recycling truck hits your neighborhood, Bin Days Lite is a free Windows 10 Mobile app designed to help.
You just enter the next date you are scheduled for recycling pickup and set the number of weeks between pickups. Bin Days Lite then generates a schedule to remind you when to put out the recycling bin. The app also supports regular track pickups and green pickups.
Live tile support illustrates the next pickup date and an icon representing the type of collection scheduled. Unfortunately, there is no support for toast notifications but the wide live tile is hard to ignore.
Download Bin Days Lite from the Windows Store (opens in new tab)
If you've tried any of these Windows 10 apps, let us know what you think in the comments. Also, if you have a Windows 10 app to recommend that can help us be a little greener, toss out a recommendation in the comments.
George is the Reviews Editor at Windows Central, concentrating on Windows 10 PC and Mobile apps. He's been a supporter of the platform since the days of Windows CE and uses his current Windows 10 Mobile phone daily to keep up with life and enjoy a game during down time.
Interesting article. Our recycling pickup is done the same day as garbage and yard waste Three different trucks at different times. I'll tryout the first app.

The only green apps seemed to be recyclopedia and bindays. The other ones didnt have a green theme and prune wasnt green at all.

The article says Windows 10 apps, yet none of the listed is made specifically for Windows 10, think UWP. All these apps are old apps made for previous unsupported versions of Windows Phone (not even Windows Mobile), EXTREMELY ugly, probably made by some indie or small devs and as we can all see abandonware. Great article!

Tried to download and it said can't download

Only after the last tree has been cut down.
Only after the last river has been poisoned.
Only after the last fish has been caught.
Only then will you find that money cannot be eaten. Cree Indian Prophecy

As an electric car owner I can say with experience that Next Charge is next to useless. Runs poorly. I miss the late Charge Finder app. In many ways I thought it was superior to the official PlugShare app. Thankfully PlugShare support told me their working on a redesigned mobile site that should work on any platform.

Awsome tip on the Next Charge app. Was missing those POIs in windows maps and navigation. Would also be nice Would also be nice to have EV driving relevant calculation formula's added to the native calculator app, such as calculating range, mpg equivalent, charging rates and consumption rates etc.

Lol what is earth day?! :D

LOL that you don't know. It's an international holiday to celebrate nature and address environmental issues. Not a major holiday but it's taught to school children and does get celebrated.
https://en.m.wikipedia.org/wiki/Earth_Day
Windows Central Newsletter
Get the best of Windows Central in in your inbox, every day!
Thank you for signing up to Windows Central. You will receive a verification email shortly.
There was a problem. Please refresh the page and try again.