4 Windows 10 apps that let you do more with your gadgets
By George Ponder published
The Windows Store has a modest collection of apps that interact with a variety of gadgets, such as fitness bands and smart lighting systems. These apps help you make the most of your gizmos.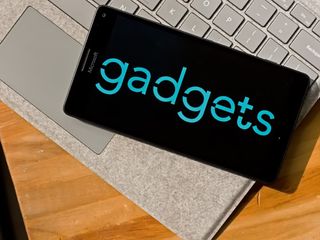 Some of these Windows 10 apps are official offerings, but with the Windows "app gap," sometimes we must rely on unofficial apps to manage our gadgets. Luckily, in many cases, the third party apps are just as good (if not better) than the official versions you find on other platforms. We'll start this roundup by focusing on four products and their companion Windows 10 apps that are designed to help you manage your house, body and keep tabs on Mother Nature.
Netatmo Weather Station
Netatmo Weather Station is a fantastic weather system that allows you to monitor a range of indoor and outdoor conditions. The Netatmo Weather Station app is the official Windows 10 app for keeping tabs on everything through your Windows 10 Mobile phone.
The basic Netatmo Weather Station includes an indoor and outdoor module that monitors temperature, humidity, barometric pressure, carbon dioxide levels, noise and more. Beyond the basic setup, you can buy additional modules, a rain gauge, a wind speed monitor, and indoor and outdoor security camera with motion activated lights.
The Windows 10 Mobile app isn't as flashy as its iOS and Android counterparts but delivers the core information in easy to use fashion. You can swipe through the app to see all your Netatmo modules and view a three-day forecast. The Windows 10 app has Live Tile support that displays your indoor and first module's temperature. While there isn't a Windows 10 PC version of the app, Netatmo has a wonderful web portal for viewing all your weather data.
I've been using the Netatmo Weather Station for years. I like the modularity of the system and have sensors in the basement, main floor and upstairs of the house to better monitor the temps. I especially like being able to monitor CO2 levels when we "burn" gas logs in our fireplace.
The Netatmo Weather Station app is free and available for Windows 10 Mobile. The basic weather station currently costs $128 with additional modules starting at $58 for the rain gauge (opens in new tab), with the outdoor security camera (opens in new tab) running $218.
hueDynamic
One of the neatest technologies to come around for the house in recent years is smart lighting, and Philips Hue offers an assortment of options from colored bulbs to light strips. While there isn't an official Philips Hue app for Windows 10, there is a small collection of third party apps available, with hueDynamic being one of the best available.
Priced at $4.99, hueDynamic is available for Windows 10 PC and Mobile as well as Xbox One and Windows Holographic. This Windows 10 app delivers more than 40 mixable and dynamic lighting scenes with simple room and lighting group controls. "Scenes" include mountain chill, jungle night, fire and ice, fireworks, and more. There is even a small collection of disco modes with the ability to adjust the light's strobe rate, intensity, hue and more.
Additional features include:
Cortana integration to use voice commands such as "Hey Cortana, lights off in the kitchen" or "Hey Cortana, start jungle night in the living room for 30 minutes."
Camera support that allows you to use your camera to sample lighting from your television and sync those colors to your Hue lights. (You can set the sampling to the predominant color or the average color present.)
Plex Media Server integration to automatically adjust your lighting when you start watching the TV.
The layout of hueDynamic is very user-friendly with the ability to tag lighting patterns as a favorite, allowing for easy access from the Favorites Page.
I have the Phillips Hue Starter Set (opens in new tab) in my living room, and it didn't take long to add bulbs throughout the house. Setting up hueDynamic to control these lights was easy, and overall it's a great way to set mood lights or freak out your kids by setting their lights to a strobe effect. If you have Phillips Hue lighting in your house, hueDynamic is a must have Windows 10 app.
Download from the Windows Store (opens in new tab)
FitBit app
While the Garmin Vivosmart HR+ is my fitness band of choice, the Garmin Connect Mobile (opens in new tab) app is in desperate need of improvements. In contrast, if you are looking for a fitness band and the Fitbit product line has caught your eye, the Windows 10 Fitbit app should not disappoint.
The free app is available for Windows 10 PC and Mobile and not only looks good but monitors your daily activities, dietary intake and Fitbit social circles. Additional features for the Fitbit app include:
Monitor and analyze your heart rate when paired with a Fitbit device equipped with a heart monitor.
Hydration monitor to make sure you are properly hydrated during workouts and throughout the day.
Sleep monitoring to see how well-rested your night's sleep actually is.
Manage your weight manually or automatically when paired with a Fitbit Aria Smart Scale

(opens in new tab)

.
The only thing missing from the Windows 10 Mobile app is support for push notifications to Fitbit bands, but there is hope. Fitbit recently released support for push notifications as a public beta (opens in new tab).
There is still some work to be done,. But all Fitbit really needs is a water-friendly version of the Charge 2 (opens in new tab) to completely dominate the fitness band market.
Download from the Windows Store (opens in new tab)
Nest Manager
If you are looking to manage your house's heating and air conditioning system, Nest learning thermostats (opens in new tab) are a good place to start.
The thermostat learns the temperatures you like and programs itself to match those patterns. Being a connected device, you can remotely control the temperature settings from a Windows 10 PC or mobile device. Unfortunately, there is no official Nest app available for Windows 10, but there are several unofficial apps that are worth a try.
Nest Manager is one of the more popular options and shares the overall simplicity the Nest environment offers. Available for Windows 10 PC and Mobile, the free app allows you to control your Nest while on the go or from the comfort of the sofa.
Simply log into your Nest account and you can view the current settings and temperatures for each of your Nest thermostats, set your status as away or home and adjust the temperature settings. Nest Manager also supports minimal access to your account, the ability to view any system messages, and create a settings schedule for your Nest.
I have Nest thermostats installed on both our HVAC units, and after about a week of setting the temperature manually, it was nice to have the Nest do all the heavy lifting. There is room for improvement with Nest Manager, but it covers the basics and allows you to make adjustments from the convenience of your Windows 10 PC or Mobile device.
Download from the Windows Store (opens in new tab)
Your thoughts
If you've tried any of these Windows 10 apps, let us know what you think in the comments. The world is full of gadgets and if we have missed your favorite Windows 10 gadget app, feel free to toss out a recommendation.
George is the Reviews Editor at Windows Central, concentrating on Windows 10 PC and Mobile apps. He's been a supporter of the platform since the days of Windows CE and uses his current Windows 10 Mobile phone daily to keep up with life and enjoy a game during down time.
I use LiFX bulbs for smart lighting, they have a decen app for Windows Phone, but it isnt on par with the iOS version

I'm using Huetro, which is running really good, but this here looks also promising.

Yeah, except that the Fitbit fitness and Smartwatches leave a lot to be desired. The Fitbit Surge is an absolute hunk of junk and the Blaze does not have any built in GPS. Garmin will not be updating their software either for Windows 10 Mobile and therefore, it is time to move on.

How wrong can one be... There's a very active beta running for Fitbit on Windows 10 mobile and I love my Blaze 👍 The Fitbit app is really nice as my wife and me both use it daily. For my Hue lights, I'm using Huetro which is pretty awesome on all my Windows 10 devices. Said it once, twice thrice and will say it a ton more : For me and my wife there is no app gap. Everything we need, is there and fulfils our needs 👍 No need to look at another platform for mobile!

For those who do not need stand alone GPS, I suppose it is good. However, I need stand alone GPS and the only does, the Surge, is a hunk of junk. If they could just add stand alone GPS into the Blaze, I would have bought that but, as it stands, they do not. I would have bought that one when my Band 2 gave up and I was refunded for an instore purchase only. Their smart watch support is abysmal at best.

My wife has a Charge HR that has never worked right - sync consistancy/ability is crap and it's not her Lumia 950 that is the problem. Same thing happened with her 640 and her laptop.

Honestly the FitBit app on Windows is by far the nicest app they have in terms of UI and usability. Once they add push notifications and in App FitStar videos it will be perfect

Sure, their app is fine but, without notifications, it really is not all that good. Also, if you need a GPS running watch, forget Fitbit, their Surge really is a hunk of junk. No, I do not want to have my phone on me when I am doing a run.

I agree having leased an S8+ I am only really using 5-6 apps I didn't have on Windows mobile

also powered on my HTC One a month or so ago and took an iPad from school to play with. I installed all the apps I'm using now on W10 and must honestly admit that some 3rd party apps were just head and shoulders better than 1st party apps on Android/iOS... Examples MyTube vs YouTube, Huetro vs official Hue app. Again, this is very personal...

Horrible app and support. Actually the hardware isn't great either. My most regretted purchase this year was Ring.

You forgot the home remote which gives u the ability to use Cortana to control both hue and nest, some avr's, and Insteon to name a few by voice on kinnect/pc and phone as its a universal app.

I cant live with out it. It bridges smart home with a single voice and touch interface and when invoking Cortana it doesn't even need to open the app.

Umm, that isn't the Fitbit w10 app. And huedynamics rocks, ring is awful, mine rarely works, and ecobee remote is pretty good

I have had buyers remorse since I purchased Ring. The hardware, the app and Ui, customer service .... All horrible

The windows app for Vera home automation system is very good too.

For Nest definitely check out N10. It can also connect for Philips Hue and Insteon

I'll have to try Hue Dynamic. I wonder if its as good as Thor Light on iOS.

I thnk Huetro should be on the list. The developer really cares and always responds in a timely manner. And updates are spot on.

Ecobee Remote is an awesome app for those Ecobee thermostat users. The app is full-featured and connects easily to your thermostat. It's even a UWP so PC users aren't left in the dust...

Don't forget the hardware itself also works on XBOX, Ecobees also connect to Alexa, Google Home, and Apple Homekit (which runs on all iOS devices). I bought the Ecobee over the nest for its huge amount of support and opensource framework.

Yeah, I've heard good things about their great support. But unfortunately (or fortunately I guess) I haven't needed to deal with them... Yet... ;-)
Windows Central Newsletter
Get the best of Windows Central in in your inbox, every day!
Thank you for signing up to Windows Central. You will receive a verification email shortly.
There was a problem. Please refresh the page and try again.