The best games for your Nokia Lumia 520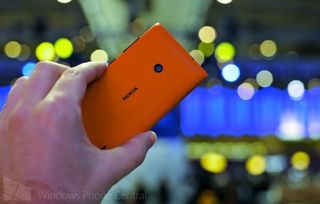 Yesterday we shared with you the best apps for your Nokia Lumia 520. Why the Lumia 520 and not Windows Phone in general? Because if you have a device like the Lumia 920 or 1520 you can run practically any app in the Windows Phone Store. However, the Lumia 520 and other devices with just 512MB of RAM (think Lumia 521, Lumia 620, Lumia 720, etc) might come across certain apps and games that don't work or don't work too well.
The overwhelming majority of apps in the Windows Phone Store do work on all devices, including those with just 512MB of RAM. It's when we look at games that we see the frequency of support drop a bit. All too often this year we've seen a highly anticipated game come to Windows Phone, but without initial support for 512MB devices. That said, here are the best games you can run on your Lumia 520.
Jetpack Joyride – Best game to get addicted
Jetpack Joyride hit Windows 8 first, then finally came to Windows Phone over the summer. The game is highly addictive, so be careful before playing in this endless adventure. It's free and comes with Xbox Live integration, hard to beat that killer combo. Pick it up in the Windows Phone Store.
Halo: Spartan Assault – Best game for saving the universe
Is there anything better than playing Halo on Windows Phone? It's tough to say, because Halo: Spartan Assault does an excellent job of bringing Halo from your television to your phone. Your game also syncs across the Windows 8 and Xbox One/360 versions of the game. It's expensive for a phone game, sure, but it's so good and performs well considering the hardware we're working with here. Pick it up for $7.99 in the Windows Phone Store.
SongArc – Best music game
We've been covering SongArc over the course of its inception, beta, launch, and present success. It's the best music game you can get for Windows Phone and it supports 512MB devices. Its success is also highly dependent on the support of the community, which is really strong. Users can make their own music sheets and put them up for other players to download and play along with. The game is free, but you can buy more coins via an in-app purchase. Those coins are currently on sale, so you better hurry and grab them and save anywhere between 50-70%. Grab it in the Windows Phone Store.
Rayman Jungle Run – Best platformer
Rayman has been on the video game scene for nearly 20 years and he recently joined Windows Phone this past year. Rayman Jungle Run instantly became one of the best games in the Windows Phone Store. It features great gameplay, graphics, and music to create a really fun experience on your phone. It goes for $0.99 and is worth every penny. Pick it up in the Windows Phone Store.
Wordament – Best game to get your brain buzzing
Is there any question about how fun Wordament is? It's been out on Window Phone for a very long time and has an interesting story. It was started by two Microsoft guys in their spare time, eventually that became their full-time gig at Microsoft as Wordament was absorbed into Microsoft Studios. Since launch its gained Xbox Live support and is available on every mobile platform. It's free, has Xbox Live achievements, supports a handful of languages, and is super fun. You do require an internet connection to play, but it's worth it. Grab it in the Windows Phone Store.
Rail Rush – Best endless runner
Oh yeah, time for a little controversy. You're probably wanting Temple Run or Temple Run 2 as the best endless runner right? Well Temple Run 2 isn't available for the Lumia 520 (yet) and Temple Run doesn't have quite the depth and variety you can get with Rail Rush. Graphics look good and gameplay is smooth on 512MB devices. Rail Rush is also free, so that's a nice bonus. The only downside to Rail Rush is the lack of Xbox Live and the need to use in-app purchases if you don't feel like grinding it out to level up. Either way, it's worth playing on your Lumia 520 so grab it in the Windows Phone Store.
Asphalt 8: Airborne – Best racing game
When it comes to mobile racing games, Asphalt is king of the hill. Gameloft is one of the biggest game developers in the mobile space and they've mastered the racing genre. On Windows Phone we have the 7th and 8th installment available, with the former having Xbox Live integration and the latter lacking it. So why are we picking Asphalt 8: Airborne as the best racing game? Because it's newer with better graphics and (in our opinion) better gameplay. You really can't go wrong with either. Asphalt 8 goes for $0.99 in the Windows Phone Store.
Reaper – Best role playing game
Picking a great role playing game is hard because they all vary wildly in graphics, gameplay, content and more. We're going with Reaper for a few reasons. It has great graphics, gameplay, and value. It's a free that's really just really fun to play. There are in-app purchases, but you can decide to indulge once you encounter them. Grab Reaper in the Windows Phone Store.
Angry Birds Star Wars II – Best Angry Birds
Yeah, the category is a bit of a gimme, but it's true. Angry Birds Star Wars II is the best Angry Birds we've ever played. The first mashup between Angry Birds and Star Wars was a hit, but the second installment takes it to another level. Addictive gameplay with cameos from your favorite Star Wars characters. The game is super fun and probably the best Angry Birds game yet. Grab it for $0.99 in the Windows Phone Store.
Sparkle 2 – Best puzzle game
10tons makes some of the best games on Windows Phone. Sparkle 2 comes to us from them and is an excellent little puzzle game. Shoot your colored marbles to other marbles with a similar color before all the marbles reach the end. The game features a trial, but will set you back just $1.29 in the Windows Phone Store.
It's tough to pick the top anything, especially games. Our tastes are all so different that no one list is going to satisfy everyone. Which is where the comments come in. Which games are must-haves for your Lumia 520 (or any device with 512MB of RAM)? Sound off below in the comments with your favorites!
Get the Windows Central Newsletter
All the latest news, reviews, and guides for Windows and Xbox diehards.