The best horror games of 2021 to play this Halloween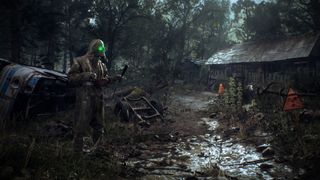 (Image credit: The Farm 51)
It's almost Halloween, and you know what that means — it's time to play some great horror games that are sure to get you feeling spooked. There has never been a better time to be a fan of these titles, either, as many horror games from recent years are often considered some of the best Xbox games in the industry. While we do recommend playing through classics like Alien: Isolation, we also believe it's important to spotlight some of the best new horror games that have come out in 2021. Therefore, we've put together a list of the best horror games from this year that we think you should play right now.
Best overall: Resident Evil Village
Why you can trust Windows Central Our expert reviewers spend hours testing and comparing products and services so you can choose the best for you. Find out more about how we test.
Resident Evil Village
The legendary franchise continues
Reasons to buy
+
Excellent survival horror gameplay
+
Fantastic visuals
+
Very replayable
Reasons to avoid
-
Story doesn't make sense at times
2021's premier horror experience is Resident Evil Village, Capcom's follow-up to 2017's excellent Resident Evil 7: Biohazard. Set in a grounds of a massive castle and in a nearby village, Resident Evil Village is filled to the brim with deadly creatures that are inspired by zombies, werewolves, vampires, and other monstrosities. To survive, you'll need to comb through each area for weapons, use the environment to your advantage, and find ways to outsmart the forces that are hunting you. There are also plenty of story collectibles to find in each area as well, giving you a chance to piece together the parts of the narrative that the main cutscenes don't focus on (the story can be a bit nonsensical at times, unfortunately). These collectibles also make Resident Evil Village very replayable, as there's a good chance you'll discover something new in follow-up playthroughs.
Resident Evil Village is also a visual spectacle, as it features superb textures and supports ray-traced lighting on next-gen consoles like the Xbox Series X as well as high-end PCs like rigs equipped with NVIDIA RTX 30-series GPUs. You can rest assured knowing that in Resident Evil Village, every gore spatter and grotesque creature will look horrifyingly realistic.
Best shooter: Chernobylite
Chernobylite
Welcome to the Zone
Reasons to buy
+
Tense horror-style shooter gameplay
+
Nuanced storyline with many possible outcomes
+
Lots of different enemies and environments
Reasons to avoid
-
Enemy AI can be inconsistent
If you're after a shooter that has lots of horror elements, look no further than Chernobylite. Set in the depths of the Chernobyl Exclusion Zone, Chernobylite tasks you with searching for your lost wife while paramilitary soldiers and supernatural threats alike bear down on you at every turn. Throughout the game, you'll have to carefully manage your supplies so that you always have a way to defend yourself against the threats you encounter. Throughout the journey, you'll also meet several allies that can help you on your quest, though they'll abandon you if you treat them poorly and don't take their own concerns and perspectives seriously.
The enemy AI can be a little inconsistent at times, but overall, Chernobyl is an excellent game if you enjoy tense shooters with lots of stealth and horror elements. Don't overlook it.
Best adventure: The Medium
The Medium
Two realities, one person
Reasons to buy
+
Excellent psychological horror
+
Expertly crafted environments
+
Masterful storytelling
Reasons to avoid
-
Can't do 60 FPS on Xbox Series X
The Medium is one of the strongest Xbox exclusives in recent memory, offering players a uniquely slow-paced adventure experience that trades action-packed thrills for a focus on psychological horror. You play as Marianne, a woman who has the unique gift of being able to transcend between two different realities at the same time — a "medium," in other words. With her abilities, Marianne has to contend with evil spirits at an abandoned government-funded resort and uncover its horrifying secrets.
The Medium's biggest strengths are its intricately detailed environments and masterful storytelling, both of which are crucial to getting psychological horror right. The Medium is also a fantastic-looking game, although the fact that it doesn't reach 60 FPS on Xbox Series X is disappointing. Still, the game is absolutely worth playing if you're after an adventure-style psychological horror experience.
Best puzzle: Little Nightmares II
Little Nightmares II
Find the transmission
Reasons to buy
+
Creative puzzle gameplay
+
Lots of puzzle variety
+
Tons of creepy atmosphere
Reasons to avoid
-
Controls can be unwieldy at times
If you like horror games that have lots of puzzles, Little Nightmares II will be right up your alley. In it, you play as a boy called Mono who is trapped in a world corrupted and tainted by an evil transmission. Together with the character Six from the first Little Nightmares game, Mono has to find ways to safely traverse each area so that he can eventually find and stop the transmission.
Throughout Little Nightmares II, players will come across various different types of puzzles, including platforming segments, physics-based challenges, and situations where you need to figure out how to move without being heard or seen. Solving these puzzles is a fun, yet tense experience that will keep you on the edge of your seat. Little Nightmares II is also dripping with dark, stylized atmosphere that ties the whole experience together. The controls can be a little unwieldy at times, but the game is ultimately a gem that no horror fan should miss.
Best co-op: Back 4 Blood
Back 4 Blood
The Left 4 Dead 3 we've been waiting for
Reasons to buy
+
Action-packed zombie slaying gameplay
+
Focus on squad tactics and cooperation
+
Awesome presentation
Reasons to avoid
-
No traditional Versus mode
-
No solo progression
People who want a co-op game to play with their friends this Halloween should give Back 4 Blood a try. Similar to Turtle Rock Studios' original Left 4 Dead series, Back 4 Blood pits four players up against the zombie hordes of the Ridden. This alien parasite has enslaved most of the human race, and it's up to you to take as many of them down as you can so that humanity can rebuild.
Like Left 4 Dead, Back 4 Blood has excellent action shooter gameplay centered around squad tactics and dealing with the "special infected," which are zombies that have unique capabilities. Unlike Left 4 Dead, though, Back 4 Blood has a deck-building system that allows players to use stat-boosting cards in-game to create specialized builds. And when you pair the gameplay with the game's gore-filled visuals and high-octane soundtrack, the result is one of the best zombie games ever made. The only real downside is that there's no traditional Left 4 Dead Versus mode or a way to progress in the game if you're playing solo.
Best visual novel: Doki Doki Literature Club Plus!
Doki Doki Literature Club Plus!
Just Monika
Reasons to buy
+
Incredibly creative concept
+
Excellent story and characters
+
Charming presentation (most of the time)
The hit 2017 visual novel horror game Doki Doki Literature Club (DDLC) has finally made its way to Xbox with the release of Doki Doki Literature Club Plus!, which features the original game's content as well as some extra side stories. The story of DDLC has you attending a high school literature club and interacting with members Sayori, Yuri, Natsuki, and Monika.
As you play through the game and build relationships with the four characters, you'll begin to uncover dark secrets about the literature club that will completely change the way you perceive the story, the characters, and the game itself. We won't say more than that since we don't want to spoil the twists, but you should definitely give this incredibly unique and powerful game a try.
Best style: Mundaun
Mundaun
Hand-drawn horror
Reasons to buy
+
Incredibly unique style
+
Tense psychological horror
+
Healthy mix of creative puzzles
Reasons to avoid
-
Can be too slow at times
If you're looking for something with a unique style, give Mundaun a shot. Like The Medium, Mundaun is slow-paced and focused on psychological horror. However, what makes Mundaun stand out is that all of its visuals are completely hand-drawn, giving the game's environments a fascinating and distinct sketch-like appearance. While playing Mundaun, it almost feels like everything on screen is part of an animated sketchbook.
In terms of gameplay, Mundaun is filled with lots of clever puzzles to solve and overwhelming threats to survive. Set in a dark and unsettling valley within the Alps, players will need to use their wits wisely and manage their inventory well if they want to uncover the secrets of the Mundaun mountain. The game is a little bit too slow at times, but overall, Mundaun is excellent.
Best remaster: Alan Wake Remastered
Alan Wake Remastered
A classic returns
Reasons to buy
+
Great story
+
Strong atmospheric horror
+
Gorgeous visuals
Reasons to avoid
-
No ray tracing is disappointing
Alan Wake Remastered is perfect for fans who want to play a modernized version of a classic, as Alan Wake is generally considered one of the best horror games ever made. Set in the Pacific Northwest town of Bright Falls, you play as Alan Wake, an author whose wife, Alice, has gone missing. As you search for her, you come across pages of a horror story that you supposedly created but don't have any memories of writing. The situation worsens as elements of the story come to life before your eyes, with the primary threat being an evil darkness that corrupts everyone it comes into contact with.
Armed with little more than a flashlight and a pistol, it's your job to journey forth to try to discover what happened to your wife while also working to put an end to the nightmarish threat of the darkness. Complete with advanced new textures, lighting effects, and support for 4K resolution, Alan Wake Remastered is the definitive version of Remedy Entertainment's fan-favorite horror classic.
It's time to get spooky
It's important to get into the spooky spirit as Halloween draws near, and one of the best ways to do that is to play one (or all) of 2021's excellent horror games. Even though horror is one of the smaller game genres overall, tons of excellent horror games have still been made recently, and all of them are worth checking out. For some other awesome horror games to play, don't miss our roundup of the best Xbox horror games.
Get the Windows Central Newsletter
All the latest news, reviews, and guides for Windows and Xbox diehards.
Brendan Lowry is a Windows Central writer and Oakland University graduate with a burning passion for video games, of which he's been an avid fan since childhood. You'll find him doing reviews, editorials, and general coverage on everything Xbox and PC. Follow him on Twitter.