Best Journal Apps for Windows 10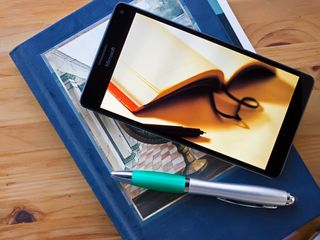 While many still keep a paper journal or diary handy, the Windows Store has a large selection of apps that can make recording the day's events a little easier. These journaling apps for Windows 10 have the ability to store your written thoughts, photographs and even drawings. Many are password protected to secure your personal thoughts and some have the ability to share your thoughts with other when desired.
These apps can be used to document personal experiences, work-related adventures or any other daily event you encounter. After careful consideration and searching high and low down the Windows Store aisles, we've pulled together a collection of the best journaling apps for Windows 10. I'm still partial to paper journals but these apps make a very strong argument for going digital. Let's see what we have discovered.
Journalist
Why you can trust Windows Central Our expert reviewers spend hours testing and comparing products and services so you can choose the best for you. Find out more about how we test.
Journalist is more of a scrapbook than diary app but is a very capable app for Windows 10. The app has a variety of drawing tools as well as support for inserting images to your journal pages, audio clips and video footage. You can create vertical or horizontal scrolling parallax pages with four independent layers and save scrolling pages as videos.
Journalist has support for launching your camera to capture new images for pages, or you can insert existing photos from your gallery. There is also support for inserting map images of your location.
Additional features include:
Voice Command support to control the app while creating pages
Pin Journals or pages to your Start Screen for easy access
Create custom pens and pencils using color palettes from ColourLovers.com
OneDrive support to save and synchronize journals between devices
Pages can be saved in PNG, SVG, JPEG, TIF, JXT, GIF, MP4, WMV or AVI format
Available for Windows 10 PC and Mobile, Journalist does play out a bit better on a tablet than a phone. The larger screen of a tablet offers more real estate for designing and creating journal pages. Journalist is also available for Xbox One, but several features are disabled.
Journalist is a free Windows 10 app and a colorful option for documenting the events of your day.
Download Journalist from the Windows Store (opens in new tab)
PaperStreet Journal
PaperStreet Journal is a free journal app that is available for Windows 10 PC and Mobile. The app has support for both type written entries and drawn entries, but you cannot combine them. Additionally, switching between the two methods of entry could be better.
While the interface could use a little fine-tuning, PaperStreet Journal does offer password protection for your journal, entries can be searched by keyword and the app has a built-in spell checker. There is also support for voice-to-text entry, making PaperStreet an appealing option for hands-free journal entries. Your journal can be backed up locally in .RTF format with drawn entries saved in .PNG format.
When viewed in landscape orientation, a summary of your journal entries line the side of the display. Tap on an entry and the remainder of the screen is filled with the content, where you can add to or edit things.
While a capable journal app, switching between drawing and text entry requires you to go to the settings and make the change in the Preferences menu. If you do not switch between entry types, this is not an issue. If you do, I can see it being a bit cumbersome but not a deal breaker.
Download PaperStreet Journal from the Windows Store (opens in new tab)
Dear Diary
In many ways, Dear Diary is the tale of two apps. The Windows 10 PC version of the journal app offers a few visual enhancements, while the Windows 10 Mobile version is more simplistic in nature.
The Windows 10 PC version offers password protection for your diary, mood music to play in the background and an illustrated journal sitting on a wooden desk for visual effects. Journal entries are made by keyboard (on-screen, or physical) and you can scroll through the journal pages with navigation a buttons or by specific date.
The Windows 10 Mobile version is more down and dirty. You do not have the mood music, password protection of the serene visual appearance. Just a blank page where you can log your journal entries. Entries can be entered through the on-screen keyboard or through a voice-to-text feature. Plus, you can have your Windows 10 Mobile device read back your entries. Scrolling between dates can be done by navigation buttons only.
Neither version of Dear Diary has support to insert images or drawings into your entries, nor can entries be synchronized between devices. While not as feature rich as other options, the simplicity of Dear Diary may be the app's strength. I would have liked to have seen the features of the app be more consistent, but in using both over the past few days, the simpler Windows 10 Mobile version seems to be the better of the two.
Dear Diary is a free app and if you are looking for a basic journal solution, it is worth checking out.
Download Dear Diary from the Windows Store (opens in new tab)
Diarium
Diarium may be the most functional diary/journal app for Windows 10. It allows you to keep up with all your memories through text entries with support to add audio, video, photos and more to fully document the events of your life.
Available for Windows 10 PC and Mobile, Diarium has full integration with your system calendar, password protection, along with integration with Twitter, Instagram, Facebook, and Swarm. You can back everything up to OneDrive and synchronize all your entries between devices and export the diary in DOXC, RTF, HTML or TXT format. If to add motion data to your diary entries there is a setting to achieve that, and you can automatically add weather data to boot. Diarium has support to add your location, include tags and rate your day from 1-5 stars.
If all that is not enough, Diarium also has notification support to remind you to make your daily entry. If you have ever tried to keep a journal or diary, one of the biggest challenges is remembering to make your entry. This feature is a great way to beat back that challenge.
On the downside, Diarium isn't the most glamorous app in the journal genre. You do have light and dark themes, along with a color wheel for custom accent colors, but there isn't a lot of flash to this Windows 10 app. And that may not be a bad thing. Diarium makes up for the lack of bling with a boatload of features to fully document your thoughts, experiences and memories.
Available for Windows 10 PC and Mobile, Diarium is currently priced at $4.99 and well worth the price of admission.
Download Diarium from the Windows Store (opens in new tab)
If you have experience using any of these journal apps for Windows 10, let us know what you think of things in the comments!
As with any roundup, we may have overlooked your favorite journal app. If such is the case, feel free to toss out your journal app recommendation in the comments as well.
Get the Windows Central Newsletter
All the latest news, reviews, and guides for Windows and Xbox diehards.
George is the Reviews Editor at Windows Central, concentrating on Windows 10 PC and Mobile apps. He's been a supporter of the platform since the days of Windows CE and uses his current Windows 10 Mobile phone daily to keep up with life and enjoy a game during down time.
Great post and recommendations. A lot of these are new to me.

Can't edit my comment here, but Dayly is an interesting app as well that allows for cross-platform support, along with sync. The app generally looks the same and has dark theme option only though. Also $1.99 but has a free trial.

I use 7days on my tablet. https://www.microsoft.com/en-us/store/p/7days/9wzdncrfj260

In short, there is nothing of quality.

You mean there is nothing "perfect"? Diarium seems like a quality option and I might give it a go.

What kind of quality are you looking for, but these lack? I'm not experienced with Journal apps, so I wonder what you feel is missing.

Not true dear friend, Diarium is has replaced Android Multi Media Journal ( the Best ) as my go to Journal and I have been using it for 4 Months. The Developer keeps improving it and it is very very reliable ( NO Bugs) THE JOURNALIST is constantly being updated more than any App in the store and the Developer has replied to all of my feedback. NOt to mention that it is one of the most feature packed Apps in the Mobile Sphere. I purchased it 4 Months ago . It started out Buggy but he /she keeps improving . This is rare for our beloved Windows OS . This is not a slight ,but I could not let these Developers hard work not be at least given a try . I am a regular paying customer ( smile)

What does that have to do with the lack of quality. It depends on your vantage point. If you're looking at it form a "I love Windows Phone... don't care about the competition and refuse to acknowledge them" standpoint, this Diarium app may look miraculous. It's the best on Windows Phone, but that doesn't mean it is a high quality app. If you're coming from iOS using Day One, for example, these apps are all going to look like trailer trash to you. Aesthetic is important. Using a smartphone is as much a visual experience as anything. Then again... Such people are less likely to be using Windows Mobile, because this kind of design language permeates the platform. It's why I don't use UWP apps at all. They look horrible. A bit reason for that is the UWP Design Language. It simply doesn't give developers enough creative freedom to not sabotage the Look and Feel of their app. Most UWP apps like like rough clones of each other, for that reason. Also, a lot of the design choices the developers make are simply horrible. Issues: Monochrome Wireframe Icons mixed in with Color Icons (this is just... INCREDIBLY LAZY). Text next to Custom Controls that is not centered (INCREDIBLY LAZY). Bad spacing between UI Elements (DITTO). Horrible color choices (due to the Color Pallete UWP prefers, Developer not necessarily at fault here). Pastel Blue, Pastel Red, and Pastel Green (Merry Christmas?) all in the same screen, with a huge black background and greyscale/white text/lines... It looks terribly drab and boring. I also find it odd that developers have yet to standardize on a set number of icons for common functions (like Save and Delete). These can differ quite a bit from app to app. Don't Microsoft have a common control set with icons for UWP, the way they do for Windows desktop. Developers hold quite a bit of blame for the consumer's "opinion" or Windows 8.x/10 and Windows Phone/Mobile apps. Many of them are unpolished and have almost no design investment put into them. They seem like they were whipped up as quickly as possible to get it out there and get the cash rolling in. In areas where the platform is at fault, you hear of no developers really speaking up and trying to push for change. No, I don't pay for that. I did buy a few Windows 8.x/Windows Phone apps back in the day, but my opinion these days is that I work for my money... So work to make your app look presentable if you want me to spend my money on it. I've also been burnt by too many "get the money and run" developers of apps advertised and pushed by this website, among others. I'm kind of appalled by this attitude where people write these diatribes almost as if to shame others into not spending their money on what they perceive to not meet the bar for quality deserving of their investment...

Ummm where is OneNote in these?

OneNote is more of notes. It would be hard for me to consider using that since it doesn't even feel like a journal and offers no privacy at all.

You can password protect notebooks - at least in OneNote 2016.

Good to know, thanks. Does that work for notes created in the apps too?

Is there any apps that run in win8.1 mobile?

It looks like "Dear Diary" should work on Windows Phone 8.1 based on how the app bar looks, but I don't know.

Diarium? Really? Sounds like something from a Mike Judge production. On a more serious note, thank you for the recommendations! I'll be sure to pass these along to my daughter for her new Surface Pro 4.

It sounds too close to Diarrhea, to me. I wonder if the developer is a native English speaker. This is a terrible product name, IMO.

Dev here, no I am a native German speaker... I had a different name for the app before but found out that it was a Registered Trademark so I had to change it. Made a doodle voting where the app users could participate and Diarium won the race (it's the latin name for diary btw). I went through many other option but didnt find another attractive name (that hasnt been taken/reserved by other apps yet). If you have a good alternative name in mind, let me know :)

To be honest non of them is fully functional

What are you missing in Diarium?

Of all the options "Diarium" sounds like the best.

Waiting for Windows 10 mobile Inking...

Diarium supports mobile Inking in the way that you can draw attachments. Automatic text recognition of Ink writing is not supported by the OS atm :(

Tried Diarium for a while, great app, recommend. I'm gonna use it again.

Long time Diarium​ user here. I Love it and use many of the features it offers. Syncing works almost flawlessly. I've used it back before the name change. When the name changed, I didn not vote for 'Diarium​' it sounds weird to me, but hey, majority wins, and its just a name to a great app. There far worse names out there to great products.