Best mesh Wi-Fi routers with Ethernet backhaul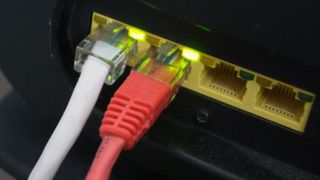 (Image credit: Windows Central)
Mesh Wi-Fi is great for extending your wireless signal, but sending data back to your modem through the backhaul via Ethernet will always be quicker than using Wi-Fi bands. We've rounded up the best mesh Wi-Fi routers with Ethernet backhaul support to best fit your network at a range of prices.
(opens in new tab)
TP-Link Deco X60 (AX3000)
Best overall

With two Gigabit LAN ports per Deco unit, you still have options to connect wired devices in whichever room you situate your mesh satellites. TP-Link has a fantastic range of mesh systems, and the dual-band Wi-Fi 6 X60 is just the right price for an Ethernet backhaul setup using its spare port.
(opens in new tab)
Linksys Velop WHW0103 (AC1300)
Best for budgets

The Linksys Velop doesn't officially support Ethernet backhaul, but it works just fine. The catch is that you need to set up the Velop system wirelessly first, then connect your Ethernet cables, and the system will switch to using it for backhaul traffic. For a budget choice, it's not overly complex.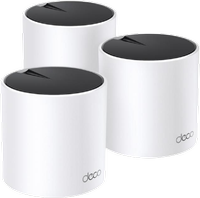 (opens in new tab)
TP-Link Deco X55 (AX3000) (opens in new tab)

Extra ports

Stepping up to three LAN ports per unit without raising the price too far, the Deco X55 is another mesh system from TP-Link that has proved its worth in our review. Still dual-band Wi-Fi 6 but with extra options for wired devices, it's worth considering the slight increase in cost here.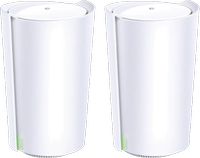 (opens in new tab)
TP-Link Deco X90 (AX6600) (opens in new tab)

Best for multi-gig

Transferring between devices on your network can be pushed even faster if each features multi-gig LAN ports, such as the Deco X90 system sporting a 2.5Gbps port on each unit. Perfect for Ethernet backhaul and maximum speeds, they still feature a spare Gigabit LAN port for extra wired devices.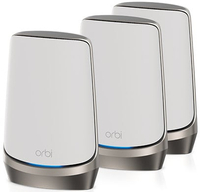 (opens in new tab)
Netgear Orbi RBKE963 (AXE11000) (opens in new tab)

Premium performance

This pricey quad-band Wi-Fi 6E Orbi system provides the highest performance you can expect from a mesh system. The three-pack features one 2.5Gbps multi-gig and three Gigabit LAN ports on each satellite, which are perfect for Ethernet backhaul, as well as one 10Gbps WAN port to connect to a modem.
Choosing the best mesh Wi-Fi router for Ethernet backhaul
Why you can trust Windows Central Our expert reviewers spend hours testing and comparing products and services so you can choose the best for you. Find out more about how we test.
Achieving the fastest speeds means going for a wired connection with Ethernet cables and using them to send data back to the modem via the backhaul. Even some of the best mesh Wi-Fi systems only offer one Ethernet port for each wired node, which doesn't leave many options for connectivity outside of an Ethernet backhaul, so our picks all include at least two LAN ports.
Most routers include Gigabit ports supporting internet speeds up to 1Gbps. Naturally, the faster the port, the better your Ethernet backhaul can perform, so any units supporting 2.5G multi-gig ports like the Deco X90 from TP-Link will perform even better, especially when it comes to transferring data to devices on your local network.
Mesh systems on the higher end tend to dedicate one wireless band to backhaul traffic, but even some of the cheaper setups can perform admirably by using Ethernet instead. The Velop 3-pack from Linksys may use older dual-band Wi-Fi 5 tech for wireless, but it supports Ethernet backhaul, so you'll still enjoy fantastic transfer speeds.
Ben Wilson is a Windows Central channel editor with technical expertise and a background in electronics. Fueling a technology and video game obsession with coffee, you can usually find him behind one screen or another.
Windows Central Newsletter
Thank you for signing up to Windows Central. You will receive a verification email shortly.
There was a problem. Please refresh the page and try again.