Best Microsoft Band Apps for Windows 10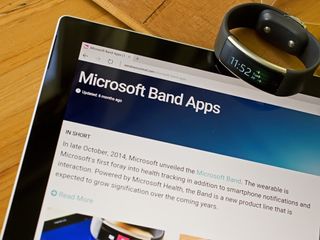 The Microsoft Band is a wonderful device that is a cross between a smartwatch and a fitness band. It monitors your steps, guides you through workouts, delivers the latest headlines and alerts you of notifications and calls. The Microsoft Band App (formerly known as Microsoft Health) is a must have for Band users, but there are several Windows 10 apps available that can help you customize your Band themes or expand the Band's abilities.
Even though the future of the Band is a little foggy, we continue to see more Windows 10 apps emerge to support the Band such as Huetro for Hue, where you can now control your Phillips Hue Lights from your Band.
We sifted through the many offerings in the Windows Store and tapped a few as the best Band ap ps on the shelves. These apps stood out for their functionality, ease of use and ability to compliment the Band's built-in capabilities.
fanband
Why you can trust Windows Central Our expert reviewers spend hours testing and comparing products and services so you can choose the best for you. Find out more about how we test.
fanband is a marvelous Windows Phone app for customizing your Microsoft Band's theme to better match your mood or personality. The interface is simple and the developer is routinely adding more themes to the mix. The collection includes over 2,000 pre-set themes ranging from movies, sports teams, video game characters and brand names. There is even a Dan Rubino and Windows Central theme!
fanband was recently updated to add the option to create your own theme based on Bing Wallpaper images or your photographs. Band themes can be searched by keyword, as well as filtered by popularity or newness, and tagged as favorites for easy reference. You can even set it to automatically rotate your Band theme if variety is your cup of tea.
While fanband is packed full of themes, the developer, Liquid Daffodil, is regularly updating the catalog of wallpapers. And on top of all that, the developer is open to suggestions for new themes and offers an easy way to request a new theme within the app.
fanband is available for Windows 10 PC and Mobile and is currently priced at $1.99. The app supports both the original Band and Band 2 screen resolutions and is a must have title for every Band owner.
Download fanband from the Windows Store (opens in new tab)
Band Heartbeat
Band Heartbeat is a basic app for monitoring one of the Band's key feature, the heart rate monitor. When launched, the Windows 10 Mobile app acquires the pulse information the Band is collecting and once a reliable connection is established, the screen displays your current heart rate in real time.
Band Heartbeat also taps into the Band's skin temperature sensor and displays that information in the lower right corner of the display. In addition to your heart rate and skin temperature, Band Heartbeat displays your minimum and maximum rate across the top of the display. Sound and animations are available to flash a red heart with each pulse and a beep similar to a hospital heart rate monitor.
Settings are accessible from the three-dot menu at the bottom of the app's display and includes the options to mute the sound, stop the animation and choose Celsius or Fahrenheit for the temperature reading.
Band Heartbeat isn't an overly complicated Band App and I can see it coming in handy if you want to monitor your heart rate during workouts from a larger screen. I would like to see the option to reset the minimum and maximum readings, but the but lack of this feature is not a deal breaker. Band Heartbeat is a free app, available for Windows 10 Mobile.
Download Band Heartbeat from the Windows Store (opens in new tab)
Clear My Band
This is a ridiculously simple Windows 10 Mobile app that can save you a lot of tapping to clear your Band notifications. Clear My Band eliminates the need to go from Band tile to tile to clear any notifications that have popped-up.
Once you give the app permission to connect to your Band, all that is needed to clear your Band of notifications and messages is to tap the center button. If you don't want all your notifications cleared, you can pick and choose which tiles to clear in the app's settings (found under the three-dot menu).
I keep Clear My Band pinned to my Windows Phone Start Screen for easy access and it definitely makes clearing all my tile notifications a lot easier. Clear My Band supports both the original Band and the Band 2, and is currently priced at $0.99.
Download Clear My Band from the Windows Store (opens in new tab)
Awesome Band Backgrounds
While fanband is the Cadillac of Band theme apps, Awesome Band Backgrounds is the free option that is a Cadillac in its own rights and offers a more photographic experience for customizing your Band.
Awesome Band Backgrounds includes a healthy library of wallpaper images that you can use as Band backgrounds, the ability to customize tile colors and use your own images as Band backgrounds. The layout has a nice flow to it with tabbed main pages that cover your images and theme colors.
Images sources like 500px and Bing Image of the Day and include photos of movie characters, landscapes, cars, abstracts and more. You can search by keyword and filtered by several variables (relevance, most recent, oldest, etc.). In addition to a solid source of images, the ability to use your own images, Awesome Band Backgrounds also includes a small collection of image filters to further customize your Band wallpaper.
Available for Windows 10 Mobile, the app supports both the original Band and Band 2 screen resolutions. Overall, Awesome Band Background is a great, free option for personalizing your Band wallpaper.
Download Awesome Band Backgrounds from the Windows Store (opens in new tab)
These apps are amongst the best Microsoft Band apps in the Windows Store. If you have given any of these apps a try, let us know how they worked out for you. Also, if we have overlooked your favorite Band app, feel free to share your recommendation in the comments below.
Windows Central Newsletter
Get the best of Windows Central in your inbox, every day!
George is the Reviews Editor at Windows Central, concentrating on Windows 10 PC and Mobile apps. He's been a supporter of the platform since the days of Windows CE and uses his current Windows 10 Mobile phone daily to keep up with life and enjoy a game during down time.
Backup My Band is a must so you can easily save and restore your custom colors, background, etc. before and after hard reset or even complete Band replacement.

Good selection in your review - found out can control my sonos system with my band with zonos installed on my phone - not exactly a Band app bit clearly adds value to the ecosystem.

Hi, thanks for the kind words. This is my app and I've got a UWP update on the cusp of being finished which will have a few extra features too. Hopefully Band users will stick around for a while and some people will enjoy the changes I'm putting in. My other Band app is a UWP already but just pushes the Bing image to your Band automatically every day. I have plans for it after the updates to Backup My Band which is the more popular. The other app is Band Daily Wallpaper and used to be called Bing My Band until Microsoft pulled it due to the name lol. It's got a free trial that never expires so the purchase is just optional support for the app.

Oh, those are your apps? Awesome, and thank you so much!

Microsoft Band is not available in India. I have downloaded the Health band on my phone which can atleast track my steps

I guess Band is a US/UK only thing....and soon history.

The first Band was released initially only in the US, and later the UK. The second Band was released in all countries that Surface product is released in, I thought. It had been released in Canada, where I bought mine.

No it wasn't released in all Surface countries. That's what this site initially reported what would happen, but it didn't pan out that way. I suppose that was the first sign that MS was not all that confident about the Band 2 in the first place.

Msft Band 2 is available on Amazon.in . Are you really from around India?

That seller is importing it from US. Also, there's no msft health/band app available in India. I was almost about to get the band 2 but seeing the recent news I might as well get a Fitbit charge 2

And basically all of those apps suck. One of the BEST band apps is an app to remove notifications? wow. amazing. others let you CHANGE COLORS!? GREAT! I own a band 2, and owned a band one, but a smartphone it is not. it's a fitbit with a heart rate monitor, and since it sounds like win 10 iot isn't coming, MS should just let it die. it's a perfectly fine fitness tracker. it's just not anything more, and since the competition certainly is, like every microsoft product outside of office and windows (yet), it's dead.

I like my Band, but I agree with you on this one.

I like it too. It just isn't anything more. Without a proper app store, why buy it when android wear and apple do everything it does and more? Even if they shipped with a proper uwp device, it would still be SO far behind ios and android in terms of developers. Even worse than wp. What would be the point? It is a fantastic fitness tracker. It isn't an app platform, and never will be.

The whole point of it for me is that it ISN'T a full on smart watch. I don't need something that does the same thing my phone does but on a smaller screen. The whole point is its a fitness tracker with glanceable notifications. Imo

I don't necessarily disagree. I bought a band not android wear, but the market won't carry it. That being said, if that was your view, why make zonos?

Might be the way the app lays out comments but I made Backup My Band and Band Daily Wallpaper not Zonos (not tried that app as don't have a Sonos). I don't really use many apps with my Band. I use my Band Daily Wallpaper app since it's automatic and the wallpaper just changes automatically, and if I see one I really love I use my backup app for saving my favourites. Other than that I don't use many Band apps really

Same thing for me. I don't need all that other functionality. But the reality is the new Apple Watch can basically do everything a Band can and more, all for almost the same starting price. The tech is getting to the point where there's no cost saving in limiting the feature set. So there's no reason for the Band to strictly be a fitness device anymore, besides the fact that it is limited in its ability to do more. If there is to be a Band 3, it better be cheaper or do more.

An Apple Watch costs as much as some of their phones though. If they keep the Band at £150, it's about £250-£300 cheaper than the Apple Watch (Unless they've massively reduced the price of the gen 2 apple watch)

Well at least in the US, the low end Apple Watch 2 is $270. The Band 2 debuted at $250. Considering all the quality problems surrounding the Band 2, I'm willing to bet the low end of the Apple Watch 2 is much higher quality and only starts at $20 more. Of course, you can still spend a fortune on the Apple Watch if you want to though haha
And yes... I know the Band 2 costs much less currently. Just saying this kind of shows why the Band 3 (if it happens) should be cheaper or more capable to warrant $250 like its predecessor.

Another thing is: Microsoft is not a fitness tracker company, they are a platforms and productivity company. In that context, continuing with the Band in its current form and given how little market share it has gained, makes little sense, even if it is partly because they never expanded its market. So now that they have apparently given up on bringing UWP apps to it, it fits poorly into their overall strategy, would be my guess. Frankly, I think a Surface branded watch makes more sense at this point. And what is a smartwatch really these days, other than a fitness tracker with a larger screen, more powerful processor and more capable software platform? Such a device would have a better chance of being able to run UWP apps and would be better suited for productivity oriented use. So again, I get that you guys don't need more than what the Band is already capable of, I just don't think that Microsoft wants to be in such a market, at least not on the consumer side. They could have kept it around for hospitals aso. but the most interesting part of that was always the cloud platform behind it.

As you say there are platforms out there already native to every single smart watch or fitness tracking device, so if they drop the band they may as well abandon the Microsoft Health platform in the future - it was a neat idea to have a single platform people could integrate with but without Band nobody will use it. No Apple users will both if Apple have their own platform as a default

Totally disagree on every Non-Office product is dead

I have yet to find a fitnes app that does more or better than Microsoft (Health) Band. With the actual Band - that is. It's not for sale in Norway, but I was able to get it from Amazon in England. I weare it all day and night.

Fitbit. The app is much better than Microsoft's. I don't have a Band or a Fitbit, but I use my phone to track my steps, and the Fitbit app does it in the background while the Band app needs several seconds to "sync" every time you open it. Fitbit even sends me notifications when I had achieved something remarkable.

you're right here. The fitbit app, which will likely be soon discontinued is superior to ms' in house health app. not surprising. They're stupidly laying off thousands of engineers and putting the remaining resources into ios and android development.

I like my Band 2 a lot. So I don't agree with "sweatshopking" about the Band 2 being an inferior device. Until maybe the most recent competitor releases, the Band 2 was the best as a combined fitness AND smartphone. And it's a year old. As for all the rumors he or she mentions, that's old news rehashed.

Take a look at Band Sensor Monitor and tell me if it sucks. A custom version is used by hospitals and research groups around the world with GREAT satisfaction, Band is a great device, it s a SHAME Ms want to kill it....It doesn't sell a lot but it s OBVIOUS if you don't sell it worldwide, and you don t advertise it :(

Well thank you Mr. Obvious, you answered yourself: "but a smartphone it is not. it's a fitbit with a heart rate monitor​"... The Band was always marketed as a Health monitor device; heart, sleep, etc. monitor! If you wan a 'Smartphone' get one, even Samsung's Gear, Moto 360, or Apple Wath are not, guess what? They are not 'Smatphones' either!

You have problem to read English.

No. I just believe they left out the word companion

Who says it's a smartphone??? It's a great!! smartphone companion!! With notifications, I can choose whether or not to look at my phone in meetings. More often than not, I don't need the disruption of looking at my phone as the band's notifications are good and using the band is subtle

Msbandgenerator for Halo 5 stats and news.

I use my band all the time. Get text on it, alerted when I get a phone call, see my email, track my running. Use if for golf rounds and syncs with my wireless weight scale so I can keep track of my weight. Oh, and it tells the time, weather and sleep patterns, heart rate. Reminds me when I've not moved in a while and with the app xBand it now displays some of my artwork. And of course steps and calories burned. And least I forget it syncs with my laptop, desktop and phone (All Windows 10). I love it.

How do you sync it with your weight scale & get it to display your weight? I have a Withings SBA, & would love to be able to do that...

Use WifFi Scale Tracker with my Withings scale.

Oops I think it is Body Log

Okay, my mistake! It's Band Weight Monitor. Have used so many...this one has an icon on my band and also works with Withings...

Oh you use a Withings SBA too, sweet! LOL thanks, I tried Wifi Scale Tracker ages back -but it was terrible.

Do you use the "Withings Smart Body Analyser (WS-50)"? Has been superseded by newer models, but only fairly recently: http://www.withings.com/us/en/products/smart-body-analyzer

Steel HR looks good. Nice balance between battery life and features. https://www.windowscentral.com/e?link=https2F2Fcli...

Huh??? We were talking about syncing weight data from Smart Scales (e.g. Withings SBA) to the MS Band 2. Did you mean to post in a different sub-thread.

"Travel Currencies" app shows exchange rates on Band

I hope Microsoft will soon come up with an upgraded Band X, which will be able to satisfy most of our needs. Hey! How is the name; the Band X.

Rumour is the device line is being killed off.

What about Surface Band? :D

I like "Band Daily Wallpaper." Each day, it puts the wallpaper from Bing on the Band 2 background. I like that they post beautiful photos and they change every day.

I'll +1 this...Since that's my app haha. I wanted it to be called "Bing My Band" to fit the naming scheme of my other app but Microsoft pulled it due to infringing on the Bing name. Love hearing from people actually using my apps, hoping to add to it in the future. The "Free trial" is not limited in any way and the option to purchase is totally optional for people that want to donate towards future updates, otherwise people can just use the free trial forever with no restrictions.

Sex trainer For Band (uwp) & anti theft band alarm.

Oh and you could do a "best games for band" article, like horror fists for band(uwp), paddle for band etcetc

Clear My Band stopped working on my 950XL/Band2 weeks ago. It looks like it's working but removes no notifications. I did a hard reset on my Band and uninstalled and reinstalled the app. I even reinstalled the OS. The app just doesn't work.

I stopped wearing my Band 2 months ago. It was a nice toy for the first while, much better than the Fitbit. But it's charge life, or lack there of, made it more of a chore than a necessity in daily activities.

I'm not having charge issues. Always lasts two days and recharges quickly. I charge it when I'm getting ready for work in the morning

Just swapped my 5th band for a Garmin Forerunner, band build quality rubbish, device itself was great to use but kept breaking. Garmin does everything as good except notifications, drops Bluetooth connection all the time.

I love my Band 2. I wear it every single day. It is perfect for me. Biking, Walking, Golfing, Work out, Sleeping, Calls, Texts, Emails, News Alerts, Alarm (to gently wake up), and a few other things. Make it water proof and I will wear it swimming. I don't need a full scale super watch, this does everything nicely. I never need to pull my phone out of my pocket at work. Unless its an important email I need to read. I am BIG fan of my Band.

Totally agree. I just don't get the down in the mouth comments here. My 950XL/MS Band 2are a great, useful pair

The Microsoft Band doesn't even have any Basic ICE (In Case of Emergency) page, which is prestty obvious in a Fitness Band, for when you drop dead during a run. - Name - Next of Kin Contact - Blood Type and Allergies - Do not ressusicate - Etc

It's a Microsoft product that isn't PC, so nobody would know how to use it anyway lol ;)

I suspect this could be coded up pretty quickly. Is an ICE feature common on other platforms such that an EMT would think to look for one? [Edit: I'm too late. Already done by others. Found "Band ID" and "Emergency Band" in the store on a quick search.]

So this is what I think they should do: Make a Surface Watch and have it run a special OS with a special shell that is basically just what corresponds to the start screen from Windows 10 Mobile, only. Add for the smaller screen. As in: it should just run tiles, notifications and not much more, at least not for v1. For v2 they could expand on making tiles more interactive, and bring the same interactivity to w10m. And for v3, they could go for running actual UWP apps. At that point, hopefully processing power will be enough in the small size. The probability of failure is high. But I''d still like to see them try.