The best personal finance apps on Windows Phone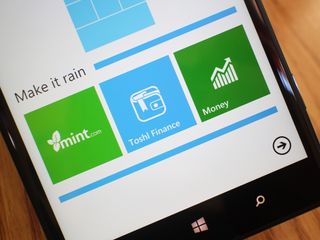 Ready to find out what personal finance apps are the best on Windows Phone? You recently nominated and voted for the best financial apps. Today we're announcing the results of the poll to show which app is king in the eyes of you - the Windows Central community.
First place - Mint
Why you can trust Windows Central Our expert reviewers spend hours testing and comparing products and services so you can choose the best for you. Find out more about how we test.
It should come as no surprise that Mint.com is the winner. The free web personal finance management service is popular in the US and Canada where it's available. Mint allows you to manage your personal finance accounts (checking, savings, and credit cards) in one place. You also get live updates on your accounts, can set and track a budget, get bill alerts and more. Just sign up for an account at mint.com.
Second place - MSN Money
While not a personal finance app to track your budget or spending, the MSN Money app is certainly one of the best financial-related apps in the Windows Phone Store. You can track your investment portfolios with the app and can get the latest business and finance news from a variety of sources in one app.
Third place - Toshl Finance
Toshl Finance is a personal finance app for everyone. While apps like Mint.com are only available in the US and Canada, Toshl works with over 160 currencies and is international by design. Toshl Finance not only works on your phone, but can be accessed by you in any web browser. Right now it requires you to manually import data, but they plan to add automatic import support soon. This is a great app that works anywhere and for anyone.
Above are some great apps selected by you. But every app nominated is worth checking out. If for whatever reason you're not happy with the above selection, see the runner-ups below.
Hilarious live folder name.

Live folders are the best

What does it mean "Make it rain" do they mean rain money?

Hahaha just noticed that!

Really? You need to watch more comedy.

Bring SigFig back or add more portfolio accounts to MSN Money.

SigFit dropped support for Windows Phone :/ They had a great app on Windows Phone and Windows 8.1. Could have been better with more support/updates.

Yeah total bummer. I reached out to them on Twitter and they confirm. I wish MSN Money would add Scottrade. Have you tried configuring a portfolio management account with MSN Money?

SigFig supports sucks, even when using their web site and you have issues.

I like the looks of "My Stocks Portfolio+," but I think I'm going to wait to get it when is on sale for free. A price of $7.99 for any app is too much.

i work in the stock market, My Stocks Portfolio+ is hands down the best finance app - fast, stable, updated frequently, for a professional you just cant use any of the others. i think i paid 2.99 as an early adopter, but i just convinced a partner at work to buy it at the current price after i demoed it. if you dabble in the market msn finance is quite good, but if you seriously follow the markets you i highly recommend it to anyone (~18 months of use) my only disappointment is that publisher has not made a version for windows 8.1, despite my request. (crap finance apps win 8.1 imho) i'll just have to wait for windows 10...

Too bad Quicken does not offer their mobile app for the Windows Phone. If they did, that would be my vote as I use the desktop app at home for my finances.

Quicken belongs to Intuit.... They are the ones that make mint

Well, actually Intuit bought Mint to get the basic client, but they do need to incorporaate the Mint interface into Quicken especially since they charge for it.

Prism should have been in third place. This is nuts. Posted via the Windows Phone Central App for Android

+1 Prism should be #1 Posted via the Windows Central App for Android

Totally agree. Look at reviews. 5 of 5 for prism. Mint doesn't work with all of my accounts, while prism does.

Prism is #1 the author doesn't know what he is talking about

TOSHL is good. Simple for quick use, but not for you if you care about your analysis and graphs and categories with subcategorised subsections and millions of screens and billions of buttons and taps and clicks.... Yeah, I've tried a few.

I agree, I tried it and its not very features rich for tracking expenses. CWMoney is much better, full category, sub category customization, charts and with one drive support.

Toshl is great but money lover should be #2. It's the greatest app for managing money on your phone with a gorgeous interface.

99.9% of my personal finances are in a particular credit union

Mint works with my credit union

That's foolish. They should be going through a credit card, paid off in full every month. That way, you get 1. fraud protection, 2. cash back discounts, 3. an interest-free loan on your own money every month, 4. have an app that works on Windows Phone to track all purchases, 5. simultaneously build your credit score.

Spending Tracker is one of the best in the store. Believe me!

Excel is the best one lol

I would love to use a cross-platform syncing personal finance app, but none meet my biggest need; the cash flow forecast. I still use a sunset edition of MS Money that has long been retired because of this single feature which is absolutely essential for me to manage my income and bills. Can't figure out why other publishers don't see this, as I am sure many still find it highly useful.

I miss SigFig and Bing Finance.

I used to use Pageonce back on WP7, which was lefteover from my foray into Android. Loved the service and site but dropped support for WP back maybe a year or two ago. Moved to Mint and have been very happy with that ever since.

Any good banking app for germany?

Use one note to record cash and the sync it to MS money on the desktop...

Just a note on this, I think that it I not allowed by the banks to give your bank account or credit card info to third parties. I think it violates the agreement (at least In Canada)

If only there were an app that sync'd with a desktop counterpart, like Quicken and Quicken Mobile -- maybe if the market share becomes relevant :-(

I use a program called AceMoney on the desktop. It works great, but no mobile app.

Does it store login info and pull transactions from your financial institutions? Can you initiate electronic transactions from it? I can do all this with Quicken and wasn't aware there were any other programs that did this -- especially the intiating of bill payments and account transfers, and transmitting these instructions to the bank.

The best App was removed from the WP Platform https://check.me/ Too bad, I loved that app.

Rule out ones that are for online banking, USA only, or Apps for checking shares, market prices. That doesn't leave many. The best app for tracking expenditure is Money Wallet. Currently on WP only, but developer is working on w8.1 version. Backs up to OneDrive. No affiliation to App or developer - it's just a very good App.

For another option check out my app EZ Budget. I'd love to hear any feedback.

Have tried every one, haven't looked back since using Prism.

The Best os mymoneybook..

I tested a lot of them and I think toshl it is overpriced and too simple. To me far away the best it is "MONEY WALLET" financial reports by dates, categories, timelines, cash flow, progression, currencies, custom reports, onedrive and dropbox autosync, recurrent transactions and a lot more.

There are two financial apps that I use on a daily basis and didn't see listed: Bank Account Manager (B,A,M,) - Excellent for tracking multiple accounts and allows for reconciling with your bank statements. Very detailed app for those that just don't want a basic app like Mint. Budget Buddy - Keeps you on track for your budget goals (ex: saving for a vehicle or vacation)

I've tried in the past CashControl and it did miracles for me.I'm kind of surprised that it wasn't mentioned in the article.
Windows Central Newsletter
Thank you for signing up to Windows Central. You will receive a verification email shortly.
There was a problem. Please refresh the page and try again.