The best podcast apps for Windows Phone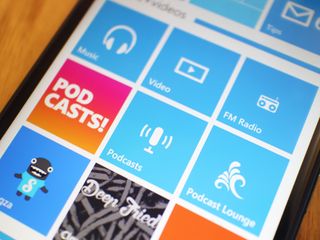 Time to crown a king for podcast apps on Windows Phone. Recently we collected nominations for best podcast app on Windows Phone and then had a community poll. It was a close fight, but a few podcast apps came out on top. Here are your winners.
First place - Default Podcasts app on Windows Phone
Why you can trust Windows Central Our expert reviewers spend hours testing and comparing products and services so you can choose the best for you. Find out more about how we test.
Believe it or not, the majority of you are content using the native Podcasts app available on Windows Phone 8.1. It's not the prettiest app, nor does it have the most features, but that doesn't seem to bother most of you. It's a spartan app and
No need to download this app, you already have it on your Windows Phone if you're running Windows Phone 8.1.
Second place - Podcast Lounge
Podcast Lounge is the community favorite for an app you need to download from the Windows Phone Store. This podcast app features a library of over 90,000 podcasts. It also has a huge list of features like audio and video podcast support, full scrubbing support, OneDrive integration, Live tile support and more.
Third place - PODCASTS!
Rounded out the winners podium is PODCASTS! A lot of you still use and like this app despite no updates in over a year. If it works don't fix it. Use PODCASTS! to download your favorite podcasts. Features include bookmark support, recent plays, background downloads and more.
What category of apps should we vote on next? Sound off below with your suggestions.
Windows Central Newsletter
Get the best of Windows Central in your inbox, every day!
I suggest voting on the best tech news app. Windows Central's is obviously #1, but there are quite a few interesting others out there.

It's not the prettiest app, nor does it have the most features, but that doesn't seem to bother most of you. It's a spartan app and

I think you may have accidentally

Accidentally what? Don't leave me hangin man...

It's an internet troll. I accidentally to you.

Hi Sam, I just wanted to ask how this Podcast app, Podcast+ Pro link ( http://www.windowsphone.com/en-gb/store/app/podcast-pro/8c77ae4c-803c-4432-bffe-2923c205a6f5 ) compares to the rest of these? Can any of these other than Native Podcast app support loading from local library?

Moronic question.
But what's podcast is?
What's its use?
I had open it for just twice since I saw it after 8.1 update.
Never loved it.
As no idea what its meant for.

Podcasts are like downloadable radio shows

Downloadable Radio shows??
Do u Americans (if u r) download radio shows or something like that?
Seriously?
Sorry if I'm nuking!
But @_@ seriously?

It's a radio show that usually has more specific themes, come out less often, and are on-demand. It's like Netflix for audio.

Not radio like on the car radio inasmuch as audio shows that can play on the radio, WP, or even the venerable iPod and Zune.

It's not just radio shows. Check out this list: http://www.stitcher.com/stitcher-list/all-podcasts-top-shows Browse through the categories. I'd bet you could find something you're interested in.

Nope. I'm not seeing syrup farming.

You're not trying hard enough. http://themapleguys.libsyn.com/

Damn it man. You rock. I tried to think of something reeeaaally mundane. Epic Fail.

Literally almost any subject, there is a podcast for. You would be amazed they are great for jogging, really any type of exercise, transportation, housework..etc.,anything tedious. Also helpful podcast, just one of many is, "Sleep with me", it is a podcast to help people experiencing insomnia, to sleep(their are a few different sleep casts, actually).they really do work.

@ ahardin: Ok you won!
I would love to hear something about "technology".
There are many on that page.
Suggest me best two or three . Which I could add in my favourites.

TWiT has a lot of high quality technology podcasts. http://twit.tv/shows

I'm not American, but I listen to Podcasts too! It's just a case of not having time to listening to them live, because I'm either at work or not close to the radio. I listen to many podcasts, varying from science / medicine / history / society / culture / discussions. And lets say on my journey to work, I manage to listen to one, I may not necessarily be able to listen to the others. So I can catch up on them using a podcast app.

I had practiced mobile radiography (xray) and drove from facility to facility. Average drive time was 20 min. Lots of audiobook and podcast time.

I use the lounge one as the built in pod cast goes screwy often

Same here. I like the default one, but sometimes it just stops playing and I'll need to reboot. Worse even is when it crashes my fitness app and I lose my data that I was currently acquiring.

I found Podcast Lounge due to the nominations. Love it. Worth the purchase. Way better than the native app.

I'd like to see a cooking app vote

Everytime I cook an app it never comes out tasting the way I wanted.

Hey does Windows Central have its own podcast?

Ha! Long story... yes, but in short they never put any episodes out, so it's pretty useless to track it. It was a decent show when they did it. Someone on here recently pointed out AAWP (All About Windows Phone) to me, and I love it. They are very British, which I kind of like listening to. Boy do they know their stuff... there have been a number of times where I have said to myself "that's EXACTLY what I've been thinking!"

My only issue with AAWP is the audio quality is pretty poor. They need to upgrade their mics or something...

One of the hosts frequently comments that he has bandwidth issues... I think that's at least partly responsible for the sound quality. Nonetheless, I don't find it unpleasant to listen to. Everything comes across fine. And the content is fantastic. They go into a far greater depth than WindowsCentral when it comes to technical topics (Glance, LCD vs OLED, etc).

the AAWP Podcast is excellent, and sadly, pretty much the only true WP Podcast left.

Yep, excel it rarely comes out.

Yep, excel it rarely comes out.

Excel I don't listen to podcasts.

In my opinion, I think they're ok, but I abandoned windows phone because it would not play long video podcasts well. It always has trouble with audio and video stuttering when you reach half way through the podcast.Try downloading (not streaming) any of the twit video podcasts that are at least an hour in length and you'll see what I mean. I've eliminated the hardware as the problem because I experienced it years ago on my Samsung Focus running windows 7, Lumia 920 with WP8+, and the Lumia Icon. The problem is exactly the same on all devices which leads me to believe it has something to do with the way is handles video playback. Also, when you use a different podcast app, the problem is still there. I would have stuck with Windows Phone if it had not been for this problem. Thanks for letting me rant.

I know exactly what you are talking about and it is frustrating - especially with the TWIT podcasts. I switched to podcast lounge and the problem went away for me. I used an HTC 8x and now I have an ICON. I had the problem with long podcasts and especially the TWIT ones. For some reason they seemed more prone to the problems than others. Maybe it is there encoding? Either way the problem seems to be resolved for me now simply by switching to Podcast Lounge.

Podcast Lounge is the only one that always remembers the last played position across all podcasts for me. Haven't used the default Microsoft one since cyan launched. It was poor at remembering the last played position during the 8.1 developer preview period. Has it improved since? (Im on 8.0 at the moment so dont have access to it)

Windows Phone 8.1 Podcast app does remember the play position.

It remembers the play position for only the very last one you listened to. If you listen to a second, it forgets the position of the first (unless they have fixed this recently). It's an absolutely ridiculous limitation.

I'm 99% sure that it remembers the position of any episode of a podcast that you may or may not come back to. There's been countless times where I've gone back to finish listening /watching episodes of shows I've forgotten about. Each and every time the I go back to them, they play from the position I left them in. The neat thing about this is that if you own multiple WP devices the podcast app will sync episode plays and other aspects (including last played position) across using your MA.

Well maybe they fixed it... that was absolutely the worst thing about the app. It made it pretty much useless to me. I tend to skip around a bit... for example, if my boy is around I don't listen to podcasts that may have inappropriate language. So I may have 2 or 3 going at once, and the app would constantly lose where I was. I still couldn't switch back from PodcastLounge though... it's so well tuned for handling a large number of podcasts.

Ahhh are these the ones that will allow us to listen to the Windows Central podcasts? You know...those that happen once a year? XD

Hey now, it's got to be at least twice a year.

Vote on the best Twitter clients next. So many to choose from that it'll be a nice debate.

I agree. I haven't been able to find one that works without issues. All that I've tried have their own annoying quirks and issues.

Try Peregrine. That's the one I've been using for about a year now. Since Rowi & Mehdoh had to be pulled. I've tried Tweetium which is good too. I like Peregrine the most because it has thumbnails for pictures, & links open in a browser within the app instead of sending you to Internet Explorer. Lots of options which is why we need a poll.

There is one named CyberCrow. It is a beta, but works well. It's different.

Thanks. I'll check that one out. It does look different.

Next vote topics: News reader, Calendar app, Navigation app, Contact Manager app, Photo Editors, Movie/Video editor apps.

Oh, so many news readers...and weather apps:-o

My favorite feature of Podcast Lounge is the custom playlist support. I have 2 daily and 1 weekly podcast that I have automatically download. I can hop in the car, hit the playlist's live tile, and listen to the unplayed ones serially. Even if I miss a day or more, I can continue right from where I left off without jumping around podcasts.

No podcast critter?! Podcast lounge used to be m'y fo to but it was so slow when loading a podcast with a lot of episodes.

I completely agree, Podcast critter has been the best app I've found to date. the default WP app has so many limitations. Podcast Lounge was good except it seemed to completely ignore 'use cellular' and instead of playing the playlist would instead play the rest of the subscribed podcast you finished listening to, even though none of the others were downloaded or in the playlist. almost used up my download cap 2 months in a row before I figured out why the playlists (limited to downloaded only) weren't working.

Hi Goldenpipes, Podcast Lounge developer here. We're painfully aware of the episode parse speed and we've been working hard on optimising this part of the app over the past couple of months. Fortunately we have an update due out in the next 24 hours which will make major improvements in this area. We've seen improvements as much as 400% in some cases. Would be delighted to see how you get on with the update (2.3.1) when you get it. Thanks!

The default WP podcast app is shit. There's no 30/60 sec rewind/forward option, the seek bar is atrocious, the setup to download or keep track of podcasts is pretty bad... etc. My mind is full of fuck having read that the majority of WP users are fine with it -- I assume that same majority has no clue what a podcast is or they barely use it to listen to podcasts. Personally I use podcast lounge, even though I hate to use 3rd party apps for podcasts/ music on mobile devices, as, from personal experience, you might get too dependent on them and they might die out sooner or later as devs stop supporting them or the OS starts having conflicts with those apps, especially on OS updates.

Yeah, I too was surprised the built-in podcast app came out on top. It is utter garbage. The fact the the tiles in the favorites view don't show the number of new and downloaded episodes boggles the mind. You litteraly have to click on each favorite to see if there's something to listen. That, and it losing the play position of partially listened podcasts made me switch to Podcast Lounge, which I'm very happy with.

Would be nice to be able to hide or delete some of the built in apps. Would be annoying to have two podcast apps in the app list when I only need one.

I listen to a lot of podcasts and iPodcast beats all of these. Podcasts! and the default app are awful. Podcast Lounge is ok but iPodcast has more features and a better design. It also allows backups to OneDrive and remembers the play position of all podcasts you've started. You can create playlists, automatically download in the background, control the playback speed, set a snooze time, control the amount of time to skip forward and back. I don't understand why hardly anyone mentioned it in the poll. It has a very high rating in the store and more positive reviews than any of these.

The default Podcast App...really?? That thing is so bare bones, missing even basic features. Which i'm sure is on purpose so that Developers write Apps and pump up the store numbers, but still, can't believe it won.

I recently tried most of these apps but disappointingly no one lets me listen to the podcast I was looking for. Ok, it is an Italian podcast and I understand that everything on WP is pretty much focused on US only, but still, it is available on iTunes and I believe as far as sales go iOS is behind WP in my country. I really like WP and I'm planning to stick with it, but the lack of apps and services outside the U.S. is very annoying to say the least. Considering that Ms services are available on other platforms as well, I don't see many reasons why people should choose WP over iOS other than being Ms enthusiasts like me.

Podcast Lounge lets you enter a URL, so that you can subscribe to any podcast feed.

Tried, that doesn't work either

if the podcast has a RSS feed, make sure you enter the right URL.

Hi Evronian, Podcast Lounge developer here. Have you tried flagging the issue with the import to the support email address within the app? 99% of the time it's because the URL doesn't contain RSS, but more often than not, we're able to get users up and running with a bit of searching. Drop us a note and let us demonstrate why our customers love our service and support! Igneous

Theoretically it should work, but it doesn't, it's spotty it best. For some reason it doesn't accept some podcast URLs. So I just went back to using iTunes, and drag and dropping my podcasts into my Lumia/ Moto X/ and iPod Classic.

Hi Johnny - See my note to Evronian. Drop us a line via our support email address and we'll endeavour to help you get this working. Igneous.

Thanks for the review. The built in podcast app can't find quite a few podcasts out there. I downloaded Podcast Lounge and now I can finally load the following to listen to while offline. Gilbert Gottfried's Amazing Colossal Podcast and Getting Doug with High If only we could get Music Player to remember last played position for MP3s.....

Any mention of Casts. Not sure if it is still in beta

​Casts is the best and beats all 3 above.

The default podcast app always loses its place whenever the connection is lost, eg. I lose wifi. Then I have to start over the podcast from the beginning. Also, the seekbar slider is terrible. It's a tiny dot and it's a real pain to scroll small amounts as most podcasts are around an hour long. Holding the ff/rw buttons sometimes seeks but in big chunks, and more often than not it just starts over the podcast audio from the beginning while keeping the time the same, making things out of sync. Other than that... I love the simplicity. It just needs bug fixes and a better way to seek through long podcasts. I have 8.1 on the Lumia 1320 so it's updated but the bugs remain.

E-Reader apps.... E-Reader apps that support Adobe Digital Additions file format

Has anyone ever come across a good cross platform app?
I'd like to be to listen on my phone, change to my computer at work, back to my phone, then to my computer at home being able to pick up where I left off on the previous device...not everyone may want to do this but I would sure like that kind of functionality.

Numbers? How far away was first place from second, and second from third? Was it a runaway?

All I want from a podcast app is auto down load I should not have to open the app and tell it to download what I am subscribed to. When it was built in to the Xbox app it workd way better I think.

You'll want to bug MS then. Apps have extremely limited ability to download content when not open, and for good reason.

iPodcast is the best podcast app for WP, hands down.

That's a totally subjective statement... but you're right.

I'm just going to say it, all of these blow in one way or another. The terribly named "i Podcast" has been the best, and that's not saying much since it's so ugly and loses position at times. Podcast (MS 8.1) - Unstable. Anemic catalog. Podcast Lounge - Controls on the top of a 6.5" phone? Really? PODCASTS! - Hasn't been updated in a year. Catalog is weird. Doesn't support 720p.

The native podcast app? Really? I find that functionally it was ok for my needs but it crashes all the time and doesn't remember where it left off except for the current podcast I'm listening to. I would hit the back skip button and instead of going back a small interval, it would restart the podcast. Very frustrating. There are many comments in various threads from people that say it works great. How is that possible. I'm currently using iPodcast and it seems to be fairly consistent. It does sometimes do strange things but is mostly stable. It did freeze up once that was bad enough that I had to uninstall it and reinstall. It brought back all my subscriptions from OneDrive but didn't restore any of the app settings.

(shrug) I just use iTunes, and drag and drop podcasts from the iTunes folder into various devices, including the Lumia I own. I used to use Zune for podcasts, until Microsoft dropped support and most of the podcast feeds got old/outdated.

The best of the windows phone apps are Podcast Lounge and Podcast Picker. Both allow import of podcast list from other applications using onedrive; easy finding of new podcasts; convenient playback and get less confused than the other rather motley group of podcasting apps for windows phone. Both are being improved on a regular basis. The Podcasts app that comes with the phone is bare bones and not particularly useful, to me.