Best Twitch apps for Windows 10
Twitch might not have an official app on Windows 10, but that doesn't mean you're out of luck.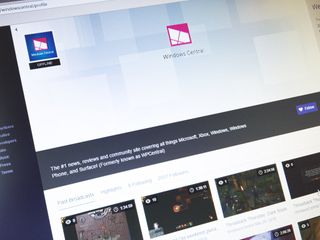 As is often the case, the developer community comes to the rescue when Windows has been inexplicably left out in the cold. Third-party Twitch apps are common on other platforms, too, but with Windows 10 we've got the added bonus of universal apps for our PCs, tablets and phones.
There are some great choices out there, and below we've rounded up the Twitch apps for Windows 10 that I think you need to know about.
Unstream
Why you can trust Windows Central Our expert reviewers spend hours testing and comparing products and services so you can choose the best for you. Find out more about how we test.
If you want the best experience from Twitch on your Windows 10 device then you can do a lot worse than Unstream. It's pretty fantastic all around.
Unlike some other apps which try to keep the Twitch color scheme in place, Unstream has a sexy dark theme available and modern styling to fit right in with Windows 10. It ticks off the bases you need, allowing you to browse by featured streams, top games, top channels and find top videos on demand.
There are a few settings you can change to make your experience a little more to your own liking. Choose which view you want to see when you open the app, make the live tile transparent, set default quality settings for both Wi-Fi and cellular data, tweak the chat and decide on the live tile refresh rate.
Better yet, it does this all on desktop and Mobile. The viewing experience is pretty good, too, allowing you to go full screen and immerse yourself or keep it windowed. It's an app that's hard to fault. Unstream is free to download for phones and PC, with an in-app purchase available to get rid of the ads and support the developer.
See at Microsoft (opens in new tab)
8Stream
Another long-standing favorite is 8Stream, and another that has been refreshed for Windows 10. It doesn't quite have everything that Unstream does, but that doesn't mean you shouldn't take a look at it. Especially as it's free if you're OK with ads.
You can browse by top games and channels, as well as featured streams, and you get a light or dark theme to choose from. You can also change the language and default quality settings, and it even has notifications (though those are currently labelled as beta).
8Stream is a solid app on both PC and mobile with a full screen viewing mode with or without chat. It's free to download with an in-app purchase available to get rid of the ads.
See at Microsoft (opens in new tab)
Twitch Viewer
Twitch Viewer is a no-frills approach to watching Twitch streams on Windows 10. It still allows you to sign in to engage in chat and have full screen video going on, but there's not a lot in the way of extra features or settings.
There is a dark theme, which I love, but it's almost Twitch Unplugged. If you just want to get in and watch some streams without the fluff, give it a try. It's free and ad-free, and also available on phones — which might be all you need to know.
See at Microsoft (opens in new tab)
LiveBeard
If there's an award for best app name in this list, here's your hands-down winner: LiveBeard. It's worth downloading on that basis of the name alone. It's not quite as polished as some of the others in this list, but it's still a work in progress.
You can theme it up Light or Dark or just set it to match your system, as well as grab featured and top content as curated by Twitch. There aren't many settings to dabble with, but it does have notifications and you can get it on your phone. Fire up the beard and give it a whirl — it's free and available on phones as well.
See at Microsoft (opens in new tab)
zTwitch
zTwitch is a great all-round app for Twitch on Windows 10 that covers off all the basics, looks great and has some more advanced features to please such as picture-in-picture.
It also has a functional live tile and support for push notifications so you're never too far away from knowing when your favorite streamers are live. You'll get access to chat, too, which not every app provides, and it's also free to download assuming you're OK with ads.
To get rid of them, it'll cost you $1.99.
See at Microsoft (opens in new tab)
Updated January 17, 2018: Dropped some older apps that are no longer recommended — but don't worry, there's the new and excellent zTwitch instead.
Richard Devine is an Editor at Windows Central. A former Project Manager and long-term tech addict, he joined Mobile Nations in 2011 and has been found on Android Central and iMore as well as Windows Central. Currently you'll find him covering all manner of PC hardware and gaming, and you can follow him on Twitter and Instagram.
Do any of them work in Continuum? That's pretty much the dealbreaker for me.

Won't Twitch ever make an official app?

I don't know, but I think they won't anytime soon. However I couldn't care less, since these apps are really really good.

Twitch has an official app, just not on the store

When I tap on windows central notification, I can't leave a comment! Fix it please :). What's is the best twitch app?

I can't beleive that MyTwitch in not on the list. It is by far the best one and I have tried them all. I mean there are app in this top ,,just because". Based on subjective reasons maybe for some if it is not the BEST surley its TOP 2.

Not built for Windows 10, that's why it's not included. All the others are. And opinions always differ. We're highlighting great Windows 10 apps, as it says in the title.

I agree. I was in a bind and needed to watch a stream in a 2Mb connection. MyTwitch was the best. Posted from my Lumia 950XL

MyTwitch hasn't worked well for me on Windows 10. At least as far as listing games, etc. It is a pretty nice app but not on Win10.

I like Unstream the best, but I can no longer install it on my phone (AT&T L640). When I search Unstream in the store, I see the app in the results, but as soon as I click on it, the store crashes. Not sure what is going on there.

Got the same problem on my 950 XL. I search for the app, select it and the store crashes... Solution anybody?

I found a solution...: 1. You need a PC with Win 10 -> open the cortana search field and type "WSReset.exe". This will reset your Store on Win 10. Afterwards you can search and install the app on your PC. 2. Back to your phone: Open Store->My Library. Now you should see "Unstream" in your app list. Simply click on the download sign and the app will get downloaded

Thanks. I will give this a try later today.

My experience with twich on Windows sucks... and it sucks in every app...platform available... even in desktop Chrome, that is insanely weird, and it sucks in the sense that the transmission get stuck and I need to reload the stream every couple of minutes. That doesn't happened in my Android devices, I have no idea what the heck occurs internally. When I'm seeing intense Dota live matches, I don't have other option that put them on in one of the android devices because I don't want to lose any precious second of epic battles. Posted via the Windows Central App for Android

Sounds like you have slow internet. Try watching on a lower quality.

For those of us with slower internet YouTube Gaming is a much better option. I've found that a stream on medium quality on Twitch keeps resuming and failing whilst comparable quality on YouTube streams seamlessly. Posted from my Lumia 950XL

Unstream is fantastic! I really like the notifications.

I use unstream, and its great, the only things that i don't like is that u can't roll up the chat because when other ppl send message the chat automatically goes to the last message again, and the other feature that i would like to have is to match the list of ppl in the channel when u type @ and the first letters of the username

Is it just me, or the playback of previous broadcasts in Unstream are broken now? Since yesterday, it doesn't work somehow, neither on PC and mobile. Otherwise I love the app, but this is annoying. Is anyone else having this issue too?

Works for me, just did it yesterday and today

Still not working here :/ Strange... Although, the current livestreams work just fine. Hope it'll be fixed soon somehow, because I love that app. It's so much smoother and nicer than the twitch website :D Posted with the Windows Central app for Windows 10 on HP 250 G1 notebook. It is a scary old monster, I think :D

LiveBeard thanks for the tip. I like it more than unstream

Thanks for the article! Every Twitch app I have tried has been an unbearable experience with all the lag and bad UI. MyTwitch being the least horrible that I have tried so far. I will try these in hopes of getting a somewhat tolerable Twitch experience on Windows. 3rd party apps are rarely on par with a first party app. UWP doesn't really matter if the app sucks on all devices. Oh and since Twitch is on the two major ecosystems app stores, UWP is not really a "bonus". I really wish MS would try to work with Twitch to get a first party app. But then again, I prefer the Twitch Android and iOS app over the Xbox Twitch app. Posted via the Windows Central App for Android

Hey, if you want to have some gesture control and picture in picture, try out my app Suto Stream, thank you!


You didn't talk about the possibility to watch multiple streams at once in Twitch+. You can slide a "stream item" to the left to add to the playlist and play them all, this is really cool :)

I'm still using Unstream. But the app needs developer attention now.
Windows Central Newsletter
Thank you for signing up to Windows Central. You will receive a verification email shortly.
There was a problem. Please refresh the page and try again.