The five best Windows Phone games for April 2014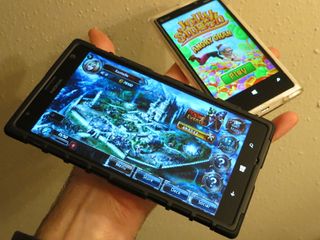 We're back with the second installment of our new monthly feature, the best Windows Phone games of the month. Every month we'll look at a collection of the newly released Windows Phone games that stand out from the crowd. The titles we choose will range in genre and production value. Anything goes as long as it's fun, original (not using someone else's IP without permission), and freshly launched.
Windows Phone didn't see a single new Xbox release this month. The last one, Hexic, arrived in late March. But we did get an awesome arsenal of new games to play. Strategy fans got two strong games to play - King's Bounty: Legions and Braveland. Casual gamers received their due with the hidden object adventure Enigmatis 2 and addictive puzzler Jelly Smash. And RPG/card game fans will be busy with Magic Realms for a long time.
Quick impressions and Store links after the break!
Jelly Smash
Why you can trust Windows Central Our expert reviewers spend hours testing and comparing products and services so you can choose the best for you. Find out more about how we test.
Since publisher King stubbornly refuses to release Candy Crush Saga on Windows Phone, puzzle fans have to make due with clones like AceViral's Jelly Smash. Luckily it's really good!
What's cool about Jelly Smash is how it gradually increases in complexity with each new level. Each of the early levels teaches a new mechanic that makes this more than just an average match-3 game. For instance: match four and you'll get a glowing jelly that explodes horizontally or vertically when matched, taking out a whole line of pieces.
Make a t-shape of jellies and you get a special jelly that explodes diagonally, which really mixes things up. Or create a square out of four like-colored jellies to build a bomb that explodes radially. Finally, 5-in-a-row forms a rainbow jelly that destroys all jellies of one color.
The first 35 levels of Jelly Smash are free, after which players can choose to make an in-app purchase to unlock the rest. If you like the game and want to support the developers, pony up and get those extra levels.
Jelly Smash – Windows Phone 8 – 20 MB – Free – Store Link
Jelly Smash – Windows 8 and RT – 19 MB – Free – Store Link

(opens in new tab)
Enigmatis 2: The Mists of Ravenwood
Artifex Mundi makes the best hidden object puzzle adventure (HOPA) games in the world, and they even release them first on Windows platforms. Enigmatis 2 is another fine HOPA title starring a detective on a quest to stop the evil preacher from the first game.
While investigating the mysterious Ravenwood Park, you'll encounter numerous puzzles and 25 minigames. Some of the items our heroine finds get marked as evidence and added to the evidence table. Discover enough clues and you'll be able to draw conclusions that advance the story.
As our heroine progresses through this tale of mystery, she'll encounter 19 hidden object scenes. These scenes are more complex and involved than in many HOPA titles. You'll have to interact with objects multiple times, combining and fiddling with them as you find new tools scattered throughout the scene. The addition of mild puzzle elements give these scenes a unique flavor.
Enigmatis 2 is free to download, but you can only go so far before you're asked to purchase the full game. If you like the genre, it's well worth the purchase.
Enigmatis: The Mists of Ravenwood – Windows Phone 8 – 312 MB – $2.99 – Store Link
Enigmatis: The Mists of Ravenwood – Windows 8 and RT – 692 MB – $4.99 – Store Link

(opens in new tab)
Braveland
If you like strategy games but don't feel the need to compete in player-versus-player combat, Braveland from Tortuga Team could be for you. Play as the survivor of a village raid who decides to form an army and take revenge on his attackers. You'll move around on a map, meet new characters, and engage in a well-written story as you progress.
Just like King's Bounty, battles take place on a hex-based grid. The main character doesn't join in battles himself; he just directs the combat. Simply move your units within range of the enemies and tap them to attack. The battles move at a quick pace and look great thanks to the game's cutesy RPG-inspired art style.
Another plus for fans of old-school strategy: Braveland is a paid game. Just buy it once and work your way through the lengthy campaign without fear of excessive in-app purchases.
Braveland – Windows Phone 8 – 174 MB – $2.99 – Store Link
King's Bounty: Legions
King's Bounty: Legions is the mobile version of the venerable turn-based strategy series. Well, not just mobile. Legions supports cloud saves and cross-platform multiplayer via Facebook! You can start playing on Windows Phone and then pick up where you left off on Steam, Facebook, iOS, and Android. Talk about a true multiplatform experience!
Battles take place on a hex grid, much like the Heroes of Might and Magic series that shares lineage with this one. You command several units in battle, each one taking his or her turn before the enemies begin their turns.
To attack your foes, either tap the enemy for a normal attack or select a special ability from the list at the bottom of the screen. After confirming the attack or move, your unit will carry it out. Players get several types of units to command, including swordsmen, mages, and archers. It's simple and easy to learn, but filled with strategic possibilities.
Legions offers hundreds of single-player quests and battles. Players can also form clans and engage in player-versus-player battles, providing an endless array of strategic challenges. The game is free to play and requires 1 GB of RAM on Windows Phone.
King's Bounty: Legions – Windows Phone 8 with 1 GB of RAM – 231 MB – Free – Store Link
King's Bounty: Legions – Steam – 789 MB – Free – Store Link
Magic Realms
And now for my favorite Windows Phone game of the month: Magic Realms from Mobote Games. You wouldn't know from the title, but Magic Realms is a port of an iOS and Android collectible card game called Elemental Kingdoms.
Think of Magic Realms as a more story-focused version of Magic: The Gathering. As you progress through each level, you'll encounter RPG-style story scenes and unlock new cards. The individual levels are highly replayable since each one has three separate difficulties to complete.
Magic Realms has a simple but great combat system that takes no time at all to learn. Every round, players draw a random card from the deck, which then moves to the preparation zone. Cards in the preparation zone have a wait timer. Once the timer counts down to zero, players can select the card and move it to the battlefield.
Cards have HP and Attack attributes. They automatically attack cards lying directly across from them. If there is no card across from the attacking card, it attacks the opponent's Hero instead. Deplete the enemy Hero's health to win the battle.
On top of the single-player campaign, Magic Realms offers online PVP battles, clan support (join the WPCentral clan!), and global chat. It's a truly massive game that card fans will love. It's free to play, but if you can live with the usual waiting-for-energy mechanic then you'll do fine.
We'll be back with a full review soon… I just need to finish a few hundred more card battles!
Magic Realms – Windows Phone 8 – 62 MB – Free – Store Link
How do you like my picks, awesome readers? Leave a comment and tell us your favorite games of April!
Get the Windows Central Newsletter
All the latest news, reviews, and guides for Windows and Xbox diehards.
Paul Acevedo is the Games Editor at Windows Central. A lifelong gamer, he has written about videogames for over 15 years and reviewed over 350 games for our site. Follow him on Twitter @PaulRAcevedo. Don't hate. Appreciate!
Great. Another article where I can post my "Where is Real Racing 3" comment.

So I hear. At least Gameloft are bringing us GT Racing 2 eventually, which is pretty much the next best thing.

It better have Moga Pro support once it releases! Can't wait!

The racing game that can be named is not the real racing game.

Ah the days of playing snake

Great Collection! But I would like to add these horror games to my collection of best games of April(Too bad they are paid though) I almost wet my pants after playing these games,naah,I didnt ,JK. Decay:The Mare Episode 1(Released in last part of March but since it's part of the sequel so it's worth mentioning):- http://www.windowsphone.com/en-us/store/app/decay-the-mare-episode-1/46e... Decay:The Mare Episode 2(11th April) :- http://www.windowsphone.com/en-us/store/app/decay-the-mare-episode-2/a87...

Will the bejeweled clones ever stop being made?

Thanks, looking like nice games...

I wish you guys did more Windows 8 app reviews. There really isn't any other go-to site for it.

We're looking into it and trying to find the right people, but I agree!

May be a bit off topic about games, is there any chance of reviewing some real business oriented apps not just things like note taker, business card scanner, etc... what I am looking for are things like apps that can help do staff work schedules, apps for inventory management...real productivity apps...thanks.

Well, this is windows phone central so I think that Windows 8 app reviews don't belong here... But is a good point.

Can anyone recommend a site as useful as WPC for Windows 8 and RT hardware, apps and updates? The experience using the WPC app for keeping updated on its specialty is unmet by any other app/site for any other criteria.

I might be alone, but if it's not Xbox enabled I could care less.

Indeed, you're not alone: #SaveXboxWP

Same. Though there are some cool ones like TileUp that deserve a try. But yeah, no Xbox = no deal

#savexboxwp your not the only one. Lets keep coip's hashtag going. They really need to ease the certification process

That's not a good attitude. But of course you could care less. ;)

LOL. I correct my buddies all the time when they say "I could care less." Thanks for the graph. #winsauce

Here is my no Xbox no download comment!
In my opinion just the right attitude when you care about the OS.
Xbox alone could push WP over the top but Microsoft keeps on doing everything wrong when it comes to mobile gaming.

I don't get it why you are allways whining about xbox. It just as f**** logo and some achievemnts. What you should care is that a game is a game. You install it on your phone, play and enjoy it till exhaustion, uninstall it. Thats it. It's a game, not some tool for you to say that you have 5 millions achievements in xbox or something. If it's there, nice, if it's not just enjoy the game. The main purpose is entertainment and nothing else.

We're looking for achievements to challenge ourselves and to extend the playability of a game... If a developer can't even take the time to have the game certified as a Xbox Live title then the game doesn't deserve the time of the community... Supporting those kind of games would only drive the developers to bypass having their games Xbox Live certified...

Yawning and stretching waiting on a Xbox live game here.

Gah, all of them are overly nerdy for my taste D;

Still wait for carmaggedon :(

It's a shame that non of these games are Xbox powered..

Let Microsoft know it on Twitter: #SaveXboxWP

Maybe someone can ask Belfiore about this Friday as well

Xbox live is part of WP, just as some people miss the old people hub in 8.1, so Xbox live is a feature missed by many. #SaveXboxWP

Magic Realms almost an exact clone of Lies of Astaroth. Dunno which came first but Ive had "Lies" for months.

I was just going to say the same thing. :) Since I've been extremely addicted to Lies for a while now, I'm assuming Magic Realms will be just as fun. I also don't know which came first (when looking at all platforms) or if there is a third version that is the original.

Yes, prefer Lies of Asteroth better. It came out awhile ago. It started out on iOS in December 2012. WP8 got it last year. Android got the game this year. Elemental Kingdoms is more like a clone of Lies of Asteroth :)

Dragon's Blade II should have been at the top of this list.

We will second and third this. Nate monster is a loyal Windows phone and windows dev and I have no idea why he doesn't get any love. His games are extremely well done, they are synced across devices, there is online play, forums, and ZERO disgustingly greedy IAPs. You want to support quality independent devs, then support this guy.

Braveland is not free u_ú

Lol, that's what I just found out. It looks pretty cool, I may end up buying it.

Magic Realms is a flipping awesome game. Easy to learn, hard to master.
Reading all this "no XBL, no buy" bullshit over and over again doesn't make it more valid. I do like achievements, but I prefer a great game over yet another crappy uninspired puzzle game any time. And considering how the entire XBL certification process is holding back updates makes it even less attractive.

Agreed, all the "no XBL, no buy" BS is getting old now.

Yes, they are essentially just trolling nowadays. Will write an editorial about the issue soon.

Very disappointed by this, so sad you lost your spirit man.
Let's read your upcoming editorial about this "issue".
All the best, never been a troll that is for sure!

We can talk about it more if I ever get around to the editorial (finding a tone that isn't too mean is hard). But the best way I can explain it is that I've liked Achievements for years but I've loved games my whole life. I play games all the time and love writing about them - the same games that you guys write off (although you personally are more reasonable in expressing it) because they don't feed a particular addiction.

Hey thanks for your reply man!
I will make this short as well since it's super late here.
I totally agree with you, have been a gamer all my life way before Xbox. Note that I say Xbox and not achievements! I agree when it comes to "real" games but we are talking about mobile games for WP. Here I think Xbox is a very important factor that a lot of people fail to see. WP needs market share like crazy and I think Xbox could have such a huge impact.
Will explain that in detail in the future but for now I say good night Paul man!

I actually agree. XB could be a big part of WP but, it's the long and drawn out certification process that puts most developers off including it. I've always said that Microsoft need to make XB on WP into the WP equivalent of Play Games which essentially gives developers all the APIs to implement achievements and multiplayer, among other things, without a long and drawn out certification process

I do have an idea that you could use in the editorial, how about looking at the respective certification processes for XB enabled and non XB enabled games. That might make it easier to explain why the "no XB, no buy" thing is a bit stupid.

I would want to include that information, but there really won't be anything new. Most of the "no xbox no buy" crowd already knows the problems with the certifications but they just don't care. If it doesn't give them Gamerscore, they aren't interested. It's a disheartening chain of thought.

I agree. It's one thing to want XB enabled games, I know I do, but if that slows down getting games onto the platform and getting fixes for issues within the games, then it's better not to have XB support. All Microsoft need to do is make XB for Windows Phone into a Play Games or Gamecenter for WP by providing APIs for developers to use, then MS can just use the WP app certification mechanism to get the games onto the platform. In the end all they are doing is cutting themselves off from some really good, even great, games by adhereing to the "no XBL, no buy" BS.

Paul here is my top five games on windows phone 9 clues little acorns jelly smash hexic six guns Posted via the WPC App for Android!

Ah, the first person to share a list. Yeah, Little Acorns is surprisingly fun. :)

Indeed Posted via the WPC App for Android!

Only Enigmatics 2 and Jelly Smash are available here. Sight.

Switch region to US. Magic Realms for example isn't available in Germany either, so I downloaded it from the US store. In app purchases are working perfectly fine though.

Yep...great games but, not of them are Xbox live....#SaveXboxWP

Wait, WHAT?! They really refuesed to release Candy Crush Saga for WP?!

I think he just means they still haven't released it yet

They won't, and why do you all want it so much? Horrible ovverated freemium game, and King is sueing asshole. Try frozen free fall, it's much better.

I'm not going to even dowload it but the fact theu "refuse" to make it for WP kinda shocked me.

Wasn't that rumoured (or announced) to be released in April?

What? No King Oddball? Grrrrr.

Took an arrow to the knee.

The last 3 interest me a lot. Thanks! In my dramatic return to windows phone, I'll know what to look for! -- Bam --

The 1520 case is made by MiniSuit. We reviewed it before. The 920 case is just a cheap clear hard case.

Check out my windows phones games every month http://m.youtube.com/playlist?list=PL6zz5q6PVtYaiDBx-cTgj_I_GVgcy0x6i

I'd really like to see one of those changes again where you can say they are art like limbo and contre jour (probably messed up the spelling). They look beautiful though having a quite simplistic graphic-style! Same goes for the gameplay! It's also reduced to the bare minimum, but it works!

Wats happening with the pics. Its fully destroyed in the article.

Magic realms is good its same as lies of astaroth.

Picked up braveland yesterday, haven't been able to put it down! The art is spectacularly endearing and there's so much content and no iaps: the perfect game! It reminds me of Unforgotten Realms, the wide tile lol.

Jelly smash sucks, I prefer Sweets Mania Space.

I'll have to try Braveland. I absolutely hate the in-app-purchase games that nickel and dime you. I'd rather pay $5 for a game once and get everything versus the IAP crap. Paul, you should review European War 3. A pay-once game and the best war-startegy game I have found on WP. We need more strategy/pay-once games like EW3.

Magic Realms doesent work anymore(didnt work at all for me), stuck in the the first load screen after log in. "Loading 0%"

Have you tried reinstalling? I've been playing it fine every day since writing this article. Our review runs later this morning, by the way.

Bardon, i bought a lumia 520 last year and i am really interested in a game Magic Realms. It is exciting, simple and fasinating me as well. And i got a new more mobile 730 last day thay i am using 2 mobile at the time. Why i couldn't find Magic Realms in WP store by lumia 730 possiblely. That game link is from 520 took me to the store with a notice: this app is not availble in your area or country. This app could be deactived from Appstore by poduction service. I am confusing now. I just got update at 10/03/2014.