Best Word Games for your Windows Phone
What's the best word puzzlers on Windows Phone? We rank the best of the best in our new guide!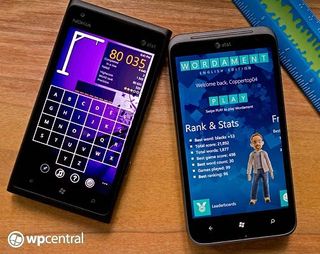 Keeping the "Best apps for your Windows Phone" series going, today we turn our attention to the best word games available at the Windows Phone Marketplace. We've looked at the best free apps, photography apps, must have games, weather apps and must have apps. Now we take a gander at the games that test your spelling abilities as well as your powers of observation and speed.
Word games are a unique category in that they are great ways to pass long and short bits of time. Plus you might learn something along the way. We've compiled a short list of the Windows Phone word games we think top the charts. As with any of our "best of" lists, there might be one or two titles we overlooked. If so, feel free to speak up in the comments.
WPCentral's list of the best word games for your Windows Phone
Why you can trust Windows Central Our expert reviewers spend hours testing and comparing products and services so you can choose the best for you. Find out more about how we test.
Wordament (free): Wordament is an Xbox Live title started out as a humble independent game that was very impressive from the get go. Add Xbox Live integration and this boggle-styled game advances to a new level of gaming.
You are presented with a 4x4 grid of letters that you drag your fingers across, connecting adjacent letters to create words. You have two minutes to create as many three or more lettered words and you're competing against hundreds, if not thousands of players world wide.
Every game board has over one hundred possible words and after each round, all the word possibilities are revealed. If you like word games, Wordament is a must have app for your Windows Phone. If you don't like word games, Wordament might change your mind.
Wordament is a free Xbox Live app for your Windows Phone and you can find Wordament here at (opens in new tab) the Windows Phone Marketplace.
Trine's Hangman (Free/$.99): Simple way to describe Trine's Hangman is that it is an entertaining, highly addictive game for your Windows Phone. You compete on a World Wide leader board for ranking by solving hangman puzzles for score. You earn bonus points for consecutive puzzles solved.
Along with the online competition, you have a local, pass and play, two player version. Add 22 background pictures, five ringtones and a Live Tile that will take you straight to your gaming screen, Trine's Hangman leaves a fantastic impression. Trine's joins Wordament as a must have game for your Windows Phone.
Oh...one really nice feature with Trine's Hangman is that you can save your game progress on Trine's server so if you switch Windows Phones you won't lose your progress.
There are two versions are available for Trine's Hangman. You have Trine's Hangman (free) which is ad-supported and can be found here (opens in new tab). If you don't want ad banners, there is Trine's Hangman Pro ($.99) that you can find here (opens in new tab) at the Windows Phone Marketplace.
Words by Post (Free/$2.99): We could have easily chosen Spell It or Alpha Jax (both quality games) for our scrabble-type game but we choose Words by Post because of its a cross platform feature. The game is available for your Windows Phone as well as the iPhone and Android platform which opens up the possibilities for more gaming opponents.
Words by Post is a turn based game of scrabble. Along with playing online, you can challenge a friend to a pass and play game. Words by Post also includes a chat feature and you can choose your opponent or let the game find a random opponent who matches your skill level.
You have two versions of Words by Post available at the Windows Phone Marketplace. A free ad supported version of Words by Post can be found here (opens in new tab) and a $2.99 ad-free version that you can find here (opens in new tab) at the Windows Phone Marketplace.
Word Search (Free): We've all played word search puzzles either from the dime store puzzle books or the Sunday Paper. The Windows Phone game Word Search brings ninety different categories of puzzles with three difficulty levels.
Your job is simple, find all the hidden words within the field of letters. Word Search has an auto-save feature should you need to leave the game before finding all the words. You then can pick up where you left off when you get a chance to play again.
Word Search is a free app for your Windows Phone that you can grab here (opens in new tab) at the Marketplace.
Word Mints (free): Much like Wordament, Word Mints has you trying to find words out of a grouping of random letters. Instead of a 4x4 grid, Word Mints presents you with six letters. Just tap on the letters to build the word and then the enter button.
The more letters you use, the more points. Word Mints is played in two and a half minute rounds against other players online to see who can score the most points. Word Mints has Facebook integration where you can build your profile, challenge friends and keep track of other players through Facebook.
Word Mints is a free, ad support game for your Windows Phone that you can grab here (opens in new tab) at the Windows Phone Marketplace.
So there you have it. While it may be a short list, these are the word games that stood out to us.
Yes, we probably missed one or two and this is where you guys and gals come into play. If you see something missing, it's not that we don't think the game is good we just have to narrow it down a little or we'd be here all day.
So if you see something that's missing or disagree with one of our choices, speak up in the comments.
Windows Central Newsletter
Get the best of Windows Central in in your inbox, every day!
George is the Reviews Editor at Windows Central, concentrating on Windows 10 PC and Mobile apps. He's been a supporter of the platform since the days of Windows CE and uses his current Windows 10 Mobile phone daily to keep up with life and enjoy a game during down time.
Where is WordFeud George? Surely Wordfeud is one of the very best Word games on Windows Phone by far. It's programming is top notch, the app starts very fast, is very stable and has a Live Tile and chat function. Besides, the layout is beautiful Metro style based and it's free! (ad supported though) And it comes with support for various languages including English and Dutch.
You have to add Wordfeud! :-)

I agree 1000%. And it's also cross platform, WP7 Android & iOS.

Personally, I like words by post alot better. Agreed the interface looks cleaner on wordfeud but zoom and scrolling need work. Also, the definition feature in wbp is convenient.

I agree that WordFued looks and feels the best. But, it does not track scores! That is a huge negative for me. One of the reasons I keep going back to Words by Post is that it gives you stats and leaderboards. What is the point of playing and improving if you can't look at your progress?
If WordFued adds this functionality, then it will easily be the best.

So glad words by post got some love. Its my most played game because my friends all have Android and ios devices. Its also kinda crazy that you're all saying wordfued is better too because I had them both installed for about 2 months and words by post blew it away. It wasn't even close. It was so slow and laggy, touch response was bad, no stat tracking etc. Unless they've had some major updates, youre all on crack lol

I'm surprised no TextTwist made it on here either. That is a real nice one. Also Word Arena is a nice cross platform (with iOS) Boggle style game that my Wife and I play frequently.

Heh, George and I aren't so fond of TextTwist 2. Check out my review for details.

Ah at last. I love word games.

What about Vocabulary crosswords?

Unscramble is a really nice word game too, check it out

AlphaDrops is my favorite. :-)

For me it has to be SpellIt, its free and the dictionary can be a bit arbitrary but a great game

I just wanted to thank you guys, and girls, for choosing, and supporting WP! MS designed WP, but it's you guys who are enthusiastic, support, and give the feedback which is making our platform great! I have a lot to love about my Samsung Focus, and the one group that I have not shown appreciation to are my piers. The future of my favorite OS, and devices, is determined by you guys passion for the whole ecosystem, so keep on marching, and shouting "I Love Windows Phone", WP'S trademark, and Thanks!

No Spellit, that's a great game.

Word Mints is essentially the same as Text Twist anyways. Glad Words By Post got a mention though as it normally gets overlooked. Its also one of the games that looks substantially better on windows phone than the other platforms.

Trines hangman is my favorite and I like the fact that it's exclusive. All hail to Gydar Industries:)

We need zynga to show us some love already. All my friends want to play scramble with me and I have to tell them i can't. =[

Paul, I think the poster is referring to Scramble With Friends. I assume you thought he was saying scrabble?

My favorite word game by far is the little known game called BUZZ WORD. It is very unique, challenging and fun. You have to figure out the unknown word selected by the game by guessing random words and keeping up with the letters that the game shows you are in the hidden word. You eventually figure it out and its amazing how hard it can be but also how perceptive you become after playing for awhile. Never gets old to me.

My favorite word game is Bonus Wordz. It is easy to play and unlike any other word game I have seen. You have to align color word tiles when creating words to create color patterns. The patterns affect the total points of the words. It is really challenging and addicting. If your a word game addict like me, check it out.

I'm a big fan of....yet really middle of the rankings player....Wordament. I don't know how many times I've said "D'oh!" after the game ends and I see the obvious high scoring words that were available while I filled my time with "tea" "the" and "sit." Nevertheless, there is a warning that should come with the download of Wordament and that is that it will consume battery life. I've noticed the days I don't play the game my Lumia 900 battery easily lasts all day, but if I get into using Wordament during travel or boring meetings, the battery is usually slipped to battery saver mode by the time I get home.

The ads in Wordament eat battery like nobody's business. I'd much prefer an ad-free pay version that doesn't eat the battery. I feel that way about most games.

Also, how was the color scheme changed? I don't see that option...

Ads shouldn't really make any difference to battery, not a big difference anyway

The color scheme will match your WP7 Theme.

Aw come on wpcentral, what about our 2 awesome games - Wheel of Wealth... And... Get High with Words.. :)

No mention of Smartsoft Consult's "Word Puzzle"? It plays almost exactly like Wordament and is also free. But in my opinion, it's the better app since it doesn't have to reach the server for every game which means you can play it when you don't have a decent 3g/4g signal and it doesn't absolutely murder the battery life. You can choose whether or not to submit your score to the leaderboard after every game. Oh, and it also supports 9 different languages, if you're into that sort of thing.

I say Word Miner, and not because I wrote it. Nope, not at all :p

What are the ads you use in word miner?

Are u asking what categories I picked for pubcenter? I believe tech, auto and health.

Color scheme based on the phone's? That's a terrible idea.
As for ads not eating battery, while I haven't seen tests run on WP7 ad-supported games on iOS and Android have been repeatedly shown to eat far more battery than non ad-supported. Given that Wordament is accessing the internet more regularly than most games you'd expect it to eat more than other games, but it's still connecting more often to get new ads then to get new game information.

big fan of words game like scrabble dictionaries


There's a word game in iOS called QUIZZITIVE. May you find it worthy of mention here. Thanks.

This is new and free, I really like this http://www.windowsphone.com/en-us/store/app/worddrops/1a7f98ff-2282-4ac2-a85b-d0d9cd7b431c
Windows Central Newsletter
Thank you for signing up to Windows Central. You will receive a verification email shortly.
There was a problem. Please refresh the page and try again.