Best Xbox One games expected between February 4 and 8
By Asher Madan last updated
Be on the lookout for these titles.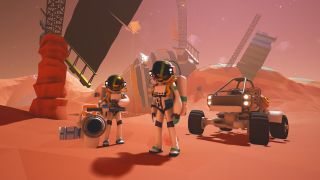 (Image credit: System Era)
Every week, numerous games launch on Xbox One, but which ones really stand out? Here are some of the biggest and most anticipated titles launching across Microsoft's platforms next week.
Next week we have one new "AAA" release Xbox One, but there are still a few surprises here and there. Notably, Astroneer is finally launching out of Xbox Game Preview, and Salt and Sanctuary offers an interesting take on the popular genre. With that in mind, here are all the best games launching next week, between February 4 to February 8, 2019.
Evoland: Legendary Edition
The Evoland games revolve around you gaining new abilities through the use of video game evolution. For example, you have to pick up perks like "Enhanced Visuals" or "Music" to make the game look and play better. Evoland: Legendary Edition contains Evoland and Evoland 2, so it's the complete package.
Evoland: Legendary Edition should launch on February 8, priced at $19.99.
Away: Journey to the Unexpected
In Away: Journey to the Unexpected, you play as a child, but with the power of friendship, you overcome every obstacle in your way. Choose your path through the levels, uncover the light-hearted story, and above all, recruit allies. All the wacky and powerful characters you meet can be played in first-person, and it's up to you to find the right answers to get them to join your team.
Away: Journey to the Unexpected should launch on February 8.
Astroneer
In Astroneer, you land on procedurally-generated alien worlds and craft all sorts of crazy facilities and vehicles in fully deformable terrain. Unlike traditional survival games, the focus here is on building and it's quite easy to acquire resources.
Astroneer should launch on February 15. The game is currently available on Xbox Game Preview for $29.99. Astroneer also features Xbox One X enhancements.
See at Microsoft Store (opens in new tab)
Salt and Sanctuary
In Salt and Sanctuary, you'll explore a haunting, punishing island in this stylized action game. The title combines fast and brutal combat with richly-developed role-playing mechanics in a cursed realm of forgotten cities, blood-soaked dungeons, and desecrated monuments.
Salt and Sanctuary should launch on February 6.
Pumped BMX Pro
Pumped BMX Pro is a cycling game which is making its way to consoles from mobile devices. It's quite a lot of fun if you get into the rhythm.
Pumped BMX Pro should launch on February 7. The game will also be available on Xbox Game Pass the same day.
Other experiences like 39 Days to Mars (opens in new tab), Access Denied (opens in new tab), Glass Masquerade, Monster Energy Supercross 2 (opens in new tab), Pipe Push Paradise (opens in new tab), Please Don't Touch Anything (opens in new tab), Riot: Civil Unrest (opens in new tab), and Spike Volleyball (opens in new tab) should also release next week.
These are the biggest games launching soon, and many of them seem like absolutely thrilling experiences. Be sure to check out Astroneer and Salt and Sanctuary because they appear to be the most unique games out of the lot. Which titles are you interested in? Let us know.
Asher Madan handles gaming news for Windows Central. Before joining Windows Central in 2017, Asher worked for a number of different gaming outlets. He has a background in medical science and is passionate about all forms of entertainment, cooking, and antiquing.
Is Salt and Sanctuary by the same developer that did Dishwasher? Because that game was ace.

I'm not sure. I'm looking forward to Evoland: Legendary Edition the most!

I looked it up and it is the same developer, so it is definitely in my to buy list. Incredible art style and amazing gameplay.

I never played it. I'll look into it.

It's called Dishwasher: The Dead Samurai, it was an incredibly punishing 2D side scroller on the previous generation. Sounds like this game is going to be similar but it has a stronger focus on RPG elements than DIshwasher did.

I may buy Salt and Sanctuary and Evoland: Legendary Edition for my XboneX...I've been meaning to get around to playing Evoland 1 and 2! Salt and Sanctuary looks fun but I skipped it on the Switch in favor of other games, having it drop on XboneX is fortuitous.

Away: Journey to the Unexpected is what I have been waiting for... This is a most get for me
Windows Central Newsletter
Get the best of Windows Central in in your inbox, every day!
Thank you for signing up to Windows Central. You will receive a verification email shortly.
There was a problem. Please refresh the page and try again.