The Big Con interview: This Xbox and PC exclusive is packed with 90s nostalgia
Travel back to a time before cell phones.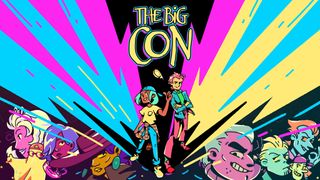 (Image credit: Skybound Games)
We recently sat down with Dave Proctor, the Game Director of the upcoming 90s-centric Xbox and PC adventure title The Big Con, touching on important topics like the value of comedy in video games, what it's like working with the ID@Xbox program, and whether the cartoon Doug even holds up anymore? If you're looking for some unique insights from a passionate independent developer about the process of creating and marketing a video game, this isn't something you'll want to miss.
What is The Big Con?
The Big Con is a quirky adventure game set in the 90s featuring a charismatic teenager name Ali who's dedicated herself to saving her family's struggling video store. Instead of turning to an honest day's work, Ali befriends a local con artist named Ted who promises her quick and easy solutions to her financial woes. All she needs to do is follow Ted on a crime-filled cross-country road trip.
Players take the role of Ali as she cons as many individuals as possible to raise the funds necessary to fend off the gangsters threatening to take over the store. While there's absolutely a strong, driving narrative for players to experience, The Big Con also promises loads of flexibility in the ways you play. In a world filled with compelling characters and small details, there's always something new to discover for curious minds.
Proctor explains that while The Big Con is certainly inspired by classic adventure games from the 90s like Monkey Island, this modern take on the genre "is more about exploration and conning people the way you see fit." Proctor also went on to describe the emphasis on player agency in The Big Con by stating that there isn't necessarily "one key, one door." From our conversations, it sounds like how the players achieve these goals is entirely up to them.
The benefits of partnering with ID@Xbox
As it stands, The Big Con is launching on August 31, 2021, as an Xbox and PC exclusive. I asked Proctor to share his experience working with ID@Xbox and why his team ultimately decided to release this unique adventure title as an Xbox console exclusive. His relationship with this program sounded overwhelmingly positive and it was insightful to hear about Xbox commitments to championing independent creators.
Beginning by simply stating that the ID@Xbox team "really believed in the game," Proctor also detailed his journey from pitch to release with Xbox, sharing a personal connection with ID@Xbox and genuinely honoring the company's belief in his game's vision. In an especially impassioned statement, he declared "If you can find a champion like we did in Xbox, you stand by it and you give them the best game you could possibly give."
Obviously, it's in the best interests of a company like Microsoft to ensure that public-facing programs like ID@Xbox are received well by both developers and players, yet it's great to hear an independent developer share such a favorable experience crafting a passion project. I highly recommend anyone with even a passing interest in independent development check out this specific segment of our interview.
The questions covered in our interview:
Can you give us a breakdown of what The Big Con is and what players can expect from this experience? - 00:36
Engaging dialogue and memorable characters seem to be a huge focus for The Big Con. Ultimately, what was your team's main objective when crafting this story and creating compelling ways to deliver it to players? - 01:42
The Big Con has a distinct, vibrant art style that reminds me of some of my favorite Saturday morning cartoons. Were there are any specific shows or games that inspired this stylistic choice? - 02:58
More astute audiophiles might recognize the legendary group responsible for The Big Con's theme song. How did you go about locking down Rockapella, who famously did the Where in the World is Carmen Sandiego theme song, for your game? - 05:05
The Big Con is oozing with iconic 90s pop culture references. What are some quintessential pieces of media you'd recommend players watch, listen to, or play ahead of the game's launch? - 07:52
From a creator's perspective, were there any specific reasons you decided to partner with Xbox for the console release of The Big Con? - 10:31
What is the one thing you're most excited for players to experience in The Big Con? - 12:50
It was amazing getting a chance to sit down and talk with Dave Proctor about a project he and his team are clearly very passionate about. The game looks remarkably beautiful and I can't wait to immerse myself in this colorful world. The Big Con launches on Xbox One, Xbox Series X|S, and PC on August 31. And if you're looking for something to play while you wait, be sure to check out our list of the best games on Xbox Game Pass.
A crime-filled 90s adventure
(opens in new tab)
Cross-country conning

Help Ali save her family's video store from ruthless gangsters by hustling your way across the country. This vibrant 90s-inspired adventure game promises plenty of hilarious criminal activity.
Windows Central Newsletter
Get the best of Windows Central in in your inbox, every day!
Miles Dompier is a Freelance Video Producer for Windows Central, focusing on video content for Windows Central Gaming. In addition to writing or producing news, reviews, and gaming guides, Miles delivers fun, community-focused videos for the Windows Central Gaming YouTube channel. Miles also hosts Xbox Chaturdays every Saturday, which serves as the Windows Central Gaming weekly podcast.
Windows Central Newsletter
Thank you for signing up to Windows Central. You will receive a verification email shortly.
There was a problem. Please refresh the page and try again.