Bill Gates 2008 CES Keynote Redux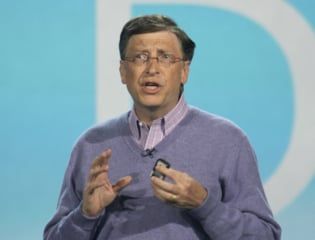 Our live coverage of the Bill Gates Keynote last night hit a snag, so we're back today from the blogger's lounge here at CES with the pictures and the deets that we missed after going offline. Actually, I just saw Bill Gates walking through the show floor - nice to see him mixing with the rest of us gadgetheads. :D
Read on to see a gallery of the even and to see what Microsoft is proud of now ...and what they're hoping will happen in the "next digital decade."
Oh, and either Microsoft doesn't care about leaks anymore, or they're leaking stuff themselves. Be sure to check out the Treo 800w shot and the possible future version of Windows Mobile!
The Treo 800w appears
Yes, yes, we could be wrong that it was the Treo 800w that appeared, but we aren't. It showed up on the big screen twice with nary a mention from anybody up front. Palm is either very happy to be getting some viral press from this or very unhappy that they've failed to control the release of yet another one of their devices.
Also appearing, something that looks like Bill Gates' dreamphone - someday we'll all have magical phones with flexible, semi-transparent displays no thicker than a few sheets of paper that we can just roll up and stick in our pocket. Someday.
Name that Windows Mobile
Also appear on the screen - what looks to be a future version of Windows Mobile. It might even be Windows Mobile 7, given that it seems to have a "pivot" interface of some sort.
Interesting, no?
Videos and Cameos
Probably the focus of they keynote wasn't product announcements, but more of a general looking back and looking forward. Though Gates & Co certainly did show off quite a few products - from Zune Social to the Ford Sync - there wasn't anything that we hadn't at least heard of before.
So the highlight for us was to see Bill yukking it up in a couple of videos. We'll also mention last first here - the evening ended with a Guitar Hero showdown that brought Slash himself onto the stage. Without further ado, a quick gallery of the various celebrity cameos -- all of whom were mugging it up trying to get a soon-to-retire Bill Gates off their back.
Get the Windows Central Newsletter
All the latest news, reviews, and guides for Windows and Xbox diehards.