CTIA 2008: Bill Gates Keynote LiveBlog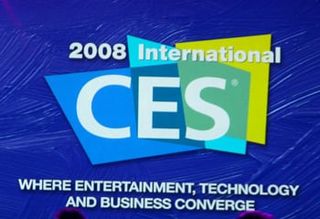 Howdy folks. After two hours of waiting (and about another hour to go, but we're live at Bill Gates' last CES keynote ever. We're not sure if there's going to be anything Windows Mobile-related, but we're pumped nevertheless. Stay tuned!
5:55 (Mountain Time, we're in Vegas Baby Vegas, don'tcha know?): We are still a half hour away. The room is jam-packed. If anybody has a BB gun, please come down here and take a few shots at the purple lights they have shining out into the crowd.
6:25: Here we go. Good sign: all the clipart images are of folks holding Windows Mobile phones and smiling a lot.
6:30: Funtime Intro Music over a montage of CES gadetry serenades us as we wrestle with a terrible connection. Too many people want to use our AT&T 3G. CEA Honco Gary Shapiro is on stage now, talking up the CES show.
6:35: Introducing Bill Gates - as though Bill Gates needs it.
6:40 Heeeere's Bill! Title of the talk "The Next Digital Decade." Sounds like fun. Bill takes us down a trip on memory lane - since his first CES keynote in 1994.
6:45 Calls attention to the fact that this is his last keynote and that later this year he'll go from fulltime at Microsoft to fulltime at his foundation. Sniffle. Looks like we're getting a video to help him prepare for his last day.
6:50 Bono and the Edge won't let Bill into the band. Aww. The video is heavy on the cameos - it brings the funny.
6:50: Whoa - that would be a white Palm something or other on the screen! def. an 800w or something that looks identical to the leaked version. He's talking about "connected experiences," but we're looking at that Treo.
6:55: Predicting "HD everywhere" and real 3D internet experiences. We've heard this 3D prediction before. Showing some mockup of a futurephone - looks pretty nice, actually. Meanwhile emphasizing how important it is for all devices to be connected via services invisibly so, say, you don't have to muck around organizing your photos and moving them from device to device.
6:57: the importance of "Natural User Interface" - Touch on "Windows PC and on the iPhone" (yes, he said it). Voice on the Ford Sync. Gestures, etc. "We're just at the beginning of this."
6:58: 100 Million people using Vista (whoa - much higher that I would have guessed). Neat new form factor PCs using Vista. 420 Million people use Windows Live. Windows Mobile: 10 Million new users last year, 20 Million users next year.
7:00: Ohh. Input causes problems with Vista, Live, and Mobile. Input Innovations coming.
7:00: Product Demo - Windows Live Services. Windows Live Calendar - overlay different people's calendars to see what's available. Windows Live Events - evite, basically, plus photo sharing. Windows Live Photo Gallery - automagically integrate multiple pictures of the same area into a panoramic photo. Sweet.
7:05: Windows Live Mobile - demoing on an HTC Touch. Adding photos to Windows Live Spaces.
7:05: Bill is back, he's demo'ing Microsoft Surface - their touch-based tabletop PC. Neat ideas - set your phone on the table to auto-upload stuff from surface to Windows Spaces.
7:07: Silverlight time. Announcing that NBC is using Microsoft as their exclusive US partner for the 2008 Olympics. That'll get people to install the Silverlight plugin, eh? NBC video of how happy they are about this partnership coming up.
7:10 - our laptop battery is dying everybody! We'll be back with more later!
Windows Central Newsletter
Get the best of Windows Central in your inbox, every day!
Dieter,
Take me with you to CES next year and I will be your bodyguard...and take care of those purple lights.

Thanks for the CES intro rundown Dieter! I look forward to hearing more! I'm one of those 100 million people now using Vista as I just got a Dell Inspiron laptop running Vista, and so far I love it.
Have fun! ;-)

The 100 Million on Vista probably means shipped boxes and OEM licenses, not sell throughs, and not people who have upgraded to XP :)
(I kid, I use Vista daily and like it better than XP, greedy peripheral makers who won't provide drivers for previous gen hardware notwithstanding).
Saying iPhone and iPod was interesting. Taking a swipe at Apple TV being a "hobby" (compared to MS offerings outlined) was good, as was claiming they outsell iPhone.
Surface demo was cool, as was Synch and visual recognition, but I was expecting a bigger bomb drop from Gates for his final CES, given they intro'd Xbox, Palm WinMob, Vista, and other big new shiny releases in the past. I thought he'd want to go out on the slam dunk.

Forgot to mention how odd (and potentially litigious) it sounded when (Mika?) kept referring to her MS social network Spaces area as "my Space"...
Also, Fake Steve is sure to take issue with Gates' video farewell being stacked with parody fave's like Bono, new Apple Music chief Jay-Z, and Apple board members like Al Gore. Moishe's likely on it... ;)