Bill Gates: Microsoft's LinkedIn acquisition deal is a 'great transaction'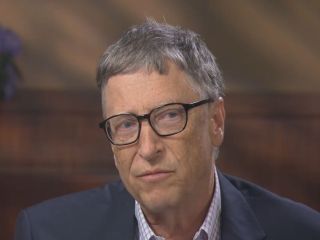 In a new interview, Microsoft co-founder Bill Gates labeled the company's recent plans to acquire the business-themed social network LinkedIn as a "great transaction". Microsoft announced its intentions to buy LinkedIn earlier this week for $26.2 billion.
In a video interview with Bloomberg, Gates stated he was involved in the LinkedIn talks as a member of Microsoft's board of directors. He stated:
Gates added that he feels the value of the two companies will be greater together than separate. He also believes that LinkedIn could surprise many folks with its features and that people will want to learn about their career and their company via the professional news feed that it offers.
Windows Central Newsletter
Get the best of Windows Central in your inbox, every day!
Still trying to justify it to the public eh?

So, you know better than the MS board of directors?

You are just one upset cookie aren't cha?

Given that the Nokia deal caused write-downs greater than the actual company cost in the purchase, I wouldn't be championing the MSFT board with regard to acquisitions. The purchase price was massively inflated, you can verify that from the stock chart. It remains to be seen whether the company can be turned around. My guess would be that there will be a lot of redundancies within the next 6 months, resulting in a write-down in roughly 12 months at the end of the next MSFT financial year.

It's not always just about dollars and cents in the short term. The Nokia deal was more about maintaining momentum for Windows mobile than it was about ROI on the purchase. Sometimes you have to sacrifice in the short term in order to achieve long term goals.

Yeah sorry, I forgot how much momentum Windows Phone has right now. It worked out really well.

Theres no justification needed. It was a great time to buy, they'd lost half their stock value in the last few months. It was also a good "FU" opportunity to hit salesforce, who was also trying to buy LinkedIn, and who had just spurned MS by making a lot of fanfare out of going with AWS over Azure. Profit wise, LinkedIn is currently a stable break-even company, whose biggest expenses are problems MS can be a lot of help with: Sales and R&D. Even its biggest revenue stream, selling data pictures to recruiters, is something MS can dramatically improve with Dynamics and Azure. So its going to make a profit for MS all by itself. Then there is "potential". What is the potential of letting Bing searches hook into LinkedIn the same way both google and bing hook into Yelp? What is the potential for tighter marketing of MS Enterprise and Cloud sales when you can see who is in each of those departments? What is the potential of being able to watch what type of training different sectors persue, what jobs are surging, what skills are growing or shrinking? What if it was a gateway to an outlook account instead of some crappy linkedin inbox? What if LinkedIn, freed of some of the resource burden of sales and R&D, could focus on better content and killing bots and spam? Skype powered hangouts for collaboration or job interviews and webinars? Its a win by itself, and it only widens when you factor in the potential.

26billion for a lot of "what ifs" and "potential". I'm glad you don't hold the checkbook in my family.

Where did you get your business degree? Also how many successful corporations do you run?

I do have an MBA and I've run 3 very successful businesses over the last 12 years. Sold the second for 3.2mil. Thank you.

Bottom line is that, they made the decision and acted on it, so whining about it isn't going to change anything. Also if they sit around depending solely on computer sales that have been declining for years they risk the potential of becoming another blackberry or Nokia (Nokia isn't what it used to be and it has nothing to do with windows phone. They just had the king of the hill mentality and under estimated the value of the US just like Microsoft is moving too slow at getting their current products to foreign countries). I believe Jeff Besos of Amazon said it right, you have to take risks and all you need is one to pay off big.

Ignore these fanboys. If Microsoft bought a pile of ###t for $26bn they'd justify that MS could turn it into compost.

Seems like you don't have a damn idea. Why do you bother?

LinkedIn was not a stable, break-even company. LinkedIn was losing money hand over fist. They had positive cash flow simply because they used stock awards as their main form of compensation. The employees were depending on a rising stock price and eventual sale to reward them for their hard work. LinkedIn as a standalone company was eventually going to implode as key employees had enough and started cashing out and quitting. I only hope Microsoft has a well thought out plan to integrate LinkedIn services into their existing business product line. MS is not going to make money off LinkedIn by itself but rather will be depending on increasing sales of other MS products as a result of overall benefits. It hasn't done well with Skype and I have a feeling the LinkedIn investment will languish too.

Sounds good. I was just kinda hoping for an app update...

LinkedIn may have lost half it's value, but the premium Microsoft paid makes up for most of that. $26 billion for a hope and a dream, for a company that has no profit. I think the potential partnership with LinkedIn could be good, but it's not worth anywhere near $26B. Microsoft will need to generate about a 13% return on this purchase, or over $3B per year in additional net profit for the deal not to be dilutive to ROE. Said another way LinkedIn's current net profit would have to be equal to it's current revenue for the deal to make financial sense. In other words, LinkedIn will need to grow revenue, assuming a profit can be generates, by many multiples. If we assume LinkedIn could potentially generate a 20% net margin, which is incredibly generous, its revenue would have to grow 5x to $15B for this price to even remotely make sense.

Why does it need to generate such a large ROI?

Because that's what its most recent ROE is, which is actually depressed because of the n Nokia write-off. A more normal number is is the 25 range, meaning you would need to double my figures for the deal to not be dilutive.

200 minus 50% is 100. 100 plus a 50% premium is 150. The premium MS paid did not make up for most of the stock value correction. Its possible that the deal isn't worth 26B, but MS can easily push a company with such close margins to being consistantly profitable. https://ycharts.com/companies/LNKD/profit_margin Had Salesforce beaten MS in the bidding war for LinkedIn, would people be this harsh on them?

MSFT is paying $196 per share. And they will never generate a decent return on this deal. The economics just aren't there.

the numbers i gave were math examples, not literal. it works with any set of numbers. they paid a 50% price premium, but the stock fell 50% in the months prior. one 50% does not equal the other. they bought the company for essentially 75% of its previous market cap. considering Salesforce was bidding them up that point, clearly another very respected company thought that it was worth something likely not far from that amount. considering how easy it should be for Microsoft to make them profitable, its not like they can part ways with linkedIn if it proves to not be what they hoped. while success or failure arent gauranteed, the doubters are making it sound like a 100% loss scenario, which is just incredibly unlikely. this is a very different scenario than Nokia.

Buying a company for 75% of a bubble price doesn't make it a bargain. That's like saying the $10,000 Gucci bag you bought for $7,500 was a good deal. It's just a bag, made out of leather, in the same child labor factories as all other leather bags. Doesn't make it a good deal. This deal is no different. Price is what you pay, value is what you get, and Microsoft didn't and isn't going to get $26B of value out of this deal.

Exactly. There is no ROI proposition.

Are you a shareholder? If no, then they don't need to justify anything to you. What was the last thing that you bought? Do you need to justify your purchase to me? No, you don't. Your may need to to your wife/husband if you are married, but it is none of my business what you buy. If you are a Microsoft shareholder, then yes, they need to make a case to the shareholder since they are part owners of the company. But that is why we can vote on our proxy statments, to not have people on the board that would make these types of decisions. So, are you a Microsoft shareholder, have your voted on your proxy statement? If not, then they don't need to justify anything to you. And yes, I am a Microsoft shareholder and yes, I vote on my proxy.

With Microsoft business focus mind set this shouldn't be a surprise to anyone

This. It makes perfect sense!

"The team there have built an incredible audience..." Well yes, I do look on them with incredibility.

Very wrong buy, use that money to create aps by devs

Microsoft already does the best mobile apps for productivity IMO (Office, OneDrive, OneNote, Outlook, OfficeLens) but they never owned a popular social network like LinkedIn so this will be good to compete with Google+, Facebook and Twitter

Um LinkedIn though isn't really a traditional social network like Facebook, Twitter or even the Google+ (I don't know how many still actively using this) since LinkedIn is more of a professional social network and more like an online resume. My colleagues actively use LinkedIn when updating the profile and doing some networking, but the frequency and how often being used isn't as heavy as let's say Facebook. So this is hardly a competitor to those especially Twitter which have different purpose than Google+ and Facebook. Though this purchase is seriously a huge money, more than the Nokia I guess if I remember correctly. So hopefully that they will really do something about this and wont be a waste like what happen to Nokia mobile division and maybe some smaller acquisition, Skype is a bit exemption since it seems doing okay, bot great but okay.

Their is there potential to make more revenue via linked in than the others since they are free, LinkedIn has both free and paying customers.

The best social media #TeamLumia 950 XL

I really agree with madness here, if they would have dropped say $500 mill into the windows 10app store so that you could find every app you can on other stores, the reason to own and consume Microsoft products in the the Microsoft ecosystem would be overwhelming. There would be no reason not to own windows phone or surface, that current analogy belongs to apple for now. I am hopeful but very fearful of this linked deal as a shareholder

Now how would that $500 million work? Do you expect them to build the apps themselves? Because that will only work if the developer/company gives them permission to do so. Are they suppose to pay devs a portion of the $500million to create an app on WP? how do you decide who is worth getting paid, and how much they get paid? You really don't seem to understand how any of this works, but you wanna just throw money at it.

They just threw $26B at a company that makes no money.

That would buy an app version 0.1 to be created ---- and never suported or updated. Balmer already tried to pay developers, it didn't work then and it won't work now.

Bill is right, LinkedIn may be valued more than Facebook in a few years, Facebook is not business oriented, while LinkedIn is, this transaction will join 2 excelent companies and this will make Microsoft cloud services offering much more attractive for big businesses.

He was talking about financial value. Facebook is 10+ times more valuable than LinkedIn. FB's market cap is almost as big as Microsoft itself.

Microsoft's market cap is $400 billion and Facebook is $323 billion. Facebook isn't that far off and climbing. Posted via the Windows Central App for Android

Per the Money app on my Lumia 950XL. I believe the income statement items are trailing 12 months, that's the typical presentation. Microsoft revenue = $86.9B, net income $10.5B, market cap $394B Facebook revenue = $19.8B, net income $4.7B, market cap $323B LinkedIn revenue = $3.2B, net income -$169MM (a loss), market cap (post announcement) $25.5B Microsoft's net income is depressed because of the Nokia write-off. Since LinkedIn is currently operating at a loss, let's just focus on revenue. Facebook is currently priced at 16X revenue, LinkedIn at 8X revenue and Microsoft at 4.5x revenue. For every dollar of revenue generated a Facebook investor is paying over 3x more money and for LinkedIn almost 2x more. Yet at least with Facebook there is profit, which with LinkedIn there is none. Both Facebook and LinkedIn are priced at bubble levels. The economics don't support those valuations. As an example, if I were to buy Facebook for $323B and I wanted a 10% return on my investment, Facebook would need to generate net income (technically cash flow) of over $32B per year, or about 7x the net income they generate today. Assuming the same net margin Facebook's revenue would have to be $136B. Makes absolutely no effing sense. Same applies to LinkedIn.

LinkedIn has huge potential since they can sell Office 365 and other business products through it. They'll easily be able to cut duplicated expenses as well.

The only way LinkedIn could be valued at more than Facebook in a few years is if the tech bubble reaches levels of absurdity never before seen, and we've seen tech absurdity of extraordinary levels before and now.

Still not sure what this brings and watching that, I'm not sure Bill does either. But let's wait and see. Neither company is going to change overnight and each has their own marketspace. Will be interesting to see how they get value out of this deal.

By the looks of it, this might going to bridge to Office platform, hopefully some better integration with it and maybe another new Office app related to this. This will just become a new service for Microsoft, but what's interesting though is that Lynda.com as I remember also been acquired by LinkedIn in the past, so does it mean it now also part of Microsoft then. This really a big one and hopefully get will take care of this. I'm afraid for the employees though as this might result on another massive lay-offs un the near future.

Layoffs are part of business. Yes, it sucks but unless you own your own company, there's no such thing as "job security" and that shouldn't come as a surprise to anybody.

Wouldn't expect it it to has LinkedIn will continue to run and operate as its own seperate business, whereas Nokia's mobile division was absorbbed and integrated into Microsoft's own mobile division.

Lynda.com joined with Microsoft Virtual Academy? Mind boggling.... I'm sure this will be awesome.

Except that everything on MVA is free. Will they be able to integrate charging for Lynda content when so much good stuff on MVA is free? Certainly some possibilities there, but not sure how much it is worth. That is yet to be seen. Lots of opportunities to integrate with Office though, sell training / support licenses, etc.

or even office 365 members can get access to the Lynda.com database.

I think they should charge extra for it, but could give a discount or perhaps you get a Lynda license that only gives you Office related content for a few extra dollars per month.

or they can even nest the Lynda.com content with the MVA as a premium service. Then with this, they can raise the budget demands of the service so that we can get even more higher quality content at faster rates, and offer certs this time around that are accredited.

Microsoft should do what they do best and that is enterprise. The buying of LinkedIn fits in with that ecosystem perfectly by broadening their placement in the enterprise sector. Great move I think!

Microsoft is still the leader of consumer in terms of pc sales, so I hate this logic. Yes, do enterprise good, but don't fail when everything business or personal is moving to portable. Why not continue to do everything good, especially what you once ruled the world in and are losing it fast.

Enterprise always has, always will, and always should be Microsofts priority number 1. There are a lot of things Enterprise needs that consumer level products do not. You have to do one thing best, and Enterprise is where the $$ is at.

Even Bill doesn't seem very convinced of what he's saying.

To me he seems to be. But hey, the reporter wants a bad story. I think Bill did pretty well.

I just am new to the market. And overwhelm to see how the enterprise totally and completely relies on business-oriented solutions. Stop whining about apps on the Windows Platform and let them what they're great in.

So a guy that voted for it thinks it's a great transaction. Surprising. Posted via the Windows Central App for Android

Too bad you were not in the board meetings discussing the deal and getting the information that's not available publicly, otherwise I am sure you would have some valuable contribution. /s

Statistics prove that 80%+ of acquisitions fail to generate value for the acquiring company shareholders. Microsoft itself has proven that in recent years. You don't need to sit in the boardroom to know that paying $26B for a company that makes no money is ridiculous. Sure, there is some opportunity for Microsoft to cross-sell its services, but it would need to generate as much net profit as LinkedIn currently has in revenue for the deal to even come close to making sense. When I see MSFT add $3B+ in earnings over the next few years then I'll say ok maybe this worked out. But that's not going to happen. I'll take the odds all day every day. Are there opportunities with the acquisition? Yep. Are they worth $26B? Not even close.

FYI: I was for many years Headof Acquisitions at a major software company. The choice for Microsoft in this case was about turning an unproductive asset (cash in zero or less interest rates) into one that at least generates revenues. LinkedIn is also the world's widest used social media service - it's available in China where consumer social media systems Facebook, Twitter, etc are not. This immediately makes Microsoft the owner of the world's widest social media service. The price is irrelevent.

Price is irrelevant in an acquisition? You just failed investing 101. Your credibility is, well, worthless.

Can you please explain your comment.... It's just not obvious what you mean

Windows Central is great but too much negativity by commentators !

Just going by historical results. Skype (should have been tightly integrated into Windows and Win Mobile), Acompli (serves as Outlook client on iOs and Android but not on Win Mobile), Wunderlist (still standalone even though it was supposed to be integrated into Acompli), Sunrise (sunsetting 8/31/16, employees are transferring to Outlook but it should have been integrated with Acompli), Nokia ($7 Billion down the drain), N-Trig (announced a new Universal Stylus Initiative where Wacom products will work on all tablets too.) It's almost like Microsoft buys good ideas but can't seem to close the deal in integrating the services into a cohesive product.

You forgot Mojang take over. Office parts take over and so on. When you use historical information, use them all.

I wish the windows central members ran MS... If would be 20 times more successful

It's kinda the 'Internet 2016'. Negativity first. Pretty lame, yep.

MS should buy Spotify and replace the stupid Groove Music app! Now that is a worth while investment and a very good competition to Apple Music and others out there.

As a Microsoft stock holder I was very happy when the news of the acquisition was first reported on CNBC. Microsoft is positioning the company for the future.

Microsoft paid $26 billion to buy a company full of unemployed people. Just great.

Greetings from China. Please keep in mind that of all the world's major social media systems, LinkedIn is the ONLY one that is also available in China, the world's biggest market.

Also keep in mind that LinkedIn has a little over 400 million registered users, but just 25% of those users actively use the service. Facebook, by comparison, has 1 billion active users. Most people update their LinkedIn profile when they are looking for a job or when their job title changes. These tend to be multi-year, not daily, events for people.

For god sake at least now update the LINKEDIN app for Windows 10.

Not sure why all this hate. Linkedin is a great professional platform that surely has problems yes. As a Security Expert myself i am hugely concerned about the Linkedin password breach/leak. But now that Microsoft has acquired the network, they will re-engineer the system into a trusted and stable platform, with huge possibilities and potential. Bill is 100% right about this. This was a great acquisition in the right time. I am really looking forward for the New Linkedin experience.