Bing & Bing Mobile get a needed makeover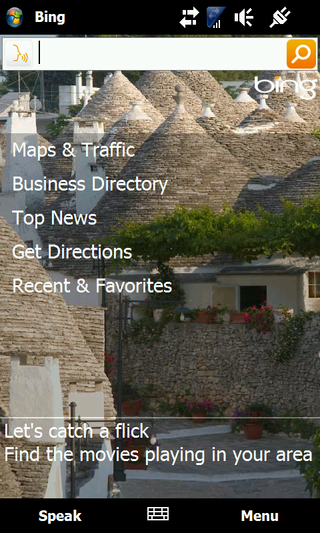 Whew, busy day for software.
Crashing in on Google Map's update today is none other than Microsoft who has effectively re-launched their Bing service.
First up is the browser client, which now offers a "Streetside and enhanced aerial view" in addition to normal maps and uses Silverlight (something we heard about yesterday) to power it all. There's also an "application gallery" which
In conjunction, Microsoft has also revamped Bing Mobile v5.0, which was something it needed as the old user interface was...well old and not very touch friendly.
Overall, the visual changes go a long way to making this standout program even better and the new"wait screen" is a nice twist. However, they also took out some things like gas prices and it is a little slow to load and keep in the background. Still, we'll assume it will only be improved upon.
Sound off in comments on your likes/dislikes or new things you found!
Web: www.bing.com
Mobile: (via Mobile IE, not Opera): m.bing.com\download
[Microsoft Press Release (opens in new tab)]
Windows Central Newsletter
Get the best of Windows Central in your inbox, every day!
Daniel Rubino is the Editor-in-chief of Windows Central, head reviewer, podcast co-host, and analyst. He has been covering Microsoft since 2007 when this site was called WMExperts (and later Windows Phone Central). His interests include Windows, laptops, next-gen computing, and for some reason, watches. Before all this tech stuff, he worked on a Ph.D. in linguistics, watched people sleep (for medical purposes!), and ran the projectors at movie theaters because it was fun.
Grumble. Went to m.bing.com/download and got my hands on a nice , hey what --- version 4.6.6169.0 .... that's not V5 !?

Yeah, it's intermittent. Very strange. Hopefully it'll be up all over soon. Phil and I managed to grab via the web.

Same over here. Would this have to do with the WM version? I have a Pro with 6.1 in it. Mal, did you use a 6.5 device?

It doesn't depend on OS version. Not even released in marketplace.

This is ridiculous, roll it out, then immediately announce it. How is this NOT in the Marketplace?! How is it intermittent from the download?!?! This is just utterly sad Microsoft. Get it together.

It probably got rejected from the Marketplace...

Looks like it's not available for all phones just yet. Scroll down a bit on this page: http://www.discoverbing.com/mobile/faq.html

This is sad. My (work) Blackberry downloaded it no problem. My (MICROSOFT) HTC Touch Pro2 doesn't get it because I'm located in Canada. If you look on the FAQ, in really, really tiny white font it's printed that Canadian support will be rolled out when Google is finished with the market here. It's really sad that they've pretty much given 100% market share to Google up here for the foreseeable future... evidenced by the fact that Google Toronto/Montreal/Waterloo/Vancouver just started a hiring blitz. For now I'm going to uninstall and get that 1376kb back. The 4.6 version of Bing tells me how to find a Tim Hortons, but I'll need a passport as the search result comes back in New York State. What's real funny, is that I can get the closest Tim Horton's no problem if I use a desktop PC (or remote desktop to one from my phone). It's not like they have to build a new database or something. Google Maps will not only give me the location of the Tim Horton's that's across the street, but it'll tell me the phone number, how to get there, and if I want it'll tell my friends that I'm there. I can save that infomation and sync it to my desktop PC, or over to my Blackberry. I can make custom map layers and have contextually important details. Oh, and I can get street view too. Did I mention, I've been able to do most of this stuff for two years on Google, while I'm still waiting for Microsoft to realize there are more than four countries on planet Earth?

I have winmo 6.5, running on an omnia 2. I was only able to download the old version of bing via IE.

If you want, I'll throw it up on Rapidshare for you guys. Gimme like 15 mins. Here ya go: http://rapidshare.com/files/315457486/Bing.cab.html http://dl.dropbox.com/u/881958/Bing.cab

Used Malatesta's cab file and I now have mixed feelings. The good: Local search works... I can see the Tim Horton's across the street, from a voice search (yay!) The bad: Still gives me miles a not kilometers ... so I'll be lost if I use the driving directions

Mal, Many thanks for posting the CABs in rapidshare. It worked! Now, I have to say that this new Bing has a major problem with my device: it does not like square screens (such as the one in the Treo Pro). I have perhaps less than half of the screen as usable real estate (i.e. displayed map) while the rest is covered by Windows own bars (top and bottom) and Bing's bars (search bar on top and Zoom, search and directions icons on bottom). It makes scrolling and looking for info on the map quite a hassle. I am sadly reverting back to the previous version until I get a better device. Perhaps I need a Touch Pro 2 instead...

Thanks for the heads up on the square screen issues. I've got a Treo 800w here.

Thanks for posting the cab Malatesta.

Pros: Now the address does not search "near" like the old one.
Cons: Seems slower

I haven't really given this a thorough testing & I really didn't try the previous version. But I'm sitting in my livingroom, 3 feet from my front window. Both the new & the old Googlemaps apps have difficulty finding sats & place me a good mile closer to the inner city than I really am. The latest version of Bing says it finds 5 sats, connected pretty quickly, puts the dot on the right section of my street. If I switch to sat view & magnify, the dot ends up on the sidewalk, 20 feet diagonally off the corner of this room. Pretty impressive for indoor reception.

Microsoft really made Bing completely useless with this update. The prior version use to scroll the screen when tracking via GPS. The new version doesn't scroll. Your dot just moves off the screen and you have to scroll manually. In addition, when using driving directions combined with track via GPS on the old version, it would count down the mileage to your next turn and beep to alert you when to turn. Now all you get is a list of directions and you have to scroll through them manually. Thanks Microsoft for taking something totally usefull and making it worthless.

Wow. Haven't tried that myself, but if so that is really terrible. Only consolation is the big "Beta" when you launch. Maybe we should assume that MS will be adding/fixing things with newer builds...after all this was a big overhaul for the program. Still, that info you posted is good to know for those who use that function!

Yeah. Just realized that last night. Didn't get a chance to film it for the video review (look for that later today). That's just piss-poor. Guess we'll need another video! :)

Your right! i tested it myself last night & i agree that Microsoft totally messed up on this. Whoever is in charge of product development of Bing should be fired because that person has totally no clue on how to make things better.
Chalk up another one of Microsoft's major blunders!

After trying to install, I get a message saying sorry this software is not compatible with your device. A Samsung Saga, you know, the phone that verizon is selling that no one knows about...

tried the new bing download on my older AT&T tilt, and it tells me my screen resolution isn't supported? WTF!

Also does not work on the Verizon TouchPro 2. "Device not supported"

Did you download it directly from Verizon's app store or from Mal's link? I am suspicious there may be extra things that Verizon adds to the regular app to make it usable in their systems...

This update is not for Verizon devices at this time :-(
Stay tuned for a Verizon release...

I really can't stand how Verizon does this. I would love to get this update working, but Verizon always manages to ruin the fun with their own hardcore restrictions.

The new bing client is in Marketplace because the new client (v5) is not supported across all phones. The 4.6 client doesn

What phone are they using to test bing on the video?

I downloaded from the m.bing.com\download url on my VZW TP2 running SSK's latest 6.5 rom. It installed 5.0.11249.0 just fine, but the GPS does not work at all. This is getting uninstalled, hopefully I can find an older big cab because I stupidly deleted the one I had on my SD card.

m.bing.com\download installs 4.6 on my htc Ozone.

This is easily the worst makeover I have ever seen! 1. It is many times slower than the previous version
2. GPS interface doesn't work consistently and is VERY slow
3. Did away with gas prices!!!
4. Touch unfriendly
5. Hard to read main page
6. Did away with collections
7. Can't look up individuals any more All in all, it's worthless. Went back to the previous version.

DITTO!!!! Reverted to older version. Good job microsoft, as usual, you show why you are always behind.

I think I figured out the download problem. It's giving me 4.6 on my Treo 800w. However, I went to the mobile download page on my PC and it gave me http://mobile.search.live.com/client/download_manual.aspx. There are two links on there for CABs for WM6. The first link is for the latest. The second link is for "older phones" and that's the one that I'm getting automatically from my phone's browser. SO, the direct official link to the latest CAB is:
http://static.appserver.m.bing.net/binaries/winmo/v1/Bing.CAB I've tried it on my Treo 800w and at one point I even got a message that came up and told me that my device was not officially supported but that I could continue using it as a beta. Due to the screen size the ungodly huge search bar at the top, the maps are all but unusable, but it still seems to be working pretty well.

for anyone who hasn't figured out the center on location while moving, click the little 'person' icon in the bottom task bar. also, those of you with square displays, there is a full screen mode in the menu that removes them.

It was time for a makeover. nice info. thank you.

Gas prices were my main motivation for getting this app, and then I find out they were removed!!! Oh well.

Very disappointed in this product.... extremely cumbersome to use. uninstalled it now looking for the previous version to install

Without a Gas Price Search, or scrollable GPS tracking, Bing Mobile is a waste of my time...Attempting to reinstall Windows Live Search as we speak.

I have an 8925 AT&T Tilt. NOT the Tilt 2. I'm getting the error that my resolution is not suitable anymore. It USED to work FINE. Can anyone point me to how to fix this, or to another program that does what Bing does. I need it. It was very useful finding gas, movies, etc. Thanks

I am surprised that it doesn't support my phone, saying "the resolution on the device is not supported..." But Google Map works just fine. So why Bing is so picky? after all it is still a Windows mobile phont!