Bing brings interactive IIFA guide and Bing Predicts for Bollywood fans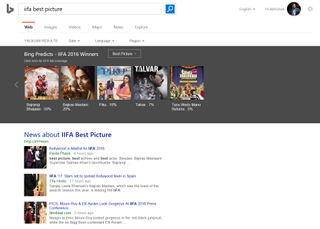 Instituted in 2000, the International Indian Film Academy (IIFA) Awards is an annual extravaganza hosted by the International Indian Film Academy to honor both artistic and technical excellence of professionals in Bollywood, the Hindi language film industry. With the 17th edition of the IIFA to be held in Madrid this year, Bing team marks its Bollywood debut and expands its horizons to the world's largest movie producer – India.
Bing now offers an interactive IIFA guide for Bollywood fans where they can check out all the nominees and explore more about the films, actors, directors, and music nominated for these awards and get exciting updates from the IIFA.
Bing Predicts uses search, social, and other relevant data to make intelligent predictions and add a different dimension to the entertainment world. With recent success in predicting winners for Academy Awards (70.8% correct predictions) and Grammy Awards (90.9% correct predictions), Bing Predicts is now offering predictions for eight categories at the IIFA.
Bing predictions will also be available on UCWeb's Top websites section as well as on the IIFA hub on MSN India, the official digital partners for the event.
No one can remain unaffected from the fever of Bollywood...

Well equilibrium is necessary on this earth.... If there are hard-core fans then there are some jealous haters also

Tbh, I don't really like Indian movies. Only watched Taare Zameen Par, Three Idiots and My Name is Khan. The rest don't seem interesting enough, most are marketed on item songs and a star-studded cast instead of going for an actual story or decent dialogue. No offence.

I was watching sense8 and I'm one ep the Indian character (I can't recall any name except Lito's and I just finished watching the finale literally right now lol)... Ok, lol, the thing is that she is watching a violent action movie that another character is watching and she asked in confused horror "why aren't they dancing?" Is every Bollywood movie a musical?

99% of them or 99.9% Very rare to see a non musical one

The most recent big budget film (no one usually cares about the low budget films) film without a song was FAN (released this April) starring SRK(the guy in my dp). Almost every Bollywood film has songs in it. Posted via the Windows Central App for Android
Windows Central Newsletter
Get the best of Windows Central in in your inbox, every day!
Thank you for signing up to Windows Central. You will receive a verification email shortly.
There was a problem. Please refresh the page and try again.