Bing homepage pays tribute to Dr. Martin Luther King, Jr. with photo and 'I Have A Dream' audio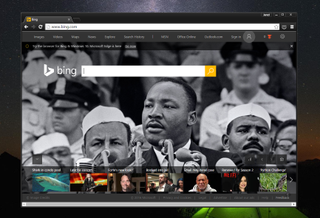 Microsoft is paying tribute to Dr. Martin Luther King, Jr. today on its Bing homepage with an image of the late civil rights leader. The image is marking the occasion of the U.S. national holiday that honors the late civil rights leader.
The image of Dr. King is one of the few times that PC users cannot download the Bing homepage photo as wallpaper (it's a copyrighted photo from Getty Images). However, it does allow PC desktop owners to listen to part of his famous "I Have A Dream" speech, made on August 28, 1963 at Washington DC, directly from that page. The holiday itself is meant to also celebrate Dr. King's birthday, who would have been 87 years old on January 15.
Source: Bing
Get the Windows Central Newsletter
All the latest news, reviews, and guides for Windows and Xbox diehards.
They should pay a tribute to Dr. Dre

How witty. Posted from my Note 5

Dr Dre for sucking dicks or wat???!!

No, for screwing Apple out of multiple billions of dollars for a headphone company that was worth a few million. Epic.

I have a dream that one day I'll get the Windows 10 mobile update.

Given up on that dream. So disappointed.

That's really and 2pac deserves this

love you BING for this!!!!

That's awesome! I hope anyone who had the day off took the opportunity to serve their community in some way!

Great move Microsoft. One picture at a time -- LG V10

V10 != MLK day. Let's respect the guy who died here, man.

I have a dream that one day Lumia and windows mobile rule the smartphone world.

1963 : "I have a dream..." After more than 50 years - 2016 : Still having white-washed movies and oscars.

Yep, someday Big Momma or Madea films will win an Oscar.

It doesn't mean that someone should be nominated who doesn't deserve to be. (I'm not an american) All I mean is that, looking at the news and public responses, it seems that the race issue is still there.

That is a nice image of him. That would be a good background now that I think about it. He was a great man.

Unfortunately, it doesn't take much research to find significant character flaws/issues. Quite shocked when I first read.

You must be fun at parties...