Bing Rewards app lands on Windows Phone 8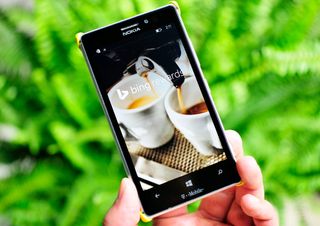 Microsoft has launched its Bing Reward app for Windows Phone. The Bing Rewards app was originally released for iOS and Android back in January. Windows Phone users have had to earn rewards through the web, until now.
Bing Rewards lets you earn credits by using Bing online searches, allowing you to spend those credits on apps, games, and even gift cards for Xbox, Amazon, and Skype. You can set the Windows Phone app as a Live Tile, letting you easily track your credits and your search and earn status. Just like on the iOS and Android apps, Bing Rewards for Windows Phone features mobile-exclusive offers that you won't find on the PC.
The app itself is little more than a fancy web-wrapper, so don't expect too much in terms of Windows Phone native capability. It's also limited to regions where Bing Rewards is active, making much of the world off limits for this app e.g. India.
You can download Bing Rewards from the Windows Phone Store right now for devices running Windows Phone 8 and above.
Aww mehn, I really need Bing rewards, I use Bing all the time for all my needs. Would have gotten some cool cash for some games, I really need some new games now :-(

Read that and thought "yeah, us. We windows phone users." Then I realized you meant U.S. Sorry bud, coming soon hopefully.

Insert Team America into. LOL Goooooo Microsoft. LOL

It needs to be pretty clear to everyone by now - Microsoft has a simple consistent prioritization hierarchy in mobile platforms : iOS > Android > WP (US) > WP (rest of the world). Everyone just needs to deal with it!

So, if I switch to iOS... What am I losing?

i am pondering that very thing right now. All of Microsofts services are avalible (and possibly better). If i switch to the larger iphone this fall, i still get all of microsofts services AND all the advantages of IOS. Seems like microsoft only wants to be a services company...

That is exactly what I am doing this fall. Why stick to WP OS? We pay our hard earned money for services and devices. In return, WAIT. My next phone will definately be iphone 6 releasing this fall with ios8. ios 8 will be definately better than ios7 and will be available to download just within 20 days(max) of its announcement date. The microsoft service will still be there for me and probably better than WP. BTW I do not pay to merely become a WP fan.

Yea, it pains me. Been around since windows 7 with 1st the Trophy and now a 928. At first I thought just give it some time....but now its becoming pretty obvious that WP will always leave me waiting for more

You are just not losing anything than a crappy WP. Because of this: Microsoft apps and updates are in the hierachy: iOS > Android > WP (US) > WP (rest of the world). I realised today that WP users dont even have skypewifi app yet (I am a Lumia 920 user living outside US). I get no good bing services, no cortana and nothing at all. After announcement of an OS update, it takes an year to reach it to the customers. Same is the case with devices. The only thing you get is the waiting time. Poor WP users just learn to wait. Wait....Wait and Wait......and finally switch to ios or Android.

Yeah.I do think about switching to Android and Ios but i get really bored when i find IOS to be too much fucking secure to download an app even for downloading songs and Android's laggy interface.Only thing that Android and Ios survive and Windows loses to them is APPS!So without people trusting WIndows Phone, WIndows Phone will go down but if the opposite then u will see WP beat the crap out of the other two.And MS is trying to offer services yes but maybe it is theri strategy to attract the IOS and Android people to Wp.Let's c only time will tell.But i have my bet on WP9.

Nothing. In fact, you'll be *gaining* as iOS has something Microsoft doesn't: a touch friendly version of Office!

I knew this would be the case when I bought a WP so I just don't bother caring about it any more.

Every country has difference trade, exchange, tax, and economic laws. It's a lot easier to release something like this in the U.S. when you are a U.S. company. Besides, while the U.S. is mostly saturated, it still is the largest mobile market that MS knows it must get a foot hold in for WP to thrive.

Hey guys change your region! *riot* edit it doesn't work... Eff you Ms :( us uk people want it!

What if I have my phone location changed to US? :/

you can set it to US, download the app then you will get "your country isn't supported yet" not a problem, use vpn get some credit up to 400.
try to redeem, need mailing address, ok write fake one no ! it won't save ffs

I tried the VPN trick on my PC and they still didn't let me register.

Change your entire phone to an iPhone, then you can use Bing anywhere! Oh, the irony.

Would be nice if the articles on US only could have a "US ONLY" on top to spare us from disappoint... ;)

Microsoft can kiss my butt. We should've had this long ago.

Not for India... Because I saw it in online

Yup sadly not available for India where Windows Phone is booming.

Dunno why they are ignoring India! :'(

India owes them a phone factory.

This made me laugh so hard for some reason.

seeing it online is one thing, getting rewards is another

Decided to stop using Bing and Cortana till they bring this to us Indian users......:/

Yeah...that will teach em....

No Bing rewards for India. Sad.

Had a small faint thinking it had been released worldwide, not the app but the feature itself D:

Me too, thought it would say arrives in.....UK.....

Should have been first on the list. Thanks MS

I'm getting points because I use the US version of Bing, but I can't use them because I live in The Netherlands. I wonder when it finally becomes available here, if it resets or if I can use the points I've been collecting so far.

I was wondering exactly the same. I used Bing rewards when it fist came out and built up some nice credits. Then could not redeem them as I am from the UK. Clicked on this sort as I assumed this would be a superb way to sync them up.

You clicked on what? What did you do?

Clicked on this story. Sorry, predictive text let me down there. I clicked on this article to see if I could get rewards on my phone, and would then hope to link it with the old rewards. Sorry for the confusion. Oh, and to the other post, I wouldn't use the space, so didn't bother.

Change your outlook account to USA and redeem for things like 100 gb OneDrive storage.... Might work

Did anyone solve the saving address and info loophole yet?

Thanks microsoft, wow and transperant title from the gate, nice

Sigh. Why is this a web wrapper? #sadsam

Because full-featured apps are too mainstream :)

That is just wrong....i should have waited to make sure it wasn't another one hiding in a wrapper... Really getting tired of these.

And why did it take so long after iOS and Android if they weren't going to put much effort into it?

why did android and ios get it first? its.. darn, cant find the words :G

WP users are almost forced to use Bing anyways with the convenience of the search button. iOS and Android users, on the other hand, are almost certainly using Google. Microsoft needs to give those user bases even more incentive to use Bing over Google, hence why a rewards app was prioritized on those platforms. It's sad but true.

Not on iOS 8. Everyone will use Bing by default.

Hey, guys, check out all our services!
"Hey, this is good stuff! I'm going to give WP a try!"
*gets new windows phone*
"Wait, where are all those services MS had on Android!?"
I'm starting to believe MS is just a big corporate troll f'n with consumers.

I'm wonderng what the use of this app will be since WP users get their mobile rewards points searching through Cortana now.

I get absolutely no rewards by searching via Cortana. So hopefully this will help? Although it does not seem to let me do a simple search, only what they offer....Am I missing something?

I get no rewards either. Ever. But I get them on this android all the time. Sigh Posted via Windows Phone Central App because my lumia is being repaired

It is an app to manage your Bing Rewards, not for searching. "You can set the Windows Phone app as a Live Tile, letting you easily track your credits and your search and earn status. Just like on the iOS and Android apps, Bing Rewards for Windows Phone features mobile-exclusive offers that you won't find on the PC." Cortana doesn't manage your Bing Rewards or have the Dasboard.

OO awesome release for Andoid and IOS first

It seems that Microsoft has less faith about its Mobile OS.

In short words they don't give a sh*t

I don't understand what the point of this app is. It is a web wrapper to the mobile website and you earn points by using built in search (cortana) on windows phone 8.1.

To keep track of your points, to redeem your points, etc.

Is the app just a web wrapper? It doesn't look like a full featured app?

Yes, just a wrapper (as said in the article).

I think that was added after my comment haha thanks!

inb4 2late comments. Glad to hear this. :-)

LOL! I was just surfing the internet to find ways to redeem Bing Points outside of US :'(

Awesome...hope it comes for India too

Stop being sad and start earning points from now itself by changing your region to US, by time it gets to India have some points!!

What if they reset everything?!?!?!? :(( I use Bing alot

Anyway we use Bing always, we not loosing anything by this we may have a chance to actually utilize them once available in India, if not no problem.

Awesome. Now I don't have to have the page pinned anymore.

Yay another Web Wrapper #praise #Microogle

Can't get the Live Tile to display anything ...

That's because in setting in the app keeps switching back to off when back out the page.

US only of course, I'm getting tired of Microsoft being so strict on other countries outside the US.

Because content/licensing/copyright aren't world wide agreements and have to be made for specific regions/countries. That and Microsoft is a US company.

The live tile only displays up to 9999 credits. Anything beyond that and it'll just add a + on it. I have over 17k in credits and I just get 9999+ on my tile. Between that and the fact that it's just a wrapper for the mobile site, I've already uninstalled this app.

Stop hoarding points. There's starving children out there.

This is not an app. It id merely a launcher for the Bing rewards website.

I want it in India too. I would have had a lot of money for all the games cuz I use the Bing search everyday. Sigh:((

Please. Poland want play in Bing Rewards.

I'm all for such an app, a Bing Rewards app that monitors the points, maybe some other features only WP users get. Unfortunately, this app is as bland as it will ever get. There is hardly any point to it at all. I shall await an update............

I just wish Bing rewards worked outside the USA... MS+US!=MS-US :(

Even Microsoft makes web wrapper apps.

I'd almost rather wait than see Microsoft release web wrappers for their own services. Kinda embarrassing.

Pinterest Beta got an update !

Yayy another good app I cant use, what a joke!

How is this a joke? Microsoft can't guarantee the ability to get you items in others countries.

It's not "APP" it's just site that you can install and uninstall aka web wrapper

Wow finally. After android and apple had it for ages

Guys change region to us and get the app

Sigh.....even Microsoft is releasing web wrapper apps.....this is basically a shortcut to the Bing Rewards mobile site with a navigation bar in the place of the Internet Explorer URL bar. I pulled up both side by side on my 1520 and the web and app are identical. Well, the Live Tile integration is great. Now if MS can sort out the "It shows me as signed out when the Notification shows my account as "Connected" and I click it and I am signed out but then I am asked to log in though my account was just "Connected" (signed in) and now I have to sign in again!!!" website issue on the PC.

I wonder when UK and Ireland will get it....

Guys change region to us and get the app

Hey! What holds M$ from releasing rewards in other places? Here in India, people prefer typing six letter GOOGLE vs. four letter BING for searching web :sigh:

Did they seriously just release a web wrapper app? That's insane.

Awesome. Now I can use...ops it's not available in my country.

Dang even Microsoft is getting to lazy to code for their own platform, lol. At least we can say we have it too. Hope they make a native so today has alerts when you reach your goal.

Question....ive been using Bing rewards awhile now. Does the amount of searches go up because now I get points for every three searches when it used to be every 2

Rest of June promo. 1 point per 3 searchs. Up to 30. Then there mobile points.

It's a crappy web wrapper, but I'll take what I can get.

I've been getting points from Cortana for about a month now (maybe close to 2?). I love her

Can anyone answer this question: Must I have this installed to earn rewards by searching on my phone?

I don't have it installed and I earn mobile points. L920 wp8.

I can't download it..error 80073cf6 .. Lumia 920, wp 8.1 preview

It's only for us what the hell rest of the world has done to you....

This could've been an Onion headline...
"Microsoft releases Bing rewards web wrapper, sights lack of market share"

A web wrapper? Shame on you MS... How are we supposed to advocate for Windows Phone with such silliness lol.

Microsoft exec meeting: "guys, all of the WP users want a Bing rewards app!" Guy 1: "OMG! I got it! Instead of spending some of the $22 million cash on hand we have, let's just launch a web wrapper!!!111!"

Oh my, 5 months AFTER iOS and Android app was released. And its just a web wrapper. -_-

Yeah, it's pretty frickin' embarassing for the platform as a whole.

I tried scanning the QR code and I got a mad request screen.

No rewards in the UK that's for sure. . . . #headshakeindisbelief...... Why am I not surprised. . . . .

I use a l920 on wp8 not 8.1 yet and I get mobile search points already without this app? I'm lost.

You are right. You don't need the app to earn moible points. I've been getting them on my WP for a month or so just using the search button on the phone. The article is inaccurate on that point.

They probably spent more time writing the blog post on the windows blog about this app than actually writing the code....this is the equivalent of your kid printing out the Wikipedia page about the "the cat in the hat" and turning it in as a book report.

Okay, that was funny. But seriously, why all the hate from everyone? Bing expansion into other regions is an on going process. As for the app being a web wrapper, I don't really see the big deal. What would be the point to a native app? You are using the search feature to earn rewards. This is now a more full featured app with live tile updates to help you manage them. They definitely need to open this up to other regions but this is a step in the right direction.

Ah another US only launch. It's a good job nobody lives anywhere else, that would be frustrating...

Didn't know it was a web wrapper. So even the platform maker cant be bothered to make a native app. Pathetic. Leaving a negative review and uninstalling.

Leaving a negative review mot because the app doesn't work well but because it is a we wrapper? Lmao WP users sometimes amuse me.

Does anyone else's medium tile have a little white dot on it? It goes away if you enable it to show the reward total, but comes back when disabled. Odd.

Live tile setting doesn't work for me - no live info on tile and when I go back to the app, the live tile seeing has reverted to "off".
Other than that I guess this is a rare instance where it's ok to do a web wrapper, but it's far from a great experience. EDIT: Uninstalled - changed my mind - I don't want to support this web wrapper fad. Understandable from a tiny startup company, but MS must do better to drive app quality.

Y como siempre a los europeos que nos den por saco...

I wonder how many people have Google set as their default search engine on WP. It will certainly increase if they keep at it.

That's sad that it now just made it to windows phone

Farce, even US citizens and residents cannot use it while traveling, even with their usual USA region set. Thought for a second all this data harvesting was going to pay back the users (who is really the user actually?) Plus why disrespect and disregard the world market which kept Nokia and Microsoft phone alive? So much for the global market and the "new" Microsoft.

I thought we gain Bing points through Cortana?

Makes perfect sense to release this as bing rewards will soon be international ( the sooner the better).

Sadly in Brazil we don't have Bing Rewards...

I don't get how with so many features being US only or arriving first Windows Phone hasn't got a bigger share in the US. It's doing better elsewhere without some of these features, imagine how well it would be doing with them.
I know Microsoft is primary a US company but still, should their approach maybe be changed a little?

Windows phones only thinking about customers in US its it's too bad Google looking all countries equal

I've been getting Bing rewards through Cortana searches for months now, since it was announced for ios and android. It's been there for me soon as I saw mobile rewards on desktop in Win8.1. I do live in Colorado, 8X on WP8.1....

It is the embedded mobile web :(

I redeemed a reward from an account, and five minutes later, I opted out of the program with that account to switch over to MS account. Can I still get that reward that I spent credits on with my opted-out account? Shouldn't I get an email to confirm? Edit: Nvm, got the email

I don't see why, even if there are problems with taxes and whatnot, bing rewards couldn't be released worldwide in a limited form that would allow us to at least redeem things from Microsoft only, i.e. gift cards, OneDrive space.

" Bing Rewards for Windows Phone features mobile-exclusive offers that you won't
find on the PC." Really??? Like what? Is it worth getting the "app" for these
exclusive offers?

Wait, what? I earn my rewards points searching through Cortana, never through the website.

How long till we can sign in with google plus

I'm in us and I can use Bing rewards in PC then I use my 920 and it says you are not in region, why???????

Seems to be broken. Can't get it to display my points on the tile. Whenever I turn the option on in the settings it just turns it back off when I close the app.

Kool. I can't wait to get my new Windows phone.

What's with many of the MS apps being terribly difficult to sign in to when you have two-factor authentication enabled? This one and HealthVault have no fast-resume when in the two-factor code entry screen.

I hate how stuff like this is always US only, I would have SOOOOO Many points

They should name it rewards US or something.. Will it ever come for us?

Wasnt there an article recently about MS expanding Bing service? Setting up new hardware globally. I take this as a sign that these services is on the roadmap. Cortana is also a bing service.

Thx Microsoft for nothing. Really nothing at all.

I've earned $30 bucks with Bing rewards

They need more stuff you can spend points on

Is anyone else not able to get the mobile points to show up? They will sometimes come up under PC, but mobile always sits at 0 out of 10.

Yes mine isn't working. Very frustrating

Why does it say '362' in the pic in srore?

Anyone else not earning points when searching on mobile?

Is there any link to just check for what countires is this available? Couldn't find such a list of available countries. I check for me and it says "Not available yet in your country and region" (Republic of Macedonia)

"The Bing Rewards app was originally released for iOS and Android back in January. Windows Phone users have had to earn rewards through the web, until now." That right there, says all you need to know about Microsoft's commitment to their own mobile platform.

Why it is limited to US. It should be available worldwide to get full use of it. This does not bring rewards just hatred in the minds of WP users other than US.

Fuck the windows phone though i cant buy an ios.....too costly here in india

Not available in my country... F**k u MS. another drawback....

Microsoft gets so much love from India but they never care and provide such offers and apps in India.

Will not allow me in through the app. I have to still go through the web site. How lame is that?

What's the point of this app? Can't search now I don't even earn mobile searches through Cortana
Windows Central Newsletter
Get the best of Windows Central in in your inbox, every day!
Thank you for signing up to Windows Central. You will receive a verification email shortly.
There was a problem. Please refresh the page and try again.