Bing rounds up the best of its homepage imagery - downloadable theme available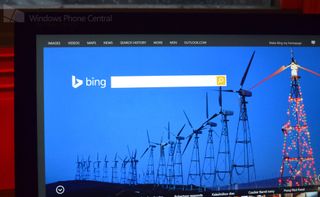 The ongoing Bing vs. Google debate is not one that has any intention of ending soon, but it is hard to state that Google's homepage can ever be more breathtaking than some of the imagery supplied by the Microsoft team for Bing.
In honor of the great imagery that has been used over the past year, Microsoft released a list of the most popular Bing homepages along with a downloadable theme for Windows 8 that you can access after the break.
The top ten pieces of photography capture life around the world in Singapore, Spain, New York, California, Hawaii, Seychelles, Chicago, Rhode Island, Nevada, and England. Much to the enjoyment of our English writer, Richard, England has topped out as the number one Bing homepage.
You can head over to Microsoft's blog by clicking here to view the full list along with all imagery. You can also download the Windows 8 theme including all the imagery by clicking here (opens in new tab).
What is your favorite part about Bing?
Source: Microsoft
Windows Central Newsletter
Get the best of Windows Central in in your inbox, every day!
Favorite part... hmmm
That it's not Google ;)
How about some pictures of Norwegian fjords??
http://www.eternalgloriouslight.com/Natuuropaarde/Engels/fjorden2.php

Yes, fjords are magnificent, wonder if none of them has hit the list :(

Would be nice seeing them among the rest of the beautiful pictures on Bing

I'm from England too so this makes me double happy! Great work Bing and Microsoft.

The Bing homepage images are great! Bing + LockMix combo gives me an amazing lockscreen to wake up to every day.

Go Bing, I wish Microsoft will stop the chrome extension from stealing there images and putting them on google tho.

I'm already using Bing Desktop (with the Start Screen showing the esktop wallpaper), allong side Bing on my lock screen.

When Lumia 925 will get gdr3 and black update???

Irrelevent, but I'll answer anyway: I beleive the T-Mobile varriant is currently getting Update 3, but no word on other carriers and Lumia Black.

If he's really desperate, he could download the tmobile update and flash his phone

I'm using GDr3 developer preview on my Lumia 520 dude!Xd

Love using the Bing background on my weather app. Always looks great.

If just the Bing lockscreen on Windows Phone would update correctly... Apperently it updates BEFORE midnight, therefor always showing me the image of the day before. And If I could just have Bing image as my wallpaper WITHOUT having this search box on my desktop.

I love todays Bing background. I'm now using a tool that automaticaly downloads the image every day and places it in a folder that syncs with SkyDrive and so is used as my lockscreen for Windows 8.1 on all my devices, amazing! And the collection keeps growing!

When will the Bing logo change from the old to the new one on WP8 Bing search?

Probably with Windows Phone 8.1.

Too bad all Bing wallpapers are so low resolution.

Why cant i see the "rollover info squares" on my Nokia 920 anymore? Love the Bing images

I agree, i used to love that! Why ever did they get rid of it?!

I still get them. When pressing the search capacitive button to open Bing or going to Bing.com in IE using my 920. The squares only appear when touching the background photo when using the search capacitive button. They appear on their own when at Bing.com. Merry Christmas!

Next to Spain ;)
(sorry, just had to :P)

I love bing my default search engine

The background images were the reason I started using bing. After that I just got used to it and transistion from using it only on my phon eto also on my pc.

Awesome work MS and Bing.And also credit to the photographers. Keep up the lovely images guys!

My God I've been waiting for this all year, bing images are totally awesome I've always wondered if i could download them
Windows Central Newsletter
Thank you for signing up to Windows Central. You will receive a verification email shortly.
There was a problem. Please refresh the page and try again.