Bing will now wish you a happy birthday with a digital cake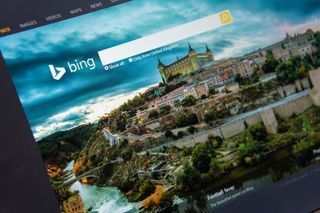 If you're an avid Bing user and have a birthday coming up, you may be in for a surprise. The search page will now wish you a happy birthday in big, bold letters, and even offer you a birthday cake to boot.
As noted on Twitter by @Dwane18, Bing will make quite the big deal out of your birthday, just in case you're hankering for some extra cheer. Presumably this requires you to be signed into your Microsoft account, as Microsoft isn't a mind reader (though Cortana knows all!). And while minor in the grand scheme of things, it's still pretty neat.
Alas, it's too bad that birthday cake is a digital one and not real, but at least you get to make a wish!
Source: @Dwayne18 (Twitter)
Dan Thorp-Lancaster is the former Editor-in-Chief of Windows Central. He began working with Windows Central, Android Central, and iMore as a news writer in 2014 and is obsessed with tech of all sorts. You can follow Dan on Twitter @DthorpL and Instagram @heyitsdtl.
That's cute. I love these little tweaks of Bing. It would be weirdly awesome if Cortana was able to think and wish you happy birthday. But then people would say it was creepy.

Definitely would be cool if Cortana could do that!!

I'm just trying to figure out why a dude (article author) has two last names. Girls (usually prominent ones) do this, hell even my wife does on facebook only so people can still find her, but a guy? Whatever. I just wish I could have my cake and eat it too! But alas, I hate cake... Woe is me...

There is nothing intrinsically feminine about having a two-part last name. I inherited the "Holstein-Gottorp" from my father, for example, even though in real life I use my maternal last name because it's just "Ek" and makes things easier.

As Nicholas pointed out, I inherited it. When my parents were married, they both just combined last names instead of my mother adopting my father's. In any case, I had no choice in the matter :p

Wonder if you marry someone with two surnames and you combine both of your names and then your kid would be something like Thorp-Lancaster-Taylor-Smith XD

Bahaha I've thought through this extensively, and I've decided I'll only marry a woman that's cool with continuously adding on names down the line. My great-great grand kids are gonna end up with a world record of some sort!

My son has 3 surnames because my wife has 2. Alas it means I couldn't bring myself to give him a middle name or it would just be too ridiculous!

Its got that regal flair about it. Sir Dan Throp-Lancaster III. lol But on the story, that is awesome. Love Bing.

You must be just making it into your teens.

Cake, and grief counseling, will be available at the conclusion of the test.

I was going to make that joke

No, just "Coming Soon"....What if you have a 3D printer?

Still can't narrow by date.... ¬¬

This. But according to Bing listen, they just started working on it.

I have seen this twice. It is not consitant.

Cute but Bing rewards shut down my account without telling me why and I'm avoiding them as a rule

Best guess is your account Waa tampered with.

Haha, I love Bing so much :)

This is way better than the Google Doodle.

Hope cortana is the one that wish me birthday instead of Bing. ;).

It's thinks like these that made me switch from scroogle to Bing three years ago, since I got my new Windows 8.1 PC. Now on W10 by the way and it's awesome :-)

Yea well mine was on the 5th. Where's my cake Bing!

It would be cool if Cortana could greet you when you turn on the phone with headlines news or birthday day wishes.

Well, no. Today is my birthday and I get only the standard start page *sob* :( http://i.imgur.com/ENq4ybi.jpg

Happy B'day...to u...
Try to refresh the page.

Thank you :)
Still nothing though :/ Tried both Edge and Chrome.

Same here man.. My b'day and all I get is grasslands.. I think it's US only.. ¬_¬

Yeah, but that's unfair :/
Happy b-day!

Happy birthday to all of you!

Dang it!!! And my birthday was like a couple of days ago to.
(more like a cookie weeks but what ever)

I got it for my birthday on 21st August... I thought it was old stuff! Google does it too you know...

Great! my birthday was yesterday. So no Digital cakes for me in next 363 days :|

Switch to today.. have fun.. switch back Posted while running with the ninja cat

tobad its desktop only Posted via the Windows Central App for Android on WM10

Better expand to other countries than doing this stupidity

Better expand to otehr countries than doing this stupidity

Bing is present worldwide Posted while running with the ninja cat

Yes, but more than half of the features are not (US only)

This happened to me yesterday on my b-day. It made me feel pretty special.

I wonder if it gets that my birthday isn't at january the first ;)

Just had my birthday on the 7th of September, I was really surprised to see this :)

Oh nooo, my birthday was in August :'(

It should use your microphone so you could blow the candles after making your wish! TOTAL IMMERSION.. :P

Thanks guys. I didn't even post this with the intention of you guys seeing it. I'm so overwhelmed with joy right now. Thanks alot everyone.

Funny thing is today is my birthday. :D http://i.imgur.com/1jBDIZ6.png

Is it just me, but doesn't the Bing search bar look like a cigarette......

Bing is awesome, that's all I have to say.
Windows Central Newsletter
Thank you for signing up to Windows Central. You will receive a verification email shortly.
There was a problem. Please refresh the page and try again.