Bing.com's new personal interests keep you updated on the web and on the go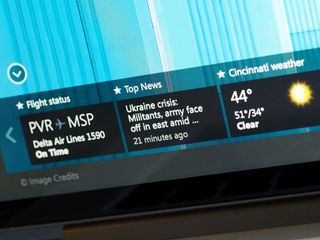 Cortana in Windows Phone 8.1 is garnering plenty of praise for for its ease of use, personality, and features, but now it's time for some of that personalization magic to make its way to Bing.com with the addition of interests. After being booted off the search key on Windows Phone devices by Cortana, Bing is getting personalized updates that tap into the power of the web. And it's a simple as clicking a star to register your interest.
Once you're signed into your Microsoft account on Bing, all you need to do is click on the star next to a search result to get updates on it as they occur — Bing will do the watching for you. Interests available to start out include travel with trip planning and flight info, local traffic, and weather. There's also a Daily Glance option to roll all of that together into one view. Microsoft says that they'll be rolling out new interests for Bing over time.
When on Bing.com your interests will appear at the bottom of the landing page, updated with whatever the most recent and relevant information might be. These interests can also sync with relevant Bing apps and directly with the Windows Phone operating system, and you can individually toggle notifications for the web, apps, and Windows Phone.
With the power of Bing at hand, there's a lot that could be done in the future with interests. What interests would you like to see Bing give you the option to track?
Get the Windows Central Newsletter
All the latest news, reviews, and guides for Windows and Xbox diehards.
Derek Kessler is Special Projects Manager for Mobile Nations. He's been writing about tech since 2009, has far more phones than is considered humane, still carries a torch for Palm, and got a Tesla because it was the biggest gadget he could find. You can follow him on Twitter at @derekakessler.
But not in Canada. Checked :'(

I tried add an intrest via bing.com, it shows up in Cortana almost immediately

Not in Australia either, our bing is super gimped. Search only.

Bing should take my cookies and serve me accordingly.
Via swipe keyboard of windows phone 8.1.

You know there is only one keyboard on 8.1 ehh.. And its not swipe its got word flow capabilities. so truly just write via Microsofts windows phone 8.1, delux developer edition harmonious word flow soft key situation.

Whatever you call it. So freaking amazing!

I edited my upper post lol

yes, definitly +920 on the WP swip word flow keyboard thingie.

Yet another US-only feature. Bing is very ordinary in every other country. The Australian site hasn't received any decent updates in years.

Here Here.. The Australian (and other international Bing sites are rediculously behind what USA has. Why even bother having local version when they do nothing but web searches.

Wow another Bing features that's us only. I doubt Cortana will ever be more the "tell me" outside the US. I'm from Germany and Bing I a joke here we doesn't even have local scout here after I think 2 years since mango. Microsoft needs to get worldwide support finally right the windows phone in the us is very small but still many features are U.S only

Microsoft really wants us europeans to use google's services for some reason. If search is good, that would make people try other services too.

God damn US only BS from Microsoft is really taking the mickey

You do have to turn this on - even after you've signed in to Bing. 1) Click the Settings cog (upper RH corner) on the Bing page 2) Click the "Interests" star over on the left sidebar 3) See the interests Bing already knows you have (thanks Cortana) 4) Return to the Bing page and start "starring" news items...

the main thing is that you NEED to be in USA (or using USA Bing) to even get this option.

I am really failing to see MS logic here. Why do they keep adding new US only features? Why? "It's easier to test in home field first" doesn't sound very believeable when they just keep adding more and more US only features and they don't even give a hint that any of those are coming to Europe, Asia, Africa or anywhere else. Are they giving up the battle with Google already?

Because the universe revolves around me and the US operates around my immediate residence.

Maybe your country is blocking it...

As part of our commitment to GNI, Microsoft follows a strict set of internal procedures for how we respond to specific demands from governments requiring us to block access to content. Read more: http://www.businessinsider.com/bing-could-be-censoring-search-results-20...

I really dont think that Finland (home country of Nokia and such) blocks for example Bing calculator functions or currency conversations. These doesn't seem high risk content that should be blocked. These are of course only a small example. I'm trying not to bitch about this (too much). I'm trying really hard to understand why is Microsoft doing this. This seems almost insulting for the rest of the world.

Good to see the features expand to desktop

I really want it to be able to track packages!

Of course only in US. We, the minority, in such underdeveloped countries that are not worth supporting, dont even have this "search results while you type" thing. Nor a decent Bing Maps. Nor Social Search. Nor offline language packs for Bing translator. But thats the price for living outside the US.

And this is how bing will become the new Google. Haha. -- Sorry if I am mean, I just dislike mean people! --

I wish I could filter out News that is not relevant to my region.

I can only add interests by tapping "add interest". I do not have a star on any search results... Help! :'( :D