Bittersweet shimmer will let you pick new colors for night mode on the Glance Screen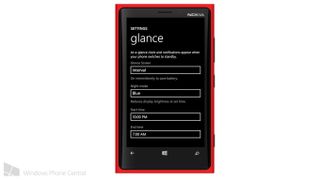 You love leaks, so we share leaks. The next big update coming to Windows Phone is GDR3 . That will bring the ability for handsets to support quad-core processors (like the Snapdragon 800 processor), 1080p displays, and more. Like GDR2, Nokia will be producing their own update to go with GDR3 for Lumia handsets called Bittersweet shimmer. We've seen screenshots from both GDR3 and Bittersweet shimmer, but here's one more to help satisfy you until you get it on your own devices.
Bittersweet shimmer will be an update for Lumia devices that launches alongside GDR3. It differs from GDR3 in that it enables certain hardware and software features that you can only get with Nokia's lineup. For example, the GDR2 equivalent of Bittersweet shimmer, Amber, enabled Bluetooth 4.0 in some current Lumia devices.
GDR2 brought the glance screen to Lumia devices. Right now it's limited to showing you the time and whether or not your phone is on vibrate. It also has a night mode, where instead of white it shows red. You can select when night mode begins and ends. It's pretty handy, but it looks like Bittersweet shimmer will bring a few more options to the mix. Night mode will now show blue or green as an option. Not groundbreaking, but more customization is something we can always get behind. Edit: According to the leaker, you'll have all 20 colors as options, not just blue and green.
What else do we know about GDR3 and Bittersweet shimmer?
Custom sounds for text, voice mail, e-mail, and reminders (not seen in this build of GDR3)
Restore over Wi-Fi when you reset your phone
Huge amount of work on Bluetooth with various vehicles and devices
Driving Mode
Screen rotation lock
'X' to close out apps in multitasking
Icon for multitasking apps
General performance improvements
1080P Display support (for new devices)
Support for new Qualcomm chipsets
Notifications on glance screen
What features are you most looking forward to with the GDR3 and Bittersweet shimmer update? Thinking of adding it to your existing phone or upgrading to a new device like the Lumia 1520? Sound off below!
Source: Twitter
Thanks for the tip Devarshi R!
Get the Windows Central Newsletter
All the latest news, reviews, and guides for Windows and Xbox diehards.